Most parents want strong relationships with their children. Children crave a relationship with the important adults in their life. This is where they observe and learn how to navigate life, learn skills to get along with others and gain the support they need to be successful in school and life.
Engaged parents are the most important role models in their child's life for many years. As children grow, go to school, and get older, their influencers get more spread out between classmates, teachers, coaches, and friends. When you take the time to develop a strong parent-child relationship when your child is young, your influence will be more influential through the rougher years as your child grows older.
Building a strong parent-child relationship doesn't have to be difficult, but it does take time and intention. Planning family time and activities that prioritize your child and your togetherness will build the foundation for a positive relationship. Parent-child relationships don't happen overnight or after one activity you've done together, but over time, as you consistently make your family relationships a priority.
As your children grow, the types of activities that build positive relationships will change. But as you know your child and their interests, you will be able to choose activities and spend time doing things with them that you know they have an interest in.

This post contains some affiliate links for your convenience which means I may receive a tiny commission if you purchase through these links. Thank you for extending the support of Savoring Each Moment for Christian Moms! Please see my full disclosure policy. 
What is a Parent-Child Relationship-Building Activity?
Any time you spend time with your kids, you have the opportunity to build a deeper relationship. This can be through simple conversation, asking about their day or their worries, or something as elaborate as an expensive birthday party or a trip to Disney. But the key is to find activities that will give you the most connection in a positive way and build those into every single day.
Parent-child relationship-building activities don't have to be expensive, they don't have to be complicated, and don't have to be in a distant location or theme park. Rather, the activities you do together can be as simple as playing a game, going hiking, reading aloud, or going on a road trip.
How do you Strengthen Parent-Child Relationships?
What activities can improve family bonding? This, of course, depends on your children and their interests, where you live, what type of family hobbies you have, and so many other factors. Any time you put time into doing something together, this is an opportunity to strengthen your parent-child relationship.
Choosing activities to do as a family to play, have fun, learn, and grow can improve family bonding and create strong relationships with your children for years to come. The more interactive the time together, the more you will build strong bonds with your family. Spending time with your family watching a movie is less interactive than playing a board game, going camping, or eating together. Each activity may take the same amount of time, but the outcome will be vastly different when your goal is building relationships with your kids.
As you look for ways to build your parent-child relationship, think about what your children will remember tomorrow, next week, or next year. Will they remember the movie you watched together or the fun activity you did together that provided time to look at each other, talk to each other, smile, and laugh with each other?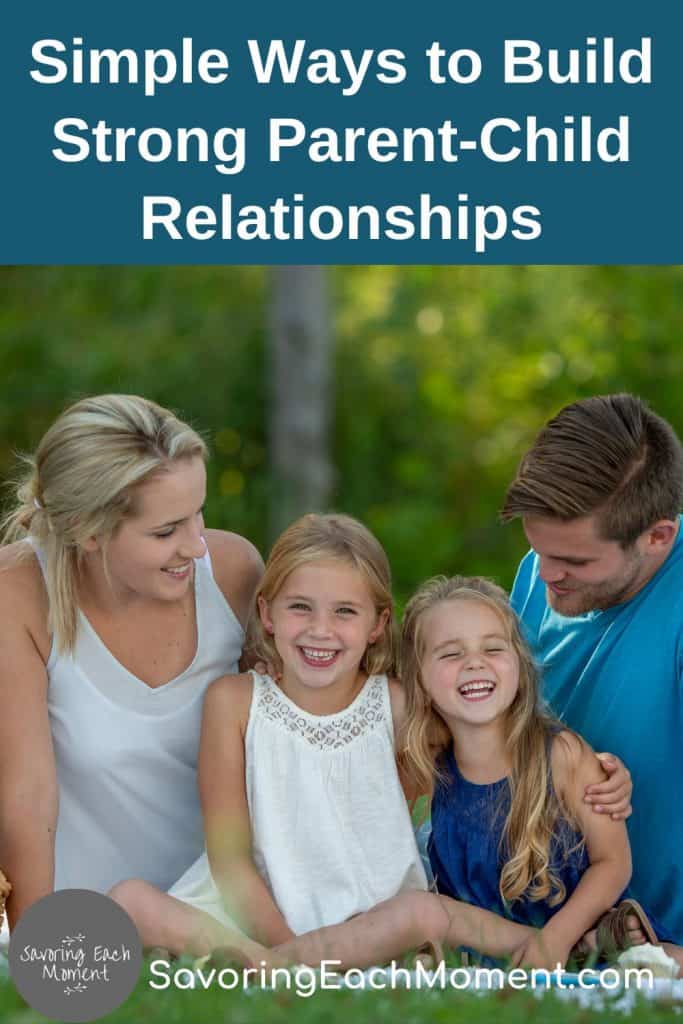 11 Awesome Parent-Child Relationship Building Activities
Eat Together – Be intentional about eating at least one meal a day together as a family. This provides opportunities to talk about your day, your interests, who you interacted with, what challenges your children are facing, what things made them happy, and so much more. It also provides time to work together to prepare the meal, set the table, clear the table, put the food away, do the dishes, and clean up the kitchen. This is prime time for additional conversation and showing the value of working together. Get some fun conversation starter cards and let the sharing begin!
Shared faith – One of the strongest foundational pieces to positive family relationships can come through shared faith. Going to church together, having family worship every day, praying together, and talking about how God loves your child can instill in them a positive feeling of self-worth and value. This also provides opportunities for your child to build relationships with other people in the church who have similar values and beliefs. The more people encouraging your child to do what is right, the better.
Family service – Service projects you do together are a great way to work together toward a common goal of helping someone else. Family service can be as simple as raking a neighbor's leaves, baking cookies and taking them to a friend from church, or serving food at a soup kitchen. Here are some more ideas for Family Service Projects.
Music – Fill your home with music. Sing together, play instruments, take your child to music lessons, and enjoy a variety of music together. Music is the feeling of emotions and listening to the same songs together can build a sense of community and well-being. Children thrive on repetition. Build your playlist around songs that will teach, encourage, and that they will enjoy. Add in music that is written with scripture passages to help your child memorize Bible verses without realizing it.
Read Together – Reading aloud to your child is one of the most amazing things you can do for a young child. Hold your young child close while you read and let them feel loved while they explore with your voice inflections, the pictures in the books, and the joy of reading you share with them. As they grow, they will associate reading with feelings of security and love and it will make learning to read and spell an easier task as they've listened to you over the years. Here are some of my favorite read-aloud books.
Family Traditions – Family time with the extended family can be a really special time when you include traditions that your family enjoys together. Family traditions can be things like getting a Christmas tree together, riding a train at the zoo to see the lights, specific ways you celebrate birthdays, where you watch the fireworks on the 4th of July, and bedtime routines such as reading aloud and family worship. Traditions are things that happen over and over again in a child's life and help them feel like life has consistency and they are secure. We all like to know what's going to happen and when you have family traditions that are consistent, it's easier for children (and adults) to know what's coming next. Family traditions can also include specific foods at different times of the year. Lefse during the holidays, pumpkin muffins in the fall, herbed Easter bunny bread, or soup and homemade bread on cold winter evenings.
Play Games Together – Playing together is another great way to build relationships with your kids. Discovering your family's favorite board game, playing tag, playing ball, having a water fight, flying kites, riding bikes, playing hide and go-seek, or any number of other games is gold to building relationships. Playing games also teaches your kids how to be good winners and good losers. Teamwork and solo work encourage collaboration and cooperation as well as independence and honesty. Games like Bible Bingo, nature learning games like Swim, Salmon, Swim, or involving the whole family with an Indoor Scavenger Hunt can bring the whole family together!
Camping – Spending time outside together away from home is a wonderful way to build those relationships with your kids. Taking time to leave the electronics behind, cook hot dogs and smores over a fire, go hiking, or swim in a mountain lake are all opportunities to engrave family memories in your child's brain. There are so many benefits to camping with kids that you will miss out on if you just stay home or stay in a hotel. Take the time to take your kids out in nature and learn about the things around you. Explore nature with your kids to help them value the resources around them. Learn about the birds, the flowers, and the animals and use them as object lessons to teach your child about God.
Make Memories with Grandparents – Grandparents can be a huge asset in your child's life and also a part of strong family relationships. If you don't have grandparents close, or perhaps your relationship is strained or missing, find some grandparent friends to do things with. Surrounding your child with people who love and care for them is incredibly important as they are growing and even after they have grown up. Sharing stories, looking at photo albums, and hearing the generational values, struggles, and accomplishments can have a very strong impact on your child. It can help them to feel like they can learn, do, or be anything because they are surrounded by strong, supportive people who love them. If you need help getting started, these simple Conversation Starter Cards can help.
Road Trips – Taking your children on a road trip can be a memorable experience for sure. Planning ahead to make sure you are prepared with food, books, and activities to keep the kids busy without batteries and headphones doesn't have to be hard. Look at the map together and decide what places of interest you will stop at, where you will see certain things, and talk about your destination. Again, these don't have to be expensive stops or destinations, but rather a cool park in a new town, a zoo, or some other interesting historical place or museum. Work together to plan a fun family bonding activity. After you've accomplished your first road trip, you will likely want to start thinking about your next destination and road trip! Camping Bingo Games can be fun to play on the road or at home dreaming of your road trip.
Words of Affirmation – Building a strong parent-child relationship includes the words you use to communicate. If you operate under the tradition that a child is to be seen and not heard, you will miss out on their growing brain and the interesting things they think about, and how they interact with those around them. As a parent, you have the opportunity many times a day to use words of encouragement to build a strong relationship with your child.
BONUS: Physical Affection – As your child is growing, they need lots of positive physical affection. They need to be loved, to be hugged, to be patted on the shoulder, to sit close to you, and know that when they are hurt or sad, they can come to you for comfort. Filling your child's need for positive physical touch can help them to relate to those around them in gentle and caring ways. Often, when children don't get the physical affection and love they need, they act out to get any kind of attention, positive or negative. A child who is well-loved will also learn the boundaries between what is appropriate and what is not when it comes to physical interactions with others.
Parent-Child Activities for Preschoolers
Preschool-aged children have the same need to be loved, spend time together, and feel treasured as older kids. All of the parent-child relationship-building activities listed above can be applied to preschool children as well. Many of the activities that help to create strong family bonds with preschool children revolve around play. Educational play-based learning and time together build on those relationships as well as support your child as they are learning and connecting pieces of information.
When your child is playing, listen to the way the people, animals, or dolls talk to each other. How do they interact? Are they kind to each other through your child's narrative or are they harsh, sad, and violent? Think of a way you can show your child how to be kind to others through your family service or engaging with grandparents.
Reading aloud to your child can also strengthen that parent-child relationship when storytime is used as a consistent opportunity to engage in providing a safe environment for your child to explore feelings, hard topics, silly stories that bring laughter, and sad stories that may bring tears. Books can share the joy of being kind, the love of a mother for her child, how a child relates to something scary, or God's love for them.
Get down on your child's level and ask them what they'd like to do with you. Most likely, the list will be simple and you can do one or more of their ideas for a parent-child activity for preschoolers right now. It might be as simple as riding bikes, going to the park, playing tag in the backyard, or reading a book and playing cars.
Choose some parent-child activities for preschoolers from this list of play-based learning ideas and have some fun with your child today.
Creating a Healthy Parent-Child Relationship
Remember, building a positive parent-child relationship doesn't have to be expensive, it doesn't have to take all day every day, but it does need to be consistent, intentional, and memorable. When we talk about memories, those memorable moments in life can be made from family traditions, time spent together, storytelling, photo albums, and activities you spent time doing together.
Build those family relationships on things that will last. Character traits such as kindness and gentleness can come from service to others and interacting with people from another generation. Learning to navigate successes or losses can come through playing games together and working through winning and losing.
Parent-child relationships can grow stronger when they are built around a strong shared faith in God. Providing a child with a loving environment where they know that you love them and God loves them, will help them stay connected to you and to God. Filling your home with music and family traditions will bring those memories back to your child as they grow through the holidays and experience the seasons of tradition in your family.
Take some time today and think about some simple ways you can strengthen your parent-child relationship and build a strong foundation for a positive family environment where your child feels loved, affirmed, valued, and seen.
RELATED: How to Strengthen Parent-Child Relationships
You may also like these Biblical parenting links…
---
❣ Sign up to get our weekly email filled with encouragement, ideas, and support for moms raising kids who love Jesus! ❣