Sitting with children in church can be frustrating, distracting, and downright patience exhausting! But the value of teaching your child to value being in church and learn to be respectful and reverent takes time and practice. Many churches have a nursery or children's church that is specific for the younger kids in church. But many churches do not or you may choose to keep your children with you in church. Thus, you may need one or two hefty busy bags to keep your child occupied so everyone can listen.
I remember sitting in the pew with my two little girls hoping we would make it through the sermon. My husband was busy up front and our girls were 18 months and 4 years old. I was in the pew trying to occupy busy minds and hands and keep them quiet. My weeks of actually hearing a full sermon were on hold for who knew how long while I tried to occupy these two precious little busy daughters!
Fortunately, I had a very good role model when I was a child and my mom was an excellent teacher to my brothers and me. Our dad was a pastor so every week my mom got to sit with three little children in church, by herself. My mom was great at stocking the busy bag full of quiet toys for church.


This post contains some affiliate links for your convenience which means I may receive a small commission if you purchase through these links. Thank you for extending the support of Savoring Each Moment for Christian Moms! Please see my full disclosure policy. 
Busy Bags for Church
You may be wondering why in the world you would even take your child to the church service. They are loud, have no attention span, and you wouldn't get anything out of the service while your wrangling your kids to keep them in the pew. If this is you, this is the exactly where you need to be! There is hope and it will get easier. I promise. But, you need some tools to help you train your children. That's exactly where your new favorite church bag comes in. Your busy bag for church!
This isn't just any old bag of toys. This is a special bag of quiet toys for church that is only used once a week. The treasures in this quiet bag are especially selected for your children in church! You've got this! Keep reading!
5 Reasons Why You Should Take Your Children to Church
The first and foremost reason you should take your kids to church is to learn about Jesus and His amazing love for them. If you are looking for a church, look for a church that follows the Bible. I know this may sound silly, but there are churches that pick and choose what they teach and not all of it goes along with the Bible. You want your children (and you) to be surrounded by people who are committed to following God and the Bible.
Your children will learn through hearing and experiencing church. Very young children and toddlers are learning and growing and by introducing them to church and Sabbath School or Sunday School, they are learning songs, Bible verses, Bible stories, as well as learning to follow directions and sit quietly.
Your children need to see your example of going to church. When children grow up, at some point they begin to make their own choices about what they are going to do about being a part of a church community. When you lead by example, you are building a foundation for your children to follow.
When you and your children go to church regularly, you will likely make friends who have similar interests. These friendships may not be the same age, as you or your children, but making friends with people who have similar interests, no matter their age, can bring a wealth of support and nurture to your family. Other children in church can become great friends to your children and help them to have Christian friends.
Create a family habit of going to church. When you take your kids to church from a young age, your children are learning that church is what you do every week. This helps them to see that church and God are a central focus in your life.
RELATED: Family Worship Ideas with Kids
What Do I Do with Young Children in Church?
If you have spent any time sitting with young children anywhere for very long you probably have some questions about how in the world you would keep your wiggly kids engaged and listening in church. Perhaps you've wondered how to keep your kids quiet, or how to get your child to behave in church. Sitting with children in church can be daunting, but remember you are teaching them in the process.
Help! I'm out of ideas! How can I help my child sit quietly in church?
The secret to having your kids in church at a young age is having a well-stocked busy bag full of quiet toys for church and an extra amount of patience. In our family, we called this bag full of activities our "quiet bag" or rather quiet bags since we had two different busy bags that we rotated every few weeks. Before you feel overwhelmed with the thought of more than one busy bag full of quiet toys for church, just start with one! Here are some of the all-time favorites for a well-stocked busy bag for toddlers and young children in church.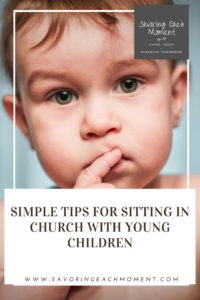 Busy Bag Quiet Toys for Church
When you are thinking about what quiet toys to take to church to keep your kids busy and quiet, first of all, you want to think about activities that are quiet to play with. One of our very favorite quiet toys for church in our quiet bags are Lauri crepe rubber puzzles. These puzzles are the greatest things to keep little fingers quiet and occupied. They are soft and colorful. The company also stands behind their products and if you lose a piece, they will replace the piece for you! The puzzles in my church busy bags have lasted for nearly 20 years and still get used often by my little friends who currently sit with me each week.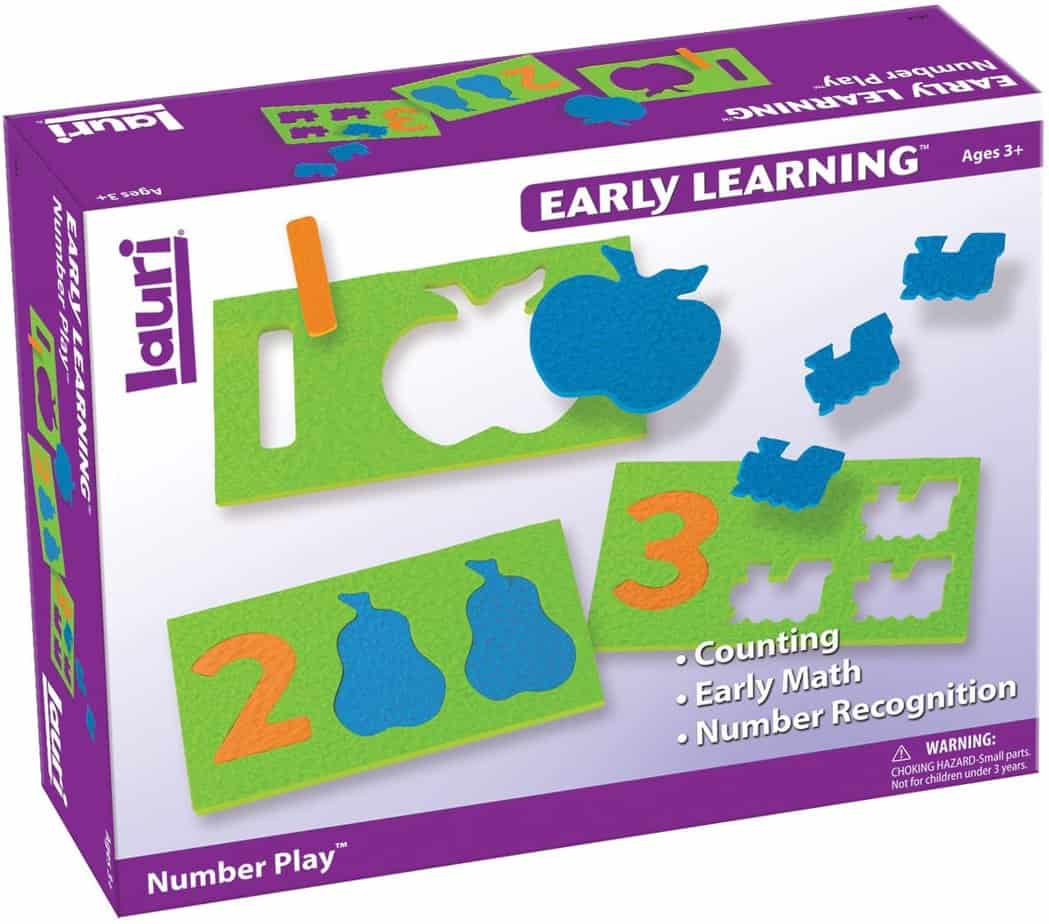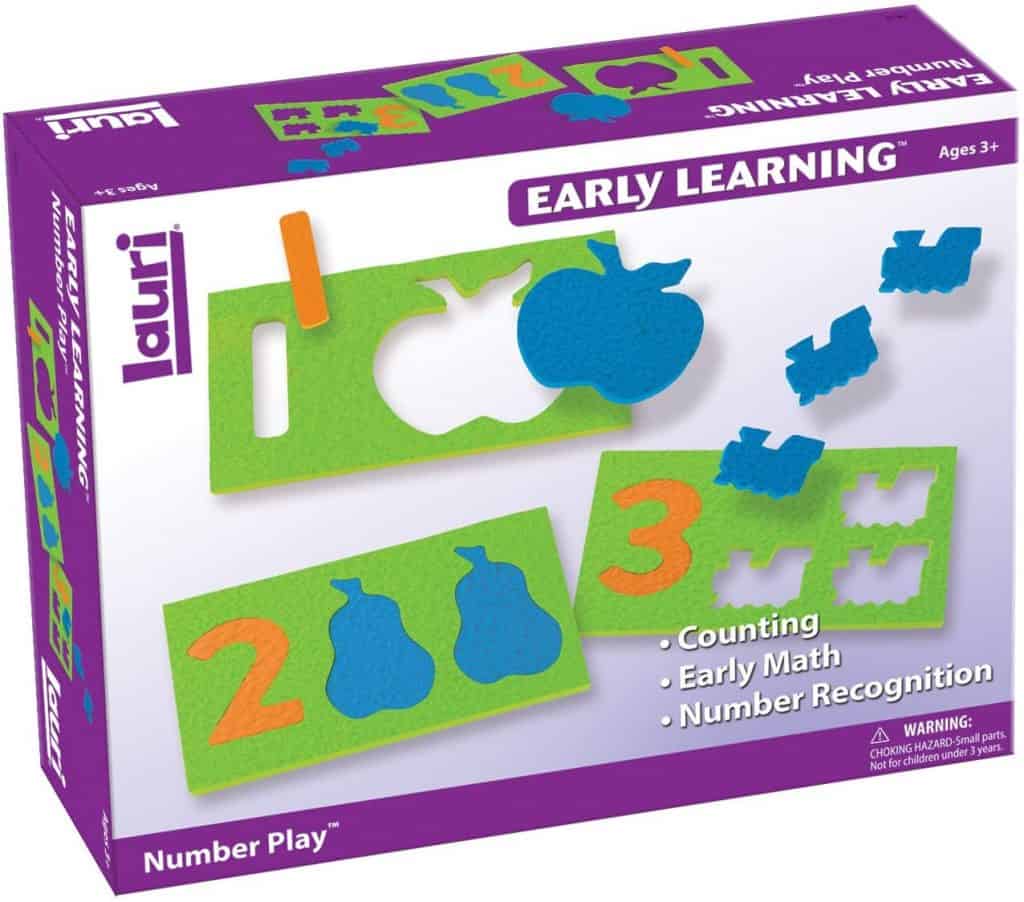 Soft, quiet, crepe rubber puzzles fit perfectly in a zip top bag to keep the parts and pieces together between play time. Help your child learn to count and associate shapes with spaces as they put these little counting puzzles together.
Another great activity for your quiet bag is lacing or stringing toys. These toys are great for very young children to learn hand-eye coordination as well as learning how to sort by colors, shapes, and sizes. You can purchase "sewing cards" or lacing shapes with colorful shoe laces. And you can also get large, fat buttons and pipe cleaners (chenille stems). Put the buttons in a small purse, zippered makeup pouch, or bag for great busy bag ideas for 2 year olds or older. Encourage your child in church to poke the pipe cleaner through the center of the button and put the buttons on in a pattern of colors, shapes or just stack them on.
Lacing shapes are great busy bag ideas for 2 year olds or toddlers. They are quiet toys for church and encourage children to work on their hand-eye coordination while listening quietly.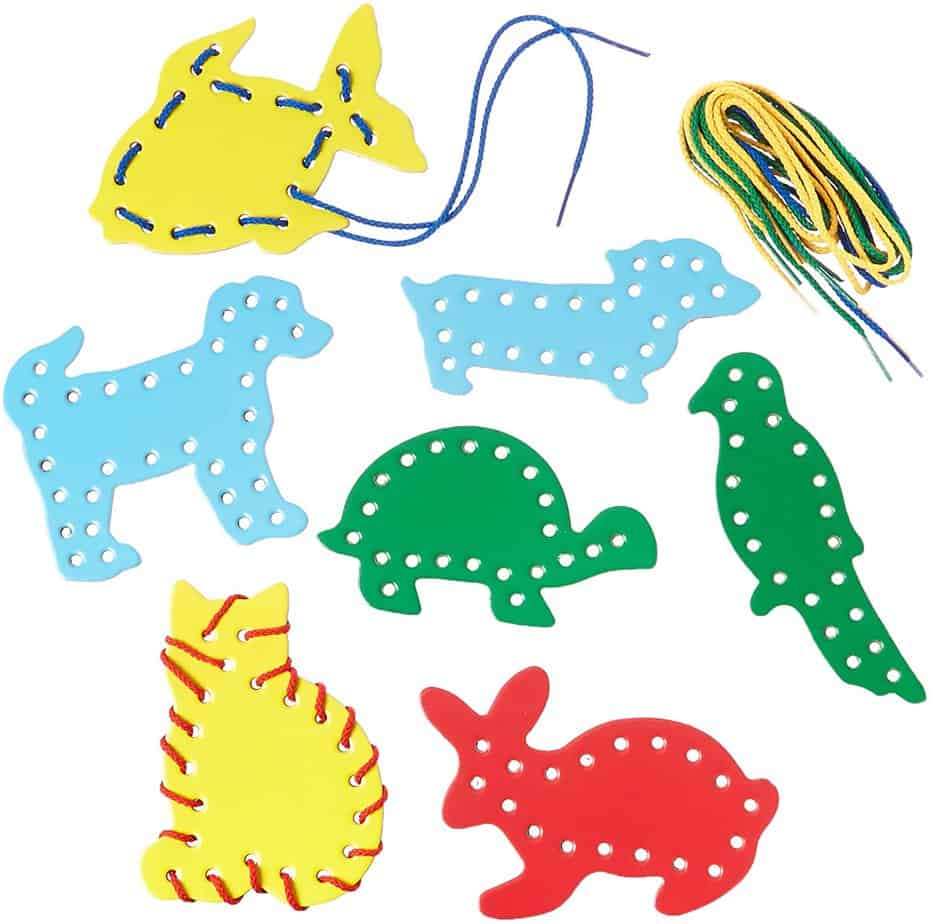 The well stocked quiet bag or busy bag always has room for a collection of small animals or figurines to play with on the pew. Look for little zippered purses or pouches at yard sales to store these little collections of buttons, animals, and other small items. This makes it easy to keep these smaller items contained when not in use and it also makes it easier for children to play with one thing at a time and then put it away.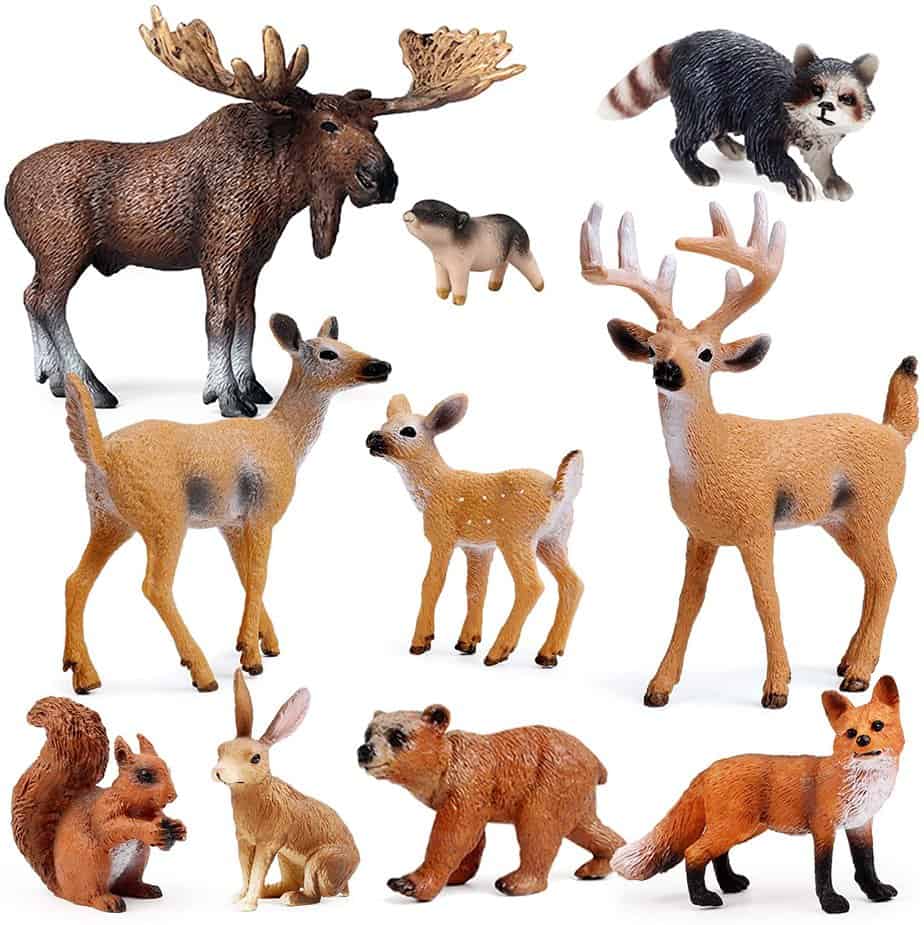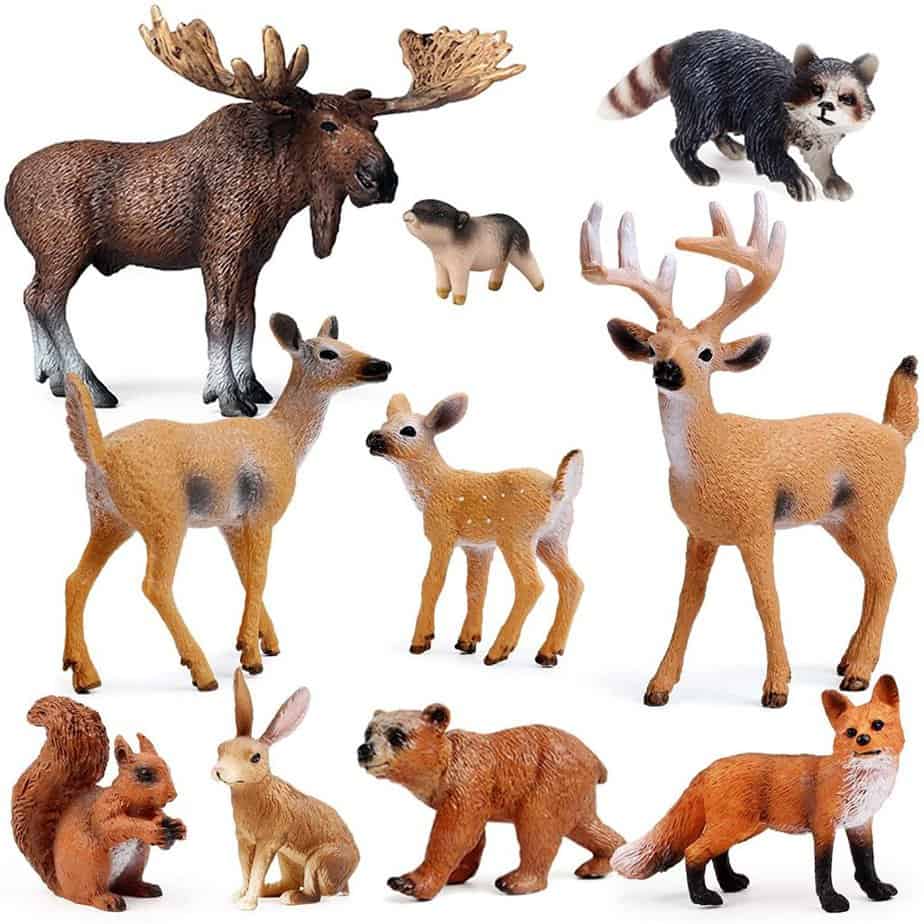 Animals to Play with on the Pew
Choose a few of your child's plastic animals as quiet toys for church and put them into a small bag in your quiet bag to help your kids play quietly.
Felt quiet books are great for encouraging your child to create quiet stories while learning to listen. Some of these books include flaps, and other interactive features. Some sets require some cutting and assembly to get them ready for your bag. Keep them tucked into a large zip top plastic bag to keep the loose pieces of felt from getting lost in the bottom of the bag and also to help keep the felt books clean and in good repair. These felt books and felt sets can provide hours of quiet play for your children in church. Individual felt pieces can be used to create a scene on the back of the pew, or in the felt book.
Felt sets are very quiet and take up little space in your quiet busy bag! This set happens to be pre-cut, so it is ready to play with immediately. You may need to teach your child how to create a scene or story, but they will enjoy playing with felts over and over again!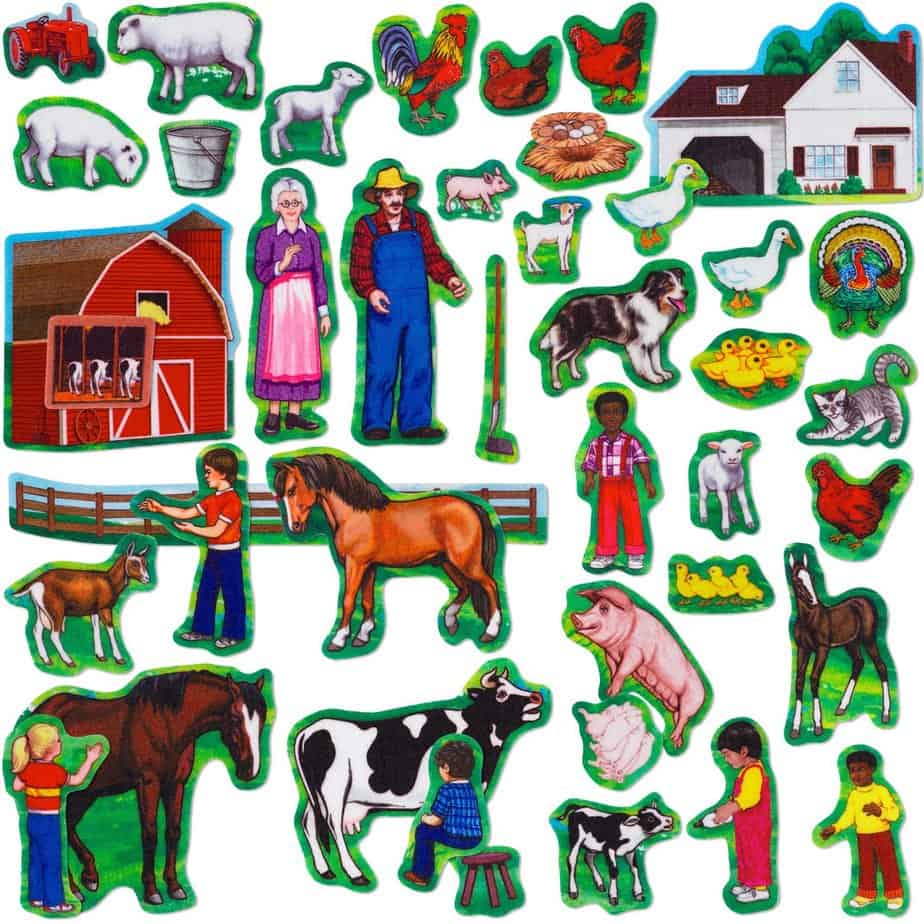 Magnetic and paper doll-type toys can also be a lot of fun for children in church. The key to choosing the activities to put in your quiet bag is to choose things that are small and compact so you don't have to haul a suitcase to church, and items that allow for imaginative, quiet play. Magnetic pictures or paper dolls can provide hours of fun while your child is repositioning the little figures to create different scenes.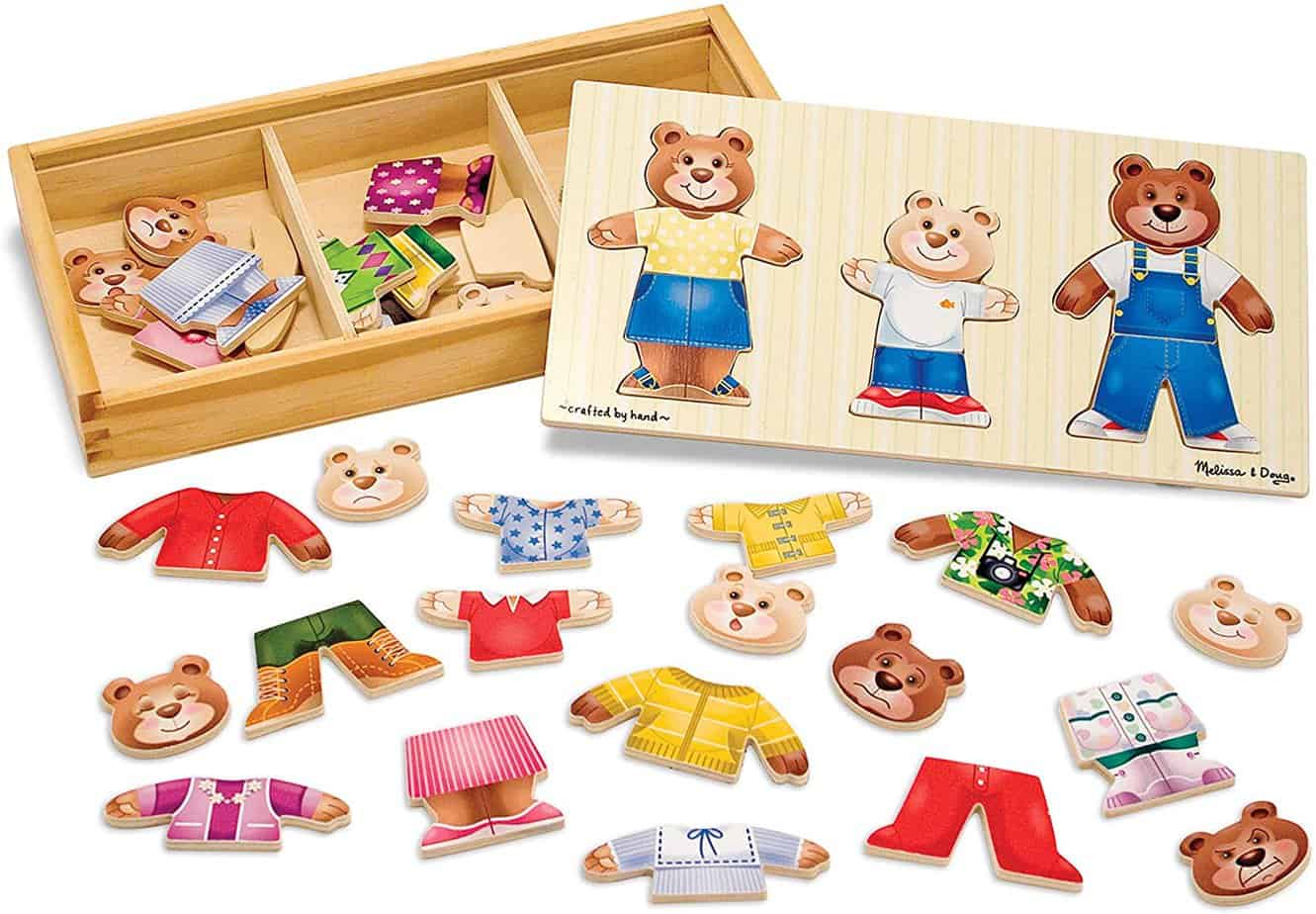 These types of puzzles are great busy bag ideas for 2 year olds and toddlers. Very young children will enjoy doing these puzzles with you if they aren't able to do them on their own quite yet. These wooden puzzles are not as quiet as a felt set, but this provides the opportunity for young children in church to learn skills such as playing quietly.
Magnetic story sets are great in any busy bag for toddlers because they are typically flat like a book and the pieces stay together easily. The background story board is easy to play with on your lap or your child can kneel on the floor and place the story board on the seat of the pew and create their stories and pictures.
The sturdy playboard background provides the backdrop for all sorts of scenes and adventures with these cute magnetic animals. Store in a large zip top bag to keep all the little parts contained.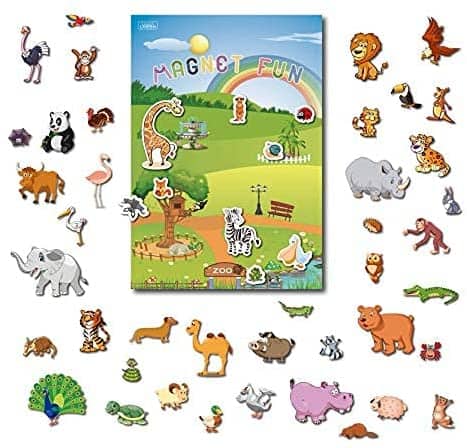 A couple more favorite items that don't take up much space but provide hours of fun are these tricky magnetic dogs and pipe cleaners. I remember playing with these little dogs when I was a child. A bulletin was a perfect landing place for the top dog and then the other dog would connect through the bulletin underneath. These tiny dogs will easily fit in your purse or pocket and can entertain children in church for quite some time.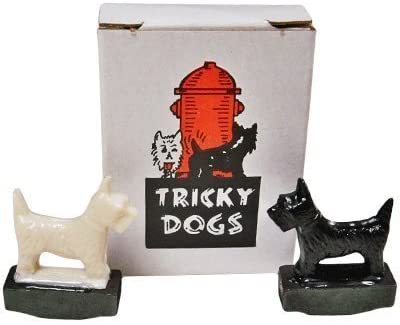 These timeless little toys will provide hours of quiet observation and play. These are small, so make sure you are supervising your young child in church.
You can slide the dogs around and around on the bulletin and then try to make the dogs connect the other direction which would result in the push of the magnet. They fit perfectly in a breath mint container or another small container so they won't get lost in the bottom of your bag.
Pipe cleaners are another inexpensive, fun item and they provide a quiet way to build or create shapes or objects. Use them over and over again. You can also use the chenille stems for threading large buttons. This is especially great for kids learning eye/hand coordination and much easier than a button with string. Encourage your child to string the buttons in patterns by color or shape. You may need to take a little time to help your child create a creature or shape with the pipe cleaners, but once they get the hang of it, they will love creating shapes. When the service is over, you or your child can straighten the stems and use them again next week.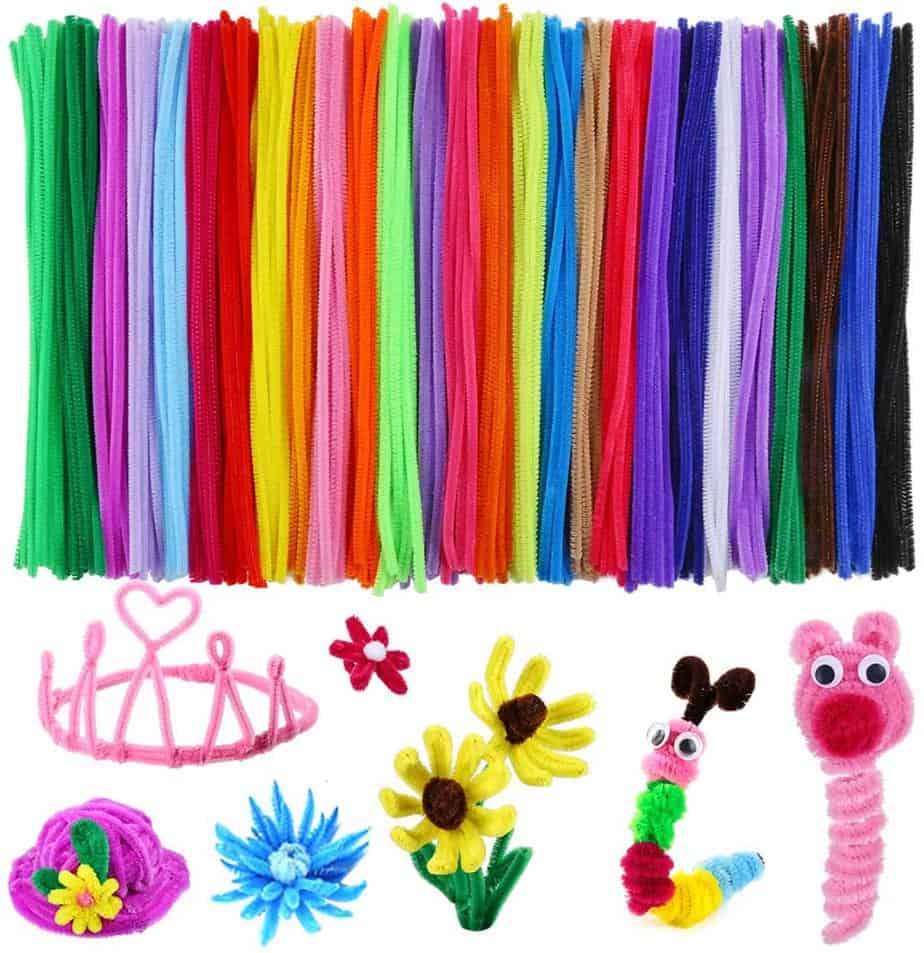 Books are always a great way to capture a child's attention. The key to having great books in your quiet bag is to rotate the books often so your kids don't get bored or lose interest. If your child loves horses, then put some horse books in the bag. If they love farm animals, then put in some books with farm animals.
When you are preparing for your children in church, think about the content of the books as well. Choose books that will help your child to think about Jesus or nature rather than movie characters or things that will distract them from learning more about Jesus.
As your child gets a bit older, they may also enjoy drawing. I absolutely LOVE these books for helping kids learn to draw. They are step by step instructions for drawing many different things. If you follow the instructions, you will end up with realistic-looking pictures. They are simple but excellent!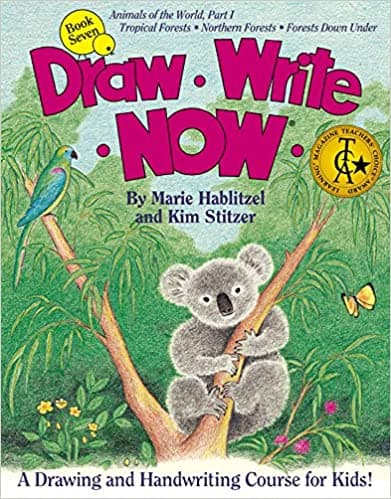 This series of learning to draw books has easy to follow instructions and simple pictures that a child can easily follow. Another great addition to your busy bag if you have children who like to draw.
Preparing Your Busy Bag Activities for Your Children in Church
You know your child and what their interests are so you can use that knowledge to pack your bag. The key is to pack things that are new and different from everyday toys. Once you've chosen the things that you will put in your quiet bag, put the busy bag away and use it only for church. This will keep the toys and activities fresh and exciting for your children in church. It also provides something special for them that they only get to play with at church.
When my daughters were little, I actually had two quiet bags packed and we alternated every other week. Each busy bag for church had similar types of items but the actual items were different. This really helped the girls stay interested in what was in the bag and be able to be busy and entertained during the church service. If you buy a huge package of chenille stems, split them into two different bags so you have a set for each bag.
One trick that works well is to save the bag until the church service actually starts. In our church, we sing, pick up the offering and the kids collect an offering and then there is a children's story. Only after those things were done, were my daughters able to open the bag. This helps them to learn patience as well as pay attention for a short amount of time when there is more activity going on in the church.
It can be very discouraging to try to sit through church with kids but don't lose heart and give up. It's amazing how many things children hear during the sermon even though you didn't think they were paying attention. Consistency is the key. If you keep going to church and teaching your children to be quiet in church, it will help them learn to be disciplined in church while also providing you the opportunity to listen to the sermon.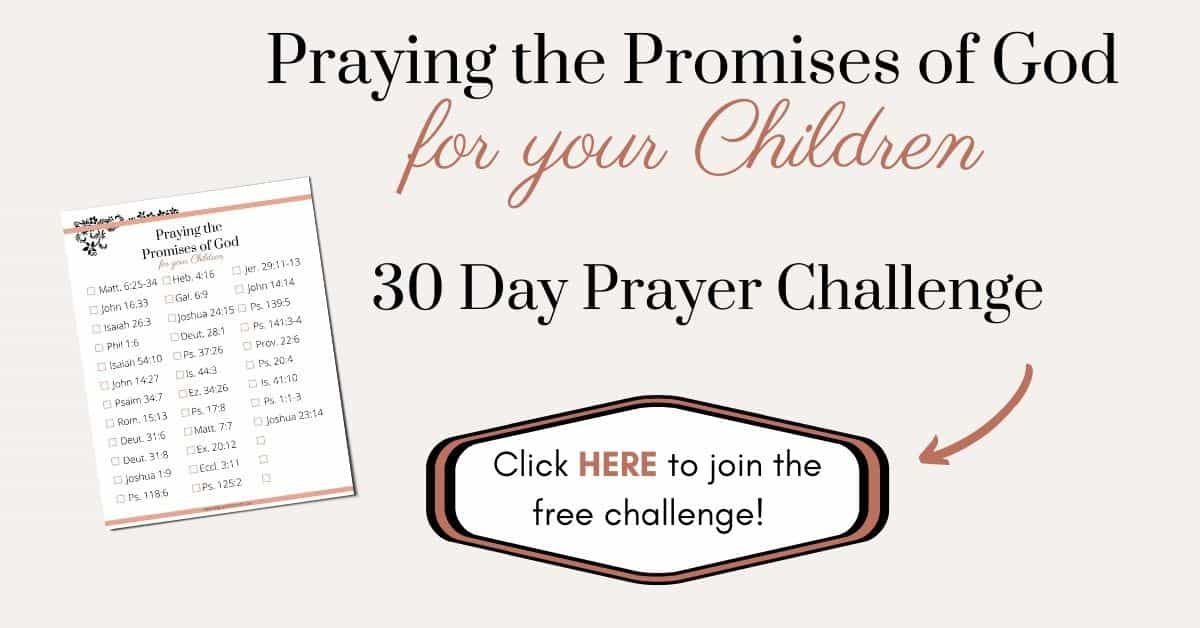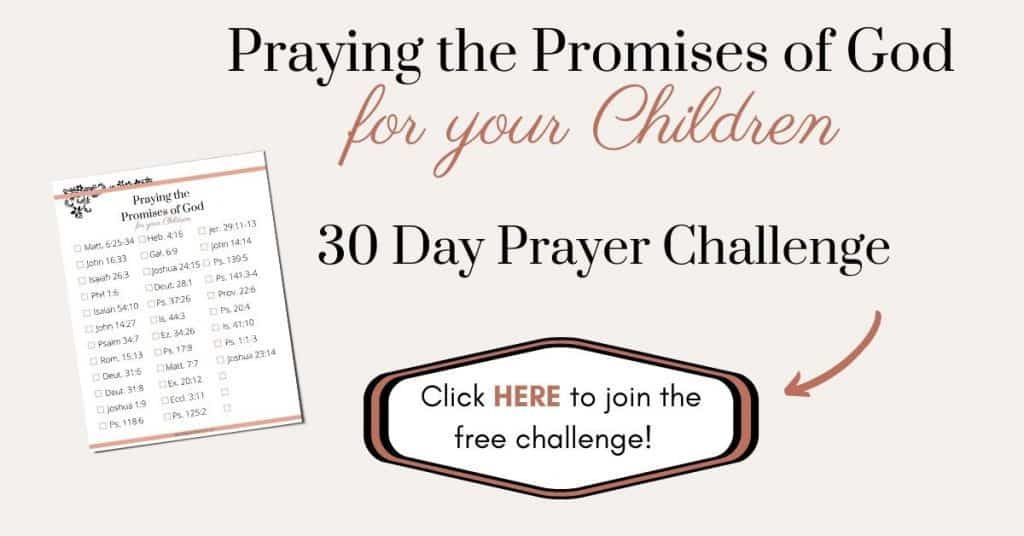 Pack Your Busy Bag and Take Your Kids to Church!
Go find a bag and start packing! Remember, it doesn't have to be fancy and you may not have all of these things in your quiet bag yet, but start. Every week that your children are in church it will get easier as they get used to the expectations and the programming. Before long, you may even hear them asking questions about the sermon or humming the songs from church.
Remember that your kids are individuals. What might be very entertaining and keep one child busy, may not work for the next child. Swap out the things that they lose interest in and put in fresh activities every so often to keep the quiet bag engaging and helpful. As your children get older, they won't need as much "entertainment" in church. But for now, embrace it and know that you are bringing your children to church to learn more about Jesus and there is nothing more important than that!
You may also like these posts…
---
❣ Sign up to get our weekly email filled with encouragement, ideas, and support for moms raising kids who love Jesus! ❣