You've probably heard the old adage "sticks and stones may break my bones, but words will never hurt me." I'm not sure how it came into being, but it is very far from the truth. Hurtful words can cause extreme damage while words of encouragement for kids can inspire growth.
Words are very powerful! They can hurt or heal. Support or tear down. Using words of encouragement and strength to support your child can greatly influence your child for life.

This post contains some affiliate links for your convenience which means I may receive a tiny commission if you purchase through these links. Thank you for extending the support of Savoring Each Moment for Christian Moms! Please see my full disclosure policy. 
Using Words of Encouragement and Strength for Kids to Support Your Child
No matter the age of your child, young or grown, your child needs to hear words of encouragement from those around them. Words that build them up and encourage them to grow in responsibility and confidence will help them develop positive self-esteem.
As a parent, you want to see your child make good choices, be diligent, be a good citizen, and be kind and gentle.
Your encouraging words can help your child understand the value that you place on good character.
How to Praise a Child with Words
Think about the qualities your child has. Their strengths, their gentleness, and kindness. Praise them for things that they do rather than things that they are.
For example, rather than saying they are really handsome or pretty, tell them that you really like the way they are kind to their siblings.
When they accomplish something difficult, tell them you are proud of their sticktoitiveness or their perseverance rather than telling them they are smart.
When you praise a child for their looks or their smarts, this is something they can't do anything about. They can't change their looks or the way their brain works.
Instead, when you praise them for how they worked it out or how they accomplished something, it is a tangible way for them to understand the value of what they accomplished.
Praising a child with words is a very important part of their growth. It helps them understand what you value in them and how their actions affect others. Praising a child with words can also help them work through difficult things and keep making progress.
Encouraging Notes for Kids
Words of encouragement for your child can be written down as well as spoken. A simple way to write an encouraging note for your child is to simple write it on a sticky note and put it on their bedroom door or bathroom mirror.
Here are 10 simple ideas to start your encouraging note for your child…
I love the way you…(share your toys with your sister)
I love it when you are…(helpful with the dog)
I'm so proud of you for…(finishing your homework without complaining)
I see that you are…(getting your chores done after school)
Great job…(working on that problem until you had it solved)
I'm so proud of you…(for being a good friend to…)
You worked really hard to finish…(putting the model together)
Great job following directions
You were very courageous when you….
I'm so proud of you for doing a careful job…
A fun way to do this is to use heart-shaped sticky notes and write your messages on them. Or, write the message on a regular sticky note and keep adding to the collection until you have a heart shape on the mirror.
Lunchbox Notes for Kids
If your child is in school, sending a note of encouragement in their lunch box can remind them in the middle of the day that you are thinking of them and proud of them. You can hand-write a note or purchase some lunchbox notes for kids and add them to their lunch each day.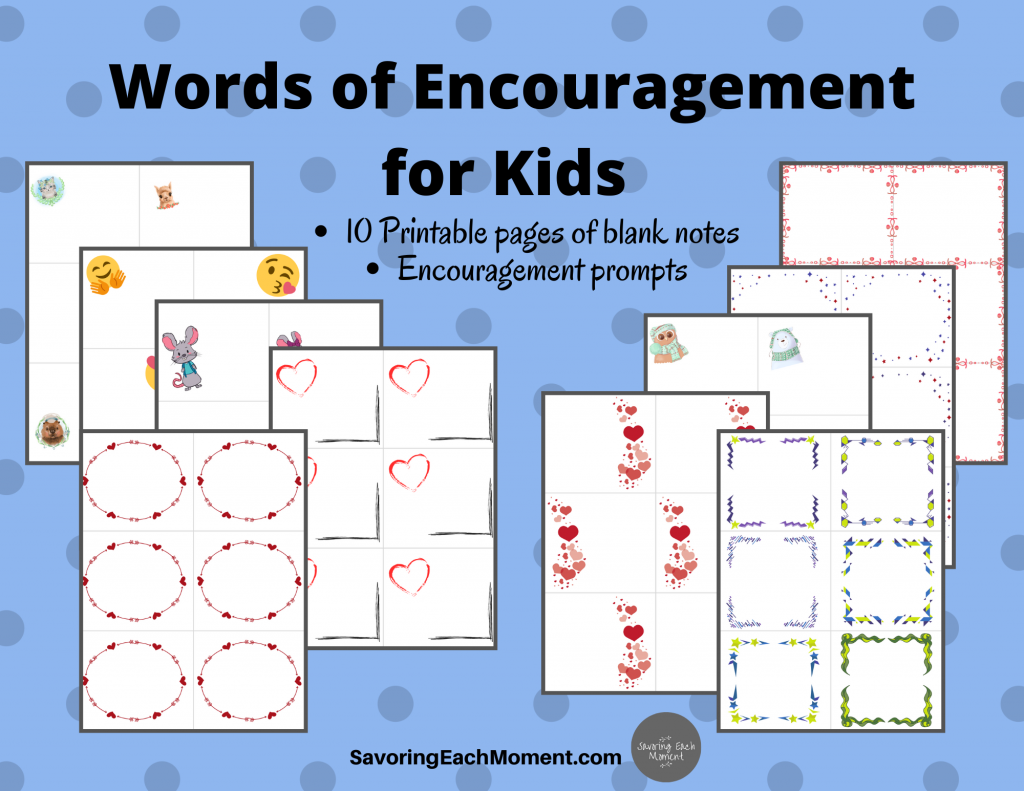 ---
Frequent Words of Encouragement
There is no magic number of words of encouragement your child needs to hear, but they need to hear authentic words often.
When you praise your child with spoken or written words, remember to praise them for something they did and not something they are.
The more you speak words of encouragement to a young child, the more capable they will become of working through problems or challenges. This in turn helps them develop the confidence to do harder things and stick with situations rather than giving up.
Link the encouragement to specific situations so your child can develop positive character traits that will help them as they grow and mature.
As a mother, you have the ability to gently encourage the personal growth in your child every day by using words of encouragement to support them. Your words can help them develop their positive character traits as a growing follower of Jesus.
You may also like these Biblical parenting links…
---
❣ Sign up to get our weekly email filled with encouragement, ideas, and support for moms raising kids who love Jesus! ❣