I love to whip up these Pumpkin Chocolate Chip Muffins in the oven in the morning and let them bake while we are getting ready for the day. There is just something about fresh, warm baked spicy pumpkin-y smells in the house before breakfast that helps you get motivated and out the door for work or school.
These pumpkin chocolate chip muffins smell delicious, taste delicious, and disappear very quickly! The spices in them make the house smell like Thanksgiving or Christmas on any ordinary day you make them.

This post contains some affiliate links for your convenience which means I may receive a small commission if you purchase through these links. Thank you for extending the support of Savoring Each Moment for Christian Moms! Please see my full disclosure policy. 
Pumpkin Chocolate Chip Muffins
If you like to plan ahead, these healthy pumpkin chocolate chip muffins also freeze really well – although, we never have enough to freeze. I usually make a double batch and they are all gone within a couple of days.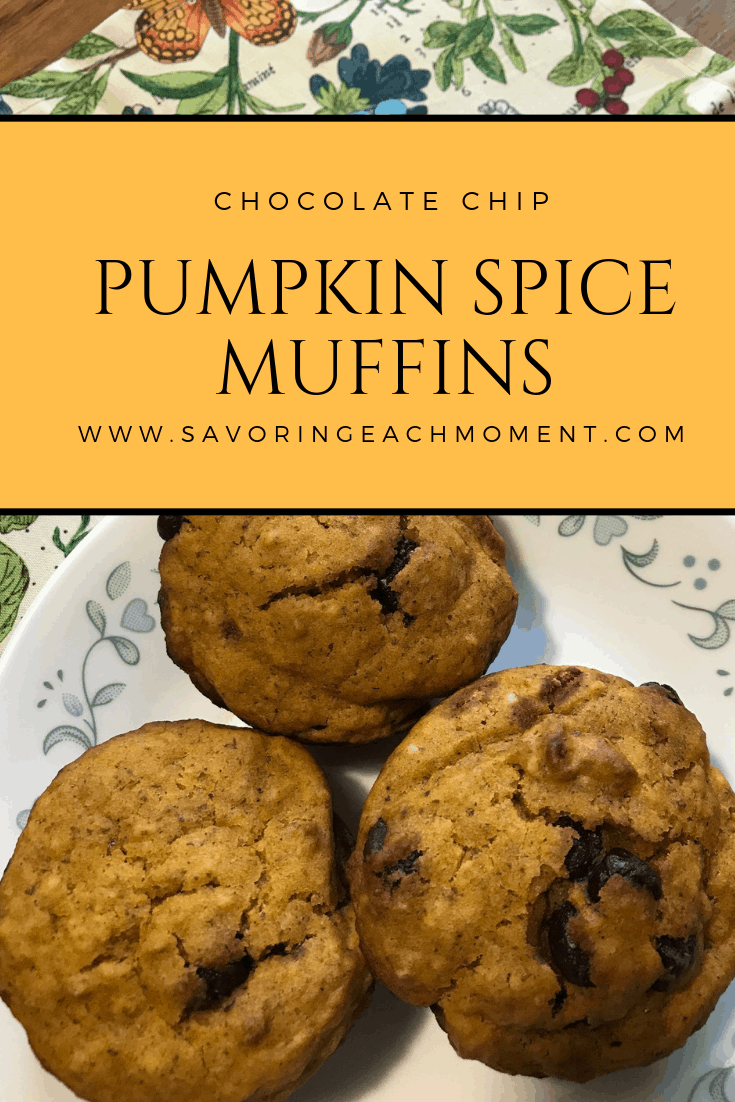 Originally, this recipe came from Allrecipes.com but it contained a lot of oil, much more sugar, and eggs so I modified the basic idea with healthy alternatives such as applesauce and flax meal. I use homemade applesauce, so I know exactly what goes into these muffins!
My favorite tools for making healthy pumpkin chocolate chip muffins are silicone muffin cups which make the whole cleanup process so much easier! I used to wash my muffin pans every time I made muffins which diminished the frequency of muffins since I don't enjoy washing muffin pans. But since I've found these cute and colorful muffin cups, the clean-up is super easy!
The ease of making and eating muffins makes this recipe a keeper. I have made a lot of different types of muffins but these healthy pumpkin chocolate chip muffins are my favorite recipe. I always keep a can of pumpkin puree and some chocolate chips in my pantry so that I can make these delicious muffins often.
Create Your Own Healthy Pumpkin Chocolate Chip Muffin Mix
They would also be really simple to make ahead as a mix with all the dry ingredients in a zippered bag. Label the bags so they are ready to add the applesauce, water, and pumpkin. These muffins also travel really well in lunches (or breakfasts in the car) because they are moist but not crumbly.
Maybe our family is the only one around who sometimes eats breakfast on the way to school or work, but it's really handy to have something that doesn't leave a mess all over the seats or your lap!
If you love muffins and love an easy recipe that is full of flavor, then this is a recipe you will want to make and save for frequent use. Filled with healthy goodness, these Pumpkin Chocolate Chip muffins will be your new favorite recipe!
Pumpkin Chocolate Chip Muffins
Ingredients
½

C.

sugar

¼

C.

applesauce

2

T.

Flax meal mixed with 6 T. water

¾

C

canned pumpkin

¼

c.

water

1 ½

c

flour

¾

tsp.

baking powder

½

tsp.

baking soda

¼

tsp

ground cloves

½

tsp.

ground cinnamon

¼

tsp.

salt

¼

tsp.

ground nutmeg

½

c.

Hersheys dark chocolate chips
Instructions
Mix all the ingredients together until completely mixed. Fill greased muffin pan 2/3 full of muffin batter. Bake at 400 degrees for 20-25 minutes.
You may also be interested in these delicious recipes…
Herbed Easter Bunny Bread Rolls
❣ Sign up to get our weekly email filled with encouragement, ideas, and support for moms raising kids who love Jesus! ❣