Bible escape rooms can be a really fun way to encourage a friendly competition into solving puzzles and riddles while learning more about a Bible story or biblical character.
Creating a Bible escape room doesn't have to be difficult or elaborate to be a hit at your next youth group or small group. When you have a good Bible escape room game ready to go, it will be easy to use in multiple settings and groups.


This post contains some affiliate links for your convenience which means I may receive a tiny commission if you purchase through these links. Thank you for extending the support of Savoring Each Moment for Christian Moms! Please see my full disclosure policy. 
Bible Escape Room Games – Making the Bible Fun
If you have ever been tasked with finding something fun for a group of kids to do that is Bible-related, you may have hunted for a number of different Bible activities for youth. You were likely asked at the last minute and then you may have been scrambling to find a printable game or activity to use on short notice.
Whenever you hunt for youth group ideas, you probably search for things like Bible puzzles pdf, printable Bible puzzles for adults, Bible activities for youth, youth group activities for spiritual growth, or Bible-based escape room games. But what you really need is a game or activity you can print and use right now!
This is where a Bible escape room comes in! You can use Bible trivia questions to create your own or purchase a ready-made game.
---
---
Questions you might have about Bible escape rooms…
What is a Bible escape room?
How can I make my youth group fun?
How do you make a successful escape room?
How do you use a printable escape room?
If you have some of these questions, then you are absolutely in the right place! This post will cover each one of these questions and help you prepare for your next Bible-themed escape room idea.
What is a Bible Escape Room?
A Bible escape room is a game of puzzles and riddles. It can be played individually as solo players or in groups of 2 or 3 depending on the size of your group. Competition is the name of the game here. Each player or team is trying to solve the puzzles or riddles before their opponents do so that they can get the next puzzle or riddle.
A Bible escape room game offers a learning opportunity to learn more about a Bible story or character along with solving puzzles or riddles. It is also a super fun Bible activity for youth for spiritual growth. Using a Bible character like Ruth, using a Bible Escape Room Game can really help your players dive into the Bible stories and apply the messages to their own lives.
You could set up the room to be physically locked and only allow players to leave once they have solved the puzzles and completed the Bible escape room, or you could forget about locking the physical room and just have each group work on completing the puzzles and trying to beat the clock or each other in timing.
How to Make a Successful Bible Escape Room
The most important part of any Bible activities for youth for spiritual growth or creating a successful Bible escape room game is to be prepared. Make sure you have all of your pages printed out and ready for each group. This could be as simple as putting each puzzle in an envelope and labeling them numbers 1, 2, and so on. You could also use different colored envelopes for each team.
RELATED: The Do It Yourself Escape Room Book
But it doesn't even have to be this complicated. You could just have a stack of puzzle 1, and puzzle 2, and so on. Then as each person, or team, finishes one puzzle, they come to you for the next puzzle. Once you've checked their answers, they receive the next puzzle.
Another key part of making a successful escape room is to know the puzzles and answers. Most printable escape room puzzles or Bible escape room games will come with answers. Be sure you take a few minutes to solve the puzzles yourself to make sure you understand the game and what each puzzle is requiring for solving it.
When participants get stuck, decide how much you are going to help them. If you have a group of kids who are of varying ages, you may want to give more explicit help or hints to the younger players than the older ones or adults.
Finally, in order to plan a successful escape room or Bible escape room game, you need to make sure you have all the tools and materials that the players will need. If you are using a printable escape room, you may want clipboards or other hard surfaces to put the puzzles on to fill them out. Your participants may also need pencils, a Bible, and perhaps a concordance.
---
---
How to Use a Printable Escape Room
Every Bible escape room game is different, so you will need to print out the pages and take some time to read through the directions and the process of the escape room game.
You will likely need to make copies for each player or each group of players so that they can solve the puzzles and riddles.
Depending upon the ages of your players, you may need to adjust the game to meet their level of ability. In the Bible Escape Room – Life of Joseph printable game, there are three levels of difficulty and each level has more or fewer hints and clues.
So you will need to prepare for the level of your teams or individual players. In this way, the entire group can play the game together, but the different ages of players will receive a different level of difficulty for each puzzle.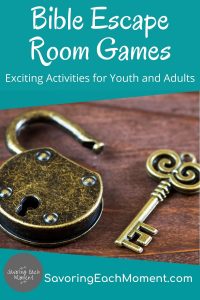 3 Ways to Use Bible Escape Rooms as a Youth Group Activity for Spiritual Growth
1. Prepare for the Bible-based escape room by reading the biblical narrative or setting of the story. Encourage the players to come prepared by reading the chapters or context verses ahead of time, or taking some time to read the story before starting the game.
2. Invite the participants to think about how each of the characters or the main character dealt with challenges or difficulties. Talk about the situations the participants faced and how God used these situations to turn something difficult into something good. Then apply the concept to your own life. Share a story or situation of when you faced a difficult time and how God turned that into something good for His glory and your benefit.
3. Extend the learning after the Bible-based escape room is over. Prepare and understand what the point of the Bible escape room is and what the ultimate learning is that is planned. Use this as your springboard for your conclusion or worship thought. In the Life of Joseph Bible Escape Room, the ultimate result is finding out how God led in Joseph's lie and how He can lead in your life too. You can take this theme and use it to focus your closing thoughts to make the concept stick.
Bible activities for youth and Bible escape room games are a great way to encourage the players to delve into the story while trying to solve the puzzles. Players will learn from the puzzles and the narrative and have fun in the process. Try this Life of Joseph Bible escape room today!
---
You may also like these posts…
---
❣ Sign up to get our weekly email filled with encouragement, ideas, and support for moms raising kids who love Jesus! ❣
---
❣ Sign up to get our weekly email filled with encouragement, ideas, and support for moms raising kids who love Jesus! ❣