March 17 is my grandfather's birthday.  He was born in 1907.  He and my grandma died a few years ago at the ages of 97 and 95, but today, I would like to pay tribute to their memory and the influence my grandparents have had on my life. My grandparent's story and legacy have left a ribbon of love and courage for their family.
You may be wondering about the role of grandparents and why grandparents are important to grandchildren. This – my story – was originally published in Renewed and Ready Magazine in 2008.  Even though the magazine is no longer in print, my story and my grandparents' story and legacy live on.

This post contains some affiliate links for your convenience which means I may receive a small commission if you purchase through these links. Thank you for extending the support of Savoring Each Moment for Christian Moms! Please see my full disclosure policy. 
Preserving the Impact of a Grandparent's Story
I quietly slipped out of bed and went into the bedroom where my grandparents were staying. They were sleeping in bunk beds since that is what we had for an extra bed. But my grandma had insisted that she'd like to sleep on the top bunk. I peeked around the edge of the bed and saw that my grandma was awake.
She beckoned to me with her hand and then covered her lips with her finger, urging me to be quiet. I climbed up to the top bed and crawled under the covers next to her. She smiled and blinked her eyes really big the way she did when she'd like to wink. Grandpa snored loudly below in the bottom bunk causing Grandma and me to giggle quietly.
"I always wake up early," she whispered as she smiled at me with her toothless smile. "I've been awake for a long time already." Only in bed in the early morning would anyone ever catch Grandma with her teeth out, (although catching her in bed in the morning never happened at her house). Or when she decided to splurge and eat a piece of blackberry pie.  But then she would stand with her back to the rest of the family while she took her teeth out to eat her piece of pie.
"I've been hoping you would get up, so I could get up too!" I whispered back. It seemed that I had gotten my early morning wakefulness from my grandma!
Snuggled securely next to her, I began asking Grandma about what life was like in Germany when she was a girl.  She had come to America on a ship when she was seventeen. She had entered the United States of America – the land of promise, plenty, and freedom, through Ellis Island in 1927.  Come to meet her older sister who had been in the U.S. for a couple of years. The rest of her earthly family was all left behind in Germany.
Listening to a Grandparent's Story
"What was it like to live in Germany, Grandma?" I asked out of curiosity.
"We used to walk or ride our bicycles to church every week. We lived a few miles from the church, but we never stayed home! Even when it snowed and was cold, we got there." Grandma remembered. "We would all wear matching dresses – my two sisters, my mother, and I. How we all loved to sing. We would often stay in the afternoon to sing at the church with the young people's choir. Sometimes we went hiking in the woods or in the mountains."
As my Grandma described where she had lived, I somehow pictured an idyllic setting much like Heidi's in the age-old story by Johanna Spyri. Green grass on the hillsides and little houses with gingerbread trim and goats running along in the fields.
I tried to picture my grandma being a young girl having friends that were young. Whenever we visited my grandparents and saw their friends, they were all the same age in my mind — old! But once, my grandma had been young. She'd had pretty black hair, a ready smile, a young figure, and stylish clothes.
Grandparent's Stories Impact the Present
My grandparent's stories were stories of struggle, hardship, loss, and courage. They worked hard through ease and difficulties. They knew that God was the center of their life and nothing else would keep them going. Remembering my grandparent's stories, I remember the joy they had when they remembered. They had found happiness and were determined to be joyful no matter what.
One of the reasons why grandparents are important to grandchildren is that they offer a different perspective on life. From a different generation, they are able to look at life and share their life from a different angle. This brings history alive, connecting a child with another generation.
Below, my grandpa rolled over and woke up. My grandma and I were very quiet although we both felt giggles building up. When my grandpa finally got up, he looked over the edge of the bed sheepishly, as if he knew we'd been waiting for him to get up!
"What are doing up so early, young lady?" He laughed and patted my head. He pulled his suitcase out from under the bed and slipped a book out of it.
"I brought this book for you. It's about a boy and his horse. I've already read it, and I think you'll like it!"
"Thank you, Grandpa." I said with a smile.
Grandpa loved to read, and he especially loved junior story books. He and Grandma would go to Goodwill and he'd hunt through all their books, often loaning me some of them to read. It's funny, how after many years, I can still picture this scene vividly – as if it were only yesterday.
My grandparents had such a huge impact on my life. My grandpa retired from being a minister about the same time I was born. But his passion for God's work continued many years after that. The role of grandparents in my life was incredible as they were consistent in their love and care for us, listening to our stories and encouraging us in our pursuits. One of the most important reasons why grandparents are important to grandchildren is that they can love from a different angle.
A grandparent's role is often to simply love and have fun with a grandchild. This makes the relationship between a grandparent and the grandchild extra special.
When her children were young, Grandma received a letter edged in black telling her that "months before" her father had died in Germany. She had never been able to see him again since leaving home at the age of seventeen.
Throughout the years I knew my grandparents, I never heard them complain about hardships or disappointments. They always, "had enough to be content!" I remember my mom asking them if they needed some new towels.
"No!" My Grandma would answer. "We have towels galore!" It was always the same – no matter what you asked them, they had enough. They weren't rich or well-to-do. But they were always happy with what they had. They worked hard and were totally committed to God.
RELATED: Life Lessons I Learned from my Mom
The Legacy of a Grandparents' Story
Two years ago, my grandparents died, nine months apart from each other.  Funerals are never easy, even when you know they loved God and have been waiting for Jesus to come again. Their funerals weren't big since my grandpa was 97 and my grandma was 95 and so many of their friends had already died. But their stories and legacy live on in their children and grandchildren. Their greatest desire was to have their whole family united in loving God.
Remembering my Grandparent's Story
When I think about my grandparents' story, about their lives, and the great legacy they left, I think first of their unending commitment to God; whatever that would entail. They would have gone to the ends of the earth if need be, to answer the call of God. I often saw them reading the Bible, studying their lessons, and reading Christian books.
Second, they looked at each of their children and grandchildren with the eye of someone who would always love them, no matter what. They prayed constantly for their family! I always knew that they loved me incredibly – even when I disobeyed.
And last, but certainly not least, they looked at each person they met as an opportunity. Grandma always looked for ways to be of service. Over her lifetime, my grandma baked hundreds of apple pies and cookies and shared them with neighbors, the sick, and the elderly folks from church. I am so thankful for so many years to see my grandparents witness in action.
As I daily leave my own legacy for those around me, I pray that I will follow their example, and live as someone who loves God with all my heart and loves others like myself!
RELATED: Praying Moms: Using Scripture to Pray for Others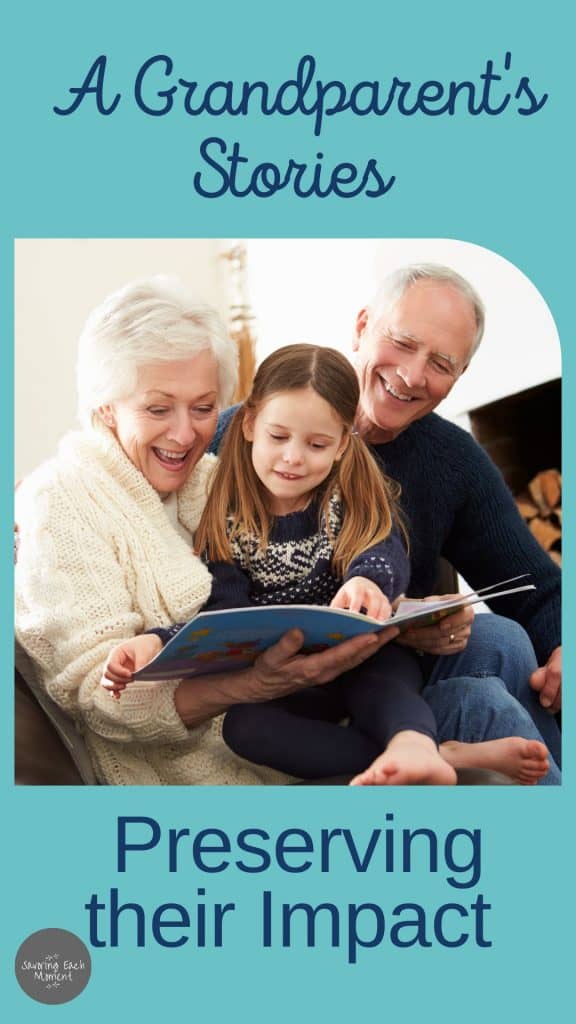 Preserving Your Grandparent's Stories
I was eight or nine years old when this story happened. We lived about eight hours from them and didn't get to see them more than about three or four times a year.  As the oldest grandchild (and only granddaughter) my Grandma always told me, "You know I love you special since you are my only granddaughter!"  We all knew that.  Yet we all knew (my two brothers, my two cousins, and me) that she told us each she loved "each one of us" as someone special.
As you think about your grandparents, what do you know about their stories? If your grandparents are still alive, or the grandparents of your children, start asking questions about their history. What did they survive? What have they seen in their lives? What challenges did they face and how did they deal with those challenges? These conversation starters are a great way to start sharing stories!
My mom loved to ask questions, so every time we would visit my grandparents, she would ask more questions. She would pull out the photo albums and take the pictures out and write the stories on the backs of them so we could remember our grandparent's stories and the names of their family and friends.
Take the time to listen to your grandparent's story and glean the insights and character traits that they developed over a lifetime. Write their stories down. Record them talking and telling their stories. Video them answering questions. You never know when those memories will become priceless memories.
If you are looking for a fun way to keep track of your memories or create memories for your children, check out these grandparent memory books!
You may also like these Biblical parenting links…
---
❣ Sign up to get our weekly email filled with encouragement, ideas, and support for moms raising kids who love Jesus! ❣