Simple ways to incorporate play-based learning into your child's day with escalate their learning through play as they discover, develop, inquire, and explore.
A friend confided in me that she was really worried that her child wouldn't be ready for school because she didn't know how or what to teach her at home to prepare. As I considered my friend's concern, I encouraged her to continue teaching her child through play-based learning. Her daughter was already learning so much and there was no need to worry.
When my own daughters were young, we had so much fun integrating learning opportunities into games and play. This happened quite often and quite naturally. Little did we know then how much they were learning through playing, reading, doing chores, or just talking. Play-based learning provides the backdrop for all sorts of learning.
You may be wondering…
What is learning through play?
Why is learning through play important?
How do you facilitate learning through play as a parent?
Is play-based learning effective?
This article will explore these questions and provide some practical tips for facilitating learning through play with your child.

This post contains some affiliate links for your convenience which means I may receive a small commission if you purchase through these links. Thank you for extending the support of Savoring Each Moment for Christian Moms! Please see my full disclosure policy. 
Learning Through Play – Play-Based Learning with Young Children
It is never too early to help your child learn the basics to create a strong foundation for future learning as they grow older. Many of the things you teach your children at an early age will come through learning through play at home. The basic skills children learn through play will support them as they go to school.
Take a deep breath and relax. You don't need to hire a nanny, a tutor, or send your kids off to preschool to learn the basics. Just read on to find out how to encourage learning through play into the teachable moments you are already spending with your kiddos and they will be miles ahead in their learning!
Children can learn the basics of lifelong learning when they start Kindergarten or first grade, but giving them a head start before they even realize they are learning, gives them a huge boost when they begin school. It also gives you the opportunity to help them develop a solid foundation for learning.
What is Learning Through Play (Play-based Learning)?
Learning through play is a way to build and layer education into the fun activities that a child already enjoys doing. Playing is a huge part of a young child's life and the more they play and explore, the more they learn.
As an adult, you can ask questions, invite curiosity, and inspire learning through play by using games, toys, and playtime activities the child is naturally interested in.
When you intentionally find ways to layer learning into whatever your child loves doing, your child will learn without even realizing it. They will add academic vocabulary and understanding to their growing mind which will make it much easier for them to grow in knowledge and understanding as they get older.
7 Benefits of Learning Through Play or Play-Based Learning
The benefit of learning through play or play-based learning for your child is that they will be learning without realizing they are learning, while they are having fun. The benefit of learning through play for you as the parent is that you can accommodate, focus, and expand right along with your child and you don't need any teacher training, education, or curriculum.
Here are 7 quick benefits of encouraging learning through play for your child. Play-based learning starts at the foundation of what the child is interested in and then expands their opportunities to grow and learn.
7 Benefits…
It's fun
It's easy
You don't have to be a teacher
No curriculum needed
Very transferable
Expands with the child
Flexible
---
---
Learning through Play Activities/Play-based Learning
Here are some fun and easy ways to incorporate learning into your everyday life with your children. Add some of these play-based learning activities into your day today and watch your child's knowledge and learning grow and expand.
5 Play-Based Learning Activities to Boost Reading
Play games with words. Practice finding rhyming words, opposites (antonyms), or synonyms. We loved to play this game while we were doing dishes. I would say something like "what is a word that rhymes with rat?" and they would say "cat" or "hat".
Spelling – Learn the alphabet song. Teach your child the sounds of the letters and practice sounding out words or finding words that have certain letter sounds in them. See how many words you can come up with that start with the letter T or S, etc.
Read aloud – This helps children with story-telling, sequencing, grammar, proper sentence structure, language acquisition and learning new words, reading for context, voice inflections, and punctuation.
Memorize together – Bible verses (Psalm 23, Psalm 91, etc), poetry, silly rhymes, and tongue twisters (Peter Piper picked a peck…, How much wood could a woodchuck chuck…) Get some ideas in 52 Bible Verses for Kids to Learn this year.
Play the alphabet game in the car. Look for alphabet letters on signs and buildings and encourage your child to recognize words on signs such as STOP. If your child doesn't recognize the letters yet, look for shapes or colors. If you're looking for specific games to play in the car, check out this awesome road trip activity bundle!
3 Play-Based Learning Activities to Encourage Music Skills
Sing together. Surround your children with kid music that is singable. Just because a song is popular on the radio doesn't mean it's singable for a child. Pick music that includes songs that you can sing together, echo songs like Down by the Bay and Bill Grogan's Goat, story songs that tell a story, rounds, silly songs, repetitive/predictable songs like Old MacDonald, Christian songs, scripture songs.
Music has the ability to help a child (or adult) learn something and remember it more easily than without music. Songs based on scriptures will stick in your head much more easily than just trying to memorize a scripture verse. We also learned to skip count by music and then all you had to do was remember which song it went with and you could skip count. 2, 4, 6, 8, 10, etc. My girls loved Cedarmont Kids music cds as well as anything by Twin Sisters!
Music and singing help a child learn pitch, beat, and rhythm. One game we used to play in the car was listening to different music and trying to figure out if it was 3/4, 4/4, or 6/8 time. This was obviously an extension of earlier "music lessons," but we had fun trying to be the first to figure out the timing.
RELATED: Fun Preschool Worksheets
4 Play-Based Learning Activities to Build Math Fluency
Create verbal math stories when you and your children are playing with toys. Encourage counting, adding, subtracting, groups and patterns. "How many blue cars do you have? How many red cars? Do you have more or less red cars?"
Counting and skip counting. You can count steps from one place to another. You can skip count when you are jumping rope "2, 4, 6, 8," etc. Memorizing skip counting (counting by a specific number such as 3. For example 3, 6, 9, 12, etc.) gives your child a head start on multiplication and division without even realizing it.
Play store. For many years, all the cans and food in our pantry had prices on them because my daughters loved to play store. They had play money, a grocery cart or basket, and we had a play cash register. They loved to come shop from my pantry. At first, I was the storekeeper and would add up all their purchases, but as they got older, they started taking turns being the clerk and adding up the prices and counting out the change.
Set the table. Fork on the left, spoon and knife on the right of the plate. (Fork and left have 4 letters, spoon, knife, and right have 5 letters.)
---
7 Ways to add Learning through Play to Encourage an Interest in Science
There are so many ways to add scientific conversations and observations into daily activities. Here are a few ideas to get your creativity started.
Identify birds and animals. Look for habitats and ecosystems. What do the birds or animals eat? Where do they sleep?
Use a magnifying glass and look at things up close. Insects, bark, grass, flower petals, etc.
Measure the rain with a rain gauge. Measure the snow depth.
Practice drawing animals. Draw with your child. Get some great drawing books such as these " target="_blank" rel="noreferrer noopener nofollow">Draw Write Now Books! (These are our ultimate favorite!)
Make sprouts to eat. There are super easy directions for making sprouts in a jar.
Involve your child with cooking and baking. Talk about heat, measurements, liquids, solids, and how they react to heat and cold. Make popsicles. Melt chocolate and dip strawberries in it and then let it cool and harden again.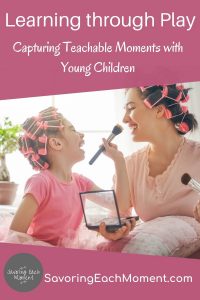 How to Add Play-Based Learning Activities To Your Child's Play Time
Take a few moments to write down a few ideas and add to them each week.  I'll bet you are already doing many of these things with your child and that is fantastic!  In my full-time job as a teacher, I see many children come to school with a tool kit of knowledge that they have learned through interacting with their parents and intentional teachable moments that encouraged them to learn. Their parents have spent time with them in play-based learning and expanded their learning through play.
RELATED: Lots of Fun Activities to Print
There are other children who have missed those teachable moments and struggle to catch up in school. Just by reading this post, your child is on the road to success because you are looking for ways to encourage their learning. I'm proud of you! Enjoy the journey of teaching your child new things and setting them up for success!
Start small. Don't feel like you have to do 37 play-based learning activities every day. You don't have to create a new sensory bin every day. You also don't have to go out and buy a bunch of expensive Melissa and Doug toys (even though they are awesome) so that your child has "educational" toys.
Start simply by washing dishes in the sink with your child and put some extra soap in the sink so they can explore bubbles and foam.
Start by folding socks together and looking for pairs of matching colors and shapes and sizes. Once they're folded, have a sock party and see who can throw the most folded socks into the laundry basket.
Start by playing with cars and counting the blue ones or how many are parked in one section of your play area. Which car goes the fastest and which one goes the slowest?
You've got this! Make it fun. Get your free play-based learning idea list here!
If you know a mom who would like these ideas, please share this with her. Thanks for Pinning it for later or sharing it on Facebook!
You May Also Like These Posts
---
❣ Sign up to get our weekly email filled with encouragement, ideas, and support for moms raising kids who love Jesus! ❣