This post may contain affiliate links.  Please read my disclosure policy.
From the time I was a little girl, lefse was something special!  Usually my mom would make lefse for Thanksgiving or Christmas or whenever we spent time with her family.  My mom would always pack up her griddle,  lefse rolling pin and her lefse board and take them with her when we visited.
My Mom, the lefse queen! 
When we lived in Wisconsin for a few years, many of the grocery stores carried lefse in their deli or refrigerator section.  We tried it a couple of times, but it was nowhere near as good as our homemade version!
We have continued the tradition of lefse as we have grown a new generation and we all love lefse!  What's not to love about potatoes, flour, butter and sugar!  Last time we made lefse, my mom, daughters, nephew and nieces all pitched in to help with the rolling and cooking – and eating!
So easy, you can relax while waiting for it to cook! 
I have heard from other lefse eaters that there are other ways to eat lefse besides slathering it with butter and sugar, but this is our preferred way to eat it.
Half the fun of making lefse is getting to use the special tools while cooking with your friends or family.  Check out the links below to see what tools we use.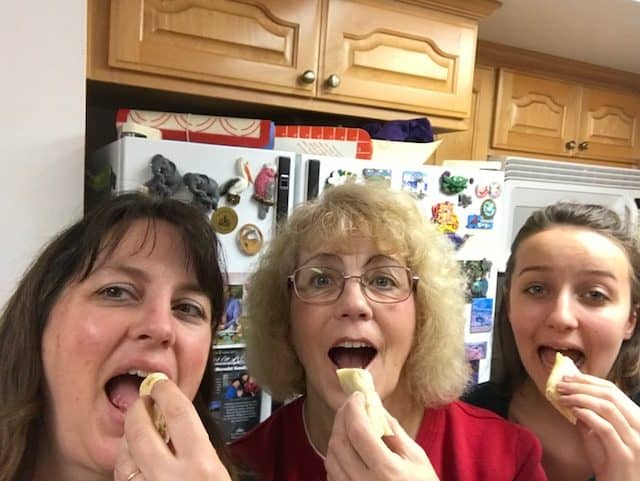 Wait for it….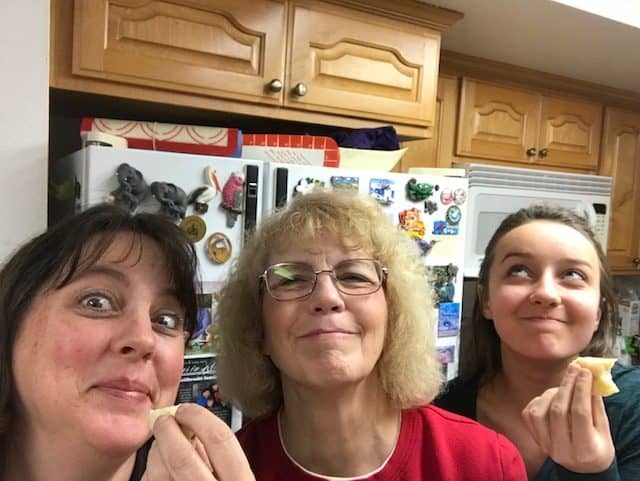 Mmmmm!  So good!
If you have a different way of eating lefse, I'd love to hear about it!
Lefse
Tradition Norwegian recipe using mashed potatoes and flour. Simple and delicious.

Ingredients
5

pounds

white potatoes

2

tsp

salt

2

T

sugar

1

C

margarine

1

C

half and half
Instructions
Peel potatoes, boil until soft, then drain.


Add all ingredients and mash potatoes until very smooth. I use my Bosch with the whipping tools to make mashing potatoes really easy and smooth!


If you don't have a Bosch to mash the potatoes really smooth - you may use a ricer to make your mashed potatoes really fine and smooth.


Place in refrigerator overnight.




When you are ready to make the lefse, divide the mashed potatoes into four equal amounts.


Take one fourth of the potatoes and then add in about 1 cup of flour. Knead the flour into the potatoes. Add more flour if needed to make the dough like pie crust - not sticking to your hands but not tough and dry.


Form into 16 balls.


Take one ball and place it on a pastry board (see links below) or a muslin towel taped to the counter to hold it in place. Sprinkle some flour on the board/towel and then use a lefse rolling pin, roll out into a circle.


Your lefse should be a little thinner than a flour tortilla.


Use your lefse stick to carefully release the lefse from the towel and lightly shake off the extra flour.


Transfer the lefse to a hot griddle. (My favorite griddle is listed below.)


Cook on dry griddle until the lefse bubbles a little. Turn over and cook on the other side. Be careful not to let the lefse get too dark.


Place on a towel covered cooling rack and allow to cool before storing in the fridge.


We like to butter our lefse and sprinkle sugar on it. Then roll up and slice into one inch sections. In my opinion, lefse is best warm! Enjoy!



Bosch Mixer

Lefse Griddle

Lefse Tool Kit

Lefse Stick

Lefse Rolling Pin

And, of course you need a lefse apron!

Or two…