If you are looking for the best lefse recipe with mashed potatoes, you will love this one with a list of lefse ingredients, lefse tools, and lots of pictures of how to make your lefse!
From the time I was a little girl, lefse was a special holiday tradition. It took time and we all worked together to make it and then of course eat it as well. Usually, my mom would make lefse for Thanksgiving or Christmas or whenever we spent time with her family. My mom would pack her griddle, lefse rolling pin, and her lefse board and take them with her when we visited.
My Mom, the lefse queen!
This post contains some affiliate links for your convenience which means I may receive a tiny commission if you purchase through these links. Thank you for extending the support of Savoring Each Moment for Christian Moms! Please see my full disclosure policy. 
When we lived in Wisconsin for a few years, many of the grocery stores carried lefse in their deli or refrigerator section. We tried it a couple of times, but it was nowhere near as good as our homemade version!
Over the years, my mom has perfected the best lefse recipe with mashed potatoes and it always turns out delicious! You only need a few ingredients to make a big batch. If you have any extra lefse, you can freeze them or make up a plate for your neighbors. But most likely, you won't have any leftovers after you've tried the best lefse recipe! If you want to learn how to make lefse, this recipe is easy enough for beginners with lots of pictures.
We have continued the tradition of lefse as we have grown a new generation and they have learned how to make lefse and continue to love eating lefse! What's not to love about potatoes, flour, butter, and sugar? The last time we made lefse, my mom, daughters, nephew, and nieces all pitched in to help with the rolling and cooking – and eating of course!
So easy, you can relax while waiting for it to cook!
Lefse Ingredients
One of the keys to how to make lefse with mashed potatoes is to make really good mashed potatoes to start with. Russet potatoes that have been mashed with half and half, butter, and salt and then put through a ricer will be the very best start for your lefse recipe. I'm sure you could alter the best lefse recipe and make it dairy-free, but you might want to look for a different recipe if that's your goal. 🙂
So for the best lefse recipe, you will need really good mashed potatoes, flour, and some sugar. That's it. Simple ingredients.
Once the lefse is cooked, the best way to eat it is warm, slathered in butter and sprinkled with white sugar, and rolled up. I have heard from other lefse eaters that there are other ways to eat lefse as a part of your meal sort of like bread or spread it with lingonberry jam, but our favorite way is to eat it as a dessert, slathered in butter and sugar.
Lefse Tools
Learning how to make lefse is the fun of using the special tools while cooking your best lefse recipe. Each of these tools can be used for other things at other times, but having the right lefse tools makes the process of making lefse much easier and less time-consuming.
Griddle – you will need a good quality flat-edged griddle to cook your lefse. This griddle has an adjustable temperature which can really help you keep a constant surface temperature so you don't end up burning your lefse. A regular non-stick frying pan can work in a pinch, but it is very difficult to turn the lefse over in a pan that has edges. You can also use a very short-edged non-stick frying pan like this one, but you will have to watch the temperature on your burner to keep the pan from getting too hot.
Lefse Turning Stick – a lefse turning stick is very very helpful if you want to make lefse that stays together in a round shape when turning. You can certainly try using a spatula, but because the lefse "dough" is so soft, it is very easy for the lefse to get a hole in the middle when you are trying to turn it over. If you don't want to spend the money to buy a lefse turning stick, you could also make one from a large paint stick and then sand off the edges of one end. It is handy to have more than one lefse turning stick if you are making a big batch because sometimes the mashed potato dough can get sticky and cause the stick to start making holes in the lefse as you are turning them.
Lefse Starter Kit – If you don't want to purchase all the different parts, you can also start with a great lefse starter kit and get all the tools you need in one package! This would also make a great gift idea for someone who likes to make lefse!
Lefse Rolling Pin – A lefse rolling can be used for other things throughout the year, but is especially useful for making lefse. It provides the finished "bumpy" look to the lefse when you are done that is a classic texture or look, sort of like the criss-cross look of the top of peanut butter cookies.
Lefse Rolling Pin Sleeve – The last but important lefse tool is a lefse rolling pin sleeve. This is sort of like a sock that slides over your rolling pin. You can generously dust it with flour as you are rolling out your lefse and it will help the lefse not stick to the rolling pin.
A Fun Lefse Apron – When making lefse, you will probably get a good dusting of flour on your shirt. A fun lefse apron is perfect to help keep your clothes clean and your clothes out of your food. If you have a lefse lover in your family, this apron would make the perfect gift!
Mixer or Potato Ricer – A high quality mixer like this Bosch mixer (use the whip attachments) is perfect for making mashed potatoes, making bread, mixing cookie dough, and so much more. (I personally use my Bosch mixer every single week and sometimes every single day! I've had mine for almost 30 years and it is still just as good as it was the day I got it. I LOVE my Bosch. – Okay, that's all for my favorite kitchen tool of all times!) If you don't have a high-quality mixer, a potato ricer will do the job as well. You want your mashed potatoes to be free from lumps and bumps.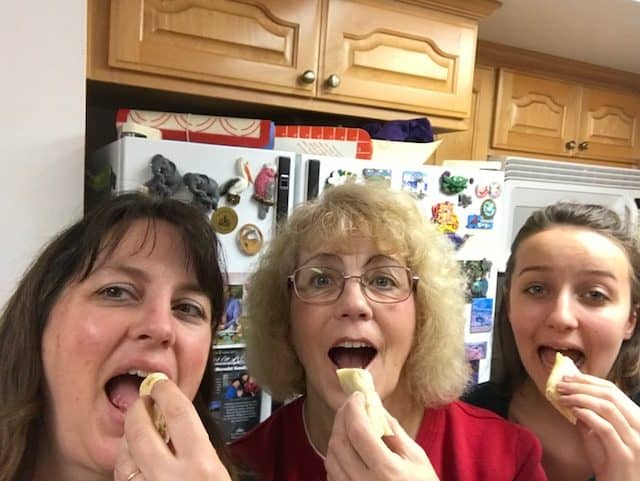 Wait for it….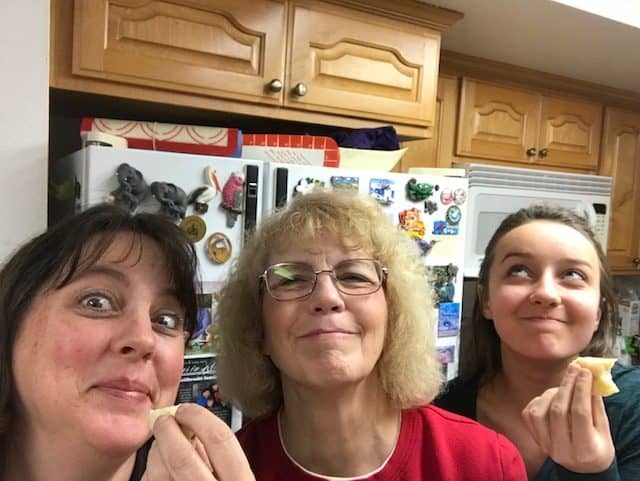 Mmmmm! So good!
How to Make Lefse Part of Your Family Tradition
If you grew up eating lefse but haven't found the best lefse recipe or have been brave enough to try making lefse, give it a try today. Once you've made lefse and eaten it fresh, you will most likely want to make it again and again! Make it a family affair and gather your supplies and ingredients and start flipping that lefse. Then sit down and enjoy their buttery sugared deliciousness with your family!
RELATED: A Grandparent's Story and Its Impact
You May Also Like These Recipes
Join the weekly email list for support and encouragement for Christian moms raising kids who love Jesus!
The Best Lefse Recipe with Mashed Potatoes
The Best Norwegian Lefse recipe with mashed potatoes.   Simple and delicious. 
Ingredients
5

pounds

white potatoes (russet)

2

tsp

salt

2

T

sugar

1

C

margarine

1

C

half and half
Instructions
Peel potatoes, boil until soft, then drain.


Add all ingredients and mash potatoes until very smooth.  Using a Bosch with the whipping tools to make mashing potatoes really easy and smooth!

If you don't have a Bosch to mash the potatoes really smooth – you should use a ricer to make your mashed potatoes really fine and smooth.  The goal is to not have any lumps in the potatoes.

Place in refrigerator overnight.

When you are ready to make the lefse, divide the mashed potatoes into four equal amounts.

Take one-fourth of the potatoes and then add in about 1 cup of flour.  Replace the bowl of mashed potatoes back in the fridge until ready to use. Knead the flour into the potatoes.  Add more flour if needed to make the dough like pie crust – not sticking to your hands but not tough and dry. 

Take one ball and place it on a pastry board (see links below) or a muslin towel taped to the counter to hold it in place. Sprinkle some flour on the board/towel and then use a lefse rolling pin, roll out into a circle.


Your lefse should be a little thinner than a flour tortilla.


Use your lefse stick to carefully release the lefse from the towel and lightly shake off the extra flour.  (See pictures)

Transfer the lefse to a hot griddle.  (See the lefse making tools in the post above)

Cook on a dry griddle until the lefse bubbles a little.  Turn over and cook on the other side.  Be careful not to let the lefse get too dark. It should just have slightly tan spots on each side when finished.

Place on a towel-covered cooling rack and allow to cool before storing in the fridge.

Spread the lefse with butter and sprinkle sugar on it.  Then roll up and slice into one-inch sections.  Lefse is best warm!  Enjoy!