Are you planning a road trip with your kids? It can be overwhelming thinking about all the things you need to pack and finding the best road trip games for families to entertain the kids in the car!
Hours in the car with children can stretch everyone's patience. That's why you need this amazing set of the best road trip games for families! They take up little space and provide hours of entertaining fun for the whole family!
You may be wondering…
What games can you play while driving?
How can I make my family road trip fun?
How do I entertain my child on a long car ride?
If these questions sound familiar, then you are in the right place! Just keep on reading!
This post contains some affiliate links for your convenience which means I may receive a tiny commission if you purchase through these links. Thank you for extending the support of Savoring Each Moment for Christian Moms! Please see my full disclosure policy. 
Finding the Best Road Trip Games & Activities for Families
When you are about ready to head out on your road trip, that's usually when you start to think about what you're going to do to keep the kids busy in the car along the way. Most kids can only spend so many hours looking out the windows in a good mood. Pretty soon the invisible lines in the backseat start to be noticed and who is crossing the line or looking at another kid, etc.
Don't let this stop you from going on a road trip with your kids! Just know that you will need to plan ahead a bit so that the time in the car will be meaningful and memorable in a happy way instead of fussing and fighting in the backseat.
What Games Can you Play While Driving?
There are may variations on games that you can play while driving. Some of the most common or well-known are games like the Alphabet Game, I Spy, I'm Going on Vacation and taking my… When you are in the middle of a long trip, it can be difficult to remember what games you can play while driving.
Having a list or set of game prompt cards in the car is a super handy way to remember what games you can play while driving and then create variations on these old standbys.
Related: Printable Bingo Games
How Can I Make My Family Road Trip Fun
Spending time together as a family provides opportunities to tell stories, read books, explore new places, and just simply spend time together. But sometimes too much together time can become exhausting for the kids and the parents! So having a plan for how to make you family road trip fun is essential.
Plan for activities and games that you can play in the car.
Pack along some snacks that special and everyone likes.
Look at your itinerary and plan for some fun stops along the way.
Find some new books, puzzles, or small toys to enjoy on the trip.
Best Road Trip Games for Families
While you can find a lot of free road trip games and activities, it takes time to find them and get them ready for the trip. You may end up printing a ton of pages and then your kids are only interested in those activities for a few minutes.
Finding a ready-to-use bundle of road trip games for your family saves you time searching, and will provide you with hours of tried and true games and entertainment – all without a power cord, screen, or batteries!
This awesome bundle of printable games and activities is sure to keep your kids busy and engaged for hours. There are games that you can play as a family (including the driver) and games that are more individual. And the best part, they are all ready for you to print, cut apart and take along. Ready to play in 10 minutes or less (depending on fast or slow your printer is).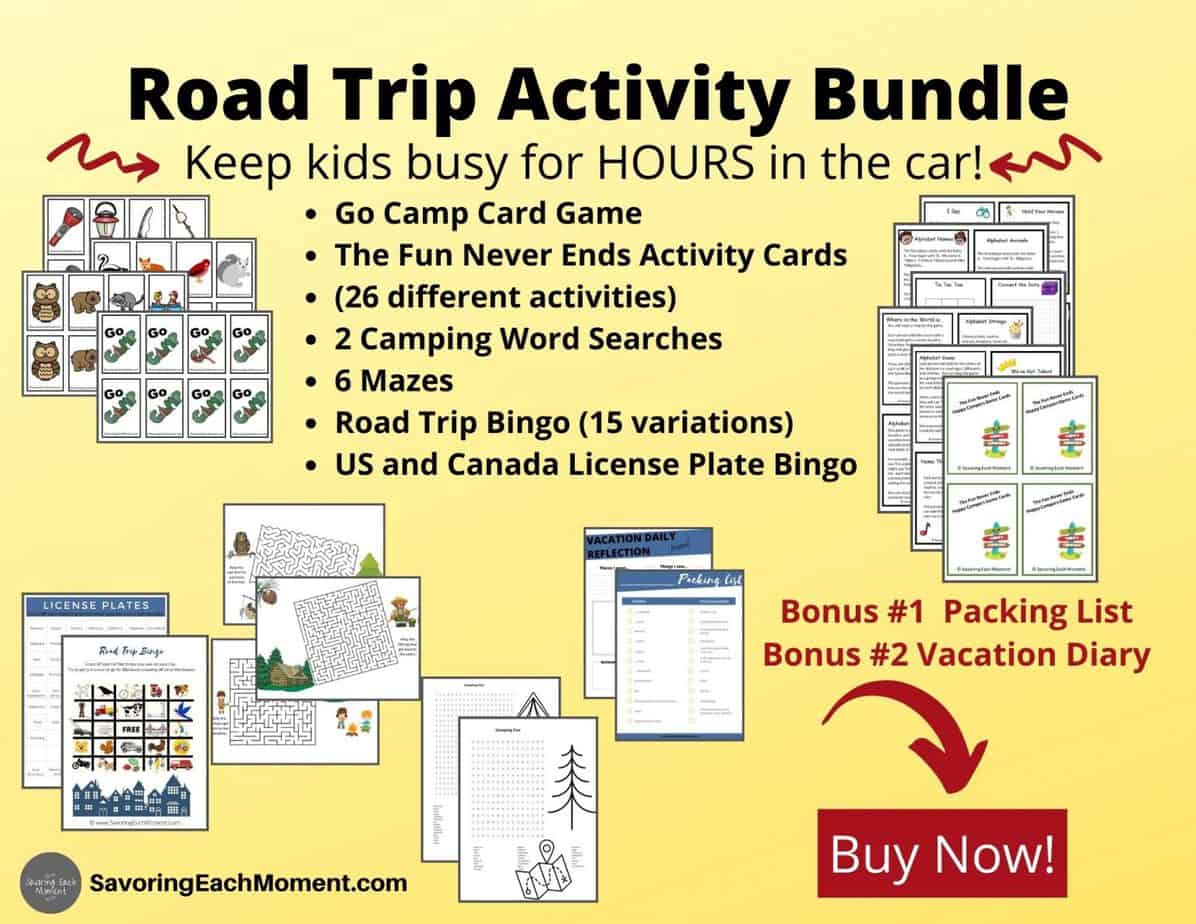 Best Road Trip Games for Families Bundle
This amazing bundle contains 52 pages of fun that you can print right now and will provide hours of family entertainment and fun for many trips to come! Print them and cut them and put them in the car. It almost sounds as easy as "patty-cake". But really, this bundle doesn't take up much room but yet you have 26 different games to play as well as some word searches, mazes, bingo, license plate tracker, and more.
Could you find of these things for free? Probably, but it would probably take quite some time to search, print, copy, and then how do you store the ideas once you've printed them?
I've made it easy for you. Each game card is one-quarter of a page. Once you've printed them and cut them apart, they will easily fit inside of a plastic photo box.
This huge printable bundle of the best road trip games for families includes:
Go Camp Card Game (3 ways to play)
26 Road Trip Activity Cards – each card has a different game or activity you can play together.
License Plate Tracker
Road Trip Bingo
Word Searches
Mazes
Vacation Diary
Vacation Daily Reflection Journal
Keep this set of road trip games and activities for families in your car for fun anytime you are traveling! The card games fit perfectly in a photo box like this.
Small enough to fit in the glove box in your car or in the seat pockets. The rest can go on a clipboard in the seat pocket with a pencil and a box of crayons.
I like to laminate the game cards so they last for more than one trip. This handy dandy little personal laminator makes quick work of laminating the pages before you cut them apart. Then, you don't have to worry about sticky hands on the cares, a spilled water bottle, or a peanut butter and jelly sandwich that slip apart on the cards.
"Thanks so much for the amazing bunch of fun activities! Can't wait to try them all out!" ~ M.Z. – mom of two.
"The girls are loving it! They just started playing no questions." ~ Les – family traveler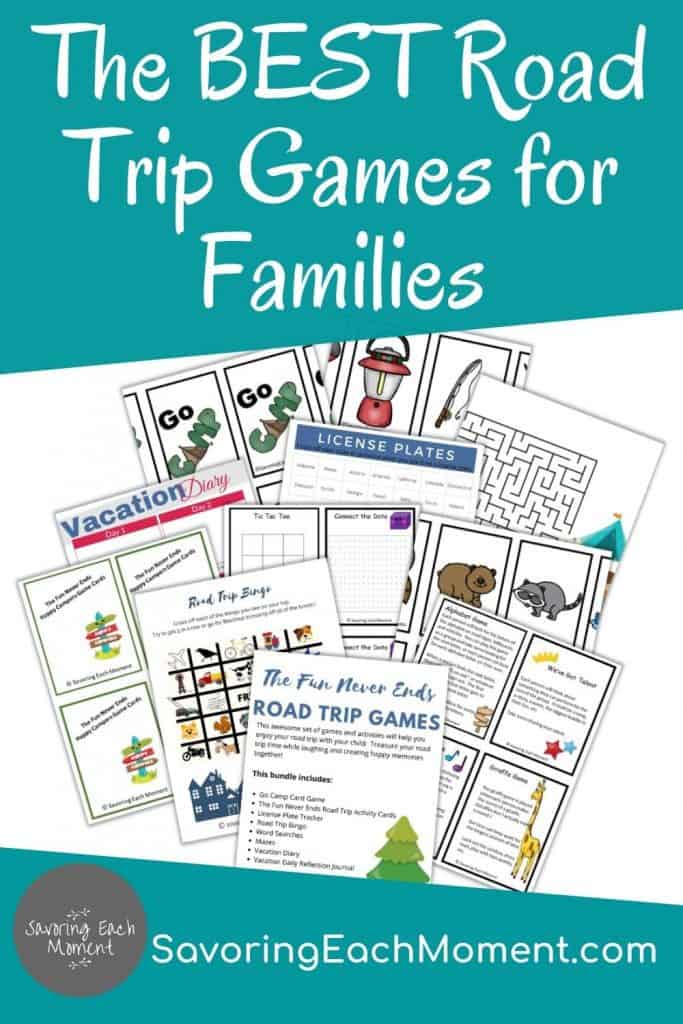 Get this awesome bundle today! Print them out and then hide these awesome road trip games because your kids will want to start playing before you get on the road!
When our children were younger and I shared stories from our road trips and vacations with other moms, they would often roll their eyes and say something like "I could never take my kids on a road trip like that! My kids don't travel well."
The secret to memorable and fun vacations and road trips is all in the planning and preparation. When you make good plans and you are prepared, then you can enjoy family time while you are traveling.
This is one of the best ways to build memories together by planning and going on vacation!
This bundle of the best road trip games and activities for families are the same ones we have used for years on our road trips with our kids! Our kids still talk about these trips and your kids will too!
Don't miss this opportunity to build quality family time into your road trips! This bundle of games and activities will provide the backdrop for your stories, memories, and laughs, as you create memories with your kids!
Get the Best Road Trip Games for Family bundle now and start printing!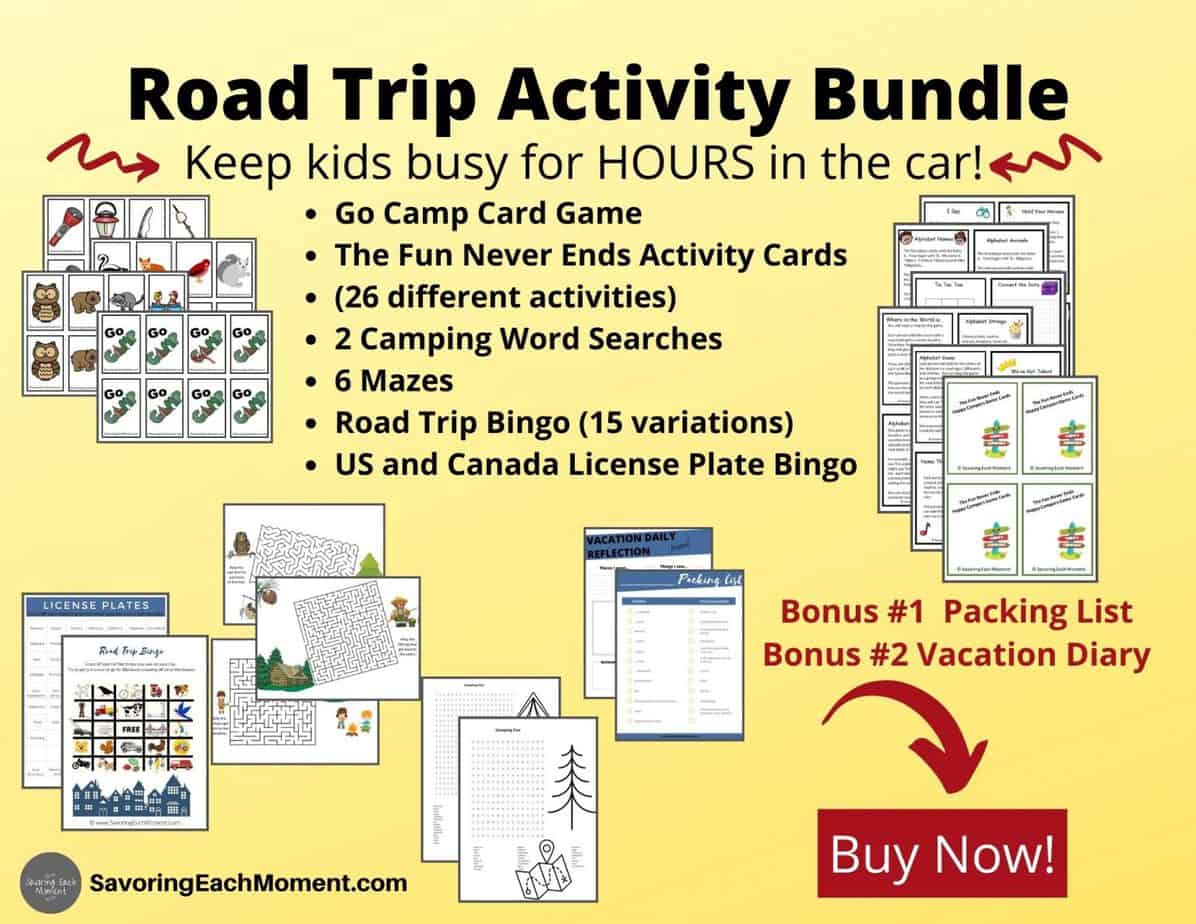 I can't wait to hear about your summer plans and the fun you've had with your kids using the best road trip games for families.
---
Additional resources for planning your road trip:
---
❣ Sign up to get our weekly email filled with encouragement, ideas, and support for moms raising kids who love Jesus! ❣