As a mom, I'm sure you've spent countless hours in prayers for your children. You may even have some amazing answers to prayer that are incredible stories to share. But sometimes, it can seem like your prayers for your children are going unanswered because the things you are praying for are out of your control.
Some prayers for your children don't have an end date where you can see that God answered your specific prayer. Praying for your child's protection will be a life-long prayer. Praying for them to make good choices will probably also be a life-long prayer. Praying for your young child to sleep through the night may be something that has a definite answer.

This post contains some affiliate links for your convenience which means I may receive a tiny commission if you purchase through these links. Thank you for extending the support of Savoring Each Moment for Christian Moms! Please see my full disclosure policy. 
So when we talk about your prayers for your children, there are several things to consider.  Praying for your kids is a lifetime commitment.  Your children will always need your prayers.  Your prayers may seem to go unanswered for weeks, months, or years.  Your prayers will always be heard by God!
RELATED: Prayer Journal for Moms
Prayers for My Children
Have you ever been awakened during the night thinking that something is wrong with someone? The other night, I was dreaming about something that I don't recall. I woke up hearing someone urgently calling my name. "Mom! Mom!" My girls are both adults and live far away. My husband happened to be gone that night so it was just me and my two cats. My cats don't talk! But the voice I heard seemed so real.
Just a side note here.  I'm not one to put stock in my dreams – they are very crazy sometimes and make no sense at all.  I'm also not one to hear voices at night.  But sometimes, when I wake up in the night thinking about my kids, I check my phone to make sure they didn't call or text and then I pray for them.
The other morning, I checked in with both of my kiddos and they were both fine.  But I always wonder if God is calling to me in the night to pray for my kids because they need extra protection.  Of course, we'll never know until we get to Heaven and can ask God about this, but for now, I continue to pray for my kids.
Am I the only one? Do you ever wake up in the night with a heavy heart and the feeling that you need to spend time in prayer for your children?
Daily Prayer for My Children
My daily prayer for my children looks something like this. Every day it is slightly different, but quite similar as I thank God for my children, praise Him for what He's doing for us, ask for His protection and provision for our needs, and then thank Him for answering my prayer for my children.
Dear Father in Heaven.  I am so grateful that I can come to You with my praise, concerns, and worries.  I praise You for the wonderful father that You are.  You take care of our needs and send your angels to protect us.  Today I pray for my children.  Please hide them under your wings and keep them from stumbling.  (Psalm 91)  Draw their hearts toward You and keep them as the apple of Your eye.  (Psalm 17:8)  Help them to "grow in wisdom and stature and in favor with God and man" just like Jesus did.  (Luke 2:52)  Please place a hedge of protection around them to keep them safe in body, mind, and heart.  (Job 1:10).  Thank you so much that You have a plan for my children.  Your plan is to prosper them and give them hope and a future.  (Jeremiah 29:11)  Thank You that Your mercies are new every morning and they never run.  In Jesus' name, Amen.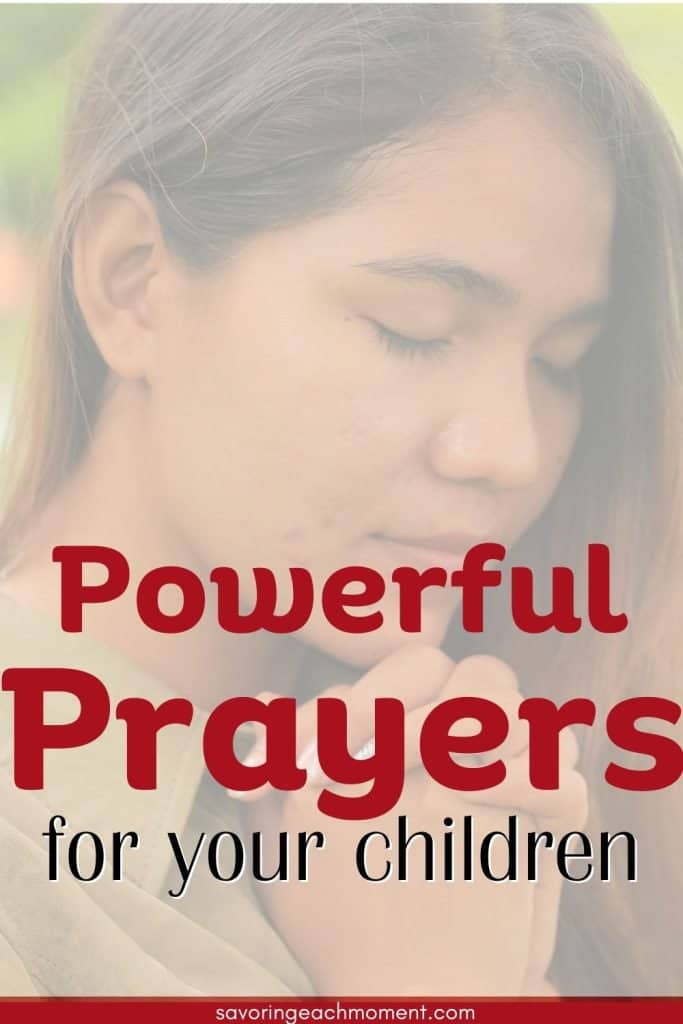 Daily Prayer for Your Children
Your daily prayer for your children will probably be different on some days than others. There may be specific things you need to be in daily prayers for your children about and other things may have a specific timing that you are praying for a specific answer.
3 Ideas to Encourage Your Prayers for Your Children
Praying for your children can seem like an endless commitment and one you hope and trust in, but can't control. Sometimes it can be discouraging when you don't see specific answers to your prayers for your children. But God is still working!
Here are three simple things to encourage you to keep praying for your children:
Look back over the past months or years.  What specific prayers has God answered in the lives of your children?  If have a prayer journal, read your journal and highlight the things you've prayed for and that have been answered.  This can help you to see that God is answering your prayers!
Read your Bible. Look for promises of God that you can claim for your children. Write them down and use them as you pray for your children.
RELATED:  Praying Moms: Using Scripture to Pray for Others
Join a Prayer Challenge or Bible study about Praying for Your Children.  Here's a free 30-day prayer challenge.
If you need more encouragement that your prayers for your children are important, read the story of Hannah (1 Samuel). She prayed for years for a baby and then continued to pray for him as he grew up.
Prayers for Your Children Today
As you think about the things that you need to pray about, don't feel overwhelmed trying to pray for every single thing you can think of that your child needs.  God also knows what your children need and He can hear the cries of your heart.
Take time to write down your prayers for your children so you can look back on them and see how God has blessed them, helped them, protected them, and sent people to support them.
Keep praying those unlimited, bold prayers for your children today, and unleash God's power in your child's life.
RELATED: A Million Praying Moms
You may also like these Prayer Posts…
---
❣ Sign up to get our weekly email filled with encouragement, ideas, and support for moms raising kids who love Jesus! ❣
Praying Scriptures
Morning prayers for families