If you are like most ladies, you wish you could find the perfect prayer journal for women that will help you be consistent in your prayer time. Your life is busy and every day is packed full of little things that need to be done.
Spending time in prayer shouldn't feel like just another thing you have to do each day to check off your list.
If you have used a prayer journal for moms before, you may have found that it helps you be consistent each day, OR, you may have used it faithfully for a few days and then it got lost in the shuffle and forgotten. Finding a prayer journal for women that encourages you and helps you consistently use it can be a lofty goal.
The Best Prayer Journals for Women
This post contains some affiliate links for your convenience which means I may receive a tiny commission if you purchase through these links. Thank you for extending the support of Savoring Each Moment for Christian Moms! Please see my full disclosure policy. 
Finding the best prayer journal is really quite simple. It's finding one that you will use. That's it. You can purchase or print 101 different prayer journals for moms, but if they aren't journals you are going to use, then they are a waste of time and money.
In order to consistently use your prayer journal, you need a prayer journal that appeals to you. You like the colors, the feel of the cover and paper, a pen or pencil that you like to write with and a dedication to scheduling time each day.
That's it. It's that simple. You don't need 500 different colored markers and 307 rolls of washi tape. Just consistent time in your schedule and the simple tools you need.
So let's move on to finding the best prayer journals for women.
Finding the Best Prayer Journal on Amazon
Amazon isn't of course the only place you can find a prayer journal, but it's where most people start looking. So I've done the work for you to find the most popular prayer journals on Amazon. Each of these prayer journals for women are reasonably priced, have good reviews, and ship quickly.
52 Week Prayer Journal for Women
Prayer Journal for Women: 52 Week Scripture, Guided Prayer Notebook for Women (#1 Bestseller Prayer Journal for Women on Amazon)
This prayer journal notebook has seven different sections with different topics to encourage your faith.
God wants you to know Him
Let go and let God
Love
Faith
Courage
Forgiveness
Purpose
Each week has a two-page spread with scriptures, author's notes, and plenty of room to journal.
Large 8 1/2 x 11″ size to make it easy to use for writing and reading.
---
Prayer Journal for Women
Prayer Journal for Women: A Christian Journal with Bible Verses to Celebrate God's Gifts with Gratitude, Prayer and Reflection (#1 Bestseller Prayer Journal for Women on Amazon)
This beautiful Prayer Journal for Women is a simple journal for women in all seasons of life. The clean layout was designed on purpose so that its open pages are easy to use. Each spread contains space for prayer requests designated in 3 sections: Personal, Family & Friends, and Community.
Each spread contains a place to write 3 things you are grateful for as well as a large lined section that can be used however best fits your needs. Use it for bible study notes, sermon notes, small group updates, Bible verse memorization, inspirational quotes, or answered prayers.
---
My Prayer Journal – 3 Month Guide
My Prayer Journal – 3 Month Guide to Prayer, Praise, and Thanks
This beautiful prayer journal contains 3 months of pages to take notes and reflect on your relationship with Christ. Printed on high quality stock and sized at 8 x 10, it is perfect for both travel and fitting right on your bedside table.
Whether it's for group Bible Study or personal worship, this prayer journal is the perfect tool to build a stronger relationship with Christ!
---
Worry Less, Pray More
Worry Less, Pray More – A Woman's Devotional Guide to Anxiety-Free Living
This purposeful devotional guide features 180 readings and prayers designed to help alleviate your worries as you learn to live in the peace of the Almighty God.
Inspired by this promise from God's Word: "Don't fret or worry. Instead of worrying, pray. Let petitions and praises shape your worries into prayers, letting God know your concerns. Before you know it, a sense of God's wholeness, everything coming together for good, will come and settle you down. It's wonderful what happens when Christ displaces worry at the center of your life" (Philippians 4:6-7 MSG),
Worry Less, Pray More reinforces the truth that with God, you can live anxiety-free every single day—whether you worry about your work, relationships, bills, the turmoil of the world, or something more.
---
My Prayer Journal – 120 Days
My Prayer Journal – 120 days of prayer, reflection, and praise
Let this 120-day My Prayer Journal from the Prayer and Praise Collection be your tool to experience the power of answered prayer, write deep reflections and offer praise. This prayer guide will strengthen women in their quiet time, helping them to pray intentionally and connect with God on a deeper level.
Anyone who values prayer and is excited about how God answers will appreciate this journal. Inside are lessons on how to pray and space for daily entries on promises from God, confessions, thanksgiving, and prayer requests.
---
The Prayer Map Journal
This engaging prayer journal for women is a creative way for you to experience the power of prayer. Each page features a 2-color design that guides you to write out specific thoughts, ideas, and lists. . .which then creates a specific "map" for you to follow as you talk to God.
Each map includes a room to record the date, so you can look back on your prayers and see how God has worked in your life. The Prayer Map for Women will encourage you to spend time talking with God about the things that matter most and help you build a healthy spiritual habit of continual prayer for life!
---
The Weekly Prayer Project
The Weekly Prayer Project: A Challenge to Journal, Pray, Reflect, and Connect with God
Perfect for a beginner in faith and prayer life, but strong and thought provoking enough for someone already familiar with prayer
A unique prayer journaling format designed to help you focus and organize time for prayer
Each week includes:
A biblical focus theme
A short but impactful Bible verse to reflect on
Inspirational insight to guide your thoughts
Journaling prompts and lines to help you pray, reflect, and connect with God
This 12-month prayer journal for women:
Showcases beautiful photography and calming colors
Has a pretty ribbon marker
Provides a ton of journaling space
---
Daily Prayer Journal Printable
Amazon isn't the only place to find a prayer journal for women! If you'd rather get a prayer journal that you can print out, there are many options for printable daily prayer journals too.
180 Days of Praise and Promise Prayer Journal for Moms
This beautiful printable prayer journal for women is ready at the press of a button! Create your own prayer journal and put it in a 3-ring notebook or get it spiral bound at your local office supply store.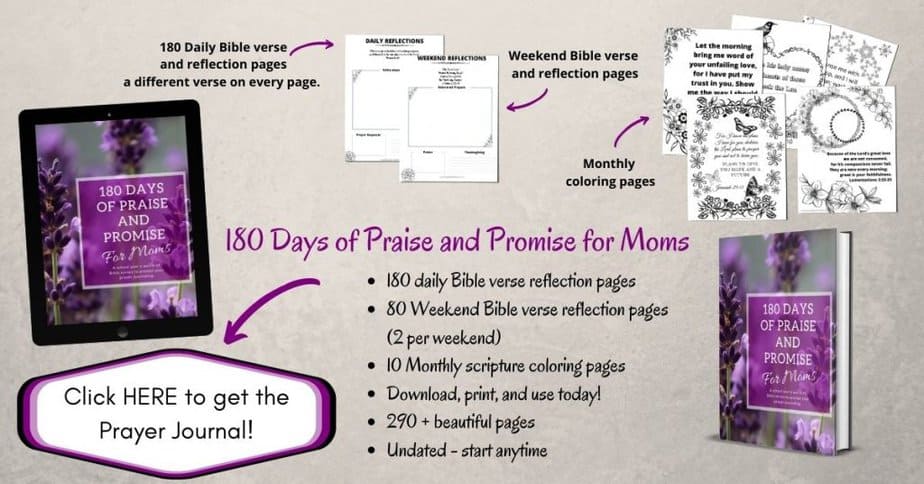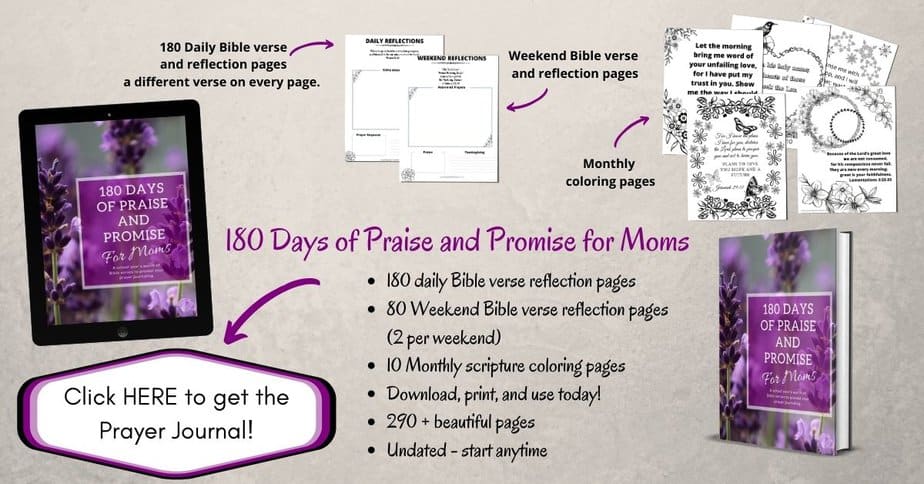 180 Days of Praise and Promise for Moms will help you focus your daily devotion and prayer time on God's promises and praise for what God is doing in your life.
Each day includes a scripture verse of praise or promise to encourage you this year.
*Ample room on each page.
*Record your prayers, requests, gratitude, and answered prayers.
*Daily inspiration and encouragement through selected Bible verses.
*180 days is the typical length of a school year or half of a calendar year.
*180 days to turn your focus to God's promises.
*Undated – start any time. ​
*Daily reflection pages.
*Monthly scripture coloring pages.
*4 bonus weeks for holidays and vacations.
*Digital download – start today.
*Print daily, weekly, or monthly.
Use this journal to change the direction of your life by focusing on what God is doing in your daily life rather than getting discouraged by the uncertainties of life.
---
Waiting for God Prayer Journal Printable and Scripture Cards (FREE)
This beautiful free prayer journal for women includes pretty scripture cards with verses to combat worry and specific promises to claim for your children.
Also included are prayer request/answer journal pages, blank journal pages that you can print as many as needed.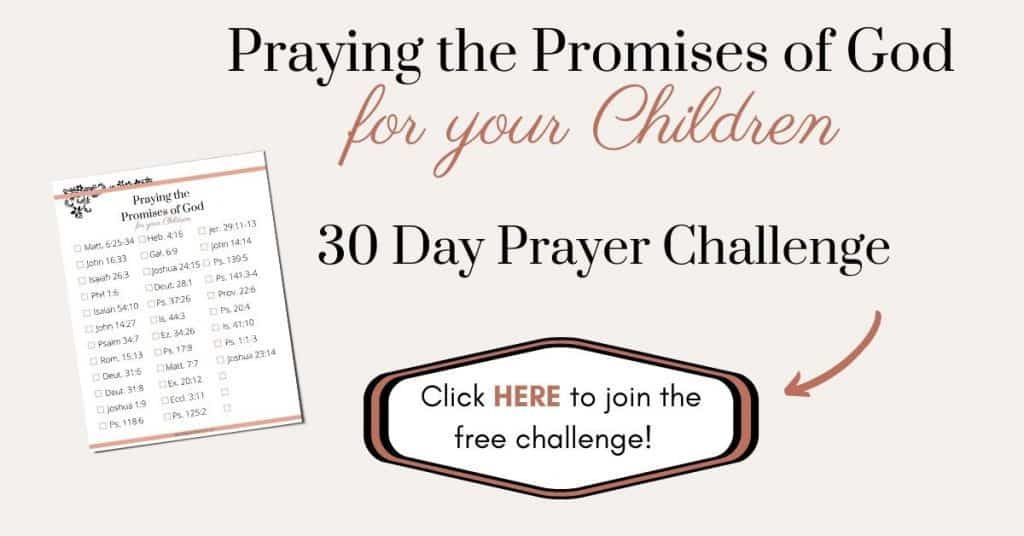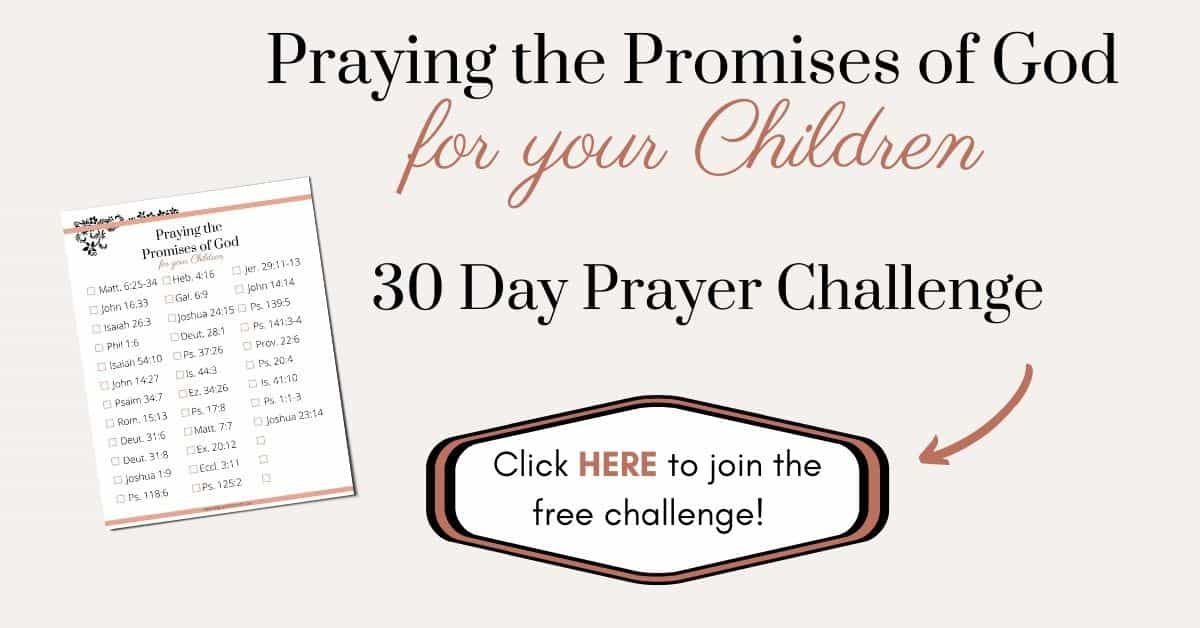 ---
You may also be wondering:
Where can I find printable daily prayer journals?
How do I start praying for others?
What should I write in a daily prayer journal?
If these questions sound familiar, check out these articles and explore the answers to your questions about how to pray.
You may also like these posts…
---
❣ Sign up to get our weekly email filled with encouragement, ideas, and support for moms raising kids who love Jesus! ❣
❣ Sign up to get our weekly email filled with encouragement, ideas, and support for moms raising kids who love Jesus! ❣