My phone rang. When I found it at the bottom of my cluttered purse and answered it, my daughter said, "Mom, will you pray for me?" My answer was of course, yes! What can I pray for?
Sometimes it's easy to pray for your children because you know what the needs are, and sometimes you simply don't know what to pray for.   Creating a list of scriptures to pray for your children daily will help you focus your prayers on the needs of your children each day.
You might be wondering…
How to pray for your children?
How do you start praying the scriptures for your child?
What are the best verses to pray for your child?
over your child or how to pray daily for your child.  How can I speak life over my child?
How to Pray for Your Children
Praying for a child can provide you with an incredible sense of relief knowing that God is hearing your prayers. But it can also be overwhelming to know what to pray for and how to go about praying for your child.
The best part about prayer is that God can understand your heart even when you don't know what to pray for your child. He knows what your heart's cry is and He also knows the needs of your child. When you pray, you are simply talking to a friend – a friend who holds the whole world in His hands!
When you pray for your child, you don't have to worry that you will pray for the wrong thing or say something that will make God mad at you. If you are coming to Him in prayer asking for His will to be done in your child's life, then you know that you are asking the right questions. You are simply giving Him permission to work in your child's life.
How to Pray Scripture for Your Children Daily
Utilizing and claiming God's promises for your children will provide you with a blueprint for praying for your child. As you pray these promises and claim God's word, you are speaking life over your child!
Before we get to the actual scriptures, let's simplify how you pray scriptures for your child.  When you read a scripture promise, you read the words.  But when you pray the scripture and make it speak to you and then pray that promise, claiming it as your own, it becomes a promise to you! Using those scriptures as you pray over your children provides you with promises you know God wants to see fulfilled in your child's life.
Put your child's name into the promise and change the pronouns to match and pray that as a promise specifically for your child.  You can claim these promises and pray over your children or you can speak these promises and blessings over your children.
Psalm 5:3 Listen to my voice in the morning, Lord. Each morning I bring my requests to you and wait expectantly.
Isaiah 55:10-11 As the rain and the snow come down from heaven, and do not return to it without watering the earth and making It bud and flourish so that it yields seed for the sower and bread for the eater, so is my word that goes out from my mouth: It will not return to me empty but will accomplish what I desire and achieve the purpose for which I sent it.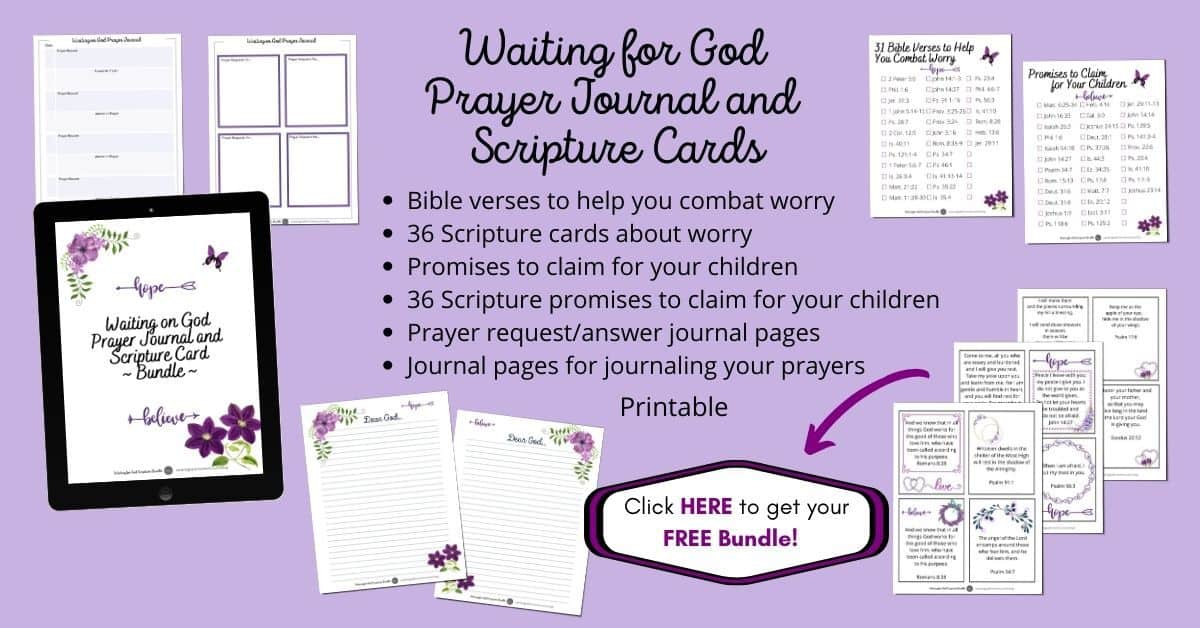 Scriptures to Pray for Your Children Daily
Here is a whole list of scriptures to pray for your child for specific areas of their life each day. Start with this list and then add to them as you find more scriptures to add to your prayer list.
Scriptures to Pray for Your Child to Follow God
Pray for your child to follow God and to have a heart after God's. Whether your child is very young or already grown, your prayers for your child will live into their future. You may wonder how to praying for your child's salvation. There is no prayer that God would rather see fulfilled than your children choosing to follow Him.
You can pray with assurance that it is God's will for your children to follow Him so you can pray these promises knowing that He wants their hearts more than you do. God sent His son Jesus to die for your child's salvation. You don't have to convince God to hear your prayer for your child's salvation.
Proverbs 22:6 Train up a child in the way he should go and when he is old, he will not depart from it.
Psalm 103:17 But the mercy of the Lord is from everlasting to everlasting on those who fear Him, and His righteousness to children's children.
Deuteronomy 6:4-5 Hear, O Israel: The Lord our God, the Lord is one. Love the Lord your God with all your heart and with all your soul and with all your strength.
John 3:16, 17 For God so loved the world, that he gave his only Son, that whoever believes in him should not perish but have eternal life. For God did not send his Son into the world to condemn the world, but in order that the world might be saved through him.
Psalm 51:10-12 Create in me a pure heart, O God, and renew a steadfast spirit within me. Do not cast me from your presence or take your Holy Spirit from me. Restore to me the joy of your salvation and grant me a willing spirit, to sustain me.
Scriptures to Pray for Your Child's Faith
Pray these scriptures for your children to grow in faith and be nourished by seeing God answering their prayers. Talk to your children about your own prayer requests and share your faith with them.
Record the answers to your prayers so you can show your children that God hears and answers prayers today! Write them down and date them. Revisit these moments of encouragement often.
Philippians 4:6-7 Do not be anxious about anything, but in every situation, by prayer and petition, with thanksgiving, present your requests to God. And the peace of God, which transcends all understanding, will guard your hearts and your minds in Christ Jesus.
Deuteronomy 4:9 Only be careful and watch yourselves closely so that you do not forget the things your eyes have seen or let them fade from your heart as long as you live. Teach them to your children and to their children after them.
Scriptures to Pray for Your Child's Friendships
As your children are growing, pray for friendships that will encourage them and build them up. Pray for Godly influences that will support their beliefs and strengthen them in their relationship with God. Whether you have boys or girls, you want to find Bible verses to pray over your son and daughter.
Ecclesiastes 4:9,10 For two are better than one because they have a good return for their work: If one falls down, his friend can help him up.
Proverbs 18:24 A man who has friends must himself be friendly, but there is a friend who sticks closer than a brother.
John 15:13 No one has greater love than this, to lay down one's life for one's friends.
John 13:34-35 I give you a new commandment, that you love one another. Just as I have loved you, you also should love one another. By this everyone will know that you are my disciples if you have love for one another.
Proverbs 17:9 One who forgives an affront fosters friendship, but one who dwells on disputes will alienate a friend.
Scriptures to Pray for Your Child's Future
As a parent, you have hopes, dreams, and goals for your children. How much more does God have plans for your child? Claim these scripture promises and pray them specifically for your child's future knowing that nothing could be better than God's plans for them.
Jeremiah 29:11-13 "For I know the plans I have you," declares the Lord, "plans to prosper you and not to harm you, plans to give you hope and a future. Then you will call on me and come and pray to me, and I will listen to you. You will seek me and find me when you seek me with all your heart."
Philippians 1:6 And I am sure of this, that he who began a good work in you will carry it to completion until the day of Christ Jesus.
Proverbs 22:6 Train up a child in the way he should go and when he is old, he will not depart from it.
John 14:1-3 Let not your heart be troubled: you believe in God, believe also in Me. In my Father's house are many mansions; if it were not so, I would have told you. I go to prepare a place for you. And if I go and prepare a place for you, I will come again and receive you to Myself; that where I am, there you may be also.
Psalm 20:4-5 May he give you the desire of your heart and make all your plans succeed. May we shout for oy over your victory and lift up our banners in the name of our God. May the Lord grant all your requests.
Psalm 27:13-14 I remain confident of this: I will see the goodness of the Lord in the land of the living. Wait for the Lord; be strong and take heart and wait for the Lord.
Scriptures to Pray for a Hedge of Protection to Surround Your Child

As you spend time praying scriptures for your child each day, pray for God to build a hedge of protection around them to keep their heart, their mind, and their soul safe from temptation and danger. These scriptures provide comfort as you pray for the safety of your child.
Psalm 34:7 The angel of the Lord encamps around those who fear him, and he delivers them.
Romans 8:28 And we know that in all things God works for the good of those who love him, who have been called according to his purpose.
Psalms 139:5 You hem me in behind and before and you lay your hand upon me.
Job 1:10 Have You not made a hedge around him, around his household, and around all that he has on every side? You have blessed the work of his hands, and his possessions have increased in the land.
Psalm 27:3 Though an army encamp against me, my heart shall not fear; though war arise against me, yet I will be confident.
Psalm 18:2 The Lord is my rock and my fortress and my deliverer, my God, my rock, in whom I take refuge, my shield, and the horn of my salvation, my stronghold.
1 Corinthians 10:13

No temptation has overtaken you except what is common to mankind. And God is faithful; he will not let you be tempted beyond what you can bear. But when you are tempted, he will also provide a way out so that you can endure it.
Scriptures to Pray for Your Child's Joy and Peace
As you continue to pray for your child, pray that they will be filled with the joy of the Lord so that they may live in peace. Peace with God, peace with their family, neighbors, and friends. Pray also that their joy will be contagious to those they come in contact with.
Psalm 37:4 Take delight in the lord, and he will give you the desires of your heart.
John 14:27 Peace I leave with you, my peace I give unto you: not as the world giveth, give I unto you. Let not your heart be trouble, neither let it be afraid.
Psalm 4:7 You have put more joy in my heart than they have when their grain and wine abound.
Psalm 34:5 Those who look to him are radiant, and their faces shall never be ashamed.
Scriptures to Pray for Your Child's Spouse
Your child may be young and a long way from getting married, but begin praying today that God will prepare a spouse for them who will love God more than they love their spouse. Pray for that person to keep their heart pure for God and their relationship. Pray these Bible verses over your son or daughter.
Proverbs 31 – Godly woman
Matthew 19:6 So then, they are no longer two but one flesh. Therefore what God has joined together, let not man separate.
Psalm 23:6 Surely goodness and mercy shall follow me all the days of my life, and I shall dwell in the house of the Lord forever.
Proverbs 4:23 Keep your heart with all vigilance, for from it flow the springs of life.
Matthew 5:8 Blessed are the pure in heart, for they shall see God.
Proverbs 3:5 Trust in the Lord with all your heart and do not lean on your own understanding.
Psalm 119:1 Blessed are those whose way is blameless, who walk in the law of the Lord!
Psalm 37:4 Delight yourself in the Lord, and he will give you the desires of your heart.
Ephesians 4:2 With all humility and gentleness, with patience, bearing with one another in love.
Scriptures to Pray for Your Child's Character
Speak these blessings over your child on a regular basis. Whether you are praying in private, writing in your prayer journal, or claiming these promises for your children in their hearing, let your child know that these blessings and promises are for them.
Psalms 141:3,4 Set a guard over my mouth, Lord, keep watch over the door of my lips. Do not let my heart be drawn to what is evil so that I will take part in wicked deeds.
Psalm 19:14 Let the words on my mouth and the meditation of my heart be acceptable in your sight, O Lord, my rock and my redeemer.
Psalm 51-10-12 Create in me a pure heart, O God, and renew a steadfast spirit within me. Do not cast me from your presence or take your Holy Spirit from me. Restore to me the joy of your salvation and grant me a willing spirit, to sustain me.
Psalm 119:11 I have stored up your word in my heart, that I might not sin against you.
1 Timothy 4:12 Don't let anyone look down on you because you are young, but set an example for the believers in speech, in conduct, in love, in faith, and in purity.
Isaiah 59:21 "As for me, this is my covenant with them," says the Lord. "My spirit, who is on you, will not depart from you, and my words that I have put in your mouth will always be on your lips, on the lips of your children and on the lips of their descendants – from this time on and forever," says the Lord.
Luke 2:52 And Jesus increased in wisdom and stature and in favor with God and man.
Matthew 17:5 "This is my beloved Son, in whom I am well pleased."
Keep Praying
As you read your Bible and come across promises that speak to you, add them to your list. Take a few scriptures to pray for your children each day and claim them. As you pray, know that just as the prophets of old, you are praying prophecies for your child's life. Whether your child is young or old, under your roof or on their own, you have the powerful opportunity to pray for growth and devotion to God for your children. Claim those scriptures in your daily prayers for your kids today!
2 Corinthians 1:20 No matter how many promises God has made, they are "yes" in Christ.
Lamentations 2:19 Rise during the night and cry out. Pour out your hearts like water to the Lord. Lift up your hands to him in prayer, pleading for your children.
Your prayers have the ability to unleash God's power for your children!
Here are some additional resources you might enjoy…