There are so many jobs that fall on a mother's shoulders. Keeping everyone fed, clean, happy, and safe. But the most important part of being a mother is raising your children to love Jesus. This happens through daily example, intentional teaching, and constant prayers for your children. A praying mom is the most important piece in the role of a mother.
Using scriptures to pray for others is one of the best ways to pray for the will of God. He has given us the promises in the Bible and asked us to claim them for ourselves and those around us. God loves to hear your prayers and He knows the heart of a mother for her children.

This post may contain some affiliate links for your convenience – which means if you make a purchase after clicking a link I may earn a small commission but it won't cost you a penny more!
How Do You Pray with Scripture?
Often, when mothers pray for their children they pray for their safety and protection. You may also pray for wisdom in raising your child to follow God. But there are specific promises in the Bible that apply to any situation you, as a mom, might be praying about.
As you begin to use scriptures to pray for others, you need to be on the lookout for promises in the Bible that speak to the things you are praying for. One of my favorite verses to claim for my family is
Being confident of this, that he who began a good work in you will carry it on to completion until the day of Christ Jesus.
Philippians 1:6 (NIV)
Whenever you read this or pray this back to God, you can know for certain that God has already started a good work in the life of each of your children and your family members. He has started a good work in you as well. When you pray this scripture, ask God to continue working in your lives to complete this good work.
What Happen When a Mom Prays?
When you, as a mom start praying for your children, you are actually praying prophecies back to God. When you claim His promises, you are holding Him accountable for answering those prayers. In essence, when you claim God's promises, you are putting the power back in God's hands to take care of the situation, to protect and care for your child, and to ultimately save them for Heaven.
When you pray Phillippians 1:6 (above), you are putting the responsibility back on God. As a mom, you have the task of raising your children to love and serve God, but God has already promised that He will complete that work. The prayers of a mother are incredibly powerful because you are giving God permission to work in your child's life.
Using Scriptures to Pray for Others
Start making a list of scriptures. Write them on an index card and keep them in your Bible or prayer journal. Tape them to the dash or steering wheel in your car. Put them on your mirror in the bathroom. Start praying for specific situations for your children and the people around you using promises from the Bible. Your list may change over time as circumstances change, but many promises will apply for the rest of your prayer life.
As you write down these promises and begin praying about specific needs, write them down in your prayer journal so you can see when and where God changes your prayer requests into praise as your prayers are answered.
When you are praying for specific situations, as you search for promises, you will find new meaning in Bible promises and gain strength and hope for the people you are praying for. The following sections have some specific scriptures to use when you are praying.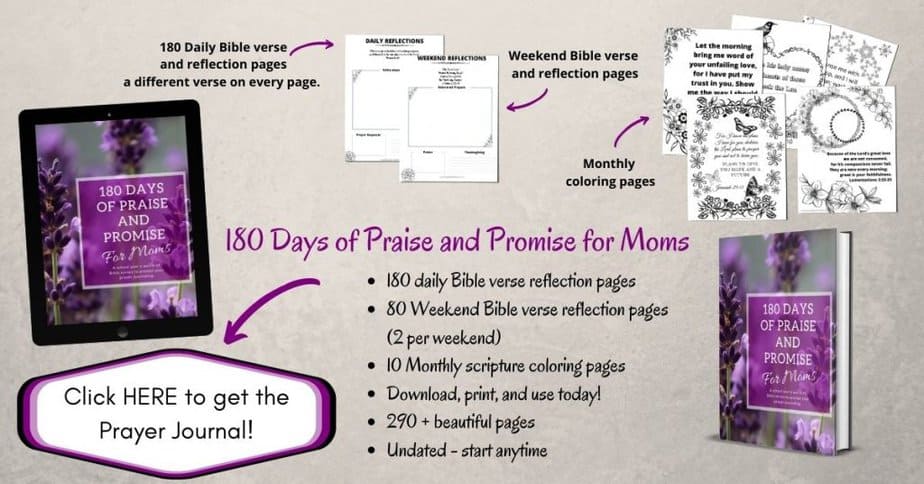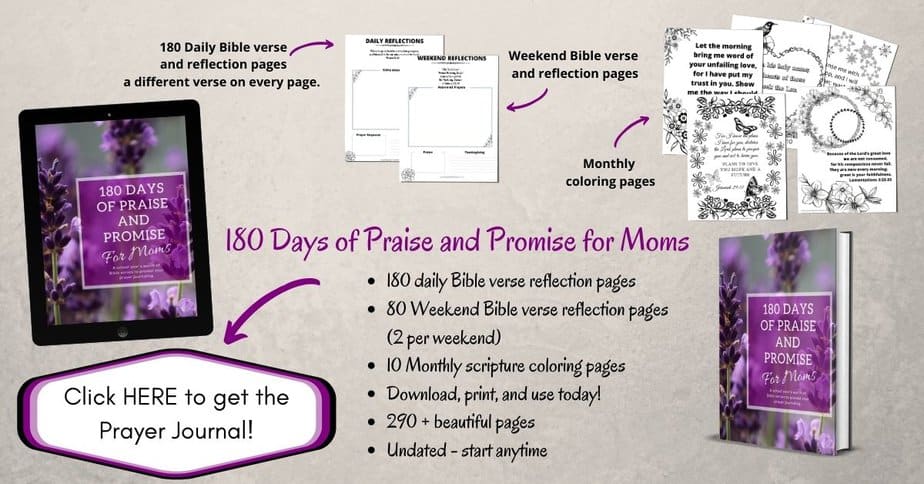 Praying Moms – Praying for Your Children
If you'd like to jumpstart your collection of promises to pray for your child, 31 Bible Promises to Pray for Your Children is a great place to begin. The Bible is filled with promises, but it can be overwhelming to begin hunting for specific scriptures to pray for your children.
This list of Scriptures to Pray for Your Children contains powerful verses that apply to your child. Use this list to pray the word of God. As a praying momma, you can pray with confidence as you claim these verses for your child as you pray. Add these verses to your prayers for your children for their faith, future, friendships, character, and much more. Pray with specific direction and conviction for your child.
As you are collecting specific Bible verses and promises to pray for your child, start circling your child with those prayers. Pray them over and over again. Share these circling promises with your child so they know what you are praying for them as well. Circling Your Children one Prayer at a Time will help you find those promises that are timeless to claim for your children.
For many years, your child will be in school. Whether this is in a classroom setting, a homeschool, or online, they are making friends, learning new habits (good and bad), and developing their own personality and character.
There are specific areas of your child's life that you should pray for often while your children are in school. Prayers for a New School Year helps break down what those specific areas are and gives specific Bible verses to claim and pray for your child.
Dear God, Thank you so much for starting a good work in my child's life. Thank you for the evidence that they are searching for you. Please continue that work and complete it in them. (Phil. 1:6) Help them as they learn and develop to grow in wisdom and stature and in favor with God and man. (Luke 2:52) Thank you for the plans you have for my child.
Please prosper them and give them hope and a future. (Jer. 29:11) Please keep them as the apple of your eye. (Ps. 17:8) Content with those who are seeking to destroy them and distract them from the plans you have for them. Save my child for your kingdom. (Is. 49:25) Please give me the strength to continue teaching my child about you and being an example to them. (Gal. 6:9-10) Please multiply your word in our lives today. (Acts 12:24) In Jesus' name, Amen
Praying for Answers
Every mom knows that everything you wish and pray for doesn't always come in your timing. There are times of seemingly dry spells in your prayer life, when it may seem like God is not hearing or answering your prayers. Elijah had an experience like this as well. He found himself on top of a mountain as the only prophet of God before a huge crowd of opposition.
Praying for Rain – Lessons from Elijah will encourage you to keep on praying even when it seems like your prayers aren't going anywhere. Learn from Elijah through his mountaintop experience. Use these encouraging Bible verses for parents and apply them to your children and the things you are praying about for them.
When mothers pray, God always listens even when it may seem that He is silent. Emily's Dresses – a Story of Answered Prayer will encourage you to keep praying for your children. Pray for the needs you have as well and set back and watch to see how God will answer those prayers.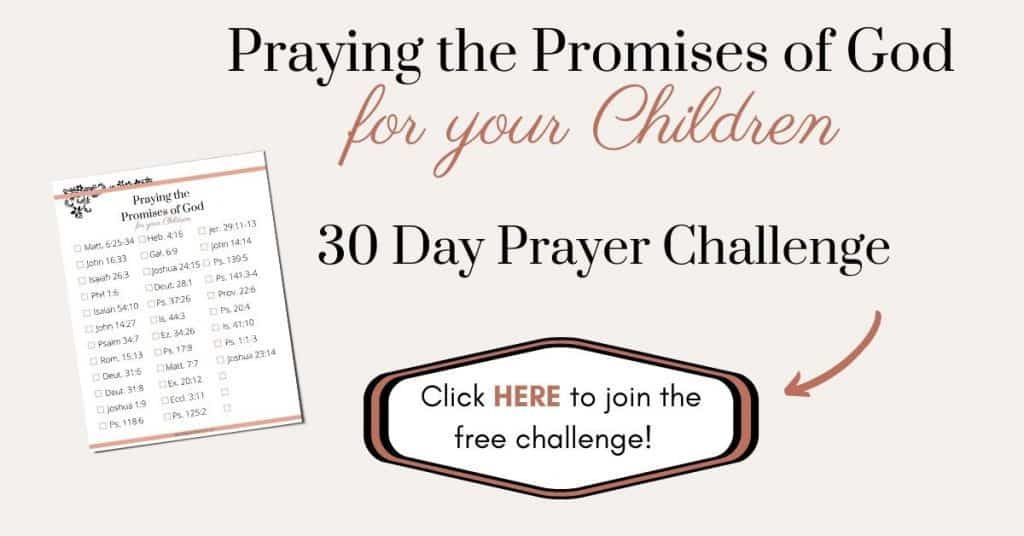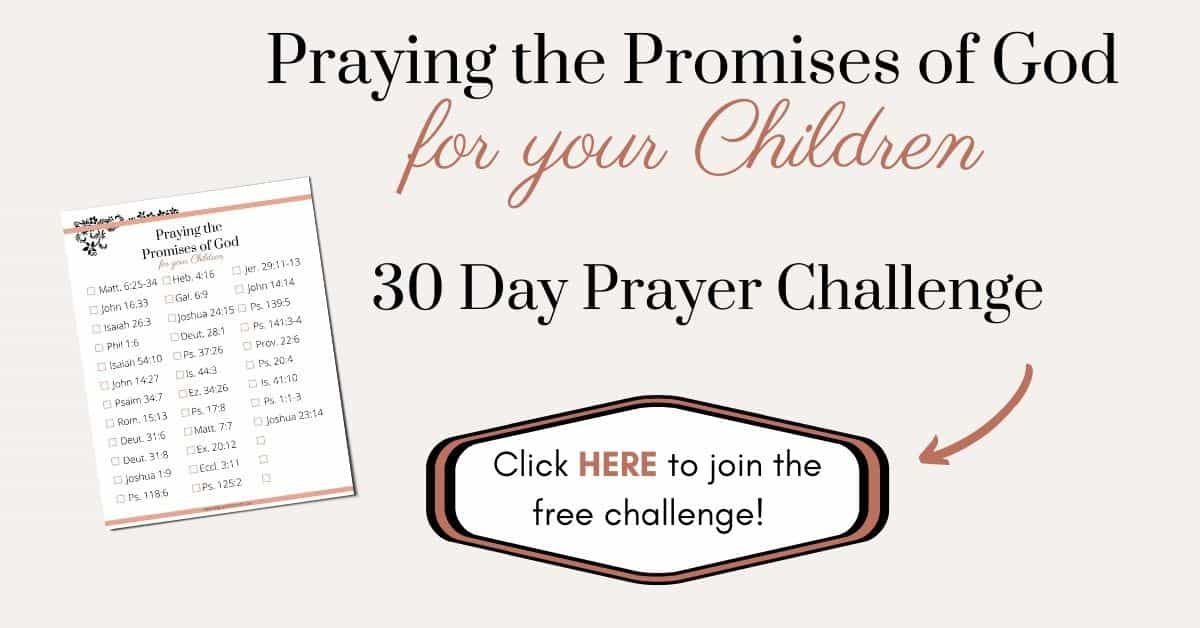 Praying through Worry and Disappointment
30 Bible Verses to Remind You Not to Worry will help you remember that God is already in control and He has already answered your prayers even before you pray them. This list of scriptures will provide you with lots of verses to pray when you are facing disappointment and worry.
You are undoubtedly going to encounter disappointment. This is a natural part of life on this earth. By focusing on God's providence and answers to prayer, you can continue Praying Through Disappointment until you see how God has used the disappointing situation for His good.
Praying With Your Children – Teaching Your Child to Pray
Your responsibilities are many when you are the mother of children. Teaching your children to love God with all their hearts is the most important thing you will teach them. 5 Things You Need to do With Your Child Every Day simplifies the most important things you need to do with your child. One of those is praying with them and teaching them to pray.
For many years, you are your child's most important teacher and influence. Use these years wisely and instill in them the habit of talking to God about their problems, joys, and sorrows.
Family Worship Ideas With Kids will help you find ways to engage your children in daily family worship. Create a special time each day to gather as a family to pray and learn more about God.
Pray the Word of God
As you have read this post, I pray that you are encouraged to find scriptures to pray over your children. Start collecting Bible verses that speak to the needs and goals that you have for your children. Circle these scriptures in your Bible, write them down, and pray them daily.
Record your prayers in your prayer journal and then write down the answers as you see them so that you can look back and see how God has been working in the lives of your children. God LOVES to hear mommas pray for their children!
Some books to help you pray for your child…
You may also like these Prayer Posts…
---
❣ Sign up to get our weekly email filled with encouragement, ideas, and support for moms raising kids who love Jesus! ❣