If you have read Proverbs 31 recently, you may remember that the qualities of a godly woman are lofty and time-consuming. This virtuous Christian mother gets up before her family, sews all of their clothes, has a job and buys property, feeds her family, and is a joy to be around. It sounds exhausting and a bit unrealistic if you sit down and make a list.
I was blessed to grow up in a home with both of my parents. A few summers ago, my parents celebrated their 50th wedding anniversary.  To say that my Christian mother has been a positive role model to me is an understatement.
From the time I was little, my mom began teaching me intentionally and unintentionally about how to navigate life. Some of the lessons were very overt and planned out while others were learned simply by watching her live her life. As a Christian mother, she did her best to raise us to be God-fearing, kind, and generous to others. She also taught us to work hard, be diligent, have integrity, and do everything with honesty.

This post contains some affiliate links for your convenience which means I may receive a small commission if you purchase through these links. Thank you for extending the support of Savoring Each Moment for Christian Moms! Please see my full disclosure policy. 
Qualities of a Christian Mother
The qualities of a Christian mother are numerous, but there are five that stand out as important life skills to pass on to one's children and grandchildren. These five qualities of a Christian mother are more than character traits or qualities, but also life choices to be a role model and example of the work that God is doing in a Christian mother's heart.
Patience and Flexibility
When I was young, we lived next door to the church and school where my dad pastored. My mom was a stay-at-home mom and one of the most important requirements of her was flexibility. I can remember many times (prior to cell phones and texting) that people would just drop by the house to ask my dad a question, borrow the keys to the church, or just visit because they were driving by.
There were also meetings that went long for my dad and my mom exhibited flexibility rather than impatience and frustration. One year, we even had the new teacher and his family move into our house for 6 weeks! I remember my mom making more food and washing more laundry but maintaining flexibility and patience.
Watching my mom practice her Christianity by being patient and flexible, helped me to learn to be kind and generous to others. Even when it was inconvenient, my mom worked hard to make someone else's life a little easier.
RELATED: Bible Verses About Mothers
Hospitality
I can hardly remember a weekend without company for lunch after church or an empty house on a Saturday night. My parents are experts in hospitality. Our home was never fancy and it was well lived in, but there was always room to share with others. I can't even imagine how many meals my mom has prepared for others!
My mom is also an excellent pie maker and as a child, I can remember peeling bushels of apples for pies that we would take to the people we visited, neighbors, families of people in the hospital, and anyone else who might need some cheering up.
We often spent Thanksgiving at home and I can remember our house being filled with people from church who didn't have family close to them.
Do not forget to show hospitality to strangers, for by so doing some people have shown hospitality to angels without knowing it. Hebrews 13:2 (NIV)
Persistence
There are many things that take persistence in life. A Christian mother can teach her children to work hard and be persistent when it might be easier to quit or give up. One thing I learned from my mom was to sew. My mom is very careful in following directions and reading the patterns and while this is still difficult for me, I can call her and tell her what the directions say and she can interpret that for me. Her persistence in doing things correctly and figuring them out until it is done right has helped me do hard things in life as well.
Persistence is one of those things like resilience that grows as you practice. The more you work on it, the easier it becomes to be persistent to complete difficult things.
Do your best to present yourself to God as one approved, a worker who does not need to be ashamed and who correctly handles the word of truth. 2 Timothy 2:15 (NIV)
Faith
The most important thing I have learned from my Christian mom (and dad) is to love God. Both of my parents have been very influential in this. From the time I was born, I attended church every week. My parents spent time teaching me to pray, to read my Bible, and to learn to love God.
I cannot imagine what my life would be like if I hadn't had that background. My mom is just a phone call away, even now, when I get frustrated or need help and she always promises to pray for me and the situations I am going through.
The faith of a Christian mom can impact the lives of her children for years and lifetimes. Her prayers, her faith, and her example leave a legacy for the generations that come behind her.
RELATED: Praying Moms: How to Use Scripture to Pray for Others
A few years ago, my mom gave me a file filled with my emails to her.  The file was labeled "Karen's Blessings" and the pages she had saved were all the emails I had written to her over the years about blessings or answers to prayers that I had received.  What a treasure!  My mom had taken the time to save these messages and then gave them to me as a reminder of the blessings. It was an email blessing journal!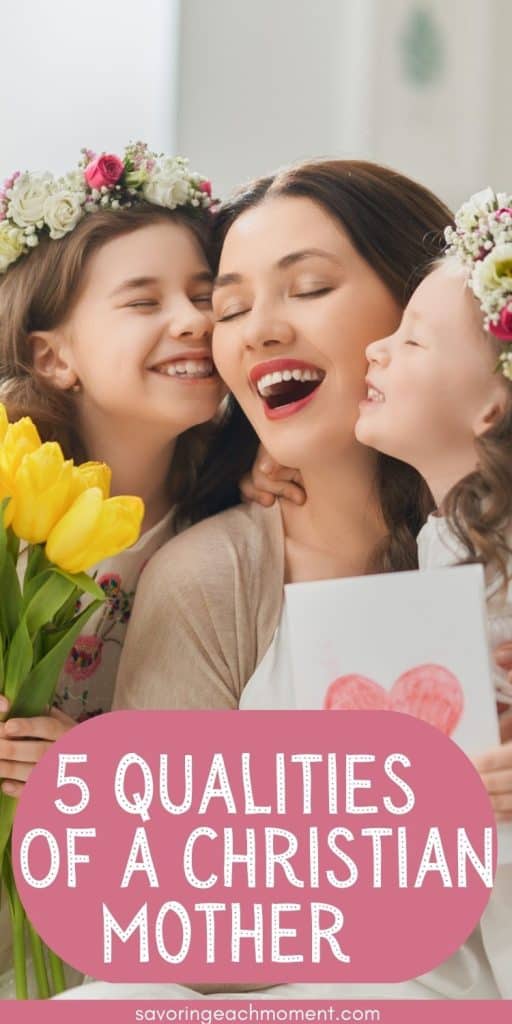 RELATED: Why Does it Seem Like God Hears Everyone But Me?
Attributes of a Christian Mother
Just like the virtuous woman in Proverbs 31, a Christian mother has many attributes that often go unnoticed and unnamed. But even though they aren't always acknowledged, they are impactful for their children as they grow and mature in their relationships with others and with God.
The attributes of a Christian mother could fill a whole chapter just like the virtuous woman of Proverbs 31. The job God has given a mother is to raise her children to love others and love God. It's as simple as that. When her children grow up to love God first and others second, they will naturally be inclined to be kind, generous, hospitable, flexible, patient, persistent, honest, and the list goes on.