Praying mothers are the support for children who grow up to follow God and lead lives of influence. There are several well-known mothers who prayed in the Bible.
Each of these mothers who prayed in the Bible prayed for specific things for their child or children.  They were intentional, consistent, and specific.  These phenomenal women in the Bible are a wonderful example of Biblical motherhood.

This post contains some affiliate links for your convenience which means I may receive a tiny commission if you purchase through these links. Thank you for extending the support of Savoring Each Moment for Christian Moms! Please see my full disclosure policy. 
Old Testament Mothers Who Prayed in the Bible
There is a long list of names of mothers who prayed in the Bible but we are going to look at 5 specific women and the results of their prayers.
Hannah – Mother Who Didn't Give Up on Prayer
Barren to mother of a prophet of God
Hannah is the first mother who prayed in the Bible. We are going to look at her story which actually began long before she was a mother. 
She lived in a difficult situation.  Hannah married a godly man but shared her husband with a second wife who had several children.  And yet, she is one of the most phenomenal women in the Bible because of her faith and dedication.
Hannah wanted a baby but she was unable to get pregnant. In this time and culture, children were a symbol of success, favor, or status.
She spent much time praying for the answer to her wish, her dream, and the fulfillment of her role as a wife. Year after year, she went to Shiloh with her husband and his other wife. Hannah prayed for a son, year after year, but her prayers hadn't been answered.
One year she went to the tabernacle to pray. Filled with sorrow, she wept bitterly. Priest Eli saw Hannah and accused her of being drunk. When she told him that she was heartbroken, he told her to go away and blessed her saying "Go in peace, and may the God is Israel grant you what you have asked of him." 1 Samuel 1:17
Hannah promised God that if He would give her a son, she would give him back to God. When Samuel was born, Hannah kept her promise and raised him to follow God. When he was very young, she took him to the temple and presented him to Priest Eli to work under his direction.
Hannah knew she only had a short time to raise Samuel, but she was filled with joy.  The first part of her prayer speaks to this joy and gratefulness for God's answer to her prayer. She was preparing to trust God with her children.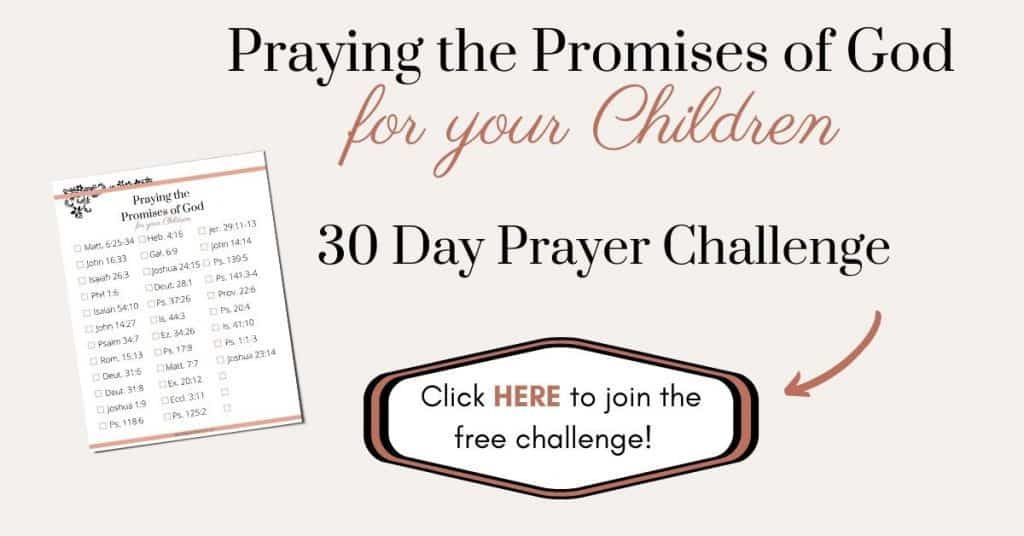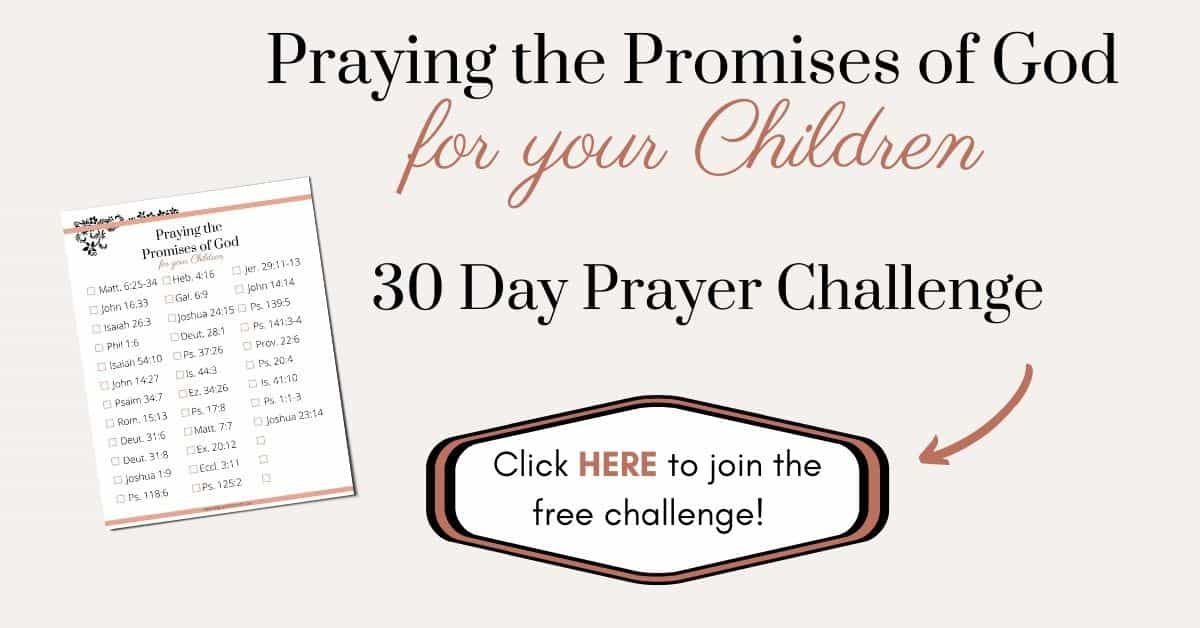 Hannah's Prayer
My heart rejoices in the Lord, in the Lord my horn is lifted high. My mouth boasts over my enemies, for I delight in your deliverance. 1 Samuel 2:1
Hannah's prayer goes on to praise God for what He had done for her. She joyfully gave her son to Priest Eli in spite of knowing that he had wicked sons of his own. And yet, she praised God for His blessings and mercies.
Every year, Samuel's mother made him a new robe. We can deduce that she continued to faithfully pray for him and somehow stayed connected. Samuel's ministry as the prophet of God is a sure testimony to Hannah's continual prayers for him.
Ruth – Mother who Prayed to a New God
Widowed foreigner to part of the family of Jesus
Ruth is the second mother who prayed in the Bible that we are going to look at. Ruth was a foreigner and outsider. She married into a family of two sons and a widowed mother-in-law.
Ruth and her sister-in-law both became widows within a short amount of time of each other. Three women were bound only by their previous husbands/sons who were now dead.
And yet Ruth had seen that her mother-in-law, Naomi, had something that she wanted. She had learned of God from her and wanted to follow that way of life and not go back to her people.
We find her beautiful words in Ruth 1:16-17
RELATED: The Power of a Praying Mother
Ruth's Prayer
Don't urge me to leave you or to turn back from you. Where you go I will go, and where you stay I will stay. Your people will be my people and your God my God. Where you die I will die, and there I will be buried. may the Lord deal with me, be it ever so severely, if even death separates you and me.
The Bible doesn't specifically say that Ruth prayed, but throughout this beautiful story, we read that Ruth loved Naomi and did whatever Naomi told her to do to care for both of them.
As a result of Ruth's acceptance of Naomi's God and her gentle caring for her mother-in-law, God blessed Ruth with a husband and then a son. Matthew 1:5 lists Ruth in the lineage of Jesus. She was no longer an outsider or foreigner, but part of the genealogy of Jesus.
Sarah – Praying Into Old Age
Old women to mother of a nation
No list of Biblical mothers would be complete without Sarah. This lady had longed for, schemed for, and prayed for a child her entire life. At age of 90, she still hadn't received a tangible answer to prayer until one day, her husband invited three strangers home for lunch.
During the conversation, Sarah was listening from the other side of the tent wall, the guests tell Abraham that Sarah, is going to have a baby. Sarah laughs to herself at the absurdity. Clearly, these men didn't know all that much about the ability to get pregnant after a certain age!
But true to the word of the visitors, Sarah became pregnant and Isaac was born. This child of her old age. Longed for, prayed for, and hoped for a child that came as a direct answer from God.
Even though Sarah had doubted, laughed, and taken matters into her own hands by offering her slave to her husband, God answered her prayers and fulfilled His promise.
Sarah's Prayer
God has brought me laughter, and everyone who hears about this will laugh with me. . . Who would have said to Abraham that Sarah would nurse children Yet I have borne him a son in his old age. Genesis 21:6-7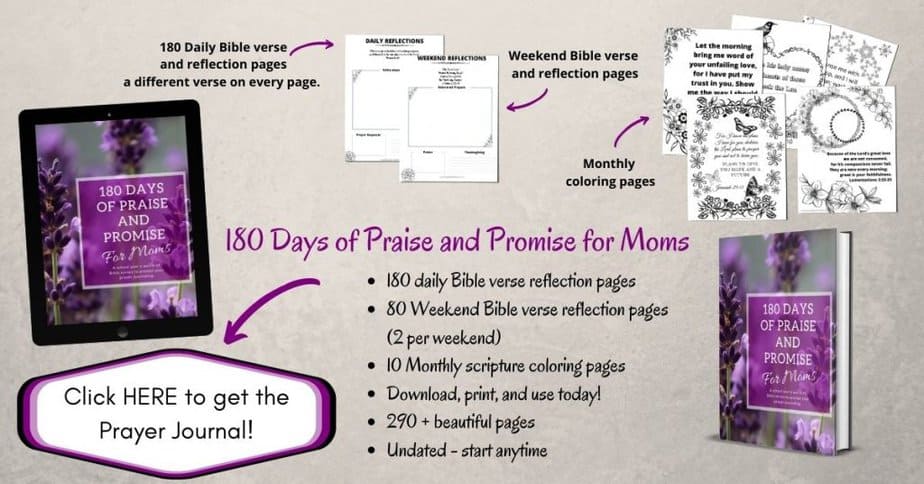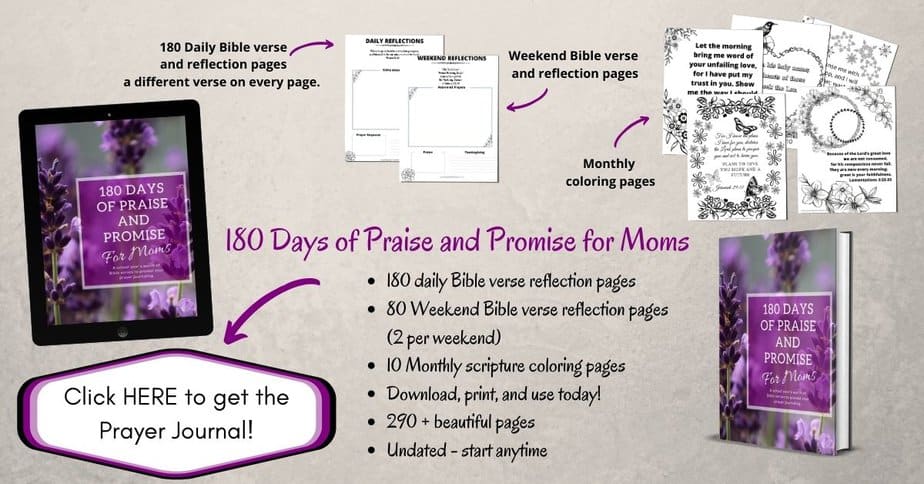 Jochebed
From slavery to promised freedom
Jochebed is the fourth praying mother in the Bible. You may remember her for one single act of putting her baby in a basket in the river to preserve his life.
Jochebed was a slave, one of the Israelite slaves in Egypt treated poorly and greatly abused. She had to work hard every single day and when she got pregnant, she knew that if she had a son, his life would be at risk. Like all the women, she knew of the decree to kill all the boy babies.
This tiny sliver of a picture of Moses' mother leads us to understand that Jochebed was a devoted mother. She knew the risks to her child and took whatever precautions she could think of to protect him.
The Bible tells us that Jochebed was a Levite. Levites were the religious leaders of the community, and she had grown up in a Levite home.
Because of Jochebed's prayers for her son Moses, God sent Pharaoh's daughter to find the basket in the reeds and protect Moses from Pharaoh. She adopted him as her own and ended up paying Jochebed to nurse him and care for him!
Moses went on to become the leader of the Israelites and their 40-year journey to freedom and the Promised Land! Jochebed's faith and prayers changed the nation's future. Even though Jochebed's name is listed twice, Moses' leadership fills entire chapters of the Old Testament.
Mother of Samson
Nameless and yet visited by angels
Manoah's wife's name is never given although she is mentioned several times in the Bible. She served God alongside her husband. Mrs. Manoah recognized the angel when he appeared to her and believed the message.
This woman carefully listened to what the angel told her to do and then followed those instructions before and after Samson was born as well. She was the model of Biblical motherhood as she followed the directions for raising her son.
Reading about Samson's life, the Bible mentions that both of his parents were at his wedding feast and both had helped him negotiate a wife. While the story of Samson makes him sound like a demanding, self-centered child, God used Samson to lead His people.


New Testament Mothers Who Prayed in the Bible
Continuing our study of mothers who prayed in the Bible, here are five New Testament mothers who were connected to God through prayer.
Elizabeth (Luke 1)
Disgraced to blessed
Elizabeth is introduced in Luke chapter 1 after her husband has a vision in the temple. The angel who appeared to Zechariah promised that Elizabeth would have a baby.
As impossible as this seemed because of Elizabeth's advanced age, the prophecy came as a result of their prayers for a child.
Elizabeth had prayed for a son for so many years, and now the hoped-for answer comes long after the probable time for an answer. It seems impossible that she has waited for years for this answer, and now her prayer has been answered.
Elizabeth's Prayer
The Lord has done this for me," she said. "In these days he has shown his favor and taken away my disgrace among the people. Luke 1:25
Not only answered, but her promised child was part of the plan for the Messiah and she and Mary shared this special bond of miracle babies from God.
Mary (Matthew 1 and Luke 1)
Willing servant
Mary was chosen by God to be the mother of Jesus. As with most of the women in the Bible, there isn't an in-depth character study on each woman, but we know that Mary was chosen because of her character. She was highly favored and God was with her.
Mary, like many other women, knew of the prophecies for the coming Messiah. She was looking forward to the time when the Deliverer would come. When the angel came to Mary and told her she would conceive, Mary responds with a willingness to be a servant.
Mary's Prayer
"My soul glorifies the Lord and my spirit rejoices in God my Savior, for he has been mindful of the humble state of his servant.
From now on all generations will call me blessed, for the Mighty One has done great things for me— holy is his name.
His mercy extends to those who fear him, from generation to generation.
He has performed mighty deeds with his arm; he has scattered those who are proud in their inmost thoughts.
He has brought down rulers from their thrones but has lifted up the humble.
He has filled the hungry with good things but has sent the rich away empty.
He has helped his servant Israel, remembering to be merciful to Abraham and his descendants forever, just as he promised our ancestors." Luke 1:46-55
Mary's prayers as a mother for her child took on new meaning as she watched Jesus develop and grow. Her Son was teaching the teachers in the temple as a child. He had a following of a motley bunch of men, but she knew that He had a higher purpose.
Because of Mary's prayers and her selfless willingness to accept God's call on her life, she was highly favored by God and used to complete the plan of salvation through Jesus.
Anna the Prophetess (Luke 2:36-38)
Praying for the Messiah
Even though Anna wasn't praying for her own child, she had devoted her life to praying and watching for the coming Messiah. Widowed after seven years of marriage, she lived at the temple until she was eighty-four years old.
Luke tells us that Anna worshiped day and night. She had searched the scriptures to find the prophecies and promises that foretold that Jesus would come.
When Joseph and Mary brought Jesus to the temple to dedicate him, Anna was one of the people to greet them and told everyone who was looking for the redeemer.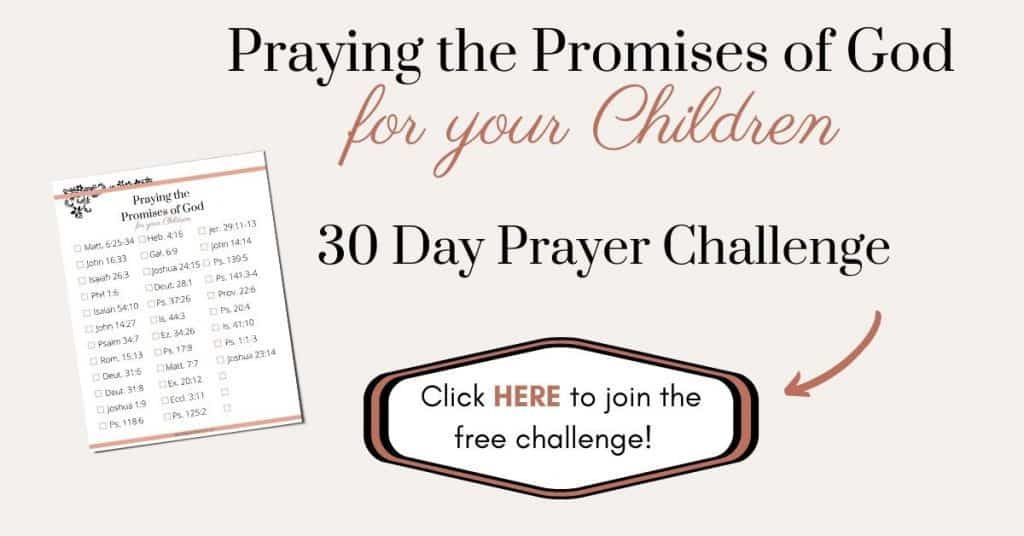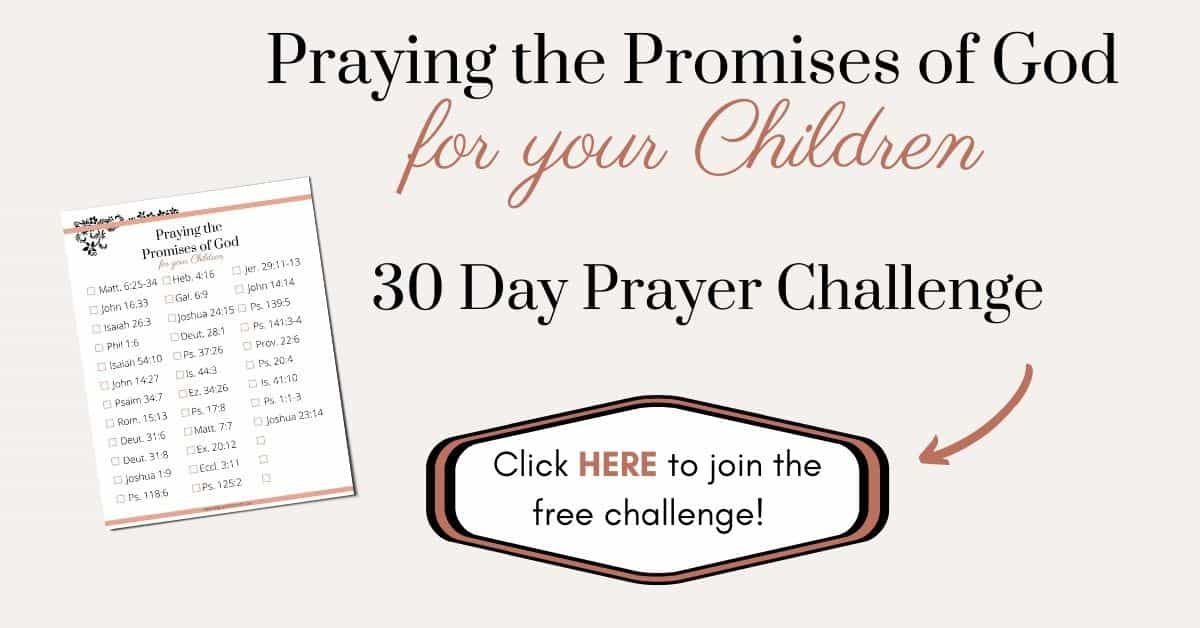 Canaanite (Syrophoenician) Woman (Matthew 15:21-28 & Mark 7:24-30)
Despair to healing
Another woman without a name, but this mother had profound faith. When she came to Jesus to ask Him to heal her daughter from demons, Jesus turned her away.
She was a Canaanite woman and therefore, not "as good as" the Jewish people. This wasn't Jesus' viewpoint, but rather the viewpoint of his companions.
Even though Jesus used the tradition of the day to dismiss this mother's request, she kept on asking. She knew the stigma and the racial slurs that were out there. But she also knew that Jesus had the power to heal her daughter.
Canaanite Woman's Prayer
Lord, help me! Matthew 15:25
Because of her persistence and her faith, she prayed the prayer that God will always answer. She had nothing to lose and everything to gain. God answered her prayer and healed her daughter.
Lois & Eunice
Passing on the faith
One verse tells us about Lois and Eunice, but their impact on Timothy's life was immeasurable. Timothy's father or grandfather aren't mentioned, but his faith was passed down from his mother and grandma.
I am reminded of your sincere faith, which first lived in your grandmother Lois and in your mother Eunice and, I am persuaded, now lives in you also. 2 Timothy 1:5
Because of their influence and religious, faithful example, Timothy chose to follow in Jesus' footsteps and became a disciple, missionary, and support to Paul. All because of the prayers and teaching of his mom and grandma.
Be a praying mother today
No matter where you are right now, whether you are barren, feel unseen or unnamed, or you've been praying for something for 90 years, God is still God and He is still in the business of answering prayers.
God loves to hear the prayers of mothers for their children. Every one of these praying women in the Bible had some kind of close relationship with God to trust Him and realize He was caring for them and their children.
Today, you may be in a similar situation to any one of these moms. Just like Hannah, Jochebed, Samson's mother, Ruth, and Sarah, God hears your prayers! He will answer your prayers according to His timing.
He has chosen you for the special role as mother, auntie, grandmother, or friend, to pray for the child or children God has placed in your life. Don't give up praying. Don't become weary while waiting to see God's answers. Your prayers are powerful!
Your prayers aren't lost in outer space or wasted breath. Today, you can add your name to the list of names of mothers who prayed in the Bible! Join our 30-day free prayer challenge to pray the promises of God for your children. Click the link in the picture below!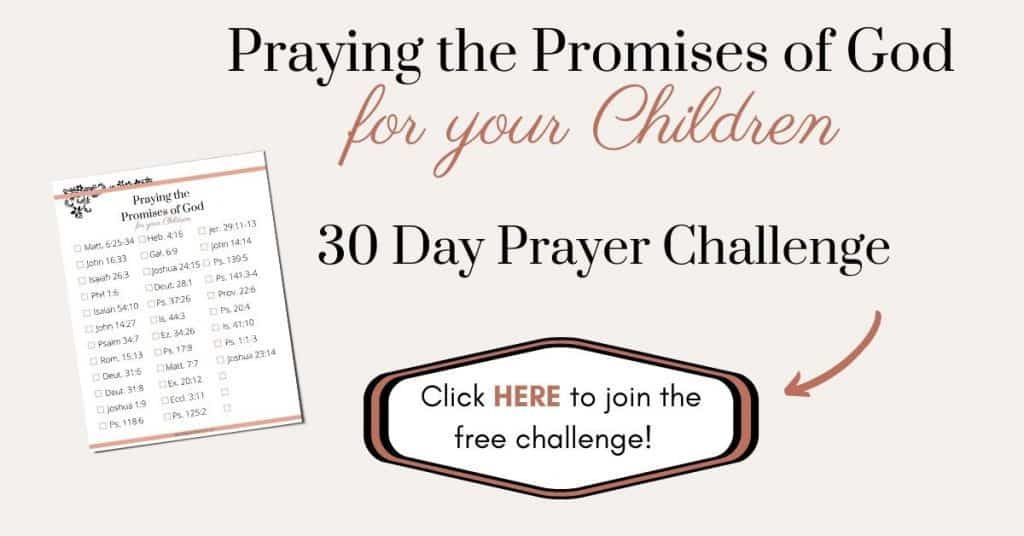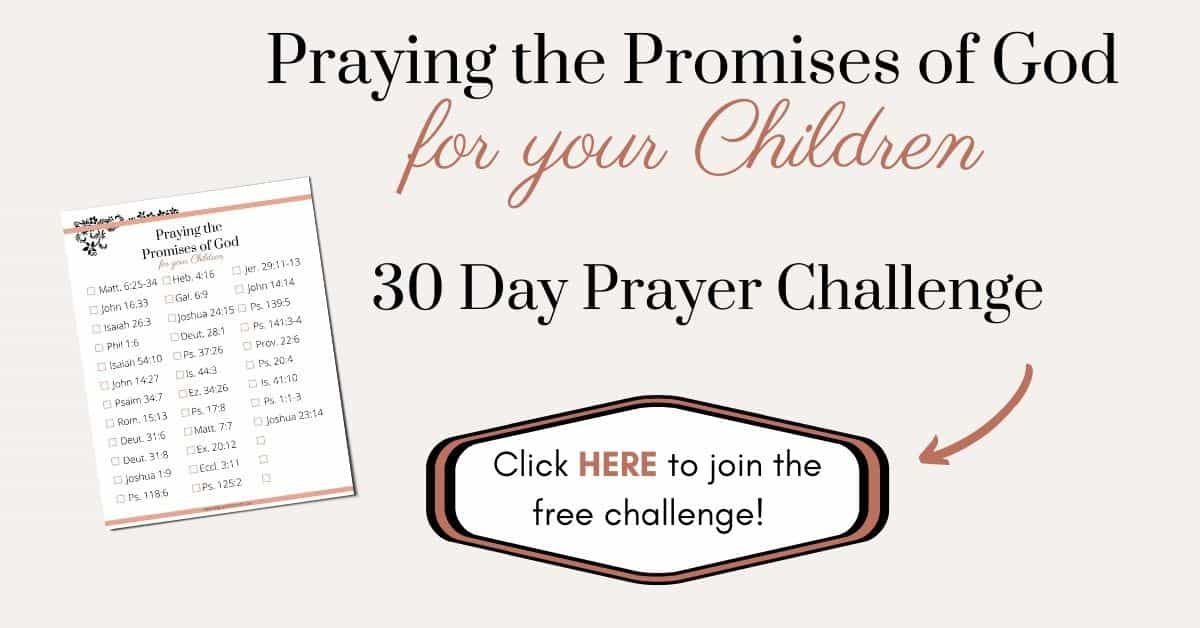 You may also like these posts…
---
❣ Sign up to get our weekly email filled with encouragement, ideas, and support for moms raising kids who love Jesus! ❣
❣ Sign up to get our weekly email filled with encouragement, ideas, and support for moms raising kids who love Jesus! ❣