I watched as my daughter walked up the aisle dressed in her cap and gown and wearing a huge smile. This was a milestone and we were so very proud of her! But getting to this milestone had been a journey! One that could only be navigated through daily prayer for my daughter!
As a parent, you influence, instruct, encourage, but the most important part of parenting is daily prayers for your child. Only with God's help and direction can you begin to see the full potential that God has planned for your child. You will likely spend hours praying about raising your child.

This post contains some affiliate links for your convenience (which means if you make a purchase after clicking a link I may earn a small commission but it won't cost you a penny more)!
Daily Prayer for Your Child
One of the most important things our children need from us is our prayers. It doesn't matter if they are small or big, young or old, we will still be mommas and they will still be our children.
Praying Circles Around the Lives of Your Children by Mark Batterson has some very specific ways to pray for your children and introduces the idea of praying a circle around your child. Putting this concept into play as you pray for your child every day will reap eternal results. As you read your Bible and come across texts or promises that you could pray for them, physically circle the verses in your Bible.
Make a list of these verses on an index card and use it as your bookmark. Every time you see those promises, claim them, and pray for your child. If you'd like a headstart on your promise list, 31 Bible Promises to Pray for Your Children will help you get started.
What to Pray for Your Child Every Day
Create a page or get this Praying for Others Prayer Journal and create a circle for each of your children. Inside the circle, list the things you are praying for them and then add promise texts around the circled names.
In this book, Mark Batterson writes about our prayers being prophetic. I love the picture of praying for our children and having those prayers cover them in the present but also in the future. Just like Samuel, Hannah prayed for him before he was born and long after he was born. Her prayers covered him even after he was an old man because she had prayed for him in faith.
One of the texts I have circled for my children is Luke 2:52. I have been praying that they would "grow in wisdom and stature and in favor with God and man." Back to the graduation celebration I started with. My daughter received a large scholarship for college because of her grades and leadership on campus. She also received a scholarship from her high school for her dedication, good grades, and work ethic.
When you are praying daily for your child, you focus your prayers on the things that are current in their life as well as their future plans and life.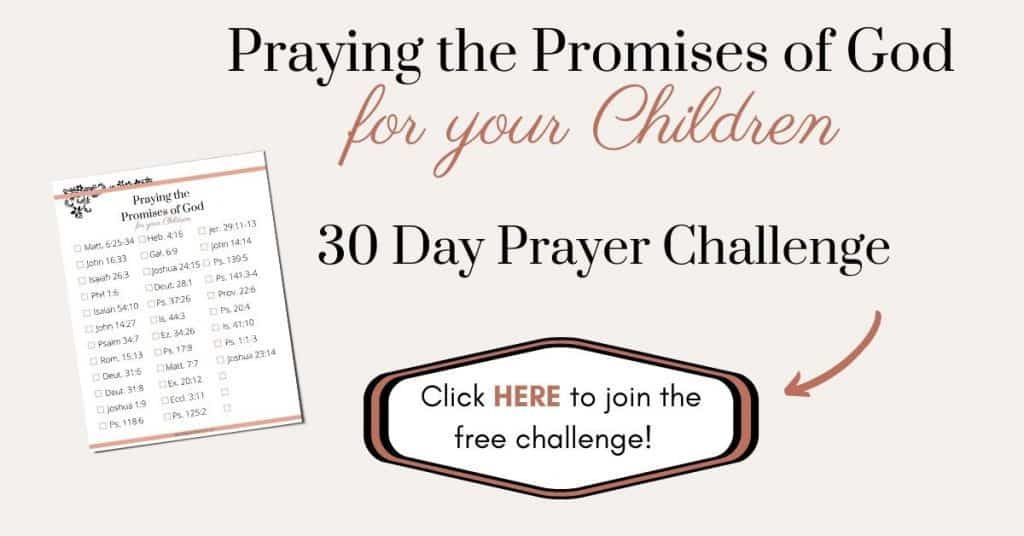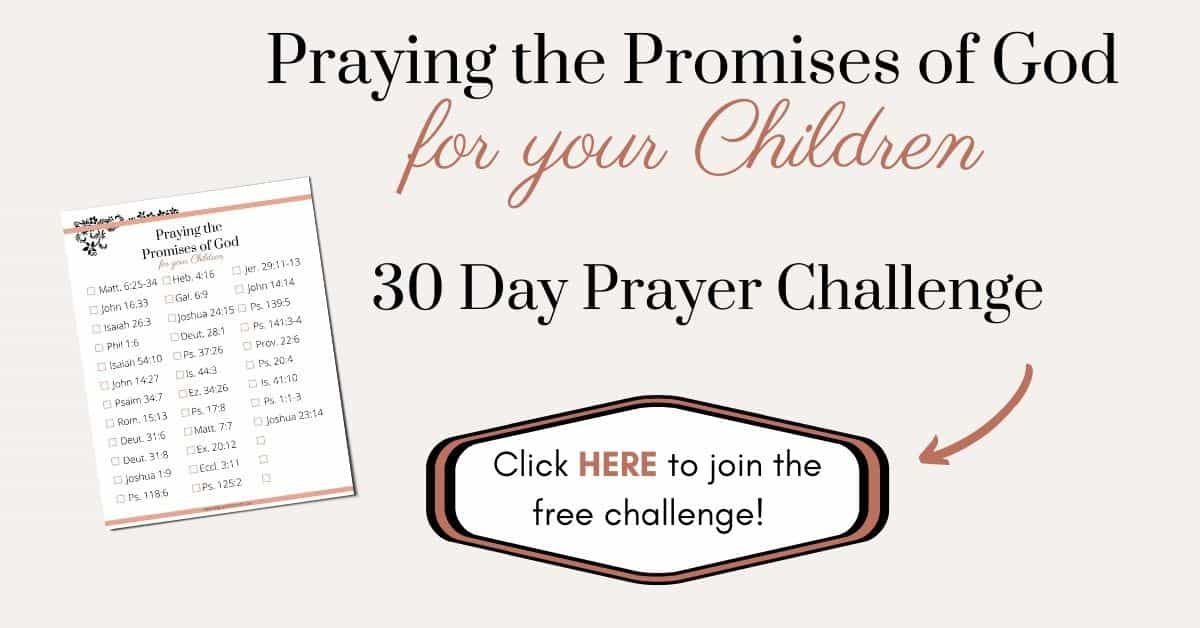 Focusing on Daily Prayer for your Children
Through every stage of parenting, there are different areas you focus on as you pray for your children. When they are young, you pray for their safety. You also pray that they will learn the lessons of obedience, kindness, and honesty. As they grow older, your prayers expand and you pray for safety in their relationships, in what they watch, and what they are doing.
It's not just physical safety but also spiritual safety. I know that my parents still pray for me as their child and I love knowing that even when I'm old, I'll still be their child and they will continue to pray for me.
Using scriptures to pray for your child helps you pray God's word. When you use God's word to pray for others, you know that He will honor his promises. As you focus on praying daily for your children, you are giving God permission to work in their life every day.
Praying Circles Around the Lives of Your Children brings encouragement about how important it is to pray for our children, young or old. As a parent, you have the ability to prophetically pray for your children that they will follow God.
Simple Ways to Pray Daily for Your Children
If you struggle with what to pray for your children, Praying Moms – Using Scripture to Pray for Others can give you a head start. You will find some new ideas and new ways to pray prophetically for your children. As you pray and circle your children in prayer, you have the assurance that God wants the very best for them as well.
Think about your daily schedule. When can you specifically pray for your children? Where can you leave those index cards with promises on them so you can pray those promises throughout the day?
When you have morning devotions
After you drop them off at school
While you are making lunches in the morning
Folding laundry
Vacuuming
In the shower
Praying daily for your children doesn't have to be difficult or complicated. God loves to communicate with you at any time! You don't have to kneel down, close your eyes, and fold your hands to talk to God. He will be listening if you have your eyes open while you are driving home from school. (Please keep your eyes open while you are driving!)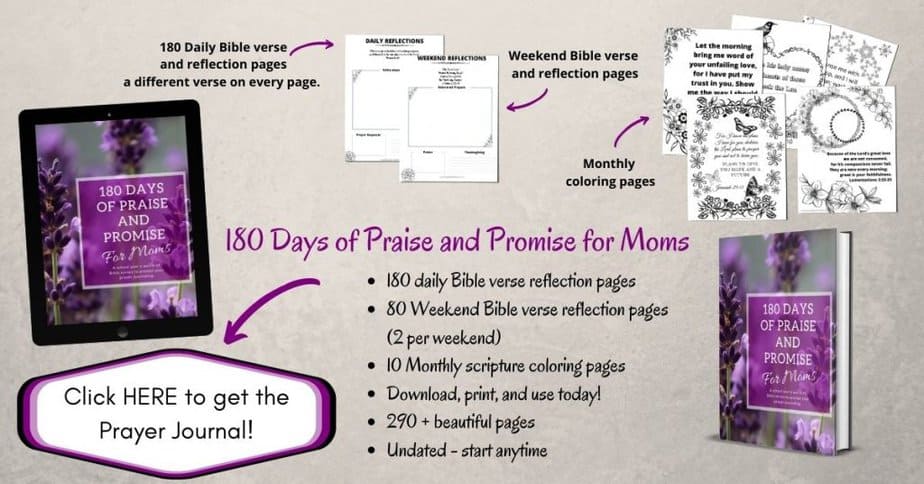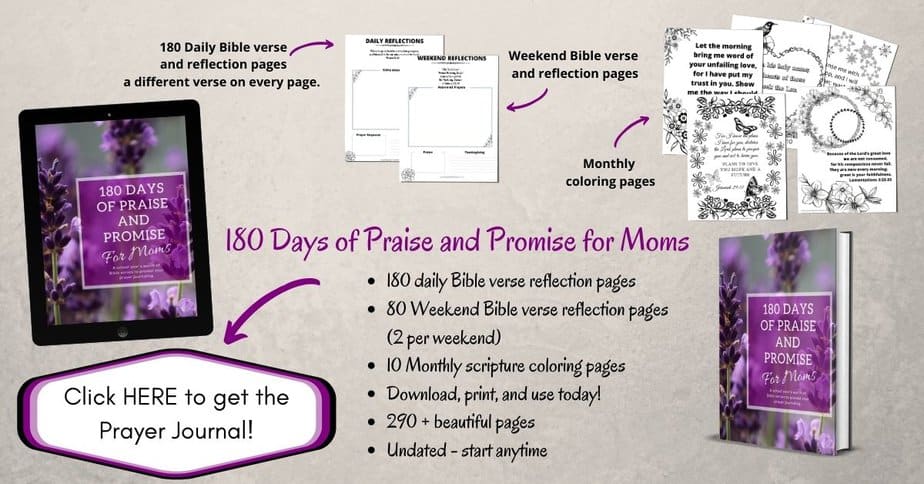 Prayers for Raising a Child
Dear Father in Heaven. Today, I pray for wisdom in raising my child. Teach me how to pray for my children, how to love them, and most of all, how to reflect You to them. Please help me to represent You to them in a loving way that attracts them to You. Hide and cover my imperfections and guide me as I raise this child to follow You. In Jesus' name, Amen
Lord, today I feel in over my head. I don't have the answers and parenting is hard. Thank you for this child you have blessed me with. Help me to treasure them, be present for them, and guide them to You. As they are growing, help them to grow in wisdom and stature and in favor with God and man just like Jesus did.
Help me to encourage them, support them, and redirect them to You. Thank you for your promises. Today I claim the promise that You will give wisdom when I ask. Today I am asking for Your wisdom. Thank you for hearing and answering my prayer. In Jesus' name, Amen.
Start today with one request and one Bible verse to pray for your child. Add to that list as you find more promises to add to your list. Pray for guidance as you raise your children. If your children are grown, adjust your prayers and claim promises for them in their adult life.
Some books to help you pray for your child…
You may also like these Prayer Posts…
---
❣ Sign up to get our weekly email filled with encouragement, ideas, and support for moms raising kids who love Jesus! ❣