Prayer is one of the most important tools in any Christ-follower's toolbox, and definitely one of the best in a mother's toolbox. In raising our children, prayer is a way that we can recognize that our children are our greatest ministry and that they do not belong to us. Praying mothers can place their children in the safest place by giving their children back to God each day. As followers of God, the greatest gift we can give to our children is a loving mother who honors God.
These simple prayers for mothers can help you focus your prayers and gather strength from God in your daily life.
All Scripture quotes are from the NASB translation.

This post contains some affiliate links for your convenience which means I may receive a small commission if you purchase through these links. Thank you for extending the support of Savoring Each Moment for Christian Moms! Please see my full disclosure policy. 
What Does the Bible Say About Praying for Others?
In Colossians, Paul writes "Devote yourselves to prayer, keeping alert in it with an attitude of thanksgiving" (Col 4:2)
It is important to be watchful and alert to the things that affect our families. There is an enemy out there that is seeking to destroy. We must be on guard against his attacks, and prayer is our greatest defense. Our prayers for our children can allow God to work in their lives while also working in our life as well.
"Bear one another's burdens, and thereby fulfill the law of Christ." Gal 6:2
As Christ-followers, it is important to pray for other mothers as well. I know there have been several times when God has put my name on the heart of my Christian sister and it means so much to know that I am not alone in the walk.  As we pray for others, God can bring clarity to our minds and help us focus on the things we need to pray for to support others.  
READ MORE: Praying Moms – Using Scripture to Pray for Others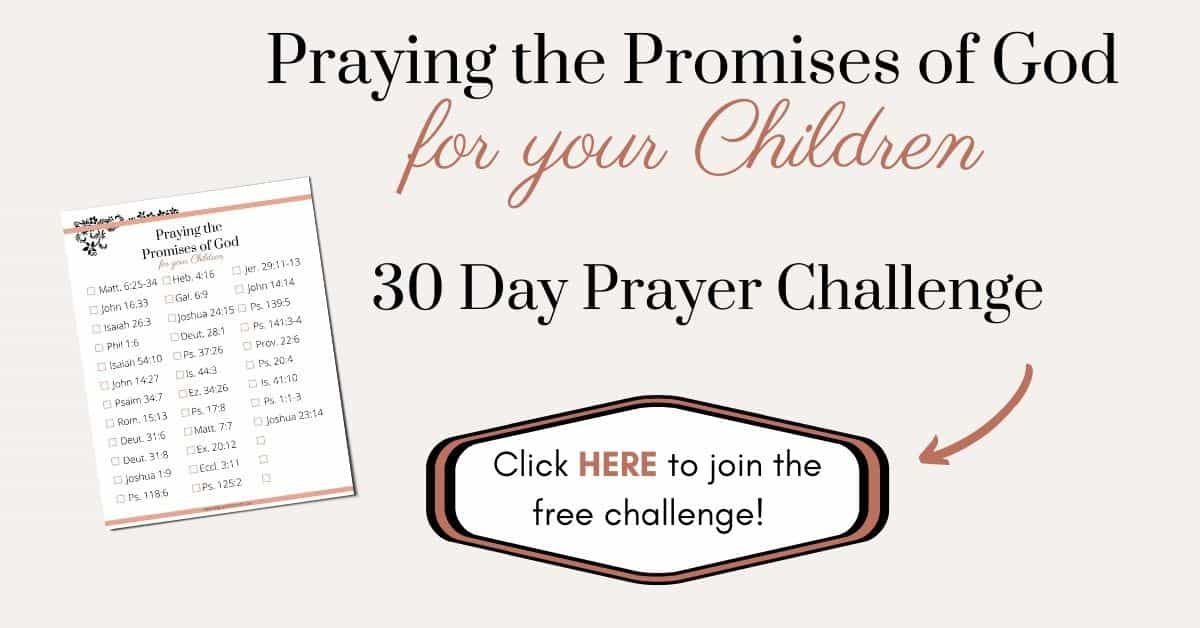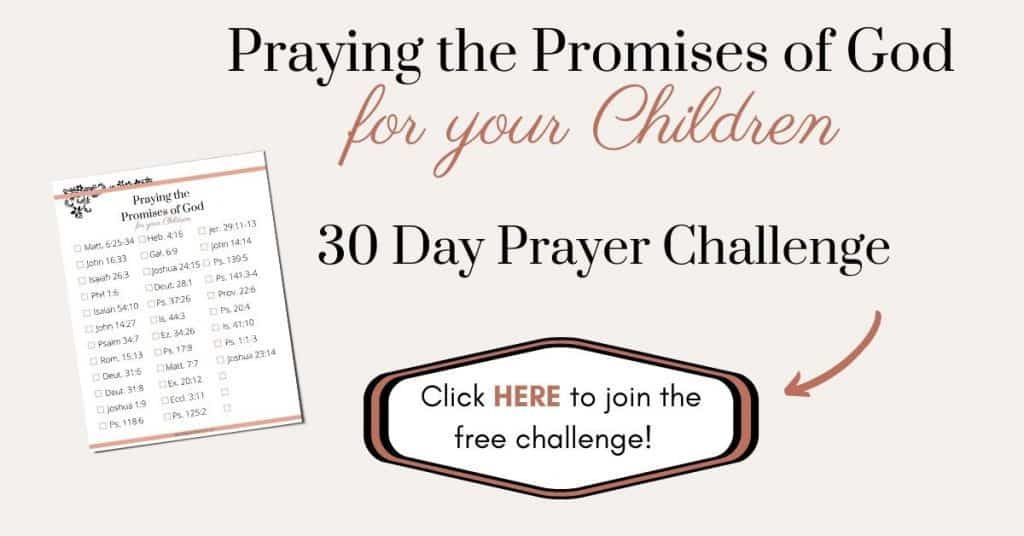 Prayers for Mothers Strength
As a mom, it is important to be on guard and stand strong against the enemy and the word he uses to try to break us. Often, you may feel overwhelmed and need wisdom for a specific situation. You may be exhausted with the busyness of life and all the things you think you need to accomplish in a day. God can give you the strength to carry on and carry on well.
Praying for strength as mothers acknowledges that we cannot do it alone, but only through the Lord, with His help. He is ready to help us if we come to Him in prayer, asking for the things we need for the day.
Dear Heavenly Father, I pray that you would just help me be watchful and alert to the enemy's plans. Help me to guard and shepherd my children's hearts. Give me strength and godly wisdom in guiding them with God's help. Fill my heart with unconditional love for them and moments of joy each day. Let Your joy truly be my strength and help me to keep the ways of the Lord present as I raise this child of God. Please keep us all in your loving arms. In Your holy Name, amen.

Dear Lord, please help me not to grow weary in doing good, but to remember that it is in fact You that I am serving as I tend to the many needs of my children. Thank You for the gift of motherhood. Please give me an unwavering love for You and for my children during this challenging season of sleepless nights and young children. Please help me in the ups and downs of motherhood to keep the ways of God every before me. Equip me physically, emotionally, mentally, and spiritually to best care for my family. Thank You for Your great love. In the name of Jesus, amen.

Father God, I pray that you would strengthen (friend's name here) today. Give her the grace and strength to get through the day. Restore the joy of her salvation and sustain her with a willing spirit. Make her heart glad, strengthening her resolve to raise her children to love and serve you. Keep Your loving eyes on her and give her new opportunities, new memories and God's grace during this season of motherhood. Bless the work of her hands and give her a kind heart full of a mother's love. In Jesus' name, amen.
Acts 20:28 Be on guard for yourselves and for all the flock, among which the Holy Spirit has made you overseers, to shepherd the church of God which He purchased with His own blood.
Gal 6:9 Let's not become discouraged in doing good, for in due time we will reap, if we do not become weary.
Col 4:2 Devote yourselves to prayer, keeping alert in it with an attitude of thanksgiving;
Col 3:23-24 Whatever you do, do your work heartily, as for the Lord and not for people, knowing that it is from the Lord that you will receive the reward of the inheritance. It is the Lord Christ whom you serve.
PS 51:21 Restore to me the joy of Your salvation, And sustain me with a willing spirit.
Short Prayers for Mothers
Prayer doesn't have to be (and probably shouldn't be) a big event. It is often little moments throughout the day. Remaining in a spirit of prayer without ceasing. A soft prayer spoken under our breath or as we close our eyes and breathe deeply. The need to stay connected to God throughout the day recognizes our constant need for His guidance and wisdom.
It is important to take specific time with God each day in dedicated prayer and Bible study, but throughout the day, you may only have time for a short prayer as a mother. Here are some short prayers for mothers that I often pray throughout the day.
Lord, open my eyes to the opportunities that you give me to teach my children about You each day and give me the words to say to make the most of those opportunities.

Gracious God, give me Your eyes to see my children and how they are experiencing life and to see beyond their behavior to their needs.

Dear Lord, help me be a good example to my children, pointing them to You in all that I say and do.

Father, give me Your love and compassion for my children.

Dear God, give me wisdom and words to say in this situation and help me to know the best way to resolve this situation.
Eph 5:15-16 Therefore be careful how you walk, not as unwise men but as wise, making the most of your time, because the days are evil.
Col 4:2-6 Devote yourselves to prayer, keeping alert in it with an attitude of thanksgiving; praying at the same time for us as well, that God will open up to us a door for the word, so that we may speak forth the mystery of Christ, for which I have also been imprisoned; that I may make it clear in the way I ought to speak. Conduct yourselves with wisdom toward outsiders, making the most of the opportunity. Let your speech always be with grace, as though seasoned with salt, so that you will know how you should respond to each person.
1 Thes 1:6-7 You also became imitators of us and of the Lord, having received the word in much tribulation with the joy of the Holy Spirit, so that you became an example to all the believers in Macedonia and in Achaia.
1 Thes 5:14-18 We urge you, brethren, admonish the unruly, encourage the fainthearted, help the weak, be patient with everyone. See that no one repays another with evil for evil, but always seek after that which is good for one another and for all people. Rejoice always; pray without ceasing; in everything give thanks; for this is God's will for you in Christ Jesus.
1 Peter 5:2-3 Shepherd the flock of God among you, exercising oversight, not under compulsion but voluntarily, according to the will of God; and not with greed but with eagerness; nor yet as domineering over those assigned to your care, but by proving to be examples to the flock.
RELATED: Praying Mothers in the Bible
Prayers for Mother's Strength
Different holidays and seasons can be tough for women. Some have lost their joy and are struggling with motherhood. Some ache to hold a little one of their own. Others are grieving the passing of their child with a broken heart, or the loss of their own mother. This is an opportunity when we can support other women with our prayers for strength, courage, and joy.
Encouraging prayers for these amazing women allows us the opportunity to lift these women up to God in simple prayer and petition. Pain and loss in motherhood can be devastating in a mother's life. One phone call can make the difference between joy and sorrow. God has a special place in His heart for the weary mom who is exhausted from taking care of her sick child. He has special peace for those who have lost a child or the dream and hope of child. He loves the single moms who are trying to hold things together from one pay check to the next. He is ever listening to the powerful prayers of a mother for her adult children. He sees the hard work of each amazing mother and He is eager to pour out the choicest blessings and long life.
These challenges, heartaches, tears, worries, and fears don't only last one day. As we lift single mothers, new mothers, foster moms, the adoptive mom, and the mom with an aching heart up in prayer, God, the great Healer, the source of love, the bringer of good news, the Abba Father, will carry them in His arms and put a hedge of protection around them in a powerful way so that they will know that He is with them. If you are the mom who needs those prayers today, call a friend and talk to them about your difficult time. Pray that God will help you during this time of year and ask Him to carry you through this time.
Father, thank you for the gift of mothers. Strengthen those in the throes of motherhood. Give them rest in you. Give them wisdom in the way they speak and walk in your ways. May her life and legacy point her children to You. May her children rise up and call them blessed.

Dear Lord, please be near to those for whom Mother's Day is hard. Those trying to conceive. Those who have lost children. Those who are experiencing their first Mother's Day without their mom. Those who have never had a Mother figure. Those whose mothers abused them. Give them peace that passes understanding as those around them are celebrating. Comfort them in the ways that they need it, as only You can. Help those around them see them and their pain and be your hands and feet in ministering to them.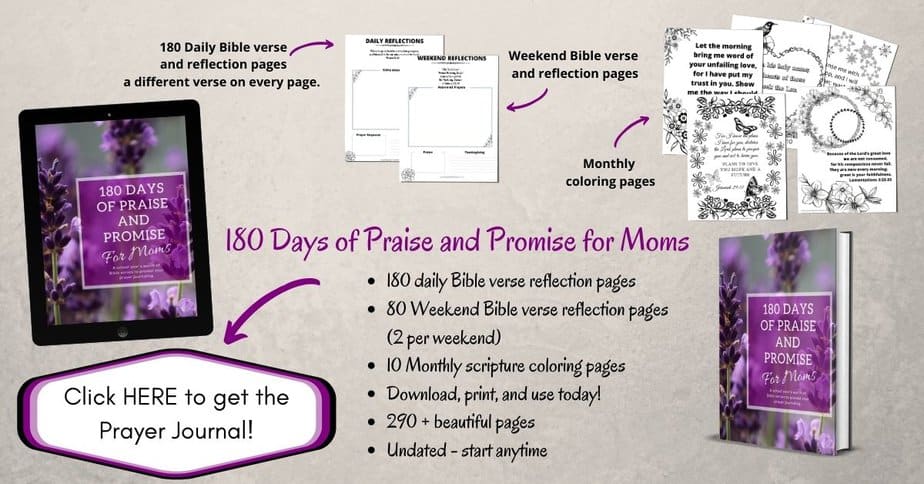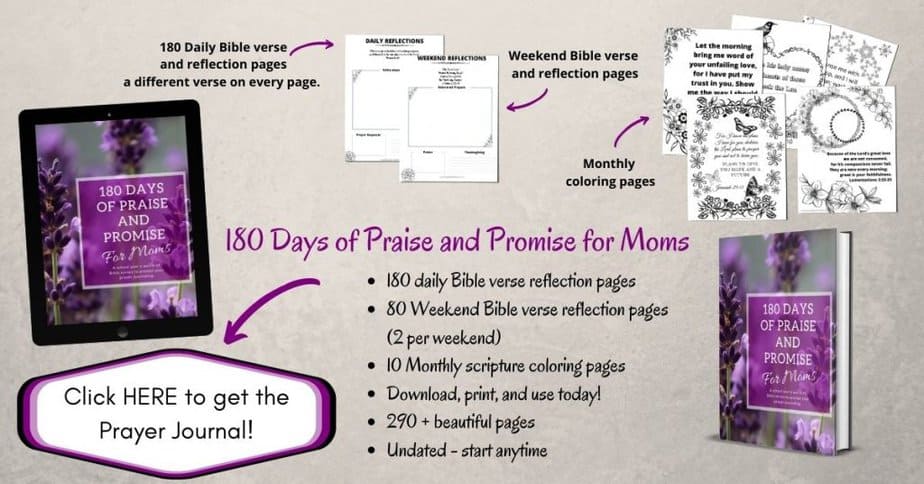 Ps 28:8 The LORD is their strength, And He is a saving defense to His anointed.
Ps 29:11 The LORD will give strength to His people; The LORD will bless His people with peace.
Ps 73:26 My flesh and my heart may fail, But God is the [fn]strength of my heart and my portion forever.
Ps 34:18 The LORD is near to the brokenhearted And saves those who are ]crushed in spirit.
Phil 4:7 And the peace of God, which surpasses all comprehension, will guard your hearts and your minds in Christ Jesus.
Ps 23:4 Even though I walk through the [fn]valley of the shadow of death, I fear no [fn]evil, for You are with me; Your rod and Your staff, they comfort me.
Ps 119:50 This is my comfort in my affliction, That Your word has [fn]revived me.
Ps 119:76 O may Your lovingkindness comfort me,According to Your word to Your servant.
Gal 6:2 "Bear one another's burdens, and thereby fulfill the law of Christ."
2 Cor 1:3-11 Blessed be the God and Father of our Lord Jesus Christ, the Father of mercies and God of all comfort, who comforts us in all our affliction so that we will be able to comfort those who are in [fn]any affliction with the comfort with which we ourselves are comforted by God.For just as the sufferings of Christ are [fn]ours in abundance, so also our comfort is abundant through Christ.But if we are afflicted, it is for your comfort and salvation; or if we are comforted, it is for your comfort, which is effective in the patient enduring of the same sufferings which we also suffer;and our hope for you is firmly grounded, knowing that as you are sharers of our sufferings, so also you are sharers of our comfort.For we do not want you to be unaware, brethren, of our affliction which came to us in [fn]Asia, that we were burdened excessively, beyond our strength, so that we despaired even of life;[fn]indeed, we had the sentence of death within ourselves so that we would not trust in ourselves, but in God who raises the dead; who delivered us from so great a peril of death, and will deliver us, [fn]He on whom we have set our hope. And He will yet deliver us,you also joining in helping us through your prayers, so that thanks may be given by many persons on our behalf for the favor bestowed on us through the prayers of many.
RELATED: Beautiful Mother's Day Scriptures
Applying Prayers for Mothers to Your Life
There are many prayers of thanks for mothers, and each situation is unique. Prayer is not a stagnant thing that never changes. As we grow as Christ-followers we learn to pray at the moment. The more in-tune with the Holy Spirit we become, the more even the short prayers for mothers come naturally to our minds. The more we read and study the Bible, the more Bible verses we have in our minds to claim as God's promises for our children.
As you develop your prayers for mothers, your daily prayer time, your quick on-the-go short prayers for moms, or your prayers for others, remember that God loves to hear your prayers. No matter what the occasion, the reason, or the timing, He is always ready to listen to your prayers! He longs to give you the desires of your heart and loves to hear you express gratitude for what He has done. As He continues to work in your life, the fruit of the spirit will be evident in the life of a loving mother for the rest of her days.
Robbi Bittle writes about faith, family, natural living, and homemaking at www.timelessmamablog.com/ She loves to share the knowledge gathered, helping equip wives and mothers in their calling from the Lord in a Titus 2 way. Here are some more prayers in parenting ideas.
You may also like these Prayer Posts…
---
❣ Sign up to get our weekly email filled with encouragement, ideas, and support for moms raising kids who love Jesus! ❣