If you are planning a family game night or just need some new ideas for some card games for kids, this list will help you find some great family card games to play with your kids. Whether you need simple card games for kids, easy card games for two, games for younger kids, games to play with older children, or family card games that the whole family can enjoy, you are sure to find a new one for your game closet in this list!
Playing fun card games together as a family is a great way to strengthen your parent-child relationship, and teach your child to follow directions, be honest, and win and lose gracefully. Playing card games for families provides an opportunity for lots of laughs and connections. As young kids learn to play within the rules, to be honest, and to play fairly by watching your example, they will be able to transfer these skills to other parts of life as well.

This post contains some affiliate links for your convenience which means I may receive a small commission if you purchase through these links. Thank you for extending the support of Savoring Each Moment for Christian Moms! Please see my full disclosure policy. 
Card Games for Kids
Some of the best card games for kids are the old, tried and true classic games of your childhood. Not only are these games quick and easy, but they are also portable so you can stash one or two in your purse or in the car for emergencies when you need something to keep everyone occupied.
Once your young child learns how to play the game, they will be ready to play over and over again. That's why you need an arsenal of different fun family card games to play with your kids so you don't get stuck playing the classic card game of Uno a million times in your sleep!
Choosing a variety of card games for families to play with your kids also offers different skills and challenges for your kids to learn as they play. When you spend time playing games as a family, your time together strengthens your relationships.
Here are some classic card games for kids to play together. These card games for families don't take a lot of skill or even a lot of time, but playing together even for a short time frequently builds memories and relationships.
Easy Card Games for Kids for Two Players
Many of the card games for kids in this post are easy card games for two players. When you have games that only require two players, you have a lot more options. Sometimes you need some family card games for larger groups but other times you may just need an easy card game for two. No matter how many people are in your large groups or the number of cards you need for just two players, finding the best fun family card games doesn't have to be difficult!
Often, when you are playing an easy card game for two, you have the opportunity to help your child learn the strategy, how to play their cards and learn the specifics of the game. It doesn't have to be so much about winning or losing, but rather just playing together.
If your child is young and just learning the skill of playing card games, you can start with simple card games for kids like the ones listed above.
Then, as they learn the basics of taking turns, strategy, and playing kindly with others, you can increase your selection of simple card games for kids to include some with more skill or a little more challenge.
Usually, no matter what the game is, if you enjoy playing and spending time with your child, your kids will also enjoy and you will find with ones are the best family card games for your family.
RELATED: Best Read-Aloud Books to Read to Kids on a Road Trip
Best Card Games for Kids to Play as a Family
Here's the list you came for: the best card games for kids! Get ready for your family game night and check out some of these great family card games. When you invite your kids' friends over, the cousins are at your house, or you have a family get-together, you will enjoy each of these card games for families as you laugh and play together.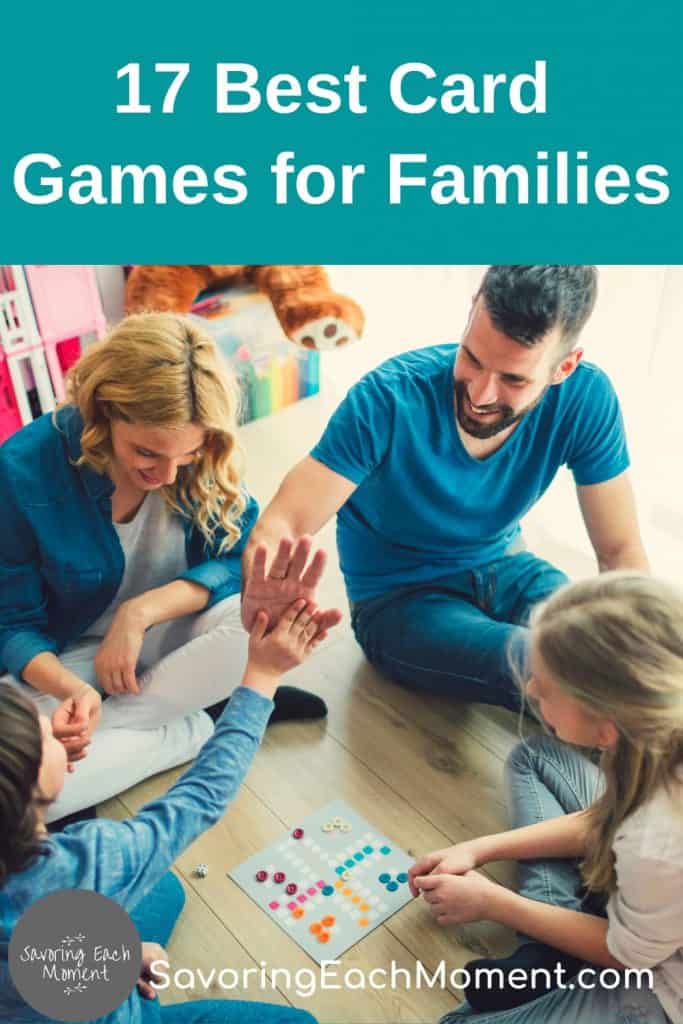 Using Family Card Games to Build Relationships
Family board games and card games are a great option as an alternative to sitting in front of the TV or playing video games. Choosing strategy games, games for older kids, or classic games with new cards can be a great way to spend an evening together. Family card games make a great choice as a gift for family members, and your kids will love having their own cards and games to bring to family game night.
Playing games together with kids can be a great opportunity to teach your kids to take turns and let the next player have their turn. They can also learn the face value of different cards in different games and practice their poker face as they are hiding the winning card in their hand. Whether you're playing for highest score or the lowest point values, your kids will love learning new games. If the simple card game becomes a favorite, you will know you have one of the best games for your family!
As a mom, you want to use every opportunity you can to build a positive relationship with your child. Playing family card games together is an easy way to spend one on one time together or family time together as you laugh, learn, and enjoy your time. Whether your family's favorite is an old classic game, one of the best board games, a fast-paced game, or even the current popular card games, your kids will enjoy much fun as they play with you! The best part of playing games together is the fun part of doing something together!
Go pull your family card games out and plan a game night today! Try a new card game for kids and enjoy the learning opportunity and fun for the whole family.
RELATED: Best Road Trip Games for Kids
You May Also Like These Posts
---
❣ Sign up to get our weekly email filled with encouragement, ideas, and support for moms raising kids who love Jesus! ❣