If you are looking for a simple way to share the Christmas story for kids and you've run out of ideas or need some additional creativity, you've come to the right place. Christmas time can be a time of wonder and celebration and it can be easy to get caught up in the fun of Christmas that we forget to make the Christmas story of Jesus' birth the focus.

This post contains some affiliate links for your convenience which means I may receive a tiny commission if you purchase through these links. Thank you for extending the support of Savoring Each Moment for Christian Moms! Please see my full disclosure policy. 
7 Simple Ways to Experience the Christmas Story with Kids
Here are 7 simple ways to help your child experience the Christmas Bible story and enjoy and appreciate the immense gift of Jesus.  Each of these 7 ideas can be used throughout the ages of your child's life and adapted to their knowledge and development.
Christmas Story for Kids at a Living Nativity
Visit a living nativity or Christmas story pageant or play in your local area. Many churches provide living nativities or a journey to Bethlehem event where you can go and walk through the story Christmas story with actors, animals, and the sights, sounds, and smells of the story come alive.
You may need to plan ahead to get tickets in advance, so start watching early in November to plan for these events. If you don't have something like this in your local community, ask friends and neighbors about where you can experience a living nativity with your kids.
Books to Read about the Christmas Story for Kids
Books can be powerful, be the center of traditions and happy memories, and convey stories that fill the heart. Finding Biblical Christmas story books for kids to read or for you to read to your kids can seem overwhelming without stories of Santa, flying reindeer, and magic.
But, there are so many wonderful Christian Christmas storybooks about the birth of Jesus and how God's love has blessed people during the Christmas season, that you can include a few books or stories in your family worship time or bedtime story time when you read to your kids. These stories can tie back into the Christmas Bible story as you talk to your kids about the meaning of Jesus' birth.
Read the Christmas Story in the Bible
Going directly to the source of the Christmas story should be a part of your focus as well. It is interesting to read the story in Matthew chapter 1 and 2, and then compare it to Luke chapter 1 and 2. There are many of the same parts of the story, but each biblical writer focused on different parts of the story from a different perspective.
Take some time to read the story in different versions of the Bible. You may enjoy the lyrical familiarity of the King James Version, but you may also find new insights by reading from some modern versions as well. Find one that is understandable for your child and be prepared to explain some of the words in the story.
As your children grow older, ask questions when you're reading the story. What do you think it felt like to sleep in a stable? Do you think Mary and Joseph were surprised when a bunch of shepherds showed up? What do you think the angels' song sounded like? Could the people in town hear it if they were listening?
You may even work on memorizing the biblical story with your kids.
Act Out the Christmas Bible Story
Whether you do this at church, during family worship, or for a group of family and friends, acting out the Christmas Bible story can really help your children put themselves in the story. Look for opportunities for this to happen for your children or create the opportunity at home. Costumes don't have to be fancy or complicated. Bathrobes, dish towels and headbands for head coverings, fancy tins, or boxes can be turned into costumes and props. The family dog can even be roped in to stand in for a donkey, sheep, or cow.
Depending on the age of your children, you can read or narrate the Christmas Bible story as they act it out or they can tell the story as they act it out.
Watch "The Chosen"
Another way to experience the story of Jesus' birth is to watch a movie about it. Of course, anytime you watch a movie, that picture gets in your head and can become reality – especially for children. So it's important to prepare your children by reading the Bible story first, comparing the movie to the biblical account, and helping your child understand reality compared to artists' license.
If you have not watched The Chosen, you have missed out on an amazing account of Jesus' life. There are several episodes and sections of the Christmas story from differing viewpoints on youtube.
Retell the Christmas Story for Kids with a Nativity Set
Nativity sets can be the backdrop for children to play and act out the story. When children are little, they enjoy setting up a nativity scene and telling the story. As they grow, you could use the nativity set to focus on the different perspectives of the key people in the story. Family worship is a great time to use this for re-telling the story. Focus on Joseph one night, the shepherds another night, the angels, Mary, the animals in the stable, etc.
Talk about how this one night impacted their entire lives. How did it change them? What did they remember about the night of Jesus' birth? If you could have been there, who would you have wanted to be?
Christmas Story for Kids Printables
Christmas story printables for kids can add an additional layer to learning and focusing on Jesus' birth. You could use Christmas story coloring pages to tell the story one page at a time or turn them into a coloring book to take along with you in the car, to church, for quiet time, family worship while listening to a story, or for fun at the table while mommy is in the kitchen.
Christmas story printable games like bingo are a fun way to engage the whole family. Playing games together can increase your child's ability to be a good sport, take turns, and work together.
Christmas story activity printables for kids can be used over and over again. If your child loves seek and find pictures, mazes, matching, coloring, and pencil and paper projects, then this is a great way to encourage them to interact with the Bible story.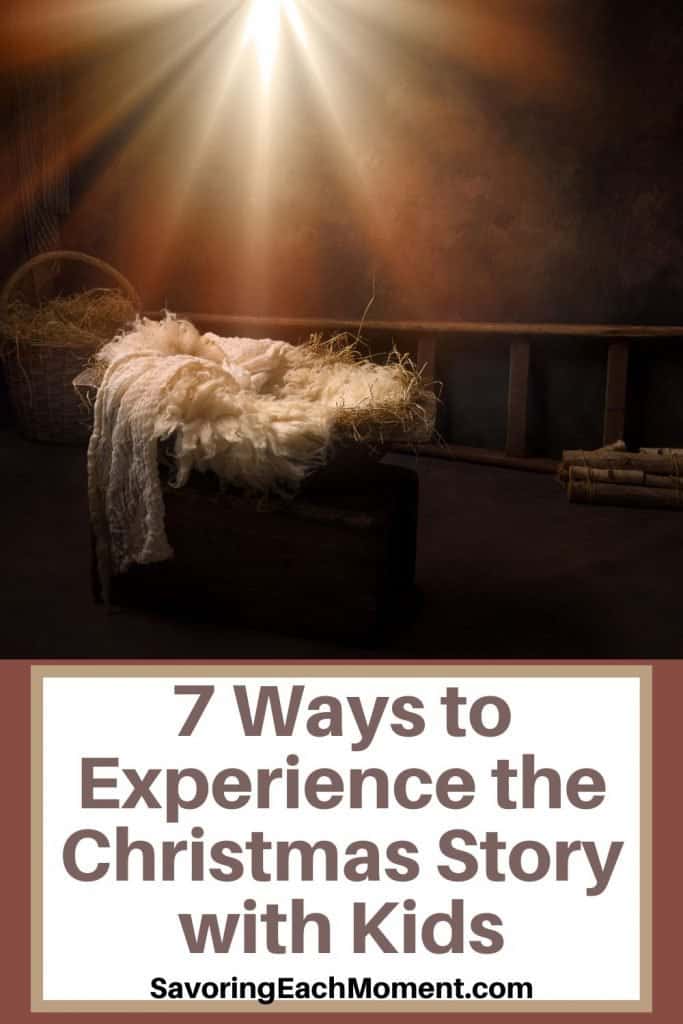 Experiencing the Christmas Bible Story all Year with your Kids
No matter how you choose to add a focus on Jesus' birth to your Christmas traditions, you can help your child experience the Christmas story all year with any of the above ideas. You aren't as likely to find a living nativity scene in June, but the rest of the ideas can happen any day of the year.
You don't have to do all seven of these ideas to share the biblical Christmas story for kids, but adding just one or two more ways to your plans can make a huge impact on your child. As you experience the Christmas story together, you may be surprised at how your experience may change as you see the story through the eyes of your child.
You may also like these Biblical parenting links…
---
❣ Sign up to get our weekly email filled with encouragement, ideas, and support for moms raising kids who love Jesus! ❣