Sharing the story of Jesus with a kids nativity set can bring the Christmas story alive for your child as they If you are searching for the best nativity sets for toddlers, you are most likely looking for something that will endure rough play while withstanding lots of love.  Here are some of the best nativity sets for toddlers that will bring the joy of the birth of Jesus into the hands of your young child.

This post contains some affiliate links for your convenience which means I may receive a small commission if you purchase through these links. Thank you for extending the support of Savoring Each Moment for Christian Moms! Please see my full disclosure policy. 
13 Awesome Nativity Sets for Toddlers
From the time children are young, they are fascinated with new toys. Especially when those toys are special and only come out for special occasions. Adding a toddler safe nativity set to your child's toys will help them to be able to learn the story of the birth of Jesus and play-act the story while internalizing the story.
Each one of these nativity sets for toddlers will make telling the Christmas story more fun when your child can see the story come alive as they are playing. Give your child an early start as they learn and explore the Bible through toys, books, and games that will help them learn about Jesus.
Fisher-Price Little People Nativity
This adorable set comes with chunky little figures that easily fit in a toddler's hands as they move the characters around to tell the story of Jesus' birth.
You can't go wrong with the durability of Melissa and Doug's quality wooden toys. This beautiful set comes with a background scene and all the characters to tell the story of the birth of Jesus. This nativity set for toddlers will be a favorite for many years.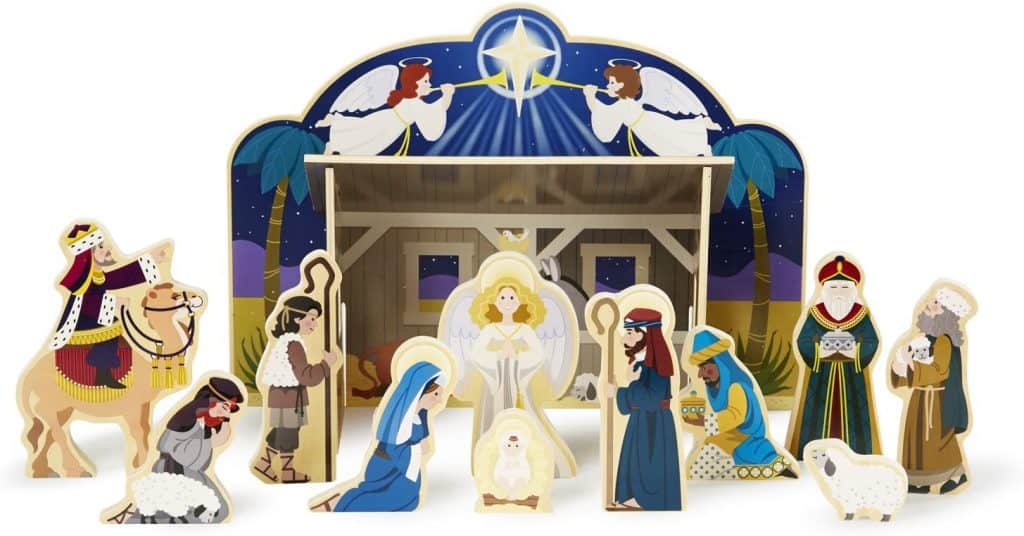 This beautiful felt set of the nativity for toddlers is so vibrant and colorful your child will want to tell the story of Jesus' birth over and over again. The wonderful thing about felts is they are quiet and take up little space. Store them in a zip-top plastic bag and take them with you to church, in the car, or play with them at home.
Those little toddler hands will enjoy putting these nativity puzzle pieces into the wooden tray. When the pieces come out, they can be used to set up a scene and tell the story.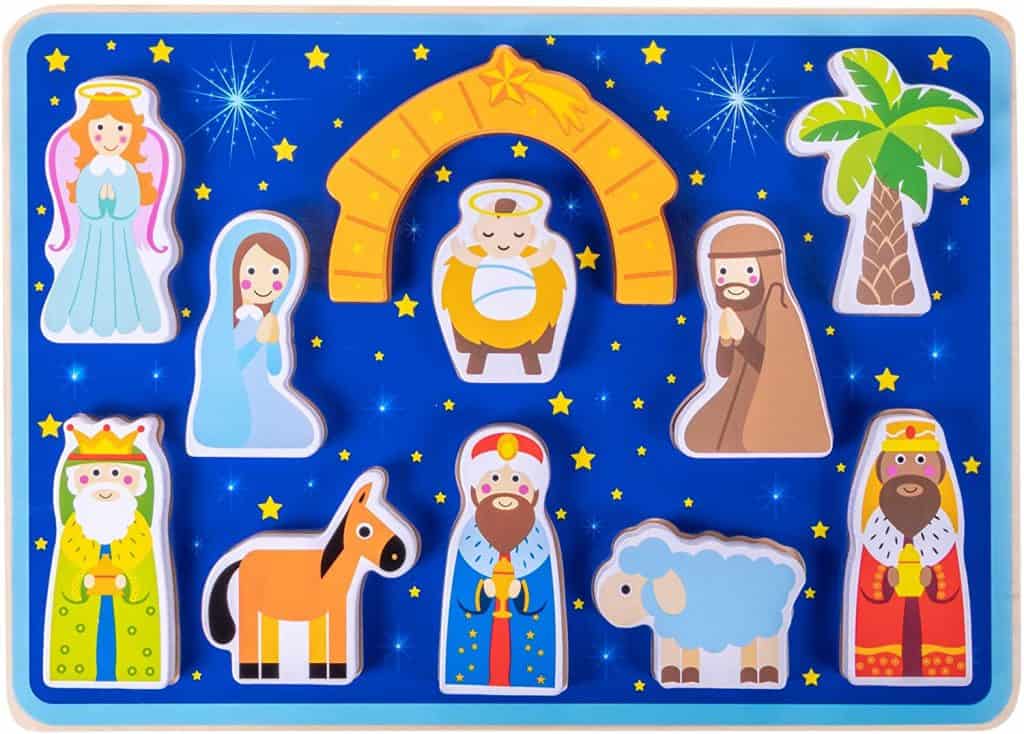 Fisher-Price Little People Christmas Story
Here is another timeless Nativity set for toddlers. Fisher-Price Litte People has created an extended set from the one above. This set includes additional props like animals, the barnyard, and some hay. This adorable nativity set for toddlers will last for many years!
Look at these chunky little wooden figures that are just perfect for a child's small hands. The pieces will all fit into the barn which becomes the box for storage. Add some plastic animals and extend the scene if you'd like.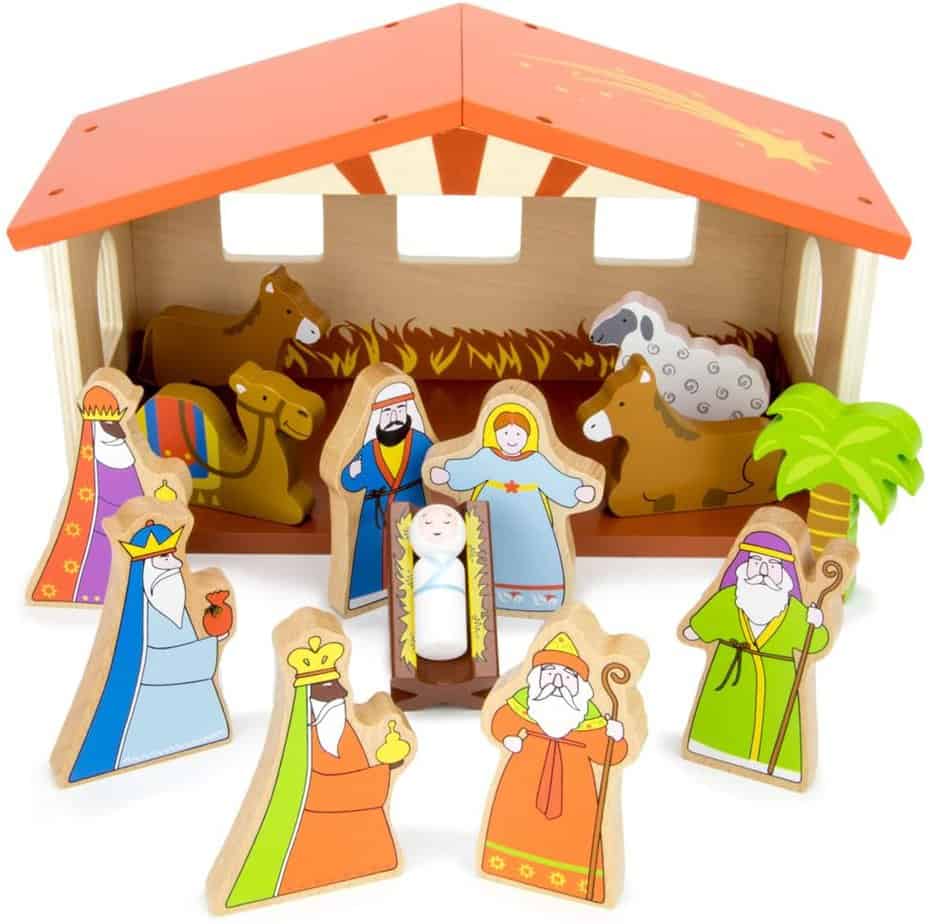 My First Noel Nativity Playset in a Box
This adorable nativity set is perfect for toddlers because it all stores safely inside a box with a handle. Now your child can carry their nativity playset along with them and keep all the pieces put away when not in use.
These adorable wooden nesting dolls will withstand lots of little hands. Help your child tell the story of each person in the nesting doll all the way down to the tiniest member – the baby Jesus.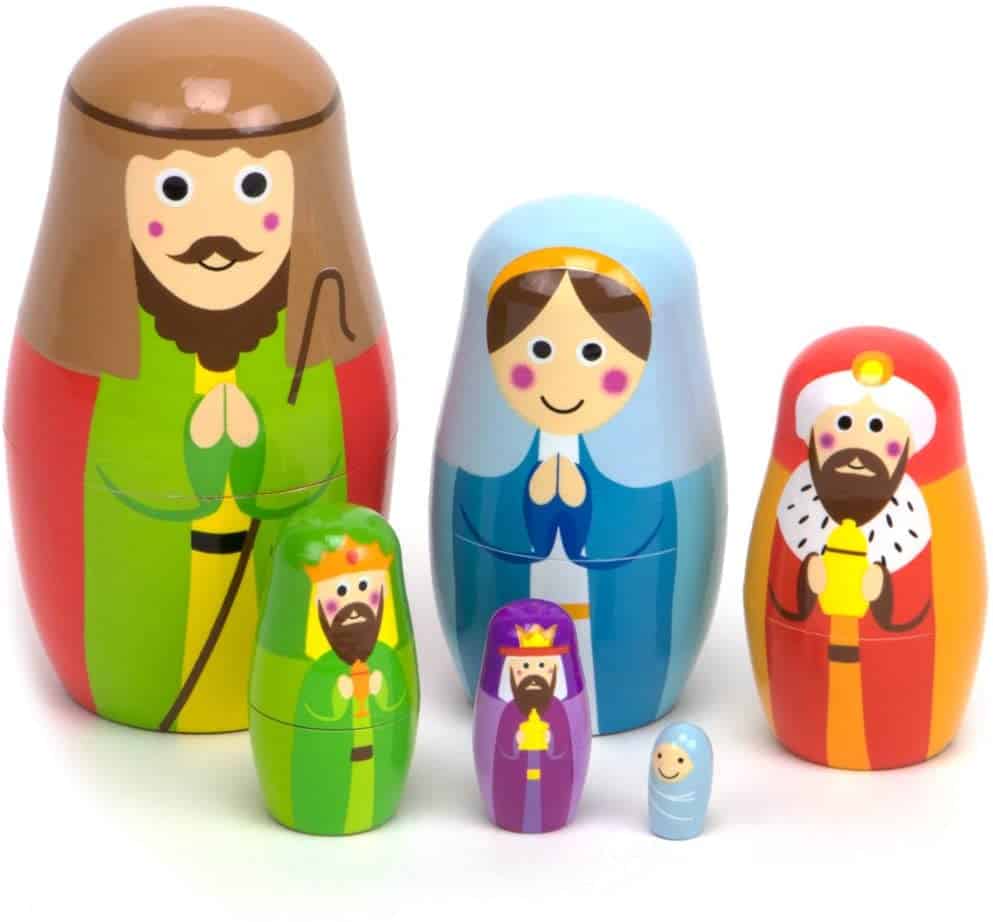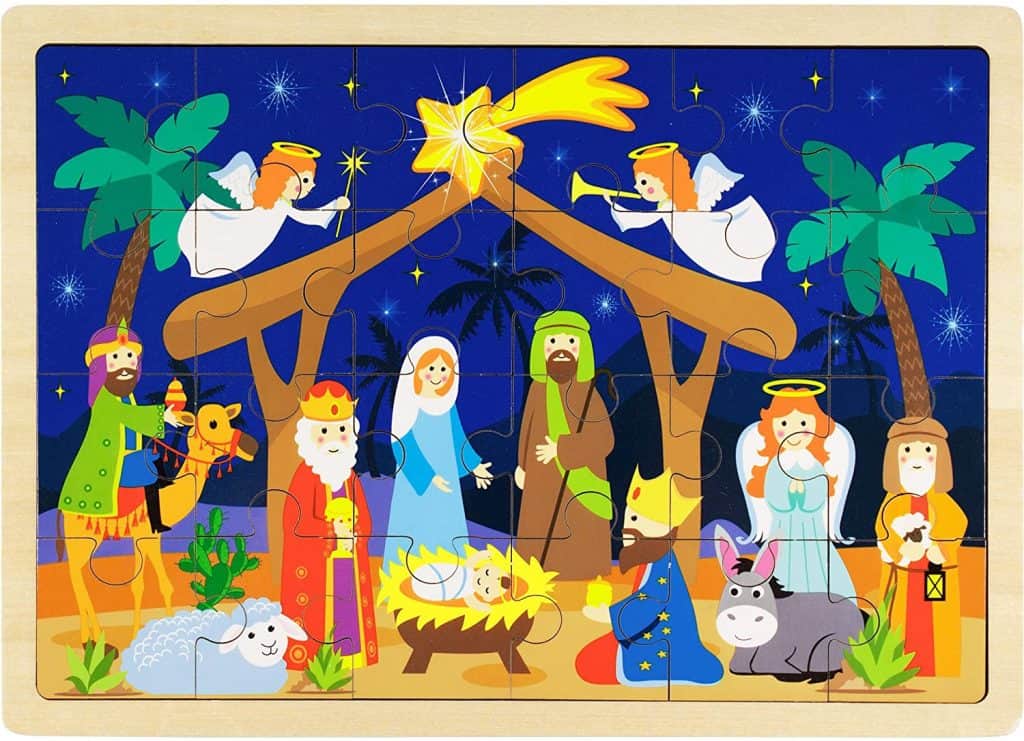 This colorful, 24-piece wooden tray puzzle is a fun way to challenge your toddler to put the nativity picture together. Large pieces and a colorful picture make this tray puzzle a fun addition to your nativity collection!
These cute little chipboard figures and barn are perfect for a small space or for traveling with the nativity scene. The chipboard stands come apart and all of the pieces lay flat for minimal storage space. Sturdy pieces will stand up to the gentle use of little hands.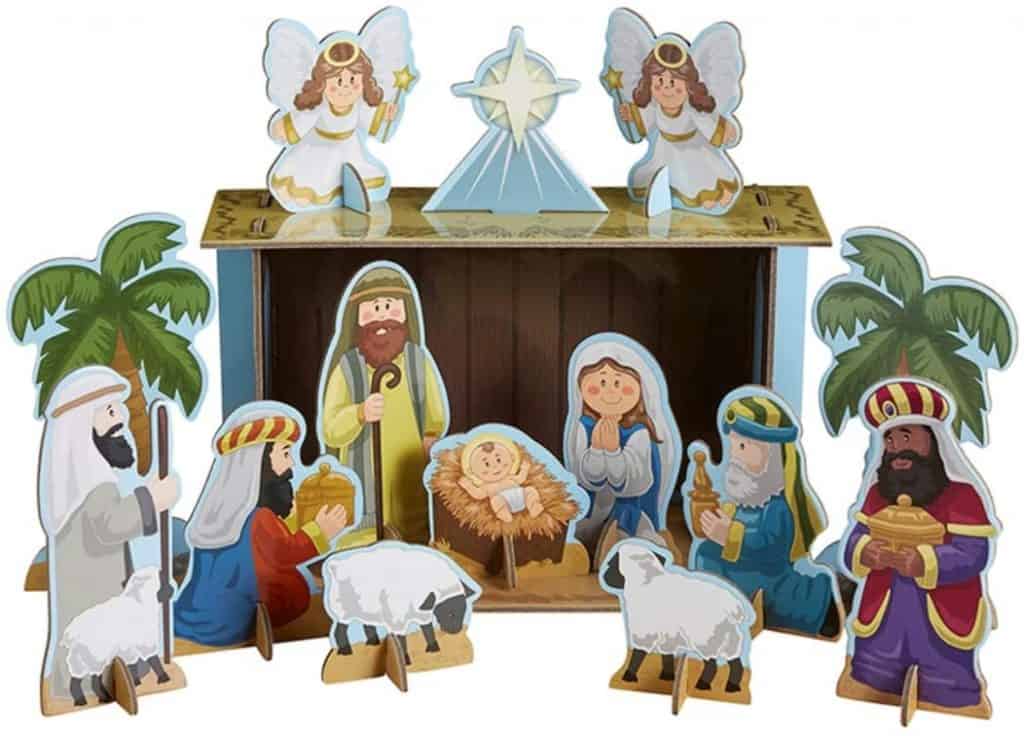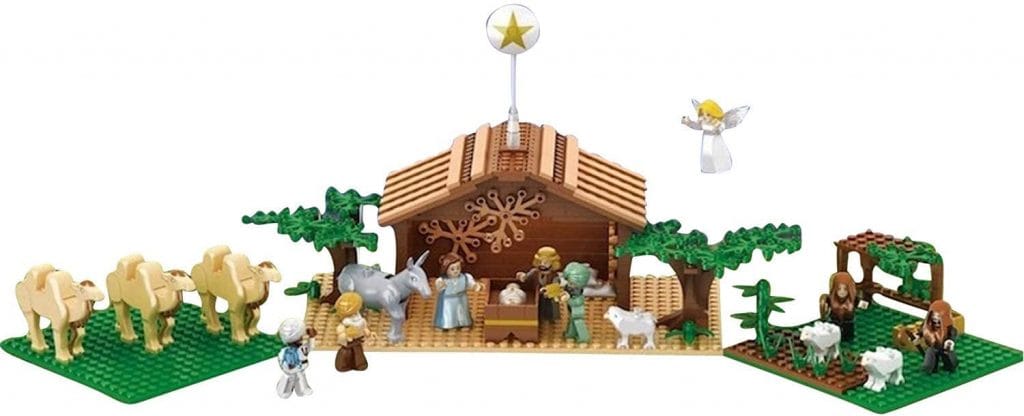 This set is so much fun. First, you get to build it and then move it around. This nativity set may not be best for toddlers as there are small pieces, but it needs to be on this list because you may have an older child that would enjoy this beautiful nativity set.
---
Printable Nativity Activities for Toddlers and Young Children
Large, simple pictures and bubble letters invite young children to color these pages. 29 pages of pictures of the story of Jesus' birth from the angel visiting Mary to Joseph and Mary returning to Nazareth after fleeing to Egypt. Download and print immediately.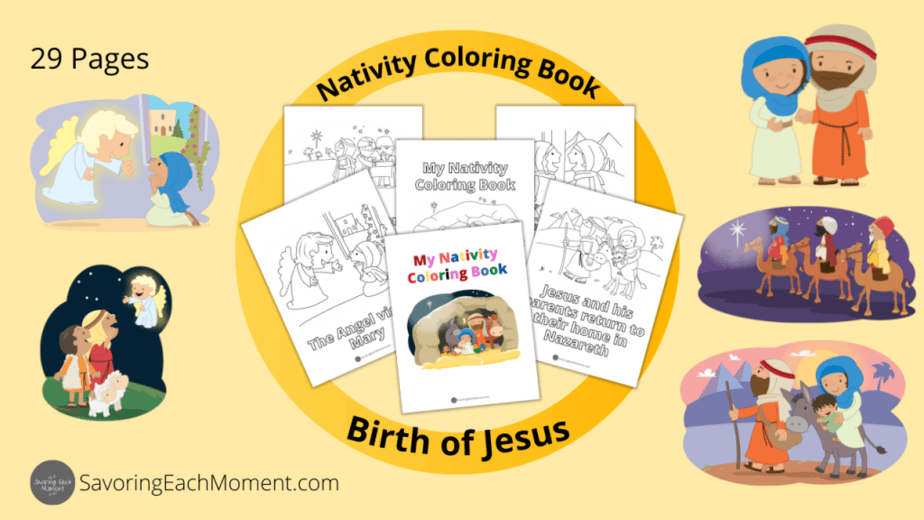 RELATED: The Best Christmas Books for Toddlers
Birth of Jesus Bible Bingo
You may also like these Bible Bingo Games which are perfect for toddlers and young children to learn to identify and match pictures and tell the stories with picture cards. Play these games over and over again as your child learns the story and learns to play simple games.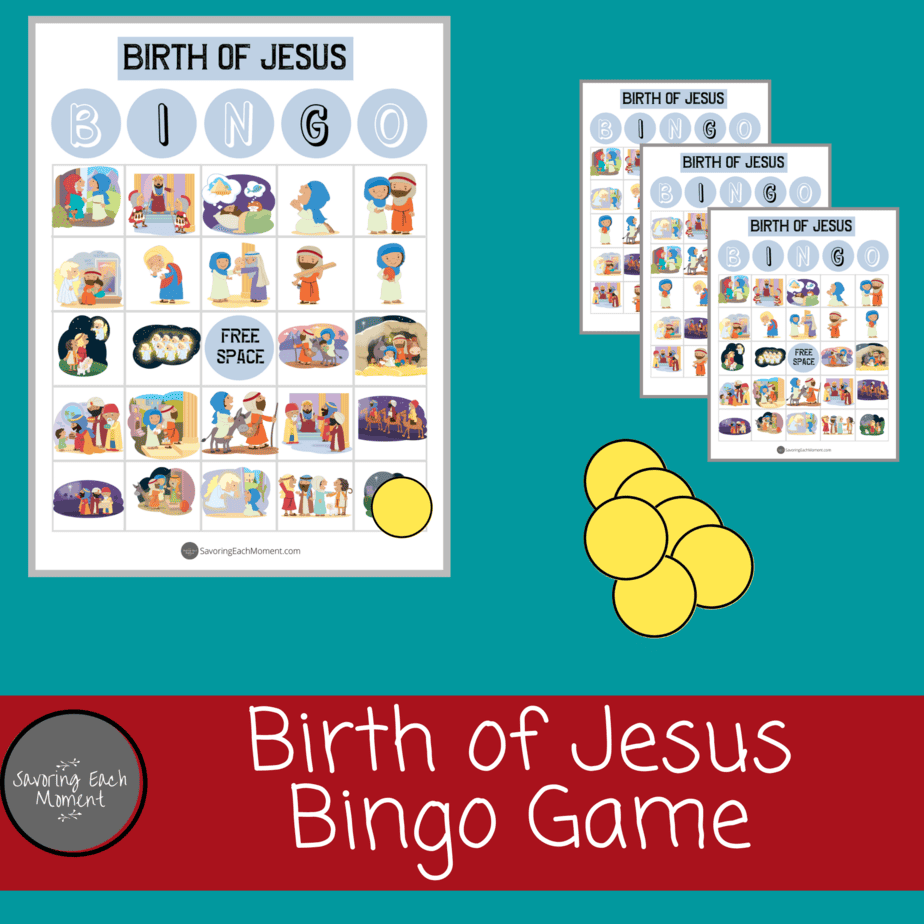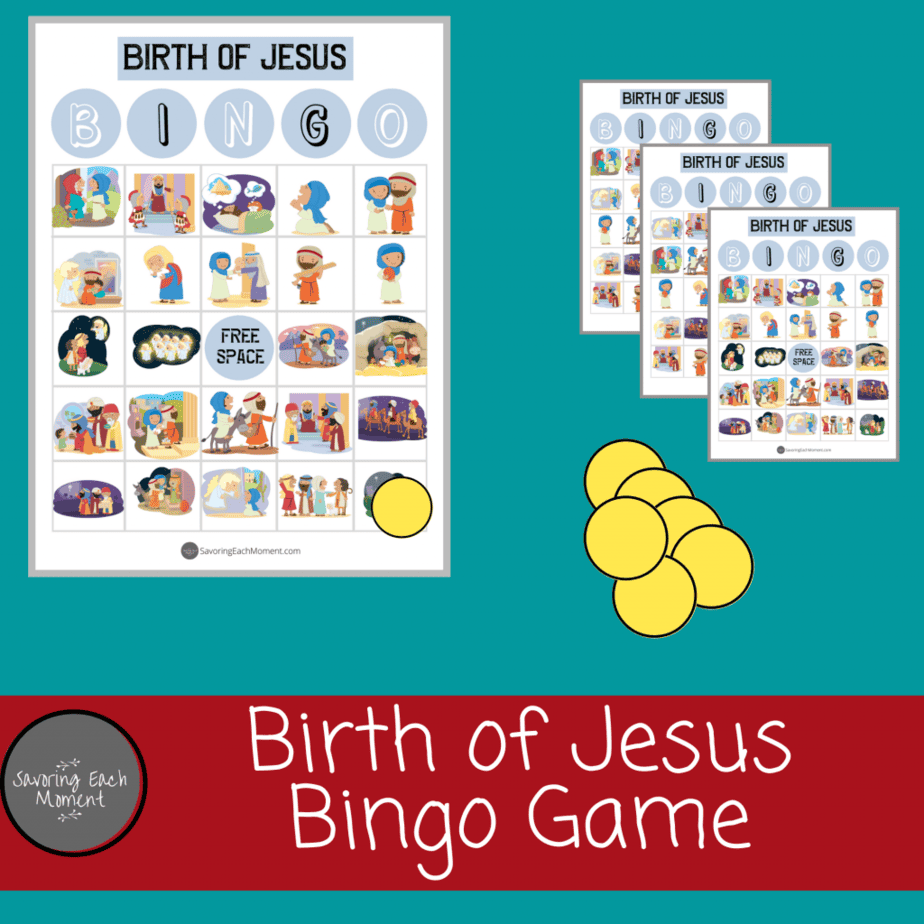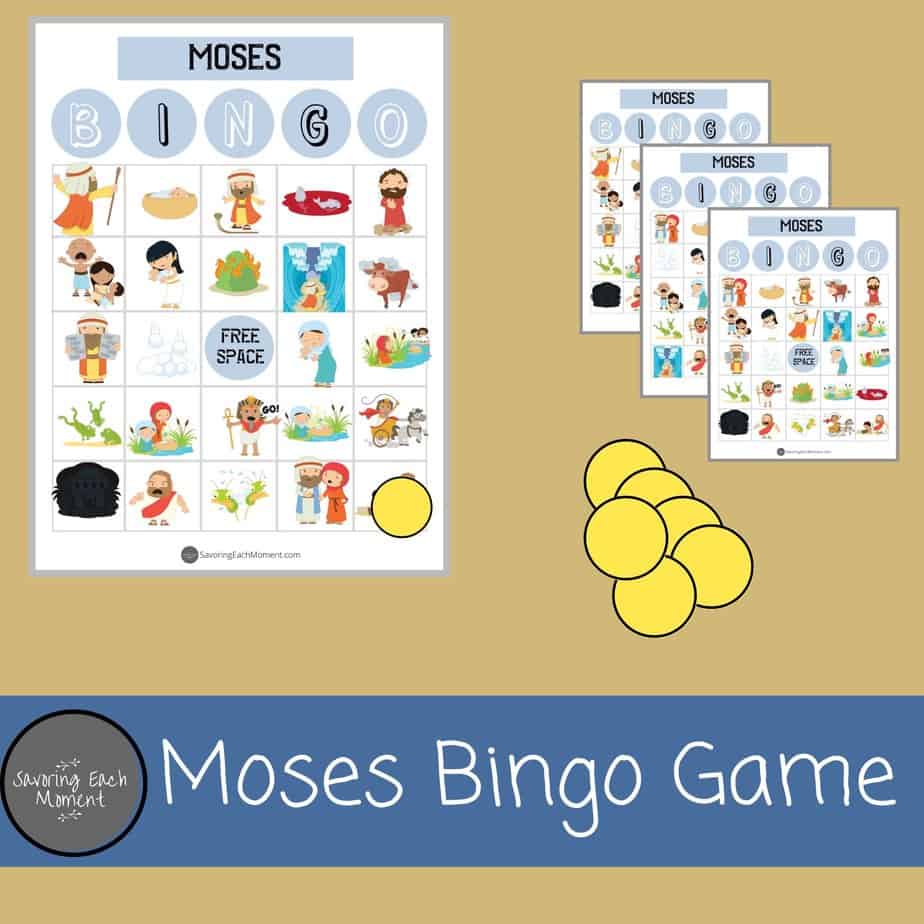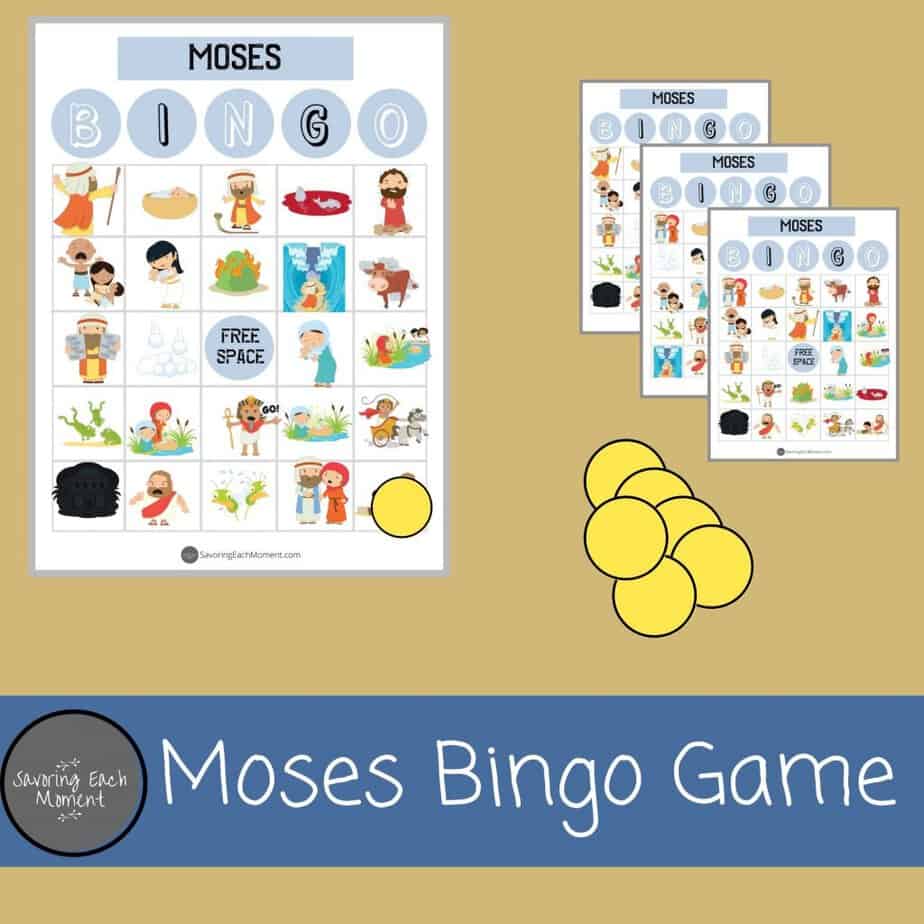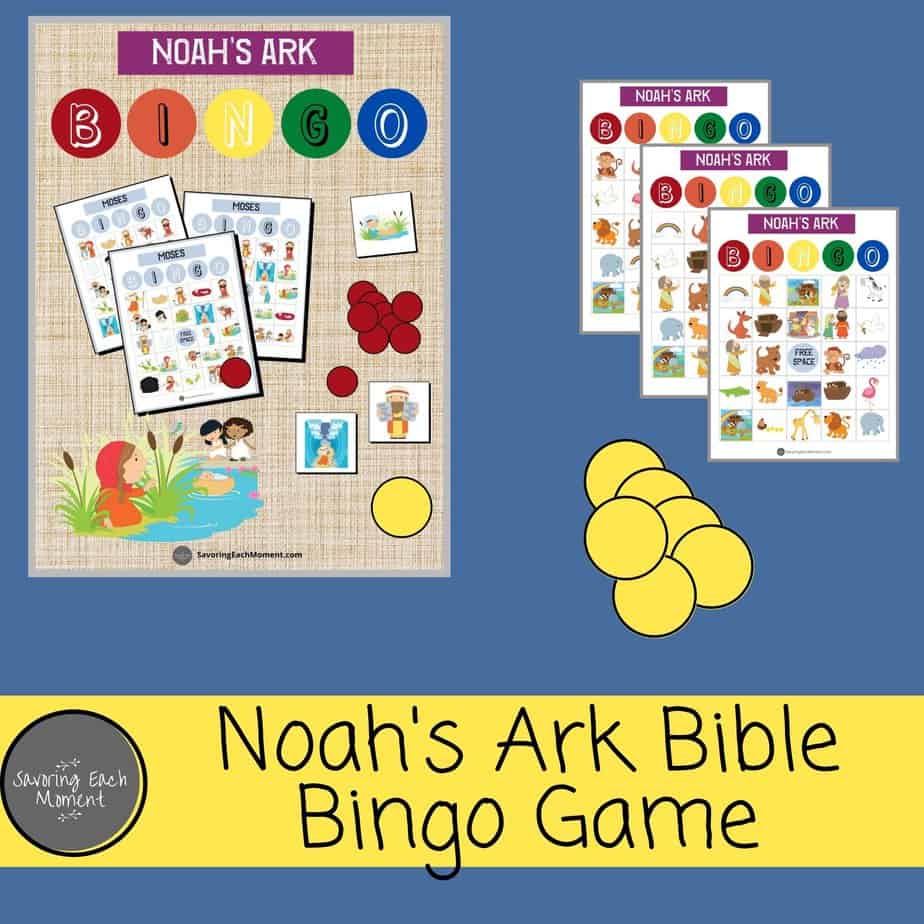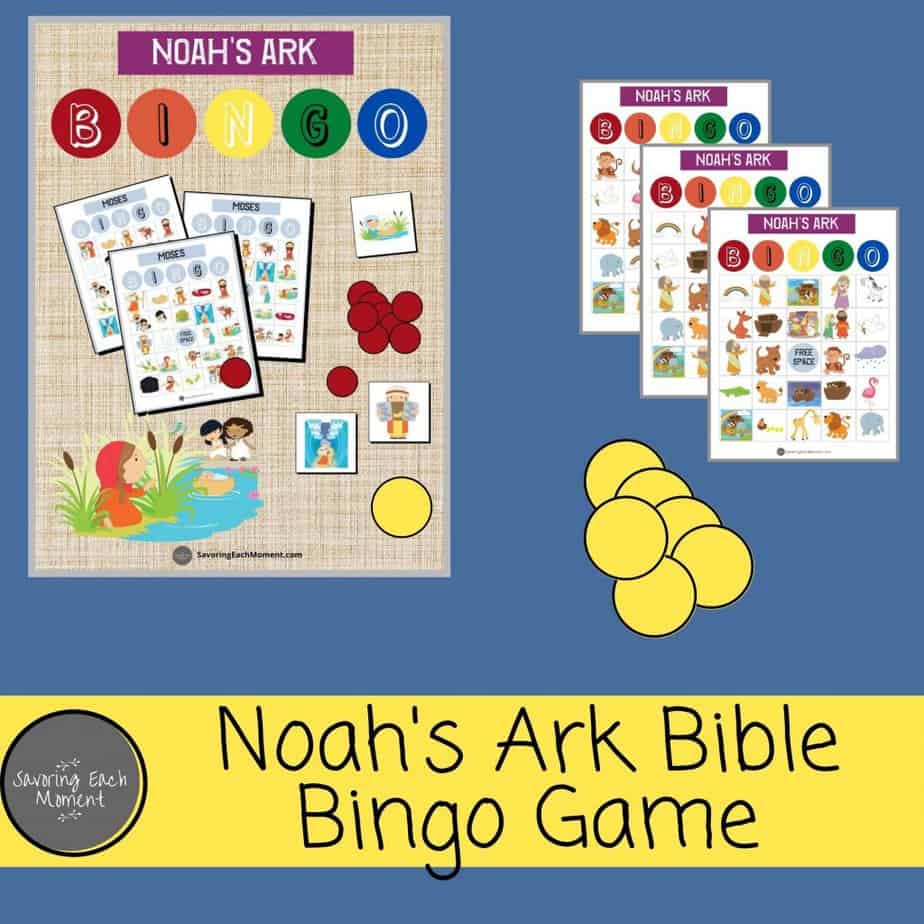 ---
As you prepare for your toddler to enjoy the story of Jesus' birth, ensure that they have ample time to play with their new nativity set so that they can enjoy and experience the story through their play. Use these nativity sets to supplement your family worship time and encourage your child to act out the story as you tell it or read it.
You may also like these posts…
---
❣ Sign up to get our weekly email filled with encouragement, ideas, and support for moms raising kids who love Jesus! ❣
❣ Sign up to get our weekly email filled with encouragement, ideas, and support for moms raising kids who love Jesus! ❣