The days and weeks leading up to the Christmas holiday can be super busy and stressful, but they can also be filled with special times and traditions. Christmas books shared with your preschool child is one of those traditions that you probably already do every year. If you are looking for the best Christmas books for toddlers, this list will help you find some new ones for your own household.
Quiet time together, snuggled up under a fuzzy blanket, sharing stories, and creating family memories. This is the perfect setting for reading the best Christmas books for toddlers and enjoying the cozy time together.
This list of Christmas picture books for preschool children includes books that many families have enjoyed over the years. You may want to order these books right away so you can read a new Christmas book or story every night leading up to Christmas.
This list includes books and stories about Jesus' birth and the focus of sharing and giving to others. There are no books about Santa and flying reindeer on this list.

This post contains some affiliate links for your convenience which means I may receive a small commission if you purchase through these links. Thank you for extending the support of Savoring Each Moment for Christian Moms! Please see my full disclosure policy. 
Christmas Picture Books for Preschoolers
Reading to young children is one of the most important things you can do to encourage a love of reading and develop their pre-reading skills. Christmas-time is a wonderful time of year to spend extra quality time reading to your children.
This list of Christmas picture books for preschoolers will get you started on collecting quality books that will help your child learn about Jesus' birth and the true meaning of Christmas. Giving and sharing with others.
There are also a couple of interactive books on this list that are perfect for preschoolers. Coloring, sticker books, and activity books help young children engage with the story while developing their fine-motor skills.
Coloring side by side with an older sibling or adult can encourage the preschoolers to learn how to color in the lines, develop their spatial awareness, and practice using and talking about colors while interacting with the pictures you are coloring.
The title of each book, as well as the picture, are both clickable links that will take you to Amazon if you want to order the book right now. Check out the following best Christmas books for toddlers.
REALTED: Reading Activities for Preschoolers
Coloring books are an essential part of a toddler and preschool-aged child's book collection. Coloring helps a child develop hand-eye coordination. If you spend time coloring alongside them, they will also learn and develop as they watch you color in the lines and use appropriate colors for each part of the picture.
Take the coloring book in the car with you for something to keep your child entertained and busy if you have to wait. Talk about the stories on the pages you are coloring with your child.
52 pages.
Reading Level: Ages 3-10
This whimsical family of bears brings another faith lesson home. As they are excited and preparing to open their Christmas gifts, the bear cubs learn a valuable lesson at the Christmas pageant. This lesson provides insight into the joy of giving. Add these delightful bears and their family's faithful lessons to your library!
Author: Jan & Mike Berenstain
Published 2010, 32 pages
Reading level: Ages 4-7
Engaging, colorful artwork, and simple storylines, this book will be a favorite for your young child. You will probably read this one again and again throughout the year as you read about the birth of Jesus.
32 Pages
Reading Level: Ages 0-4
This cute little sticker book is great to go along in your purse, diaper bag, backpack, or in the seat pocket in the car. The booklet contains 25 numbered stickers to place on the background pages to create the story of the birth of Jesus. Once the stickers have been placed in the book, children can tell the story over and over again.
4 background pages
Reading Level: Ages 4-8
The artwork is stunning and cozy, and the message throughout the book is that God is never far away from us. What a beautiful picture book for young children.
Written in rhyming verse, the book introduces young children to the characteristics of God.
Author: Amy Parker
28 pages
Reading Level: Ages 0-3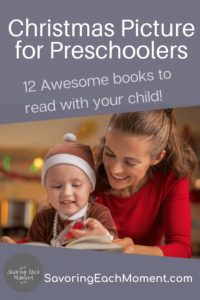 Creating holiday memories with your child and helping them learn to love the beautiful story of Jesus' birth is the goal of finding the best Christmas books for toddlers and preschoolers. Children love to listen to you read and this creates a wonderful feeling of closeness. When you choose books that will teach, inspire, and intrigue your child's mind, they are learning and exploring along with the story in the book.
This beautiful picture book begins with the story of creation and shares that God has always been present and had a plan for Christmas. Each page contains Bible verses and devotions for young children.
Author: Sarah Young
32 pages
Reading Level: Ages 4-8
This story follows a little lamb with a crippled leg. He can't play and run like the other lambs and feels lonely and left out. But God has a special plan for him just like He does for each of us. That plan is that we will feel loved, accepted, and healed by His love.
Author: Max Lucado
32 pages
Reading Level: Ages 3-7
Celebrate the birth of Jesus through Legos. This fun way of experiencing the Christmas story will engage your children and you may find them trying to re-create the story with their own toys!
Author: Brendan Powell Smith
32 Pages
Reading Level: Ages 3-7 But older children who love Legos will also enjoy this book!
This fun interactive book will engage your child on each page. Use a dry-erase marker or just your memory and start looking for the hidden pictures in each scene. For older children, there are also two hidden images that represent different names of God.
14 pages of fun
Reading Level: Ages 4-8
This beautiful picture book about the animals in the barn will help your child understand sharing and giving. Each animal, in turn, makes room for another animal and then lastly for a baby in their barn. Soft, warm illustrations, and simple text.
Author: Martin Waddell
26 Pages
Reading Level: Ages 4-7
It is just before Christmas in the 1940s when an organ grinder and his monkey come to Frances' street. The sad eyes of the organ grinder stay with Frances as she tries to remember her lines at the Christmas pageant.
This is a story of kindness and compassion for others in spite of the circumstances. This story will provide lots of things to talk about with your child as you look at the pictures and read the story.
Author: Bagram Ibatoulline
32 Pages
Reading Level: Ages 4-8
This beautiful picture book is about a boy with a crippled leg and a father who brings Christmas to him. The story is written from the tree's perspective (not a talking tree) which can help a child picture the story from the outside looking in.
The artwork is beautiful and the story shows the love surrounding the holidays and the people who make the holidays special.
Author: Margaret Wise Brown
32 pages
Reading Level: Ages 4-8
RELATED: 13 Awesome Nativity Sets for Preschoolers
This year, as you are teaching your preschool child about Christmas, Jesus' birth, and the true meaning of Christmas – giving and sharing with others, that these Christmas pictures books for preschoolers will become a part of your family tradition. Add the books to your shopping cart and get them ordered so that you can plan for the cozy evenings with your kids!
Each one of these Christmas picture books for preschoolers can be read at any time of the year and not just at Christmas! If you want to add some of the best Christmas books for toddlers to your library, get busy shopping right now!
You may also enjoy: