Back to school planning can feel really overwhelming when you start thinking about all the changes that will happen with your schedule, summer freedom, and routines. Not only that, you will have new events, activities, and programs to add to your calendar that you have to be a part of that you have to plan around.
No matter when you start thinking about back to school planning, there are some things that really help you have a successful and less stressful school year for you and your kids!

This post contains some affiliate links for your convenience which means I may receive a tiny commission if you purchase through these links. Thank you for extending the support of Savoring Each Moment for Christian Moms! Please see my full disclosure policy. 
Back to School Planning
Your life and the life of your family is going to change when school starts again. Planning for back to school and beyond can really help this transition as you intentionally plan and make room for family time along with the other things that are important in your life.
The most important tool for this is having a planner that you love and using it! I'm a planner junkie and I love a brand new calendar that is set for the school year. These are often called academic planners because they go from July to June. Instead of a January to December calendar where you have half the school year in one planner and the other half in another calendar, an academic yearly planner keeps the whole year in one place.
I personally have tried many different kinds of planners and my very favorite planner is this one. I've been using it for about six years and it is my go to for keeping notes, ideas, phone numbers, dates, grocery list, menu planning, brain dump, to-do list, and so much more all in one place. I love the fact that it has a spiral binding so that when you open it, it lays flat for easy writing. The other thing I love about this planner is that you can customize it with different covers, different pages inside, different colored tabs, weekly layouts, and more. When I think about the time and sanity this calendar saves me, the price is worth every single penny every single year for me!
The first thing you need to do with your new planner is to fill it in with all the school dates you need to plan around, family events and special dates like birthdays, anniversaries and holidays. Once you have those big things in your calendar, you can look ahead to see what you may need to limit or eliminate from the extracurricular schedule to make sure that you still have time for family.
Think of the school year as a season in your family's life. You will have different routines and fillers than you did during the summer. Some of the things you did in the summer will need to be put on hold until next summer. Make notes in your planner – sticky notes on next May/June calendar page or pencil in those ideas on the notes pages in those months so you remember the things you wanted to do next summer.
Planning for Back to School Shopping
It's easy to hop on to Amazon and order all your school supplies and clothes and skip the stores. A day or two later, you have boxes of items to unpack and poof, you're done shopping. But if you want you kids to learn the value of money and take ownership of their back to school shopping, these back to school shopping tips will be really handy!
Your back to school planning doesn't have be overwhelming when it comes to shopping for clothing and supplies. Break it down into bite-sized pieces and make it a fun activity you can do together with your kids!
RELATED: Back to School Bingo (Free Printable)
Back to School Planning – Self-Care for Moms
As a mom, planning for back to school can feel really overwhelming. Before school starts and after school is underway. Planning for self-care to keep you being your best mom-self is critical to a positive school year. These easy ways to take care of yourself can also help you take care of your family.
Self care isn't simply taking time for yourself to do want you want to, but also being intentional about planning ways to be your best in your spiritual, mental, physical, and emotional health. When you have healthy, intentional, routines in your life, it will also impact your family in a positive way.
Back to School Planning for Food
Often, when you think about back to school planning, you probably think about all the fun and cute things you could do for school lunches. Lunch is a really important transition from eating at home all summer so those cute little bento boxes with 15 different little sections are fun to fill for interesting eating for the kids, but planning for back to school food also includes breakfast and supper (or dinner).
Planning ahead to make sure you have some family favorite staples on hand for breakfast and supper is really important. Your kids will likely be famished by the time they get home from school and you will probably have been busy all day with your new routine, so think about ways you can use your best crock pot recipes, time-bake on your oven, freezer meals you're prepared ahead of time, or your instant pot to make some easy meals for weeknight meals.
If you like to bake, think about the things you can bake ahead like this delicious home-made bread that you can freeze ahead for sandwiches, toast with peanut butter and applesauce, cookies and bars for dessert in your lunches, granola for breakfasts, or these healthy pumpkin chocolate chip muffins that you can freeze in individual bags that you can grab for a quick snack on the go!
Lunch Box Notes
Lunch box notes are an easy way to plan ahead in reminding your child that you are thinking about them when they eat lunch at school. There are tons of printable lunch box notes that you download and print and use every year. My kids loved a mix of jokes, positive messages, and handwritten notes from me. You can check out a bunch of scripture lunch of notes here. Mindy Jones also also has some printable faith-based lunch box notes here.
Anytime you can make a positive connection with your child, it's a great opportunity to be intentional about giving them God's word to affirm and encourage them. Lunch box notes can also be used in places other than lunches! Leave one on your child's pillow each evening or morning. Tape them to the bathroom mirror. Use them as encouragement as a bookmark in their favorite book.
RELATED: How to Use Lunch Box Notes for Kids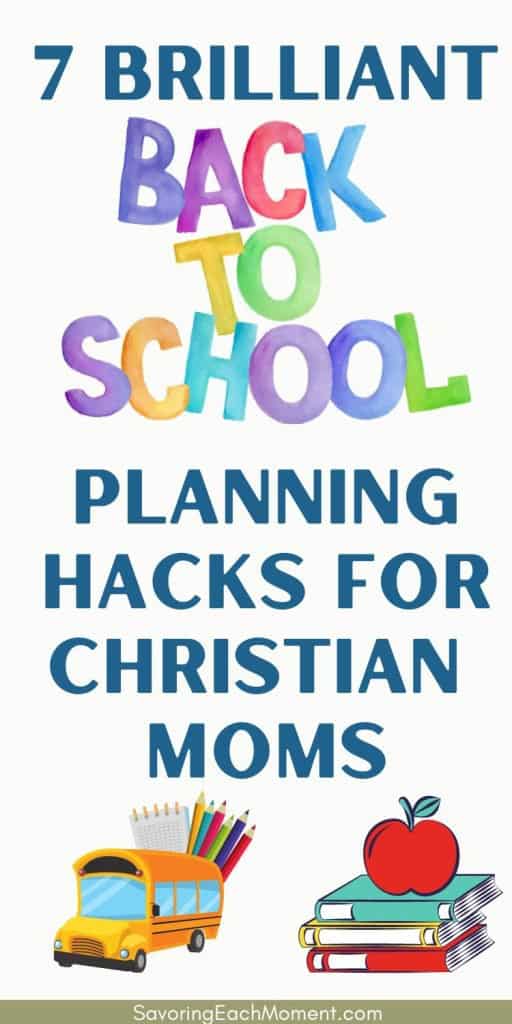 Prayers for Back to School
Prayers are the last major item in this planning for back to school list but certainly not because it's least important! This is actually the most important part of planning for your kids to go back to school! As you plan and prepare with the shopping lists, calendars, and lunch ideas, take time to pray for your kids and the new friends they will make as they begin a new year. If you need help with what to pray for, these 10 Back to School Prayers can help guide you as you pray.
Your child's teachers also need your prayers as they will now take a major role in your child's training and sphere of influence. Praying for your child's teacher helps support them as they plan their daily lesson plans, prepare and present information, and are an example to your child.
Planning for Back to School
As you are preparing for the new school year (or trying to figure out to make the best of life in the middle of the school year), your back to school planning doesn't have to all happen in one long day as you try to do everything. Work on one thing at a time. Order your planner or calendar. Download the school supply list and school calendar so you are ready when your planner arrives. Check out the post (linked above in the Self-Care section) for ideas on how to make sure you are staying healthy. Then work on a bit of menu planning which will include making a grocery list and buying or ordering your groceries so you can make the food ahead of time.
Finally, take time each day to pray specifically for your kids as they go to school. Pray for their teachers, their friends, and for their steadfast decisions to do what is right. Pray for your own wisdom to hear beyond their words, and see past the surface to know how to pray best for your child.
Take a deep breath! It's going to be a year with blessings, challenges, victories, and probably some tears. But you are the right mom for your kids! You've got this!
You may also like these additional resource posts …
---
❣ Sign up to get our weekly email filled with encouragement, ideas, and support for moms raising kids who love Jesus! ❣