As a parent, it is incredibly important in your child's life that you support their teacher. There are many ways that you can offer support, but one of the best ways is finding out how to praise a teacher in words. A little bit of praise goes a long way in the daily life of a teacher.
Once a child reaches the age when they start going to school, their world shifts just a bit. Now, instead of mom and dad being the adults who influence the majority of their life, they have a new potential hero. Their teacher. The way you react, respond, and support your child's teacher will have a great impact on how they perceive you and their teacher.


This post contains some affiliate links for your convenience which means I may receive a small commission if you purchase through these links. Thank you for extending the support of Savoring Each Moment for Christian Moms! Please see my full disclosure policy. 
Why You Should Praise a Teacher in Words
When I was little, every year I filled out a new page in my school memories book. There was a page for every year in elementary school all the way through high school. Each page had some questions that you could fill out and a pocket for treasured items like report cards, class photos, etc. One question that was consistent throughout the book was, "when I grow up I want to be…" Each year, my childish scrawl penciled in the word TEACHER. Some years in large wobbly print and later in neat cursive, but the word was always the same.
When I started fifth grade, I moved to a new classroom and had a new teacher. Our new teacher had moved to our rural school from Alaska. He taught us "Alaskan" games that seemed so cool to us. He wore a plaid polyester suit with oval patches on the elbows. This really was fashionable in the 70s. We thought he surely must be ancient because his own children were in college already.
Mr. Kenney was our favorite teacher! He played with us, took us on field trips to watch birds, did service projects painting outhouses for the Forest Service campgrounds in the area, gave us logic questions to puzzle through, and laughed with us. We learned our math, did state and country reports, learned our spelling words, and simply loved school.
This teacher had a tremendous impact on my entire life! But the flip side of that is that I had an impact on his life as well. My parents praised him, encouraged him, supported him, listened to him, and volunteered to help him. They used their words to praise my teacher which in turn had a huge impact on me.
You cannot underestimate the value of words! Children need words of affirmation and teachers do too. Often teachers feel like they are working in a vacuum or in an isolated bubble. They only hear from parents when something isn't going well or when a difficult situation happened. But, they need positive affirmation from a parent who is pleased with what their child is learning, happy with the manners their child is exhibiting, surprised at the things they can read, and thankful that there is a teacher who cares enough to spend her life teaching children.
Do you remember when the schools got shut down and every parent had to become a homeschool teacher? Your child's teacher does this every single school day only their classroom is full of lots of students and not just your child.
RELATED: Prayers for Teachers – 5 Ways to Pray for Your Child's Teacher
3 Simple Ways to Praise a Teacher in Words
Spoken Words – Make an effort to talk to your child's teacher and praise them for the things they are doing with your child. If your child comes home with a story of making a new friend or someone being kind to him or her, thank the teacher for working hard to create an environment of inclusiveness and kindness. These things don't happen by accident in most classrooms!
When you are talking with your child, praise their teacher in words when you are talking about their classroom or what they are learning. "You have such a creative teacher! I'm so glad you got to do such a unique art project." When you praise the teacher in your words, you are also helping your child to see the value and appreciate their teacher. "Your teacher works really hard, you are so blessed that she took extra time to help you when you were working on that project."
If you spend time with other moms who have kids in the same classroom, speak up and praise a teacher in words. It can be really easy to start complaining with other parents and pretty soon your list and theirs will be quite long with all the shortcomings of your child's teacher. Instead, make sure that your words are true and uplifting to support the teacher. This can also put a stop to gossip and complaints.
Written Words – Written words of praise can be a very wonderful thing for a teacher. Not only with your written words of praise at the time of receipt, but these words will also most likely be read and re-read many times.
Be sure that when you write something to praise a teacher with words that you make sure it is simply praise and not a compliment followed by a "but." "We love your creativity, but…" can completely ruin what you might have intended to be encouraging. Think of it like this… If you go to a parent-teacher conference and the teacher tells you that your child is brilliant and kind to the other students, but…"
Your brain will automatically focus on the "but" and not even hear the positives. write a note, email, text, make a sign, use words of affirmation. Be creative as you praise a teacher in words. If you have a conversation that includes a "but," don't try to couch it in positives.
Shared Words – This way of praising teachers with words doesn't take much time or effort, but it does take intentionality. When you talk to others, share the positive things that you have observed or appreciate about the teacher. When you praise a teacher with words, others will hear your compliments and that has the power to change someone's negative opinion or comment to a positive one.
You can also share positive words about a teacher with a supervisor, other parents, or let their spouse know how much you appreciate the teacher, it will multiply the positive impact of your words. Share on social media and tag the teacher or comment with a positive comment on your school's social media.
RELATED: Words of Encouragement for Teachers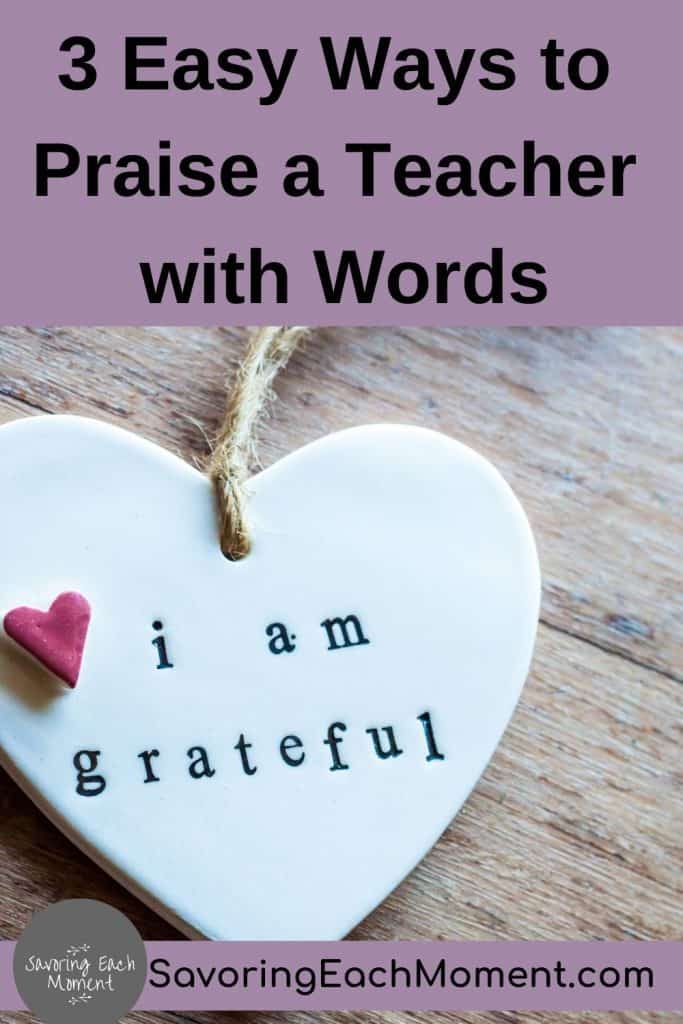 Praise a Teacher in Words Today!
Over the years I have written to each of these teachers and told them about the tremendous impact they have had on my life.  My career and my own role as a teacher.
Teacher appreciation is something that can be cute and clever on Pinterest, but the real appreciation that fills a teacher's heart is to know the difference they are making in a child's life or the difference they made in your life.
Today, take a few minutes to write an email, handwrite a card, pick up the phone and tell a teacher what they have meant to you.  Tell them how their hard work and encouragement have influenced you to be who you are today. There is a special day to officially appreciate teachers, but teachers appreciate positive words every single day of the year!
After you've written that email or made that phone call, I'd love to hear your story.  Who is the teacher who has impacted your life and helped you to become the person you are today?  What is it about them that made an impact on you or is making an impact on your child?