The day you become a mom isn't the day you suddenly have it all together and know how to be a good mom! I remember it like it was yesterday.  I was sitting in church with my husband and daughters.  I had one daughter on each side of me, because it was easier to keep them quiet if they were separated!  They were each leaning on one of my shoulders.  It was an idyllic picture of a happy little family, but my heart was not idyllic.  I was at the point where I felt I couldn't even breathe because being mom was taking up more than I had left.
Now don't get me wrong. I love being a mom. This is my favorite title in my life and it defines me the most. I dreamed of being a mommy for years before our daughters were born. And…I loved being a mommy at that moment as well, but I really needed a break. Not from motherhood, but a bucket filling break to talk with girlfriends, laugh, cry, pray and perhaps just listen to silence so I could come back and continue to love my family.
Perhaps you've never felt this way, or perhaps you've just never allowed anyone to see this reality in your life, but life can get lonely as a mom. You may be right here wondering how to be a good mom when you're feeling overwhelmed and like everything is falling apart.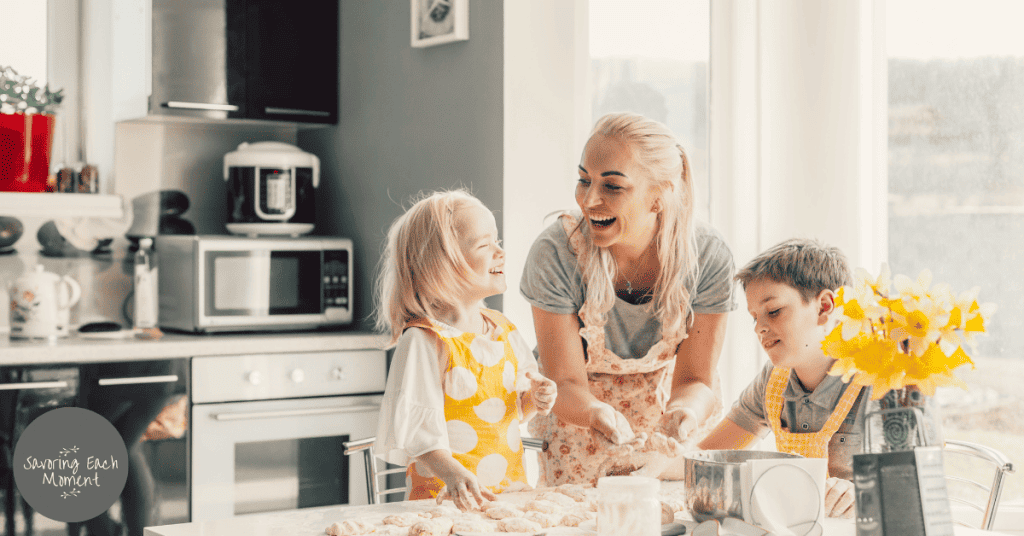 This post contains some affiliate links for your convenience which means I may receive a small commission if you purchase through these links. Thank you for extending the support of Savoring Each Moment for Christian Moms! Please see my full disclosure policy. 
How to Be a Good Mom
During this time in our family history, our daughters were about 8 and 11. I volunteered at their school, drove them to youth group activities at church, helped them with their homework, practiced math facts, states and capitals, and spelling words on the way to school in the mornings. I clipped coupons to save money, planned menus, and used my crockpot so supper would be ready in the evening when we got home.
My husband had a fairly flexible job where he could plan his out of town trips when it was convenient for him.  Flexibility is great for a busy family, but sometimes his flexibility left me feeling left behind with all the weight of keeping the family going.  I was a stay at home and really, what else did I have to do anyway?  This was my job. 
But little seeds of resentment snuck in every now and again when he would tell me he was leaving the next day for a few days.  His little bag neatly packed beside his computer bag by the front door.  He got to go sleep in a hotel by himself with no one waking him up in the night with bad dreams.  He got to go eat breakfast that someone else prepared and cleaned up.  He even got to listen to his own music in the car.
I really loved the life we were living, but sometimes… I was just plain old tired and empty.  If any part of this story resonates with you, perhaps you need to take some time to fill your soul so you can do your most important job in life – raising your children.
If this story sounds any bit familiar, you are not alone! There are times when you wonder how the other moms make it look so easy. How can you be a good mom when you're body is exhausted and your brain longs for adult challenges just once in a while. I'll let you in on a secret! When you are trying to figure out how to be a good mom, there is no destination. You don't arrive one day and realize "Hey! I'm a good mom finally!" No, it's the little things along the way that build relationships, create memories, and strengthen good habits of mind that create that illusive "good mom."
A "good mom" isn't always wonderful. Sometimes she makes mistakes and often she's tired. But underneath it all, she is building her capacity with God's help to be a good mom to her children.
8 Qualities of a Good Mother
As Christian moms, we have been given the blessing of caring for our children, teaching them truths that will lead them to a relationship with Jesus, and model His love to them. This is a really big job! But, you don't have to do it alone! God has provided numerous ways and opportunities for us to grow in Him and then be able to establish and encourage that growth in our children.
If you are ready for some support, here are a few easy tips to help you make sure you don't burn out in this journey of being mom! By the way, it doesn't end when your kids turn 18!
The qualities of a good mother could take up an entire page of one or two word phrases, but the heart of the matter is that good mothers grow over time just as their children grow. Good mothers learn, expand, flex, fall down, get back up, and keep focusing on the prize – raising children who love Jesus and follow Him.
This list of qualities of a good mother isn't comprehensive, but it's a good start along the journey. These are some of the steps along the way of how to be a good mom.
1. Spend Time with Jesus Every day
When Jesus was in the midst of his ministry, He went away to the hills or across the lake to take time to pray and listen to God's voice.  He was so busy with the press of the people and the disciples (who sometimes acted like children) that He knew He could only be effective if He took time to fill His soul. He set the example for us – when we need to be filled up, we need to take the time to spend time with Him.
It is so easy to become so busy that we don't have time to read the Bible and pray.  In order for us to be moms who can share Jesus with our children, we need to have a personal relationship with Him.
RELATED: Simple Steps to Start a Morning Routine
2. Document Your Requests and Answers to Prayers
When you are spending your devotional time, commit to journaling your prayers or keeping a prayer request journal.  God knows your heart's cry but there is release in verbalizing your burdens.  Keep your journal in a safe place so that your children don't stumble on your journal and misunderstand your struggles.
I have kept prayer journals for many years. Every year or so, I go back through and read some of the entries. It is amazing to read the things that were troubling at one time that have now worked out into beautiful answers to prayer. There are also things that I prayed for that in the end, really weren't all that important. There are pages in my journal with tear stains and smudges. Some of those hurts or disappointments are still a part of my life, but some of those things I'm able to re-read without pain because God has given me the strength to forgive and move on.
When you are journaling, take time to write down the blessings and answers to your prayers.  Studies have shown that as we keep track of what we are thankful for we can actually change our brain to see the good things rather than just the negative.
RELATED: Best Prayer Journals for Women
3. Teach Your Children the Value and Importance of Your Devotional Time
When my daughter was about 3 years old, she was often an early riser. I started getting up earlier in the morning so that I could have my devotional time before she got up. One morning, I quietly snuck out to the couch to have my quiet time without waking her up. Much to my disappointment, she was already laying on the couch playing quietly with her stuffed animals. I knew how desperately I needed this time every morning. I quickly turned around and went into her bedroom to have my worship time.
This time is so critical every day.  If we aren't spending time with Jesus, how can we teach our children to be like Jesus?  As your children get older, model this with them so they learn the importance of a daily relationship with Jesus.
Let your children see you having worship or morning devotions each day and help them to have their own devotions. When they are young, create a basket of Bible story books, Bible coloring pages, or Bible puzzles they can quietly work on while you have worship.
RELATED: Making Family Worship Exciting with Kids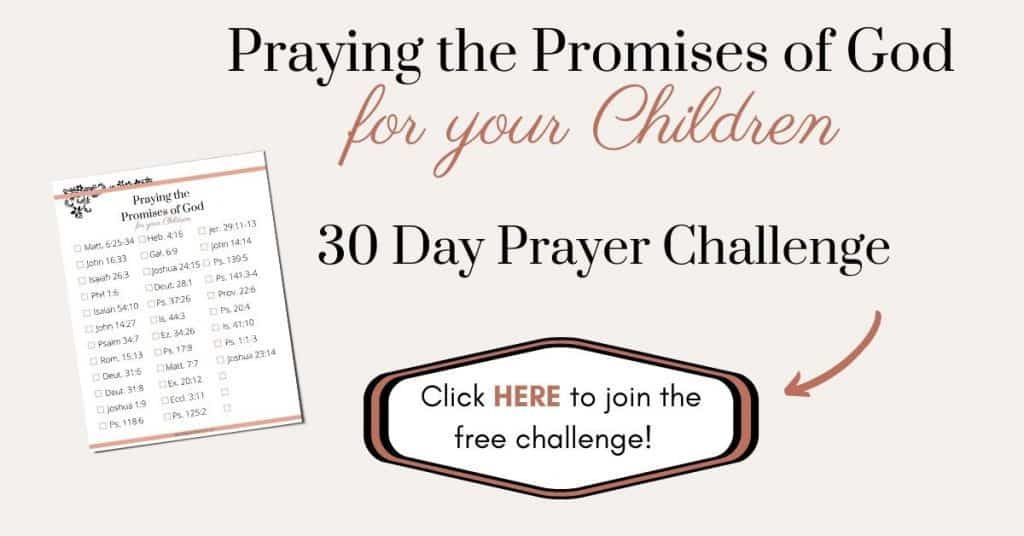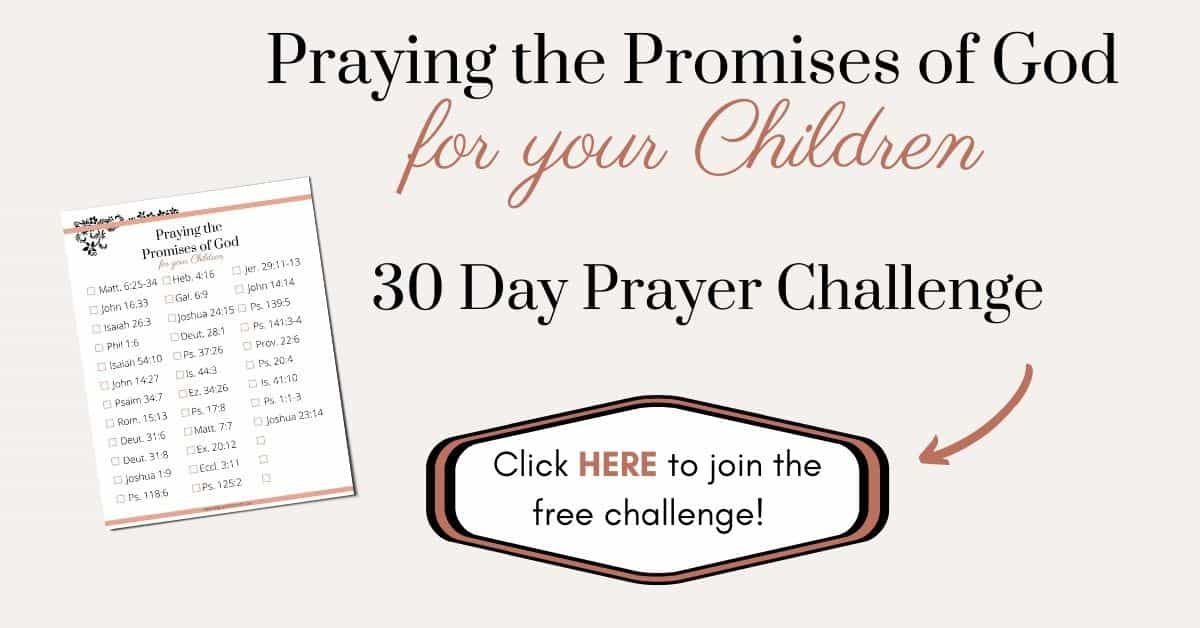 4. Find an Accountability Partner or Mentor 
Over the years of my parenting journey, I have been blessed to have deep friendships with women who were about 10 years ahead of me in my journey.  Their kids were in the next stage of childhood and their wisdom and understanding was so critical to me.  I could talk to them about challenges, struggles and discipline strategies and they had already been there. 
You may not think of anyone who meets this criteria for you. If that's the case, look around at church, join a women's Bible study group, find a local mom group that gets together to play or do crafts. Building relationships with other moms who are in the trenches can really encourage you that you are not alone. Look around and see if there are any older ladies who might have grown kids and would love to enjoy your friendship and your kids as well.
RELATED: 5 Qualities of a Christian Mother
5. Plan Some Weekly Time to do Something That Makes you Happy
This is such a critical part of taking care of yourself.  Perhaps you have a hobby or love to work out at the gym.  Maybe you like to get your nails done or shop without children in your cart.  Maybe you've been wanting to join a women's Bible study.  Whatever it is for you, make that a priority.  Your mental health is critical for the health and well-being of your family. Work out a schedule so you can have a little bit of time each week.
Even better if you can plan your fun things along with exercise or fresh air so you are getting double benefits. If you love to jog when the sun is shining, get the kids' bikes out and let them ride while you jog. You don't necessarily have to do something alone to feel fulfilled. Depending on what it is that makes you feel joyful, figure out a way to make that happen – often.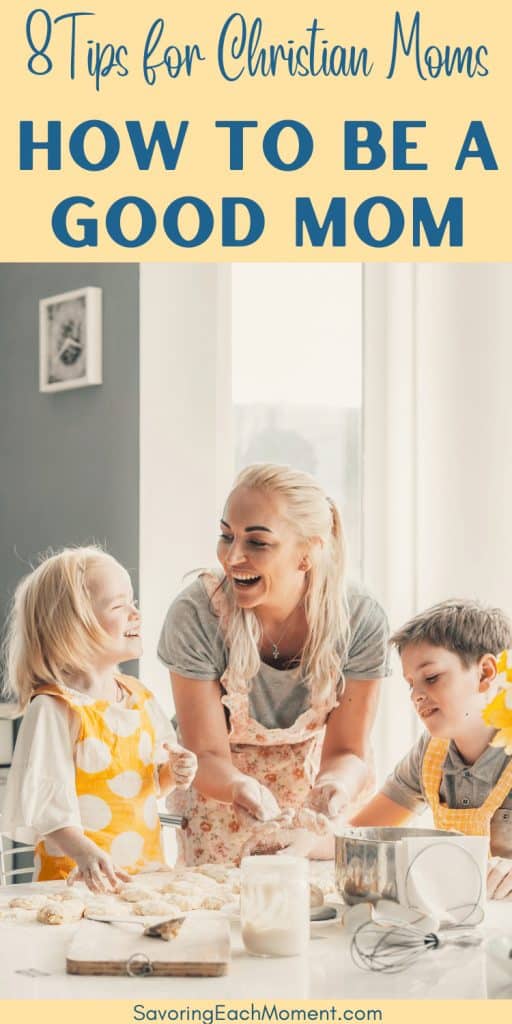 6. Take Pictures and Print Them Out
So often, we are so busy that we don't stop and savor the time we have with our children.  Unfortunately, our memories don't always stay true and we forget the beautiful moments along the way each day.  Hang your pictures of your family happy times on your bathroom mirror, by your desk, on your fridge, or some place where you will see them every day.  It is great to post pictures on social media for all of your friends and followers to see your happy times, but you need to see these daily reminders as well.
These photos represent the greatest treasure God has given to you. Reminisce often with your family as you look as these happy memories. As you are taking pictures, make sure that you are in the pictures too! Often, moms are the ones taking the photos. Remember your smiles too!
7. Reach Out to a Younger Mom
You have experience and wisdom that a younger mom may be needing right now. Look for someone that you can mentor and encourage.
As my children have grown up, I have had the opportunity to be a mentor to several younger moms in different places where we've lived.  Moms who were exhausted by the time they got to church and didn't have much patience left to deal with their kiddos.  Moms who needed to hear the message. 
My daughters are adults now, but I still take a bag of quiet toys and books to share with a frazzled mom with busy kids.  My husband jokes that I still can't sit in church without toys and perhaps he's right.
But seriously, you have experience to share.   Don't be afraid to reach out to a younger mom and listen to her loneliness, insecurities or challenges.  You just might end up with a new best friend along the way!
RELATED: Busy Bags for Children In Church – 9 Must Haves!
8. Re-Evaluate Your Family Priorities
If you are feeling exhausted and overwhelmed, take some time to think about the reasons why.  Are you trying to be everything to everyone in your house?  Perhaps you need to work out a plan for the other family members to help with chores.  Are you taking time to fill up your spiritual bucket?  Ask God to help you wake up rested with time to spend time with Him.  Are you always running?  Perhaps you need to re-evaluate your family schedule and prioritize the things that make you busy so that you are doing the things that you really value and not just filling up your schedule with things that keep you busy.
You are not alone.  Just because you are tired or discouraged doesn't mean you're not a good mom.  Needing a breath or some personal time is an indication of your need for your own health.   Only when you have filled your own bucket can you fill the needs of your family and show them Jesus' love.  Your time with your children is like frost that will melt away way too quickly.  Treasure these moments and make the most of them.
RELATED: 8 Easy Steps for Filling Your Cup!
Final thoughts on How to Be a Good Mom
First of all, give yourself some grace. You will never be able to do it all and do it all well. Start with things you can change like your schedule, or daily devotions, and doing something fun. When you mess up, say "I'm sorry" and keep working on the journey of motherhood. If you need help, reach out to someone who can support, listen, and encourage you. Think about those things that give you joy and make you feel happy. Then one or two of them into your schedule and make sure you do them.
Get a journal and write your prayer requests and then go back and follow up with the answers. Read over your requests in the past and see how God has led and answered your prayers for your family.
Last of all, but most important, ask God to give you wisdom and strength and fill you with patience and love for your children.
You may also like these Biblical parenting links…
---
❣ Sign up to get our weekly email filled with encouragement, ideas, and support for moms raising kids who love Jesus! ❣