Nighttime can bring out our fears and anxiety as we prepare for bed or try to sleep when we are worried about something. Powerful night prayers can help us to relax, knowing that God is in control, and is watching over us.
As a child, I can remember feeling fearful of the dark, the sounds outside, and the shadows that the tree cast on my window. I grew up in a home with a wood stove and I remember often worrying about a house fire as our friends had experienced this when I was younger.
As my parents prayed their powerful night prayers with us, those fears were usually reduced to something that I could set aside as I went to sleep.
My parents taught us many Bible verses and as we memorized scriptures, we could repeat these Bible promises over and over as we drifted off to sleep knowing that God was with us.

This post contains some affiliate links for your convenience which means I may receive a tiny commission if you purchase through these links. Thank you for extending the support of Savoring Each Moment for Christian Moms! Please see my full disclosure policy. 
Powerful Night Prayers in the Bible
Looking through the Bible, there are many examples of powerful night prayers where people were praying for specific things at night. Sometimes they were praying for protection, guidance, or just praying for God to be with them.
These powerful night prayers in the Bible can be a huge encouragement for you and your children if you are facing specific fears.
Samuel – 1 Samuel 3
Guidance for life – Little Samuel was in the temple, away from his mother, working with Priest Eli. As he was learning how to follow the instructions in the temple, he received a word from the Lord. In the night hours, after he was in bed, God talked to Samuel and Samuel said "speak Lord, for your servant is listening." Samuel's powerful night prayers allowed God to show and tell him things to help him prepare to be a prophet.
Daniel – Daniel chapter 6
Protection and safety – You've probably heard the story of Daniel in the lion's den. Daniel faithfully prayed to God and God protected him as he was thrown into the lion's den.
Jesus – Matthew 8 / Luke 8
Protection and safety – Jesus was asleep in the boat during the storm. When the disciples awakened Him, He said "peace, be still" and the wind and waves stopped.
Jacob – Genesis 28:10-22
God's plan – Jacob had run away from home and from his angry brother. As he was sleeping on the ground with a rock for a pillow, his prayers were answered and he was shown a ladder filled with angels.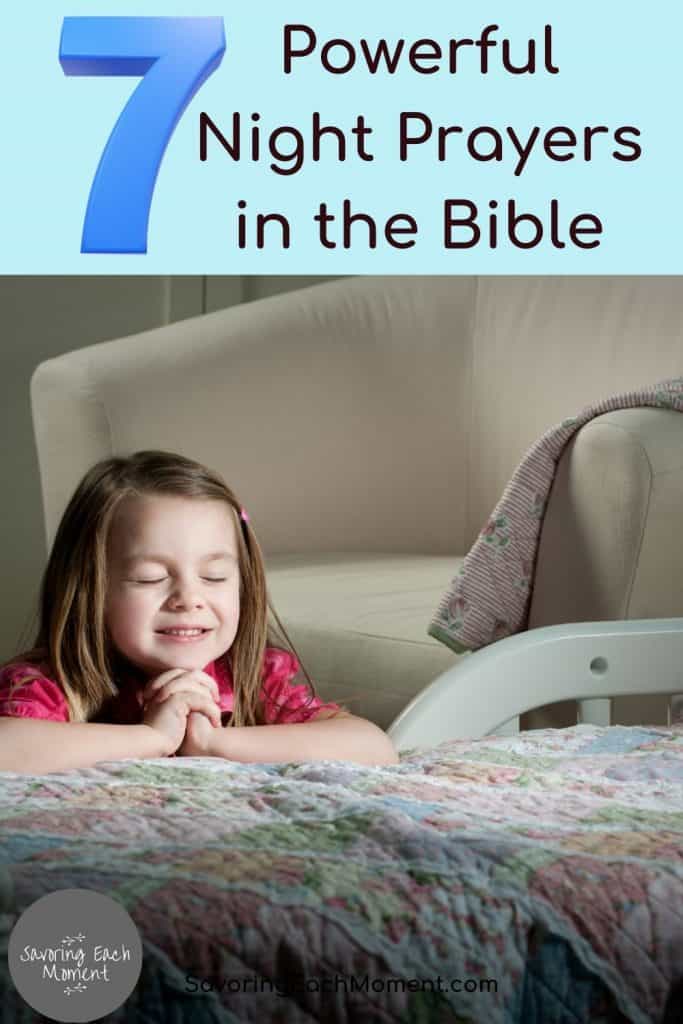 Jacob – Genesis 32
God's plan and direction – Jacob wrestles with God during the night and begs Him not to leave him. Jacob receives a new name and is reminded of God's promise to him and his family.
Nicodemus – John 3
Guidance and understanding – Nicodemus came to Jesus at night asking for help with understanding. While this might not seem like a prayer, because Nicodemus was just talking to Jesus, that's exactly what a prayer is! Jesus saw the longing in Nicodemus' heart and loved him.
Rhoda – Act 12
Freedom and protection – Rhoda and the disciples were spending the night praying for Peter in prison. As they prayed, the angels opened the doors of the prison and Peter was able to walk out in freedom.
If your child is dealing with specific fears or anxiety at night, tell them these stories and relate them to your child. If God can close the mouths of the hungry lions, He can protect your child. If God was able to calm the storm, He can protect you at night. If God can send angels to get Peter out of jail, He can help your child face a difficult situation.
Powerful Night Prayers
Often, when the day rolls around and it's time for bed, the worries and concerns of the day can rest heavily on your shoulders. This can cause anxiety, sleeplessness, and troubled dreams. As you prepare for bed each night, take a few minutes to unload your worries and concerns to God and ask Him to give you rest.
God has promised that "His yoke is easy and His burden is light" (Matthew 11:28-30). He invites us to come to Him with our burdens so He can carry them.
Powerful Night Prayers Examples
When you are praying, remember that praying is the same thing as talking to a friend. You don't usually talk to your friends in memorized poetry or song lyrics most of the time.
When you talk to God, pray from your heart knowing that God loves to hear your prayers! He doesn't care if your sentences are long or short, He just wants to communicate with You.
Use these powerful night prayers examples as you pray for your situation. Don't be afraid to quote Bible verses and claim those promises of God!
Hi God. Here we are again, at the end of our day and almost ready for bed. Thank You for being with us today. Thank You for our warm home, our family, our friends, and our relatives who live far away. Thank You for staying awake all night to watch over us and protect us. Please be with _ as they sleep. Help them to rest well and know that You are always taking care of them. Thank You for sending our angels to watch over us. Thank You that you already know what tomorrow will bring and You already have the answers for us for any problems that may arise. Please forgive our sins and help us to grow more like You. In Jesus' name, amen.
Dear Heavenly Father. I'm tired tonight and worried about many things. I worry about the choices my children are making, my relationship with _____ is strained, and we have bills to pay. You've invited me to come to You with my burdens and promised that Your yoke is easy and Your burdens are light. Tonight they feel pretty heavy but I think I'm trying to carry them all by myself. Please take these worries and concerns and prepare the way for the answers to prayer. Thank You for already knowing what will come tomorrow and making a way for me to handle it. Thank You for being the same yesterday, today, and tomorrow. Help me to trust You when I worry. Please watch over me and my family tonight and keep us in your care. Send your angels to surround our home and keep any evil far from us. "What time I am afraid, I will trust in You." (Ps. 56:3) Help me to trust You completely tonight. In Jesus' name, amen.
You may also like these Prayer Posts…
---
❣ Sign up to get our weekly email filled with encouragement, ideas, and support for moms raising kids who love Jesus! ❣