How to engage in spiritual warfare for your child isn't a topic that comes up a lot in discussions at mom's groups or even women's Bible studies. It doesn't even come up all that often in sermons. It's definitely not a feel-good kind of topic. In fact, it can seem downright scary.
I'm convinced, though, that the main reason it is so scary to people is that it isn't understood.
So to help clear up the cloud of fear in which this topic lurks, let's talk a little about exactly what spiritual warfare is and why it isn't as scary as it sounds. Then we'll dive into how you can actively engage in spiritual warfare for your child.

This post contains some affiliate links for your convenience which means I may receive a small commission if you purchase through these links. Thank you for extending the support of Savoring Each Moment for Christian Moms! Please see my full disclosure policy. 
What is Spiritual Warfare?
Simply put, spiritual warfare is a battle for people's souls. It's good versus evil, God versus Satan, and followers of Jesus versus the worldly temptations that try to pull them away from Jesus.
1 Peter 5:8 (ESV) says that "your adversary the devil prowls around like a roaring lion, seeking someone to devour." This means that Satan is always looking for a way to cause people, especially followers of Jesus, to stumble, to sin, to get so caught up in shame and guilt that they are of little use to God's Kingdom.
But here's the good, no great, news, guys, and also where it becomes less scary. God is well aware of Satan's schemes and has given us weapons we can use to fight back! That's right! God doesn't expect us to go into this battle unprepared–no way!
Just like soldiers in the military prepare for earthly wars with training on techniques, weapons, tools, and so on; so, too, can we train for spiritual warfare for ourselves, our friends, and our families.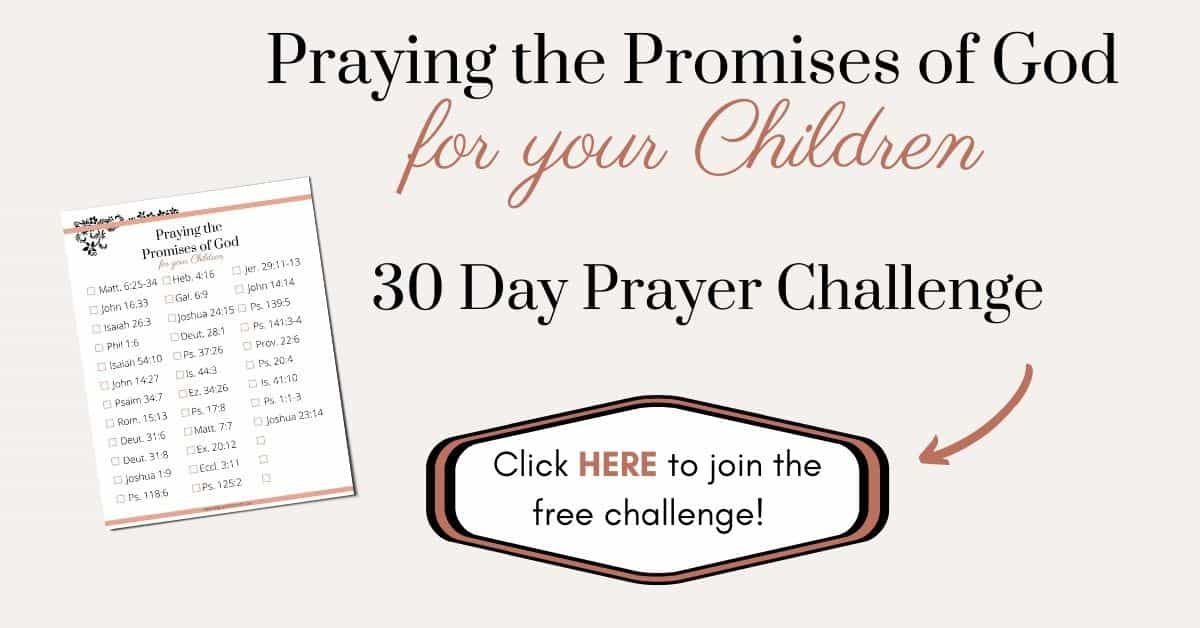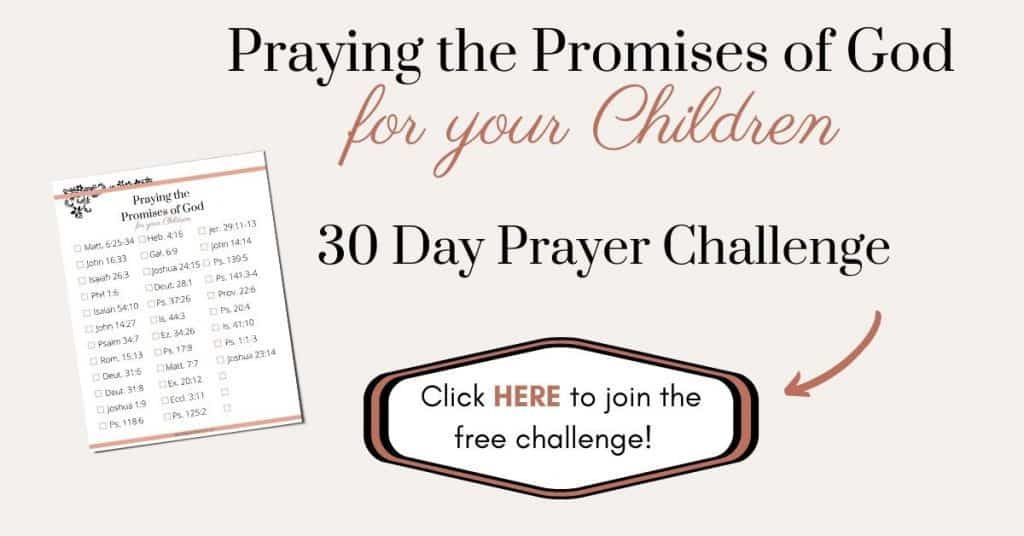 Claiming Scripture in Spiritual Warfare
The Bible is chock-full of scriptures to help us parents be active participants in the battles for our children's souls. Like I said before, God wants us to be prepared, successful soldiers in His army! Here are some of the most inspiring scriptures to get ready for and claim victory in spiritual warfare for your children. All scriptures are from the English Standard Version.
Bible Verses to Claim in Preparation for Spiritual Warfare for Your Child
"Put on the whole armor of God, that you may be able to stand against the schemes of the devil." Ephesians 6:11
"For we do not wrestle against flesh and blood, but against the rulers, against the authorities, against the cosmic powers over this present darkness, against the spiritual forces of evil in the heavenly places." Ephesians 6:12
"For though we walk in the flesh, we are not waging war according to the flesh." 2 Corinthians 10:3
"For the weapons of our warfare are not of the flesh but have divine power to destroy strongholds." 2 Corinthians 10:4
"For the desires of the flesh are against the Spirit, and the desires of the Spirit are against the flesh, for these are opposed to each other, to keep you from doing the things you want to do." Galatians 5:17
"For He will hide me in His shelter in the day of trouble; He will conceal me under the cover of His tent; He will lift me high upon a rock." Psalm 27:5
Bible Verses to Claim Victory in Spirtual Warfare for Your Child
"We destroy arguments and every lofty opinion raised against the knowledge of God, and take every thought captive to obey Christ," 2 Cor. 10:5
"No, in all these things we are more than conquerors through Him who loved us." Romans 8:37
"For everyone who has been born of God overcomes the world. And this is the victory that has overcome the world—our faith. Who is it that overcomes the world except the one who believes that Jesus is the Son of God?" 1 John 5:4-5
"No weapon that is fashioned against you shall succeed, and you shall confute every tongue that rises against you in judgment. This is the heritage of the servants of the Lord and their vindication from me, declares the Lord." Isaiah 54:17
"Truly, I say to you, whatever you bind on earth shall be bound in heaven, and whatever you loose on earth shall be loosed in heaven. Again I say to you, if two of you agree on earth about anything they ask, it will be done for them by my Father in heaven. For where two or three are gathered in my name, there am I among them." Matt. 18:18-20
"Submit yourselves therefore to God. Resist the devil, and he will flee from you." James 4:7
"The Lord will cause your enemies who rise against you to be defeated before you. They shall come out against you one way and flee before you seven ways." Deut. 28:7
"And I heard a loud voice in heaven, saying, 'Now the salvation and the power and the kingdom of our God and the authority of his Christ have come, for the accuser of our brothers has been thrown down, who accuses them day and night before our God. And they have conquered him by the blood of the Lamb and by the word of their testimony, for they loved not their lives even unto death.'" Revelation 12:10-11
"'I will no longer talk much with you, for the ruler of this world is coming. He has no claim on me,'" John 14:30
"They will make war on the Lamb, and the Lamb will conquer them, for he is Lord of lords and King of kings, and those with him are called and chosen and faithful." Revelation 17:14
"You shall not fear them, for it is the Lord your God who fights for you." Deuteronomy 3:22
"But the Lord is faithful. He will establish you and guard you against the evil one." 2 Thessalonians 3:3
"The Lord will rescue me from every evil deed and bring me safely into his heavenly kingdom. To him be the glory forever and ever. Amen." 2 Timothy 4:18
READ MORE: Scriptures to Pray Over Your Children
Spiritual Warfare Prayers for Families
Prayer is one of the weapons God gives us to fight spiritual battles. Scripture shows over and over that it is powerful and effective, especially when 2 or more of His followers engage in battle in this way together. Here are a couple of prayers to help you fight the spiritual battles your family faces.
If you want to create your own prayers, specific to your family's needs, simply use the scriptures above (and any others you like) to piece together your very own customized spiritual warfare prayers!
READ MORE: Praying Mothers – Using Scripture to Pray for Others
Prayer of Thanksgiving and Preparation
Prayer to Claim Victory in Spiritual Warfare for Your Child
Deliverance Prayers for Your Child
Sometimes, despite our best efforts to protect our children from harm using our God-given weapons, the world gets to them anyway. When this happens, we needn't fear, only give them and their strongholds over to God.
Here are some prayers to help you get started, one for if you know what the stronghold is, one for if you know they are struggling with something but don't know specifically what it is.
Some books to help you pray for your child…
READ MORE: Mothers who Prayer in the Bible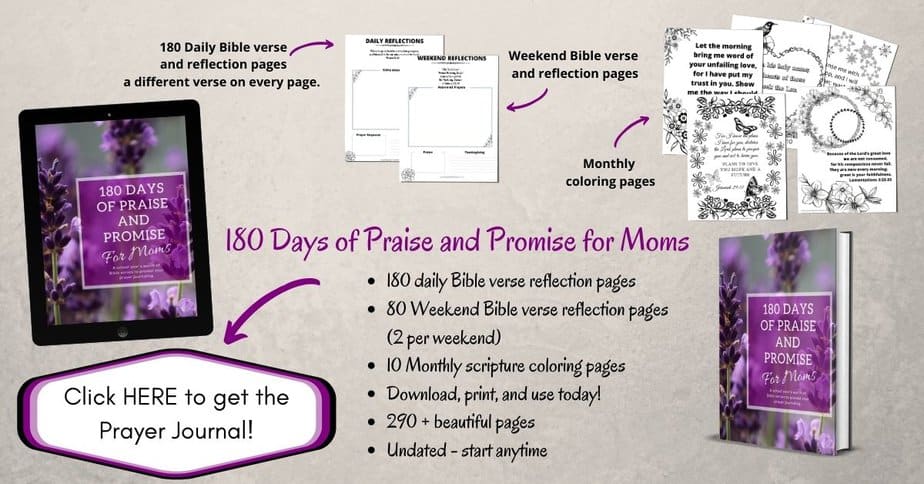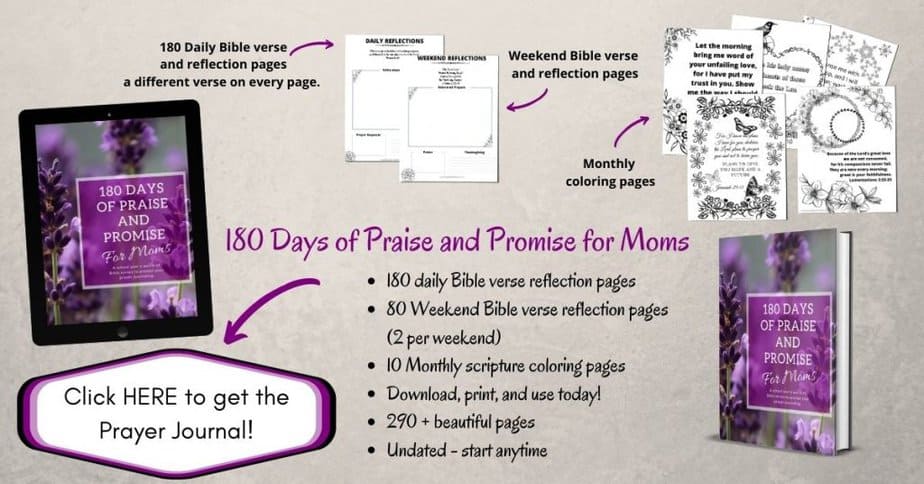 Daily Ways to Practice Spiritual Warfare for your Child
As I mentioned before, God gives us numerous weapons we can use to engage in spiritual warfare for our children, and it has never been more important to use them. As Satan and his cohorts continue to operate against the followers of Jesus, we must not relent in doing things like becoming familiar with Bible verses to claim in spiritual warfare and using prayer to claim victory in the spiritual battles we face every day. Here are some other ideas for fighting worldly temptations and pressures:
Learn how to put on the armor of God.
Fast. There are many kinds of fasts. Research and pray God guides you to the one that is right for you.
Worship. Satan hates it when we praise the Lord, so blast that worship music and sing your heart out! If you really want to sock it to him, raise your hands, too! Kids love this one, so why not make it a family praise party?
Go to church at least once a week. If mid-week services are available, go to those, too!
Take every thought captive. Then either trash it or affirm it using what you know from God's Word.
Talk about spiritual warfare as a family. Families are like teams; everybody needs to be on the same page to be effective and efficient.
Let your friends/family/mentors know what battles you're facing so they can join you in battle and be there for their battles, too.
God knew in the very beginning that we would have troubles in this world. That is why He sent His Son to give us victory over sin and death by His death on the cross and the Holy Spirit to empower us and counsel us through the trials we face. It's so amazing to think that God loves us so much to give us everything we need to claim victory over the forces of darkness at work against us.
I hope after reading this that you feel less anxious about spiritual warfare and more prepared to fight for the souls of your friends and family members. The way I see it, Satan isn't going to stop fighting for us to fail, so we'd better be ready to fight!
RELATED: Putting on the Armor of God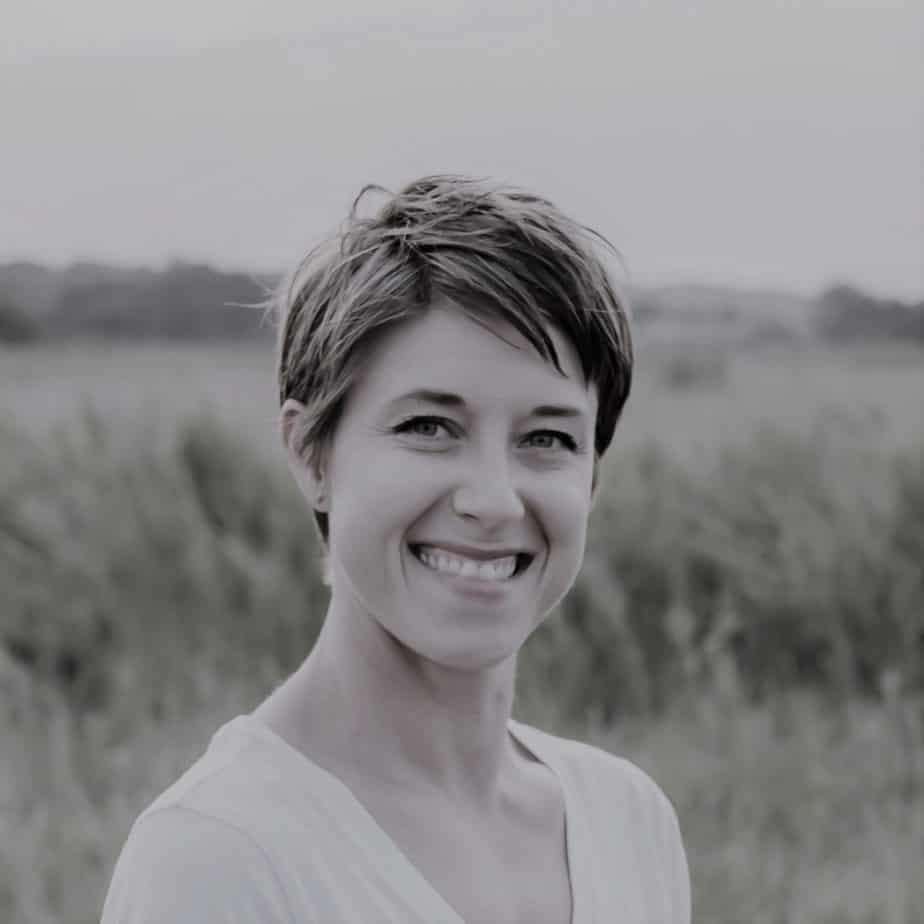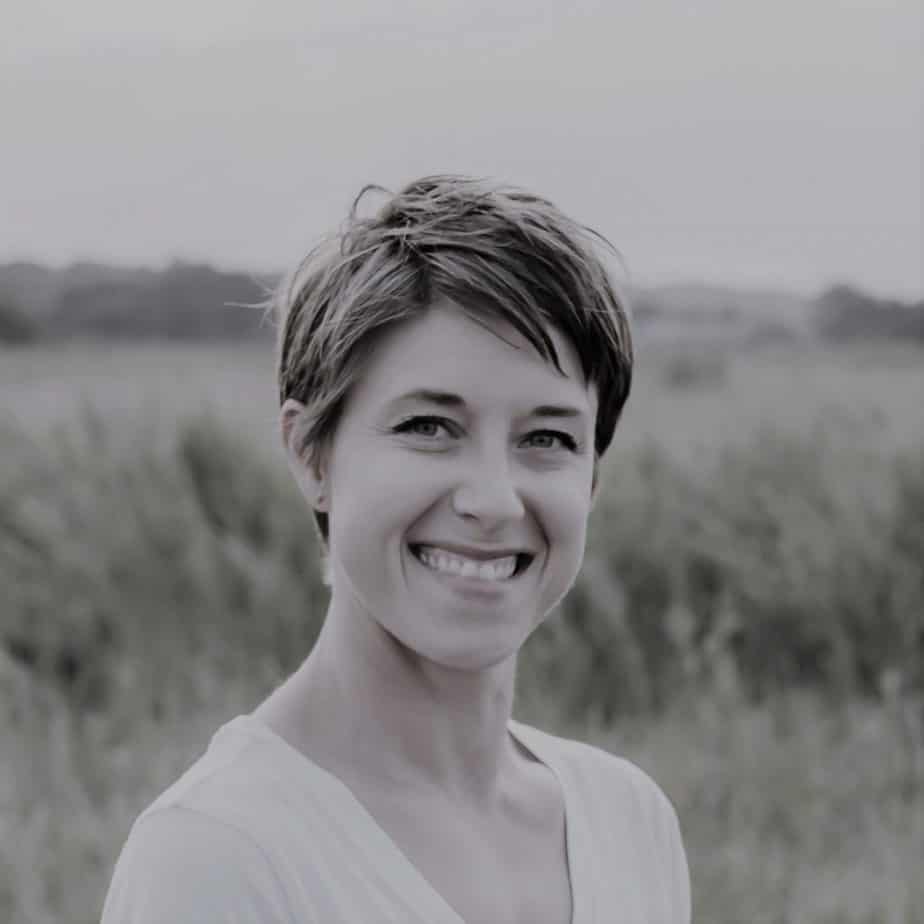 Coren Millikan writes at CatchingCourage.blog, where the goal is to inspire, encourage, and equip women to trust and obey God in all things, big and small.
You may also like these Biblical parenting links…
---
❣ Sign up to get our weekly email filled with encouragement, ideas, and support for moms raising kids who love Jesus! ❣