These Bible verses about mother's love can be a real encouragement to you as you are raising your children, supporting them as they grow, and praying for their choices and decisions.
Some women are blessed to have experienced the love of a Christian mother throughout our lives. Others can experience that form of loving through our mothering and our relationship with the Lord.
As Christian mothers, we can trust the Bible to be our guide on how to love our children. There are many Bible verses about mother's love throughout the Word that serve to inspire our hearts.
We will be discovering and enjoying many of those verses in this article. Hopefully, those we share will trigger others in your memory. Keeping a written collection of the verses on this topic could become a treasure to pass on, especially if they include your notes.
This post contains some affiliate links for your convenience which means I may receive a small commission if you purchase through these links. Thank you for extending the support of Savoring Each Moment for Christian Moms! Please see my full disclosure policy. 
What Does the Bible Say About Mother's Love?
The Bible talks about love over and over again! Our focus here is on God's love toward us and how that resembles the love we as mothers share toward our children. We can learn from the examples of His love in the Word if our heart's desire is to get to know Him more and grow more like Him. I love Psalms 37:4, where He promises to give us our heart's desires when we take delight in Him.
Besides the overwhelming abundance of proof of God's love throughout the scriptures, the most important would have to be John 3:16, stating how He gave up His Son so that we might have life. There are many references to moms who lived during Bible times. We'll be chatting about three of those in a minute Jochebed (Moses' mom), Hannah (Samuel's mother), and Mary (Jesus' mom).
We'll also discuss what the Bible says specifically about a mother's love. And how God's Word encourages us as moms to walk in His love daily, experiencing it from Him and empowering us to share that love with our children and those around us.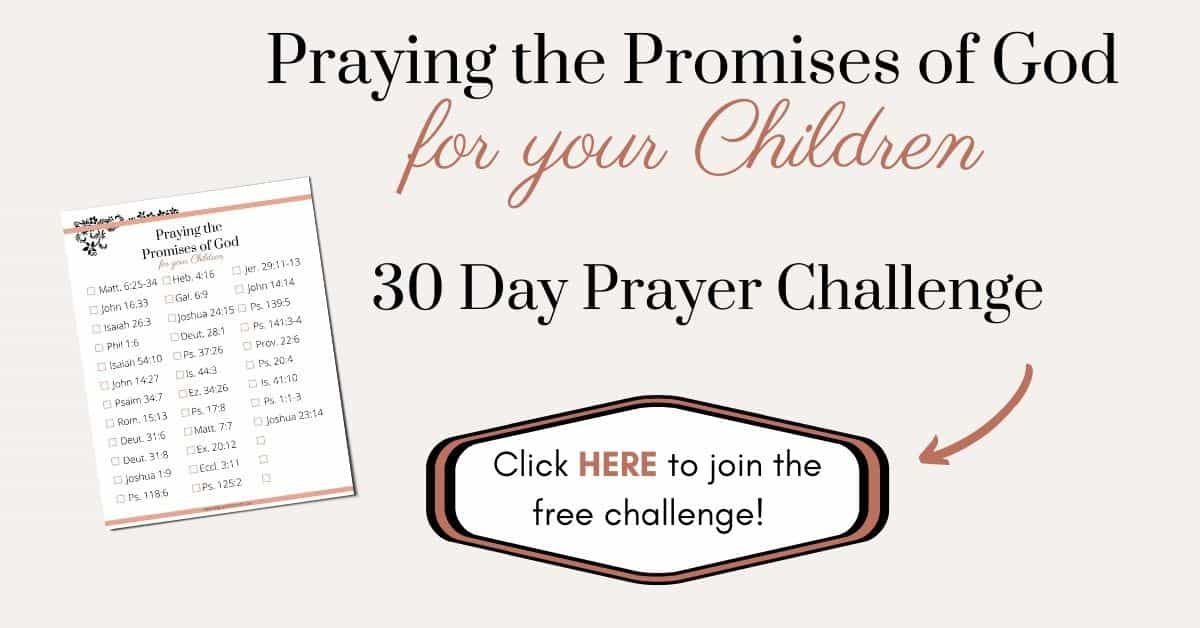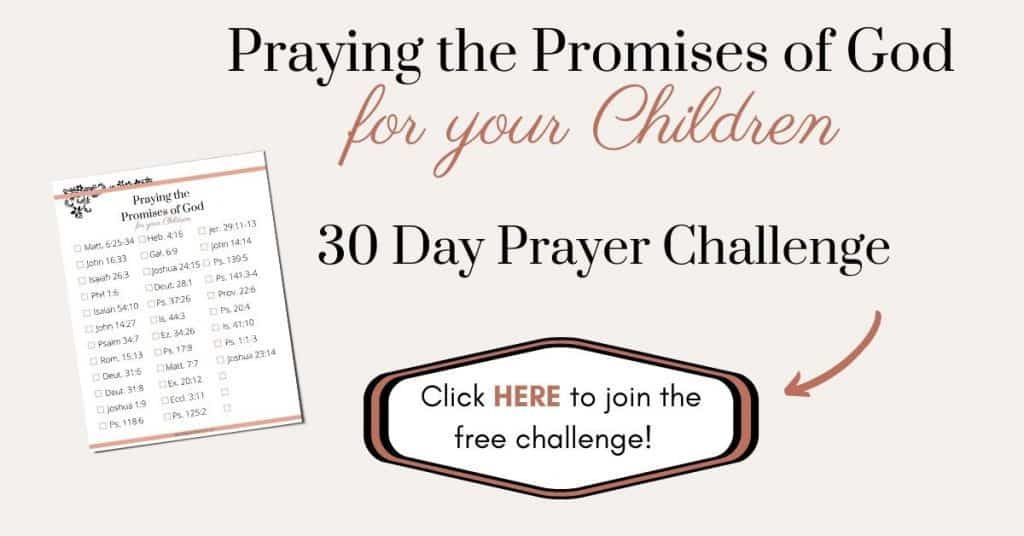 Examples of a Mother's Love in the Bible
Biblical moms weren't perfect, just like we aren't perfect. They got tired, frustrated, and even angry at times. I can imagine there were situations when they called their naughty child by all three (or however many Jewish children had in those days) names to get their attention! They most likely shed many tears of concern for their kids and spent hours on their knees or at least stolen moments in the bathroom praying for their dear ones.
Each of these mothers had a deep faith and trust in their Lord God. They knew Him. They experienced His reality in their lives. Each one had a difficult life's path and most likely relied heavily on that faith and knowledge of their Father. The one main thing they all had in common was that their eyes focused on God and His will and plan for their lives as moms. Albeit in the middle of fussy babies, dirty diapers (no Huggies back then!), and tantrummy toddlers.
Let's take a peek at what the Bible says about a mother's love by looking at these three women of God, and while we're peaking, imagine chatting with each one over coffee about how their faith makes a difference in their mothering.
Mary (Jesus' mother): Mary, the mother of Jesus, is probably the best-known mom in the Bible. It's likely you know much if not all of her story. You know the huge honor bestowed on her in being chosen for this mama role. You also must be aware of the immense responsibility she must have felt in raising the Messiah. One example of Mary's love as a mother is her savoring and treasuring all the things surrounding Jesus' birth. I love that. Her desire to cherish and remember these details shows her love for her new baby and how much she's just a regular mom. We'd be writing things in a baby book and taking photos on our phones. She treasured them in her heart and brought them out often to ponder. Mary would go on to experience many precious times and times of deep sorrow. (See Luke 2 and throughout the Gospels)
Jochebed (Moses' mom): (Hebrews 11:23). (See also Exodus 1-2) Another well-known mom gave birth to Moses and then gave him up to be raised in Pharoah's household. The shocking thing about that was that Pharoah was killing the baby boys belonging to the Jewish slaves in Egypt. By faith, Jochebed put Baby Moses in a floating basket and prayed he would drift into the right hands. He did and grew to be a great leader of Israel, leading them out of their captivity to the Promised Land. His mother's sacrificial love and life-saving actions allowed those things to take place eventually. We rarely see all that God has for our kids and ourselves when we're in the trenches. (Hebrews 11:23). (See also Exodus 1-2)
Hannah (Samuel's mother): Hannah was a mom of prayer and hope. She waited a very long time and finally gave birth to Samuel, one of the greatest prophets of the Old Testament. Out of sacrificial love, she gave up her son to Eli to be raised in the temple, visiting young Samuel once a year to bring him a new coat; how sweet and hard that annual visit must have been! After Samuel, Hannah had five more children. God continued to answer her prayers to be a mom. (See 1 Samuel 1; 2:1, 21)
RELATED: Praying Mothers in the Bible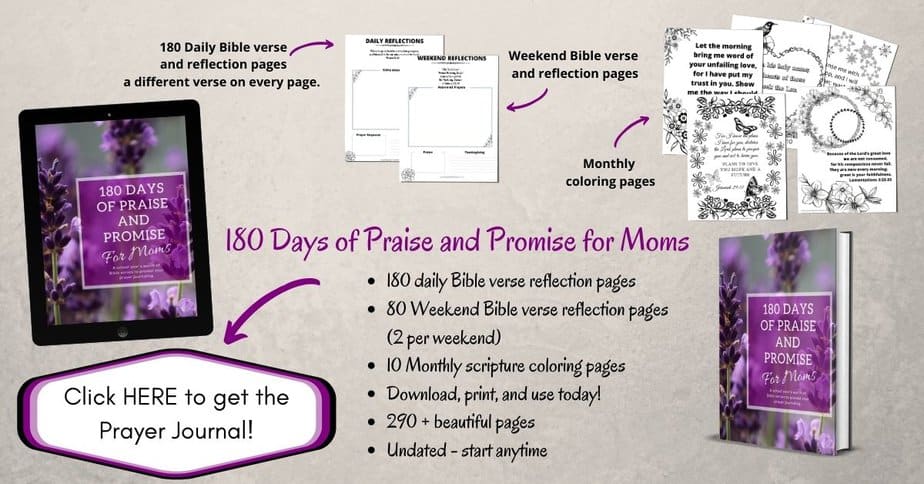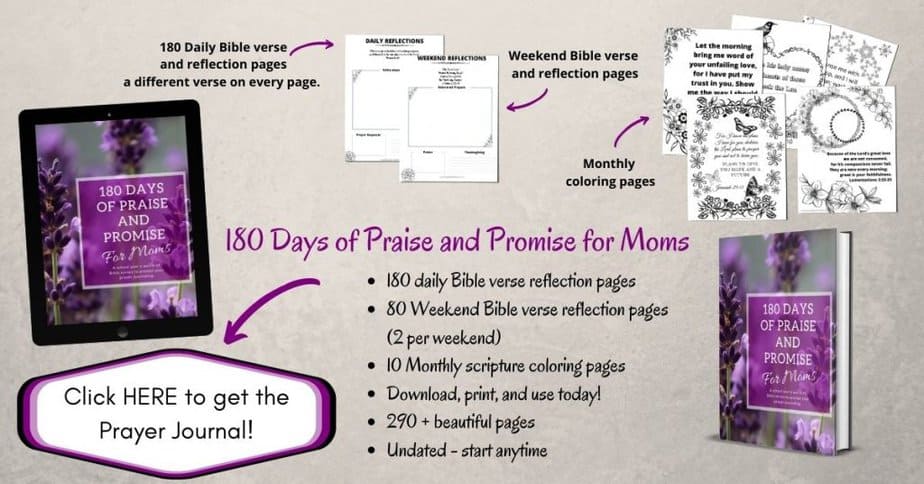 Biblical Characteristics of a Loving Mother
Here's a quick list of what the Bible considers the loving characteristics of a mother. I caution you against using this as a checklist compared to your own life. Use it more as a list of promises you can pray and believe for today.
That comparison trip is nasty! I remember almost going under while reading Christian mom's 'how to books' when our kids were little. Oh, did those inadequacies boil up to the surface! It took a while, but now (most of the time), I know that in reality, I can't be the perfect mom, but I can rely on the Holy Spirit to teach me and remind me of all I need to know (see John 14:26). Also, Romans 8:26 NLT tells us these encouraging words: "And the Holy Spirit helps us in our weakness. For example, we don't know what God wants us to pray for. But the Holy Spirit prays for us with groanings that cannot be expressed in words."
Here are several Biblical characteristics of a loving mother:
Comforting: I will comfort you there in Jerusalem as a mother comforts her child. Isaiah 66:13 (NLT)
Teaching: And you must commit yourselves wholeheartedly to these commands that I am giving you today. Repeat them again and again to your children. Talk about them when you are at home and when you are on the road, when you are going to bed and when you are getting up. Deuteronomy 6:6-7 (NLT) and Proverbs 1:8
Disciplining: And have you forgotten the encouraging words God spoke to you as his children? He said, My child, don't make light of the Lord's discipline, and don't give up when he corrects you. For the Lord disciplines those he loves, and he punishes each one he accepts as his child. Hebrews 12: 5-6 (NLT)
Modeling the Christian Life: But watchful! Be careful never to forget what you yourself have seen. Do not let these memories escape from your mind as long as you live! And be sure to pass them on to your children and grandchildren. Deuteronomy 4:9 (NLT)
Encouraging: So encourage each other and build each other up, just as you are already doing. 1 Thessalonians 5:11 (NLT)
Hard-working: When she speaks, her words are wise, and she gives instructions with kindness. She carefully watches everything in her household and suffers nothing from laziness. Proverbs 31:26-27 and Titus 2:5 (NLT)
Forgiving (those around her and herself): Instead, be kind to each other, tenderhearted, forgiving one another, just as God through Christ has forgiven you. Ephesians 4:32 (NLT)
RELATED: Praying Circles Around the Lives of Your Children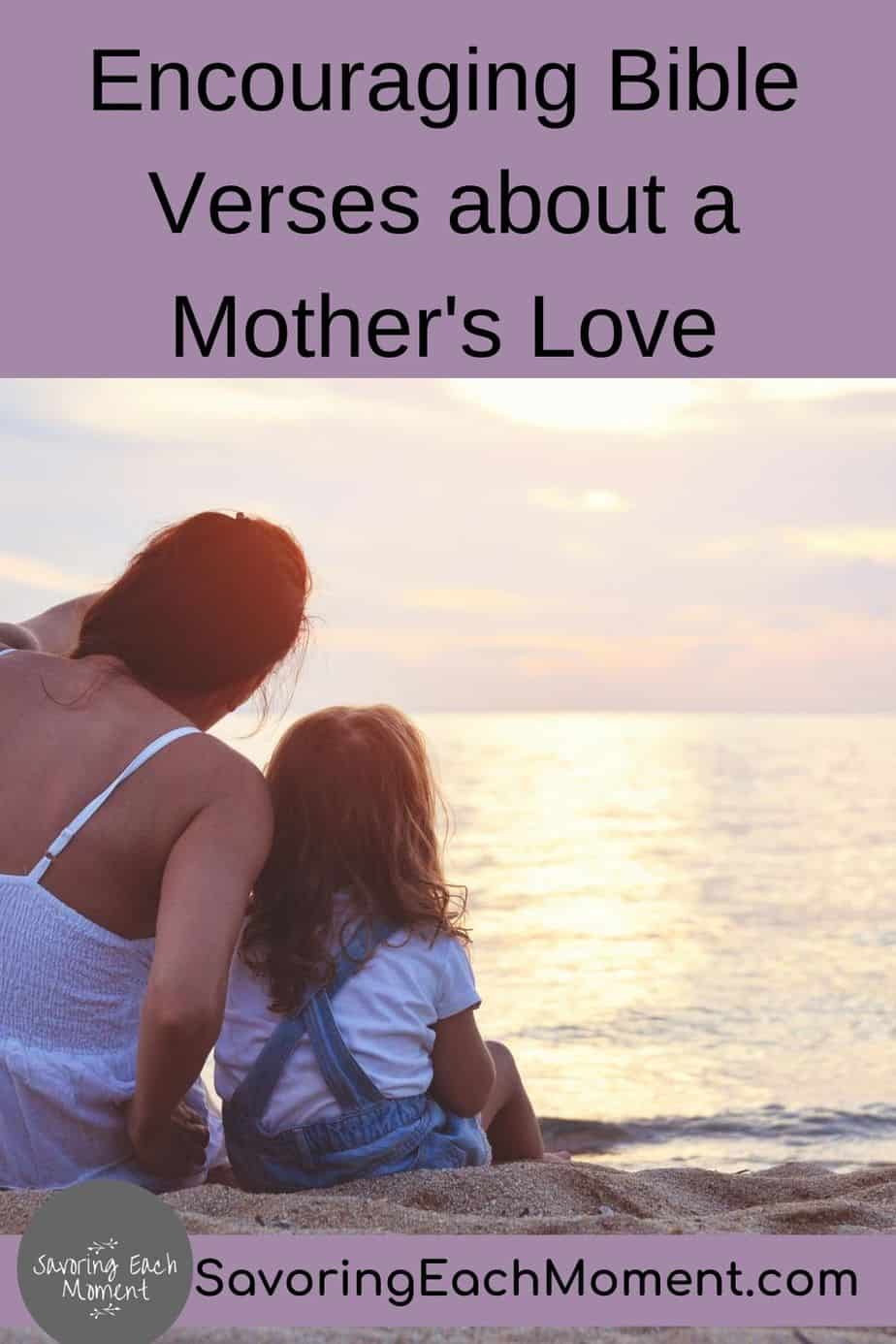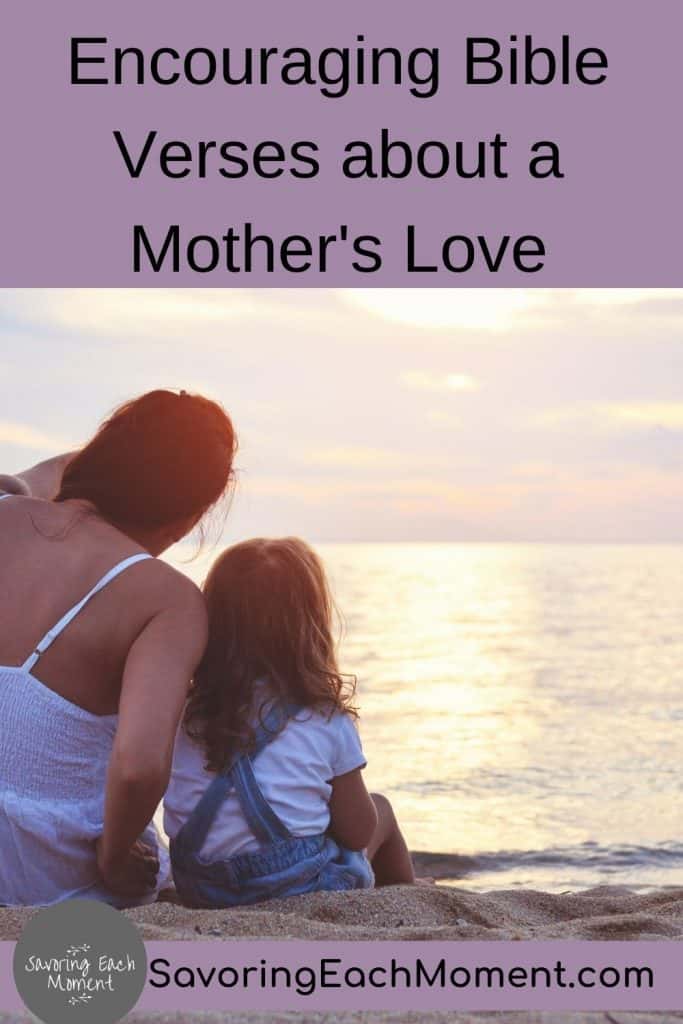 Encouraging Verses for Moms
Being a mom is one of the most rewarding jobs on earth. Being a mom is also one of the most demanding jobs you'll ever do. As believers, we have so many spiritual gifts to help us navigate these twisting and turning pathways. We need to remember to worship and thank Him when it's smooth sailing for a while!
Here are a few verses selected to remind you of what you have available as a Christian mama. And they're good! I've hung onto each one personally during tough times. I remember holding my youngest, looking out one of the bedroom windows, and praying I would see my estranged husband return (he eventually did ❤️). I would quote Psalm 27:13 over and over. (The last one on the list.)
Strength: My health may fail, and my spirit may grow weak, but God remains the strength of my heart; he is mine forever. Psalm 73:26 NLT
Courage: Do not be afraid or discouraged, for the Lord will personally go ahead of you. He will be with you; he will neither fail you nor abandon you. Deuteronomy 31:8 (NLT)
Support and Compassion: He will feed his flock like a shepherd. He will carry the lambs in his arms, holding them close to his heart. He will gently lead the mother sheep with their young. Isaiah 41:11 (NLT)
Dealing with Overwhelm: When you go through deep waters, I will be with you. When you go through rivers of difficulty, you will not drown. When you walk through the fire of oppression, you will not be burned up, the flames will not consume you. For I am the Lord, your God, the Holy One of Israel, your Savior. Isaiah 43:2-3 (NLT)
Trusting that God is Working: Yet I am confident I will see the Lord's goodness while I am here in the land of the living. Psalm 27:13 (NLT)
RELATED: Simple Prayers for Mothers
May these thoughts, little stories, and Bible verses about a mother's love encourage you in your role as a mom. You do realize the value of that role, right? Not only are you sharing the love and wisdom from your own heart that Jesus has placed there with your cute future men and women of God, but you are a living parable of what God's love looks like to those around you…other moms, other moms' kids, your husband, and so many more.
I pray God blesses all of you loving mothers through these years when your little ones are underfoot and into the years when they are adults. Thank the Lord He is with us through it ALL, and we can choose to hold His hand as we walk along with Him day by day.
RELATED: 5 Ways to Remember Mom on Mothers Day: a sweet post sharing several ways to honor a mom or grandma who is no longer living. This meaningful article will add a new level of remembrance for that dear woman who meant so much to you and your family.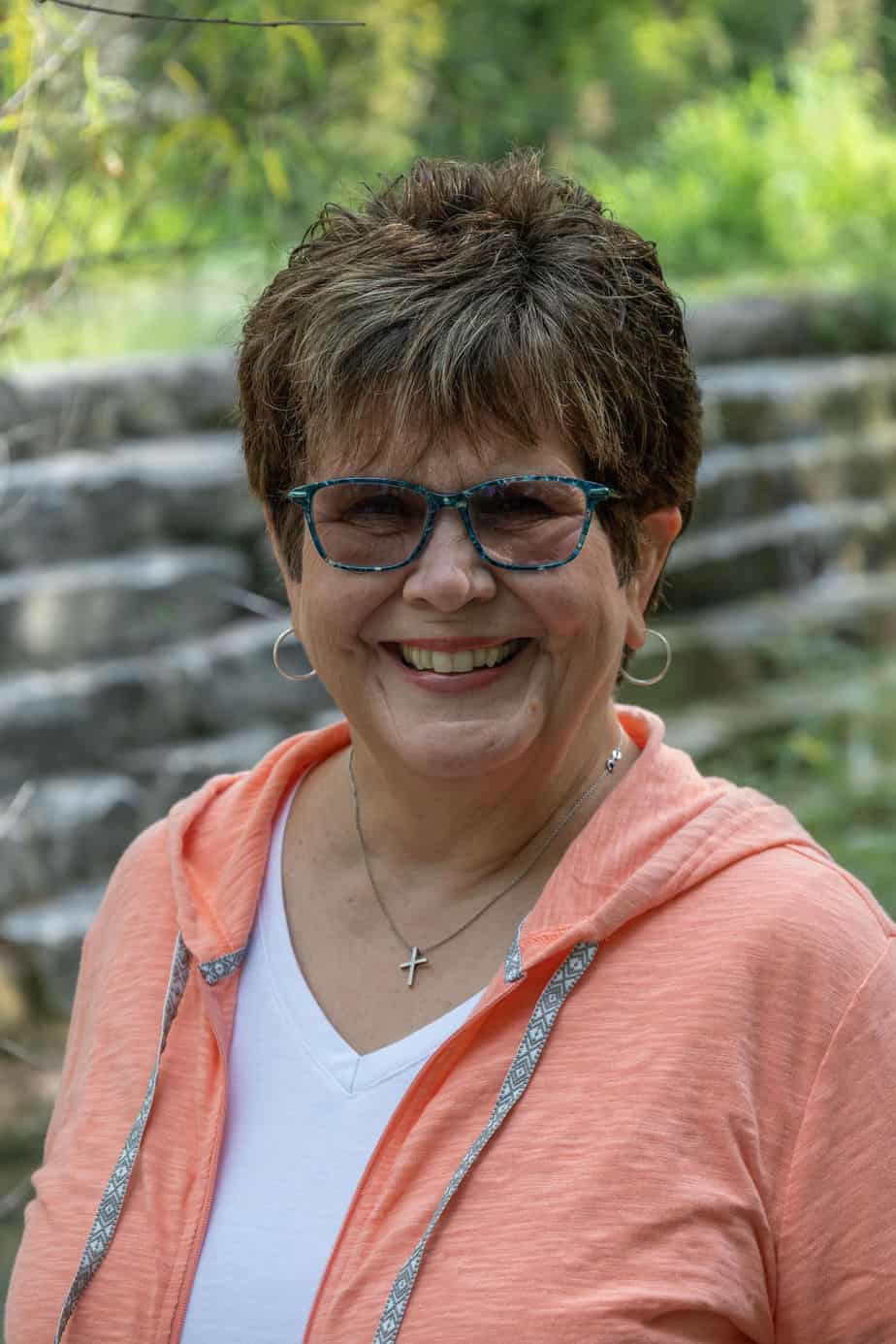 Finding a new purpose in living and joy in the day-to-day was the goal when author Kathy Rowland and her entire family (adult kids and grandkids) moved from the PNW to Texas several years ago. The focus of Quiet Hollow is to encourage 'next chapter women' – those who are retired, empty-nesters, or have found themselves without a spouse to jump back into life. What you read on Quiet Hollow is a large part of that calling.
You may also like these Biblical parenting links…
---
❣ Sign up to get our weekly email filled with encouragement, ideas, and support for moms raising kids who love Jesus! ❣