Trusting someone you cannot see and usually cannot audibly hear, is incredibly difficult. Doubt easily creeps in when you try to trust God's plan for your life but you really aren't sure what His plan might be for you.
We are going to explore what trusting God's plan looks like and how to develop your trust in God's plan for your life.

This post contains some affiliate links for your convenience which means I may receive a small commission if you purchase through these links. Thank you for extending the support of Savoring Each Moment for Christian Moms! Please see my full disclosure policy. 
How to Trust God's Plan
Learning how to trust God's plan is like stretching a little muscle. It takes practice and exercise to help it get stronger. Just like that muscle, your faith or trust in God's plan usually starts small and grows over time and experience.
The first step in trusting God's plan is to learn to seek His will and His plan for your life. This sounds easy, but it takes time and effort on your part. When you ask God for wisdom, He will give that to you. It's not a magic potion, or a genie in a bottle, but rather, God can give you understanding in a situation.
Wisdom doesn't always bring immediate action or resolution, but as you trust God's plan in the small things of life, it will become easier to trust Him in the larger things in life.
Trusting God in all Circumstances
Kayce was recently going through an extremely difficult situation with a colleague. She was falsely accused by her co-worker who went to her boss to spread the tales. Through a number of difficulties, she was required to meet with the co-worker and his boss to talk through the things she had supposedly done wrong and figure out a way to mend the relationship. It seemed like a lose-lose situation for Kayce!
In the weeks leading up to the meetings, the fear and stress sapped her energy, and broke her spirit. During this time, she was given a Bible verse that was a huge encouragement.
No weapon formed against you shall prosper. And every tongue which rise against you in judgment you shall condemn. This is the heritage of the servants of the Lord. And their righteousness is from me says the Lord.

~ Isaiah 59:17
This verse started to show up on her Facebook feed, in her morning worship, and in multiple other places over the next few weeks leading up to the scheduled meetings. Many people told her that she was not at fault and to have courage because the truth would come out.
Have you ever been in a situation that looks bleak? When there seems to be no way out even though you know you've done the right thing?
Learning to trust God's plan, means you need to seek His will. Praying for God's direction and guidance will help you place your worries and concerns on His shoulders. Ask God to guide you to verses in the Bible to encourage you and give you peace. Then start searching the Bible for those promises that you can claim as your own.
Just like Kayce in the story above, hang onto those promises that come to you and pray through them as you are asking God to help you.
In Kayce's situation, as she continued to claim the promises, her anxiety was reduced. She knew that whatever happened would be in God's hands. The night before the meeting was scheduled, she received a text that the meeting was canceled because the colleague was sick.
The meetings were never rescheduled and in the meantime, she was offered a job in a different location, seemingly out of the blue.
God had a plan all along! Even though she couldn't see the plan, she had the promise that God was going to work for her.
Trust God with All Your Heart
Learning to trust God's plan takes practice and lots of reminders. When you see God's answers or His leading in your life, make a habit to write it down and record those times.
In Joshua chapter 4, the Bible tells about the children of Israel crossing the Jordan River. They were instructed to choose 12 men to pick up a large stone from the middle of the dry river bed and carry those stones across to the other side.
The stones were then used to build a memorial so that when their children saw the stones and asked what they were for, they could tell the stories of God's deliverance and plan for them.
As you collect "stones" of deliverance or blessing in your life, make sure that you record them so you don't forget. These remembrances help you when times are tough and you are in the midst of a difficult situation where knowing and trusting God's plan is really hard.
Those are times to bring your prayer journal out and read the answers from the past. Share these stories with your family and remember how God provided just what you needed at the right time.
God has a Plan for You Verse
One of the most widely know Bible verses about God's plan for you is Jeremiah 29:11. But there is more to this passage than just verse 11. This was a promise given to the Israelite people after they had been carried off to Babylon. They had no hope and felt like they had no future as well. But the prophet Jeremiah reminded them to keep trusting in God's plan and to trust God in all circumstances.
For I know the plans I have for you," declares the Lord, "plans to prosper you and not to harm you, plans to give you hope and a future. 12 Then you will call on me and come and pray to me, and I will listen to you. 13 You will seek me and find me when you seek me with all your heart. 14 I will be found by you," declares the Lord, "and will bring you back from captivity. I will gather you from all the nations and places where I have banished you," declares the Lord, "and will bring you back to the place from which I carried you into exile."

Jeremiah 29:11-14
As you start collecting your own trusting in God promises, you can rest assured that God wants only the best for you. He has a plan for you and His plans include hope and a future.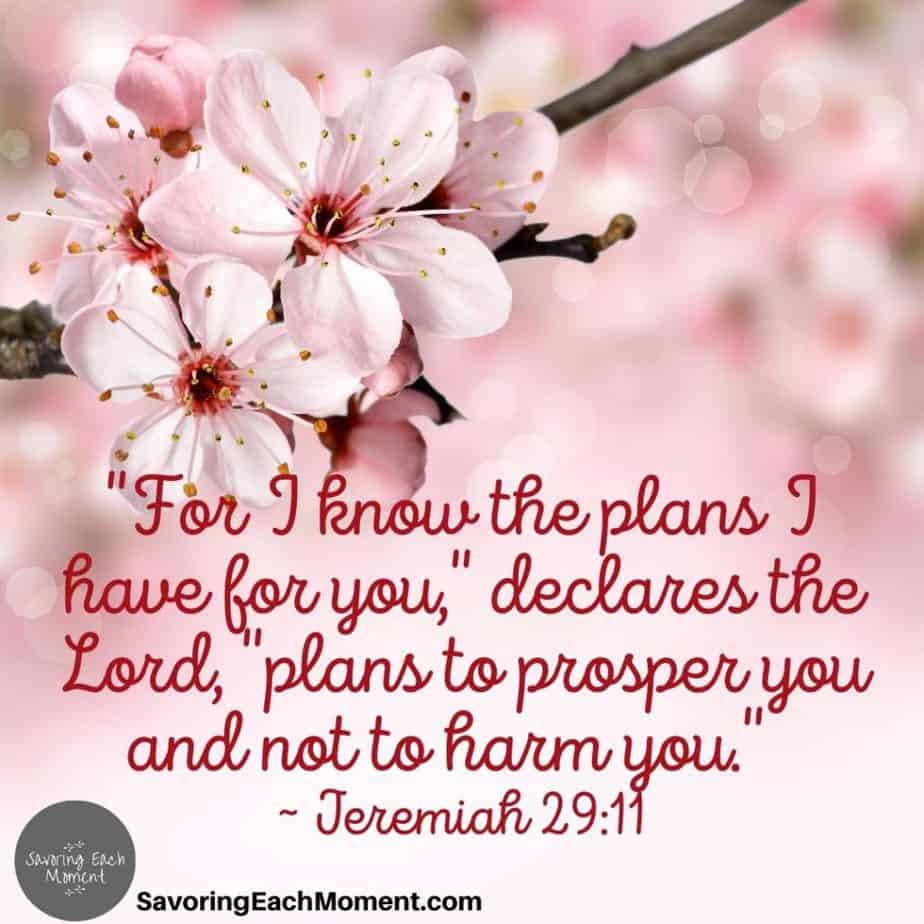 Bible Stories about Trusting God
The Bible is filled with stories about trusting in God and how different people trusted God's plan. Spending time reading about stories where other people trusted in God's plan and saw Him take care of them, can strengthen your trust in Him. These Bible stories about trusting God can also encourage you when you are in a similar situation.
Here are a few Bibles stories about trusting God that can help you trust God's plan.
Elijah trusted God's word and His plan to send rain and prayed seven times waiting for God to send the rain. He had hidden in the wilderness for three years and been fed by ravens. Elijah knew that trusting God's plan was the only thing keeping him going.
Joseph was sold as a slave, then promoted to a high position, and then falsely accused and thrown into prison. But he kept trusting God's plan and ended up as the second in command over all of Egypt and was used by God to save the people from a famine.
Joshua became the leader of the Children of Israel after Moses died. Joshua was reminded many times to be strong and courageous. Joshua trusted God in all circumstances because He had seen God's plan in the past and knew that God had a plan for the future.
Ruth trusted God's plan when she chose to follow her mother-in-law back to her home country. Ruth chose to trust God in all circumstances even after her father-in-law, brother-in-law, and husband died.
Mary, Jesus' mother, trusted God will all her heart and became the mother of the Messiah. Her challenges in life, heartache, and uncertainties didn't prevent her from trusting God in all circumstances even when what the angel told her about the birth of a baby didn't make any sense at all to her – an unmarried young woman.
What the Bible Says About Trusting God's Plan
There are hundreds of Bible verses to encourage you to trust in God's plan. Here are a few to help you get started. Print them out or write them down on a sticky note or index card. Carry them with you, put them on your bathroom mirror, or someplace where you will see them often.
Use these Bible verses to build your faith and trust in God's plan for your life.
Trust in the Lord with all your heart; don't rely on your own intelligence. Know him in all your paths, and he will keep your ways straight. — Proverbs 3:5-6
The Lord is close to everyone who calls out to him, to all who call out to him sincerely. — Psalm 145:18
I am with you now, I will protect you everywhere you go, and I will bring you back to this land. I will not leave you until I have done everything that I have promised you. — Genesis 28:15
I've commanded you to be brave and strong, haven't I? Don't be alarmed or terrified, because the Lord your God is with you wherever you go. — Joshua 1:9
Commit your way to the Lord! Trust him! He will act. — Psalm 37:5
Happy are those who trust in the Lord, who rely on the Lord. — Jeremiah 17:7
Throw all your anxiety onto him, because he cares about you. — 1 Peter 5:7
Therefore, I say to you, don't worry about your life, what you'll eat or what you'll drink, or about your body, what you'll wear. Isn't life more than food and the body more than clothes? – Matthew 6:25
We know that God works all things together for good for the ones who love God, for those who are called according to his purpose. — Romans 8:28
This is the confidence that we have in our relationship with God: If we ask for anything in agreement with his will, he listens to us. — 1 John 5:14
Trust in the Lord forever, for the Lord is a rock for all ages. — Isaiah 26:4
Those who know your name trust you because you have not abandoned any who seek you, Lord. — Psalm 9:10
Whenever I'm afraid, I put my trust in you — in God, whose word I praise. I trust in God; I won't be afraid. What can mere flesh do to me? — Psalm 56:3-4
My God will meet your every need out of his riches in the glory that is found in Christ Jesus. — Philippians 4:19
RELATED: Trusting God When You are Feeling Overwhelmed With Life
How to Know God's Plan for Your Life
Just like exercising a muscle, learning to trust God's plan for you takes consistent practice. Spending time praying and asking God to guide and lead you in your decisions and plans is the first step in trusting Him. Learning to trust is like learning the ABC's.
A – Ask. Ask God to direct your steps and lead you to the people, places, jobs, or situations where He can use you. When you are making a decision, ask Him to help you have the discernment to make a choice that will honor Him.
B – Believe. Often, in life, you have choices to make that aren't right or wrong, but just different. Other times there are definitely better paths to follow than others. Pray for wisdom and direction from God and then take time to claim the promises He has given in the Bible.
If you are choosing a course of action, ask for counsel from people who spend time praying. Ask them to pray for you in the decision or situation. Then be willing to listen to their counsel as well.
C – Claim. When you trust God's plan, write down those answers and document the times where you can see His leading in your life. Claim those promises and claim the victories and leading in the past. Remember those stories and review them when you are struggling.
You may also like these posts…
---
❣ Sign up to get our weekly email filled with encouragement, ideas, and support for moms raising kids who love Jesus! ❣
❣ Sign up to get our weekly email filled with encouragement, ideas, and support for moms raising kids who love Jesus! ❣