It is very important to know the right questions about school to ask about a prospective school so that you end up with the information you need to make the right choice. Perhaps you are choosing a school for the first time, or maybe you've just moved to a new community.
Getting ready to send your child off to school or changing to a new school is a heavy decision and one that you need to research and consider.
You may be wondering…
What questions about school should I ask a new school?
What should I look for in a new school?
What questions to ask when visiting a new school.
Which questions to ask a private school during an interview.
What questions about school will help me know this is the right school for my child?

This post contains some affiliate links for your convenience which means I may receive a small commission if you purchase through these links. Thank you for extending the support of Savoring Each Moment for Christian Moms! Please see my full disclosure policy. 
Questions about School Every Parent Should Ask When Choosing a New School
If you call and talk to the office administrator or the principal, you will be able to ask about school and get a lot of your initial questions about the school answered. But ultimately, in order to make a good decision, you will need to visit the school, see the classrooms, and meet the teachers.
You may also be looking for Preschool Parent Questions to Ask When Choosing a Preschool.
Schedule a Tour of the School
Call the school to schedule a tour and make an appointment with the school principal. Being able to visit the school facility and visit the school during the school day, you will be able to see how things run when the students are in the classroom.
If you schedule your tour after school hours, or during the summer, ask if it is possible to meet the teacher who would be your child's teacher.
The school tour will allow you to see the classrooms, lunchroom, bathrooms, and playground. By meeting the staff and teachers, you will be able to initially determine if this will be a place where your child will be supported and able to learn well.
Consider if you'd like to visit the school on your own first and then bring along your child or if you want their buy-in from the beginning.
Once you've made the initial call and introduction, start going through the questions about school that you have and write down your parent interview questions before you choose the school where you will enroll your child.
Do Your Research About the School
Check out the school's website. Can you find answers to your questions about school online? Search for their Facebook page. What types of things do they post and share? You may also be able to find out some information about the staff, tuition costs, and school policies.
Curriculum
One of the most important interview question you can ask about a new school is about their curriculum. There are so many different parts to curriculum and as a parent, you want to make sure that your child will be supported and encouraged in ways that go along with your family's values and beliefs. Here are some questions to ask a private school during an interview.
Questions to ask about curriculum:
Is the curriculum based on the Bible and centered on God?
Will there be opportunities for your child to learn more about the Bible and Jesus from a Christian perspective?
Will Science and other subjects be taught from a Christian, Biblical worldview?
Does the curriculum support your family's beliefs?
What types of books are in their library? Do these match your beliefs?
The curriculum shouldn't necessarily be the final decision point for your school decision (unless it goes against what your family believes) but it is crucial that your child will be in an environment, especially during the early years of schooling, that supports your beliefs and standards. You need to be very cautious about putting your child in an environment that could undermine your beliefs.
Security
When you send your child to school, you are trusting that their protection and safety will be diligently provided.
You may be able to observe some of the safety procedures when you do your school tour. If you don't observe these things, be sure to ask these questions about school safety.
Questions to ask about school safety:
Are the doors locked during the school day and how do people gain access to the school?
What type of supervision happens before and after school? Who is supervising and where do students wait for classes to begin or parents to pick them up?
Is there a bus system or do parents provide transportation?
Does the school require ID for people who are picking up the students and who checks that?
If you live in a large community and the school doesn't have a plan for this, you may need to ask a few more questions to ensure that you know your child will not be allowed to go home with someone else without your permission.
Other security factors that you will want to observe while you are doing your tour might include:
Are the playground toys maintained and in good repair?
Is the schoolyard or playground fenced and secured?
Will the children be playing close to a parking lot or traffic on the road?
Is there a soft ground cover under climbing toys, swings, and slides?
You May Also Like These Posts
---
❣ Sign up to get our weekly email filled with encouragement, ideas, and support for moms raising kids who love Jesus! ❣
Food
Food is a large part of a child's life and one of their basic needs. So, you need to find out if the school provides snacks and meals or if you need to provide these things. Here are a few more questions to ask about school.
Questions to ask about school lunches:
Does the school have a lunch program? If so, how much does it cost?
If your child has allergies, how does the school provide a safe environment for children with allergies?
Will you need to pack a lunch for your child?
Will a student lunch need to be a cold lunch or do the children have access to hot water or a microwave?
Schools are often thrilled to have volunteers, and a kitchen is often a place where parents can help out if the school has a lunch program.
Price
The cost of education, especially a private education, can be a significant commitment. But don't make your school choice based on price alone. A school with a higher price doesn't mean it is better.
You need to know the financial price tag for planning, but make sure your questions are answered to meet the needs of your child before you decide based on the costs.
Questions to ask about tuition and fees:
What is the monthly tuition price? Is there a pre-pay discount?
When is the tuition due each month?
Is there a registration fee and when is it due?
What additional expenses will be incurred for special activities, field trips, or events.
Ask for a classroom supply list so you can see what supplies you will need to provide for your child. Typical lists include basic school supplies like tissues, wipes, crayons, pencils, and paper. But your child may also need uniform clothing, special gym clothes, or other specialty items for a lab class.
Naptime
If your child is entering Kindergarten, will he/she have rest time in the afternoon? Are the kids expected to sleep or can they play quietly or look at books? Do the children rest in the classroom or in another room?
Often naptime or rest-time can be an anxious time for children entering school. If they haven't been taking a nap or rest at home and then they have to rest at school, that can feel overwhelming to them. You may also want to know if they can bring a stuffed toy or special blanket to keep with them during this time.
Volunteers
Most schools have some volunteers or assistants who help in the classrooms, provide recess supervision, or go along on field trips. You may want to know the procedure for becoming a volunteer so you can also come along as a classroom parent, or help your child's teacher in some way.
Every school should have a background screening process for their staff and volunteers. This process doesn't eliminate the possibility of something happening between an adult and a child, but it certainly deters it.
Classroom Size
When you are sending your child to a new school, you want to know how many students will be in your child's classroom and how many teachers and staff they will be interacting with.
The fewer students in the classroom, the more time and attention your child will receive. This can greatly increase student learning in the classroom and help your child succeed.
First Aid and Sick Policy
Check on the first aid and sick policy to find out what the school expectations are for kids staying home if they are sick and the school's policy for notifying parents of an injury.
Most schools will required you, as the parent, to fill out a consent to treat form giving permission for emergency treatment. You may want to know when and how that can or would be used by the school.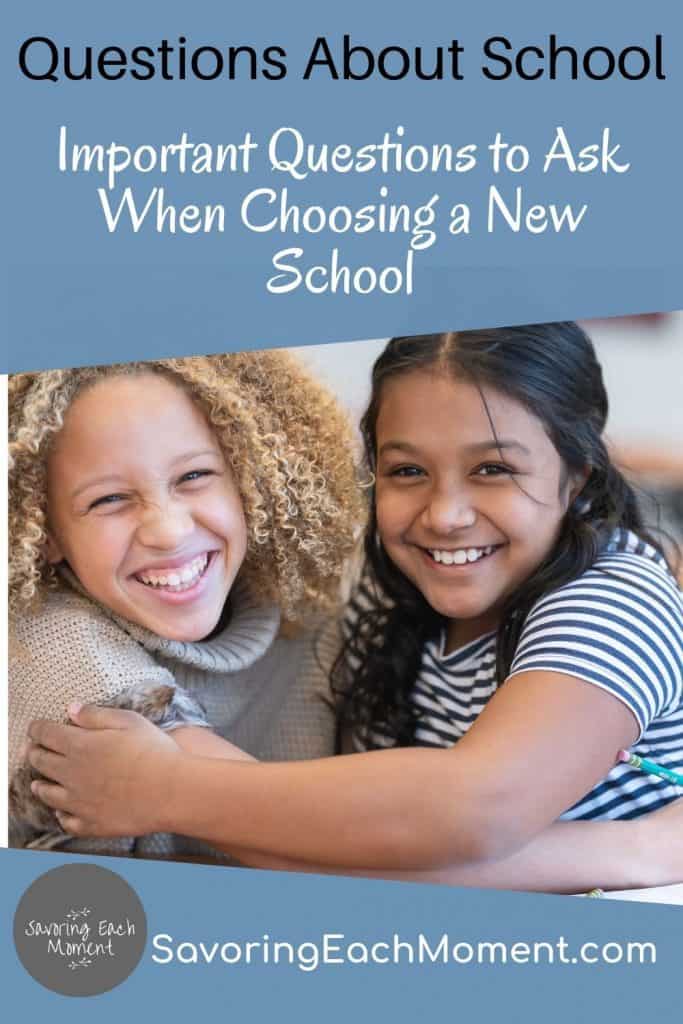 Location
Obviously, a big piece of your choice is going to be dependent on the location of the school and its proximity to your home or work.
Many parents make the choice to commit to carpooling or driving the distance because the school environment is right for their child.
Accreditation
Many private schools have done the extra work to become accredited with the state. Accreditation provides a level of oversight in areas of health and safety for the children, curriculum competencies, teacher/student ratios, and regular paperwork to ensure that the school is meeting certain benchmarks.
The accreditation process is arduous for a school to attain and maintain. If the school is diligent about the paperwork, they are probably also diligent about making sure that your child will receive a solid educational foundation.
Commit to the New School
Once your questions have been answered and your is ready to start at the new school, , take some time to help your child adjust. If you've moved to a new area, this change may be difficult for your child as they make new friends and miss their old friends.
Celebrate the first day, first week, and first month of the school year and ask your child questions about the good things going on at school. As a parent, you will probably hear some grumbling and see some tears because your child misses what was. But this also offer you the opportunity to help them learn how to transition.
Don't forget the old friends and help your child stay connected (if this is valuable), but also, encourage making new friends as well. Be involved in the school and spend time getting to know the staff. Most teachers are happy to have parents involved and this also provides you with an opportunity to see your child's progress.
You may want to read some books about going to a new school and help your child process their fears or anxieties before and after the first day.
Additional resources…
Circling Your Children in Prayer
Simple Ways to Encourage Your Child's Curiosity Through Nature
31 Bible Promises to Pray for Your Children
Learning Through Play – Capturing Teachable Moments with Young Children
Math Activities for Preschoolers – Teaching Math Through Play
Exploring Nature with Children
❣ Sign up to get our weekly email filled with encouragement, ideas, and support for moms raising kids who love Jesus! ❣