Life of Joseph – Printable Bible Escape Room
Explore the life of Joseph and experience this Biblical story of broken trusts, promises, and unwavering faith in this Joseph Bible escape room game.
The adventures of Joseph are combined with 6 intriguing puzzles in this escape room setting to create a family-friendly game – perfect for your youth group, family gathering, Bible class, or more.
This Life of Joseph printable Bible escape room focuses on Genesis chapters 37-50.
---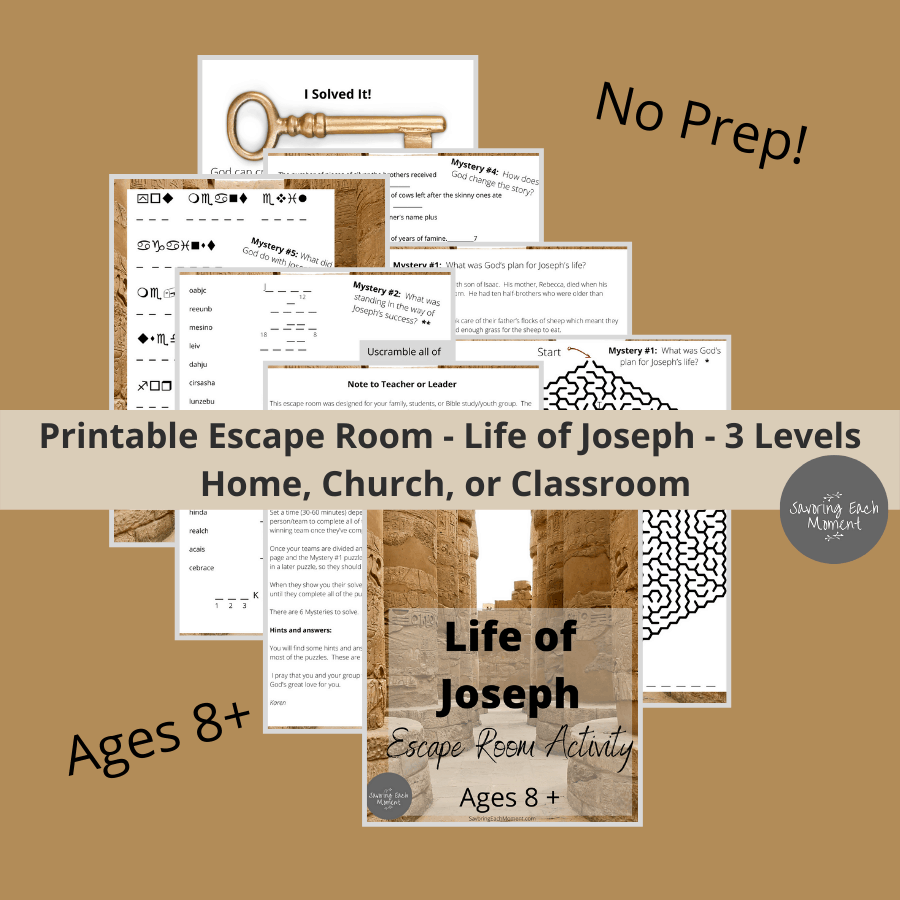 ---
Life of Joseph Escape Room Game Features:
Ideal for students in grades 4 +
Can be played with children and adults of varying ages and abilities
Printable – immediate download
Print and play – no tricky setup or prep
Anytime you can get a great activity that is ready to go in a few minutes, it's a keeper when it comes to planning. This printable Bible escape room game is a print and go activity.
You can add additional challenges like a locked room, or an actual key at the end, but it really can be as simple as making some copies and handing out pencils to each participant!
This Life of Joseph Bible Escape Room Game Includes:
3 levels of puzzle difficulty
Printable Game Documents
Leader directions, hints, and answer key
6 different puzzles to complete
Reflective questions for players
With 3 different levels of difficulty, your mixed age group can all play together at the same time. If you have a small group, you can play as individuals, but if you have a larger group, you can team up in pairs to add to the fun.
The entire game takes approximately 60 minutes to solve the puzzles depending on the skill level of your players. If you need to break it into two different half-hour periods, just collect the puzzles from each team and then return them to each team the next time around.
Additional Resources You Might Like:
Bible Escape Rooms – Exciting Bible Activities for Youth and Adults
Family Worship Ideas with Kids
52 Bible Verses for Kids to Memorize
---
❣ Sign up to get our weekly email filled with encouragement, ideas, and support for moms raising kids who love Jesus! ❣