If you are reading this post, you are most likely looking for some great books about snow or books about winter for a child. You may have already read The Snowy Day and you are looking for some similar titles to read during the winter (or summer) depending on where you live.
Read through this list and then order a few (or all) of these titles or check them out at your public library. The best time to read with a child is today. Snuggle up with a good book and start reading these fun books about snowflakes and winter.

This post contains some affiliate links for your convenience which means I may receive a tiny commission if you purchase through these links. Thank you for extending the support of Savoring Each Moment for Christian Moms! Please see my full disclosure policy. 
Classic Books about Winter
The Snowy Day – This classic story is a picture book about a little child's day in the snow. The magic and wonder of winter's first snowfall is perfectly captured in Ezra Jack Keat's Caldecott Medal-winning picture book. This celebrated classic has been shared by generations of readers and listeners, a must-have for every child's bookshelf and a perfect gift for the holiday season.

Biscuit's Snowy Day – Enjoy Biscuit's escapades in this easy to read book. Your child will love the adventures of this funny puppy and his escapades through the fresh snow.
Biscuit's Snow Day Race – Snow days are snow much fun! Will Biscuit the little yellow puppy get to play in the sledding race? For the first time, everyone's favorite little yellow puppy stars in an I Can Read with a snow theme! Biscuit's Snow Day Race is a My First I Can Read, perfect for shared reading with a child.
The Mitten – This adorable story by Jan Brett will be a favorite with the cute artwork and the fun folk tale story. Join all the animals in the forest as they try to squeeze into a mitten in the woods to stay warm during the cold winter.
Three Snow Bears – Another beautiful book by Jan Brett is this snowy twist on the Goldilocks and the Three Bears. The artwork and storyline will keep you turning the pages.
The Snowy Nap – In this instant winter classic, Jan Brett's Hedgie tries to stay awake so he doesn't miss out on all the snowy fun his friends are having. Another beautiful book with beautiful artwork.
RELATED: Fun Arctic Animals Activities
Books About Snowflakes
Big Book of Snow and Ice – Brrr! This fun book, with gatefolds and pullouts, introduces kids to a snowy, icy world of wonders! What do you know about snow? This beautiful book will open your eyes to its wonders! You'll discover that no two snowflakes are the same; what it's like to be hit by an avalanche; and how artists carve ice sculptures. Ten highly detailed gatefolds and informative descriptions on pullout flaps give readers an inside look at what happens at a ski resort or inside an igloo.
The Secret Life of a Snowflake: An Up-Close Look at the Art and Science of Snowflakes – Before a snowflake melts on your tongue, it makes an epic journey. This is the story of that journey, step by step, from a single snowflake's creation in the clouds, through its fall to earth, to its brief and sparkling appearance on a child's mitten. Told by Kenneth Libbrecht, a scientist who knows snowflakes better than almost anyone, the story features his brilliant photographs of real snowflakes, snowflakes forming (in the author's lab), water evaporating, clouds developing, ice crystals, rain, dew, and frost–all the elements of the world and weather that add up, flake by flake, to the white landscape of winter. Aimed at readers from 6 to 12, this spectacular full-color e-book gets to the heart of one of nature's most magical phenomena while making the wonder of the snowflake all the more real.
Curious About Snow (Smithsonian) – When does it snow? Why is snow white? How do we know no two snowflakes are alike? (Hint: the proof is in the photographs, first made in the 1890s!) With full-color photographs and the Smithsonian's famous Wilson Bentley snowflake photos, this new Curious About title looks at the science behind snow, and the history of record-setting blizzards and snowstorms—plus how people have fun in the snow!
Capturing Snowflakes: Winter's Frozen Artistry – The snow may seem unvaried to the naked eye, but the microscope reveals an amazing menagerie of beautiful crystalline forms. Building on the pioneering work of Wilson Bentley (1865-1931), Libbrecht has developed techniques for capturing images of snow crystals in unprecedented detail.
RELATED: Easy Reading Activities for Preschool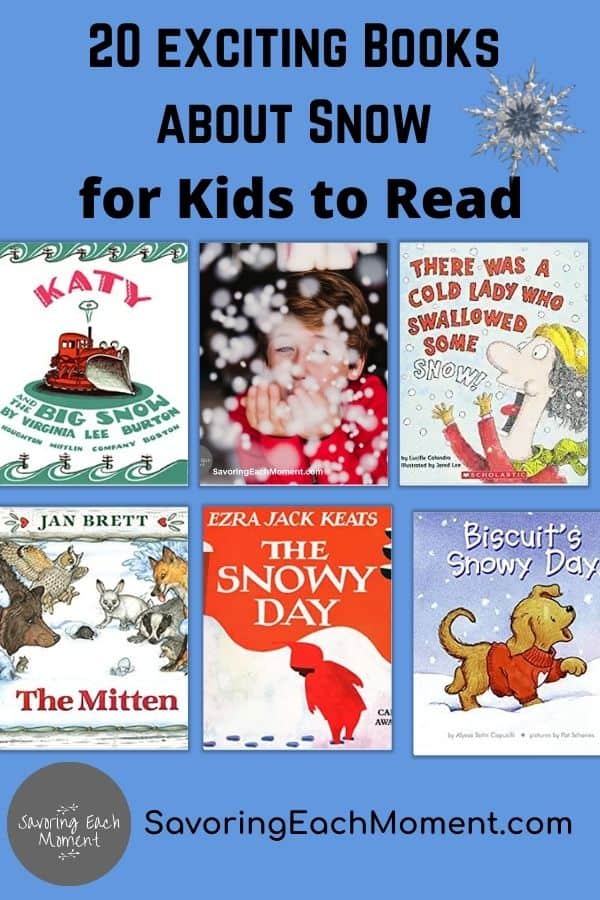 More Books About Snow and Winter
When your child is learning and enjoying books, it is a great time to bring in books that are interesting, educational, and funny. Children will often spend hours looking through the pages of books, so when you are looking for books around a theme, such as books about winter, it is important to have a variety of books to peak your child's interest and learning.
Here are a few more fun books about winter that your child (and you) are sure to enjoy!
Order some books about winter today and then plan your reading time with your child. If you're reading these books about winter when it's cold outside, create a cozy place to read together and bring in some pretend or act out a story or two in the house or out in your own snowy backyard.
If you're reading books about winter when it's hot outside as a way to cool off, find a way to create some wintry ambiance to your reading time. Make cookies in the shape of snowflakes or get some pipe cleaners and beads and create snowflakes with those.
When you make reading fun for your child, your child will learn to love reading! I hope you enjoy these books about winter! Happy reading.
RELATED: 12 of the Best Christmas Books to Read Aloud
RELATED: Best Books to Read Aloud on a Road Trip
❣ Sign up to get our weekly email filled with encouragement, ideas, and support for moms raising kids who love Jesus! ❣