I'm not sure I really buy into the whole Hallmark "when you care enough to send the very best" idea of Valentine's day. Greeting cards keep getting more and more expensive and it's always difficult to find a card that has the right message on it. It seems that some of these Valentine's Day traditions are simply advertised as a marketing ploy from card makers and chocolate sellers!
Traditionally, this one day of the year is a showy indication of how much love there is in the world. But what happens after the chocolate melts and the flowers fade? How do you create Valentine's Day traditions that will have a longer-lasting impact on your family?

This post contains some affiliate links for your convenience which means I may receive a tiny commission if you purchase through these links. Thank you for extending the support of Savoring Each Moment for Christian Moms! Please see my full disclosure policy. 
Valentine's Day Traditions in History
Valentine's Day is celebrated on February 14. Special messages of love, or valentines, first showed up in the 1500s. A couple hundred years later, commercially printed cards were being passed between people.
The first commercially printed valentines began in the US in the middle of the 19th century. Often valentines have pictures of Cupid, the Roman god of love. They also frequently have hearts and a sentiment of love or devotion. Birds have also been a symbol of Valentine's Day as it was thought that February was time when birds were mating. Traditional gifts often include flowers or red roses specifically, and candy or chocolate.
According to Gourmet Gift Baskets and their collection of random facts about Valentine's Day, 224 million red roses are grown for Valentine's Day, people will spend $1.6 billion on candy, $1.9 billion on flowers and $4.4 billion diamonds, gold and silver. Approximately 36 million heart-shaped boxes of candy are purchased each year and teachers receive the most valentines.
So, do you fall into the above random facts about the spending on Valentine's Day?
RELATED: 8 Valentine's Day Traditions That Should Never Have Gone Out of Style
RELATED: Lunch Box Notes for Kids (You can use these anytime and not just in a lunch!)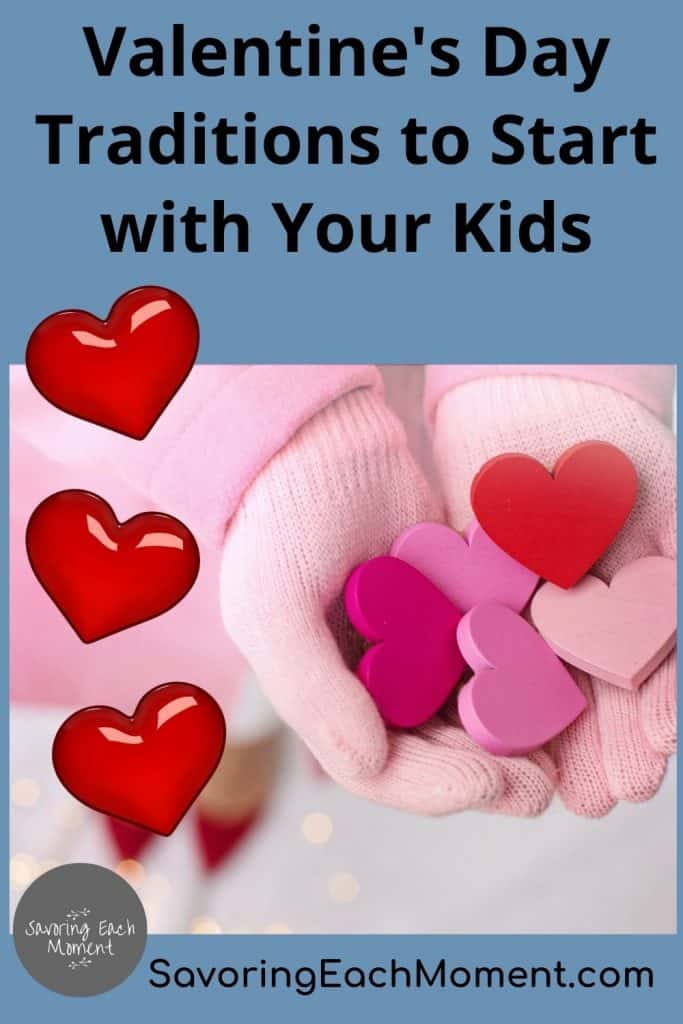 Creating New Valentine's Day Traditions with Your Family
A few years ago I started a new tradition with my family. It was free and said all the right things. It also lasted 14 days! We didn't gain weight or end up with cavities from the chocolates and the flowers didn't lose their petals and die. Now, I'm certainly not saying that I don't like chocolate or flowers! I love those gifts anytime, but I wanted to find a new and creative way to tell my family that I loved them.
On February 1, I wrote a sticky note message to each of my daughters and my husband. Each note started with "I love that you…" I wanted to make sure that the notes were character traits and specific things that I love about each of my family members. Every day, I added a new sticky note to the mirrors in the bedrooms and bathrooms. On the 14th, Valentine's Day, the final sticky note completed the heart-shaped sticky love notes to my girls and husband.
As my girls have now moved away to go to college, I no longer have access to their mirrors to place my sticky love notes every day, but every day for 14 days I send them love notes in a text message. I don't always receive a text back, but I know they read the messages and I hope they feel the immense love I have for them! I happen to know that my girls have kept their sticky notes from years past. My husband's notes have lost some color but they are still framing his side of the mirror in the bathroom.
What Valentine's Day traditions do you participate in to celebrate your love for your family and make it more than one day of candy and specialness? Don't wait until February 14 to say I love you. Start any day of the year.
The gift is to the giver—it comes back most to him…it cannot fail. Walt Whitman
RELATED: Christian Valentine's Day Printables
Additional Ideas for Valentine's Day Traditions with Kids
Anytime you can make a certain time of year special for you family is a good time to celebrate. As your children grow up, they will hold onto those fun and happy memories of the special times you spent together. The older your children get, the more memories they have to reminisce about. Traditions also bring a sense of security and routine, a feeling that all is well because life is predictable.
So, whether or not you buy some of those red roses, heart-shaped candy boxes, or expensive Hallmark cards, you can easily build family traditions around Valentine's Day. If you need some more ideas for how to make your Valentine's Day traditions special and memorable, here are a few additional links with ideas.
Remember that when you celebrate Valentine's Day traditions in your family, this is also a great time to think beyond your immediate family. Think about the lonely elderly neighbor or someone from your church who may be lonely and enjoy some cheering up. Any day of the year can be a celebration of love!
RELATED: Using Encouraging Words to Support Your Kids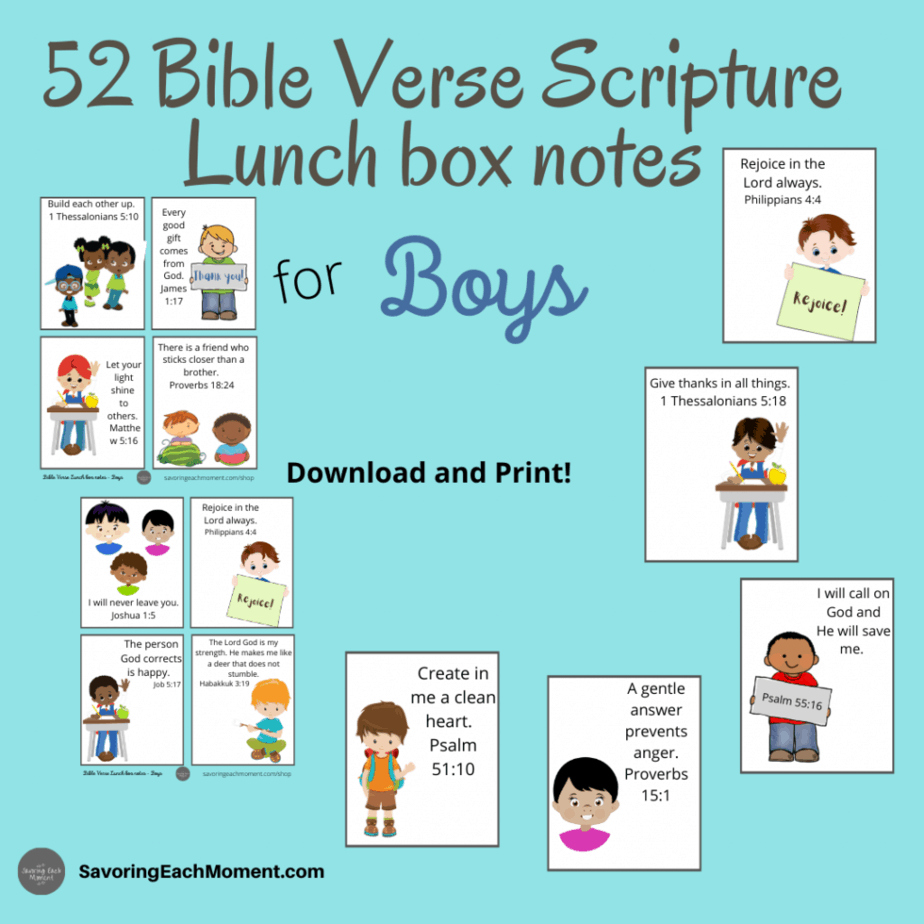 52 Bible Verse Lunch Box Notes – for Boys
Use these scripture cards to help your child learn and memorize scripture. Learn one a week. Tuck them in your child's lunch to remind them that God loves them.
52 Bible Verse Lunch Box Notes for Girls
Use these scripture cards to help your child learn and memorize scripture. Learn one a week. Tuck them in your child's lunch to remind them that God loves them.
You may also like these posts…
---
❣ Sign up to get our weekly email filled with encouragement, ideas, and support for moms raising kids who love Jesus! ❣