How would your vacation be different…
If you had hours of activities and games that you could pull out that don't take up much space?
If your kids were playing games together instead of looking at a screen?
If you were building fun family memories during the hours in the car?
If your kids loved being in the car so much that they love going on road trips?
What if you had the SECRET to happy road trips?
If you've even been in the car for a long time with a child, you know how exhausting it can be. You probably know exactly where the middle line of the back seat is and whose batteries just died without even looking over your shoulder.
Introducing…
---
This road trip game bundle is perfect for you if you….
want to have an organized way to plan and prepare for your vacation
want to enjoy your travel time with your kids
are tired of hearing "are we there yet?"
are ready to make some amazing memories and have fun in the car
don't know what to do to keep the kids busy in the car
don't want to watch 27 Disney movies while you travel
you want to go on a road trip with your kids but it seems overwhelming
---
This awesome bundle is the result of our all-time favorite ways to pass the time in the car. With this arsenal of fun games and activities, your kids will look forward to road trips and fondly reminisce about all the great times they had on your road trips together!
What others are saying about this bundle…
---
"Thanks so much for the amazing bunch of fun activities! Can't wait to try them all out!" ~ M.Z. – mom of two.
"The girls are loving it! They just started playing no questions." ~ Les – family traveler
What's included in this amazing bundle of games:
Over 60 pages of printable fun!
Go Camp Card Game (3 ways to play)
The Fun Never Ends Road Trip Activity Cards
License Plate Tracker
Road Trip Bingo
Word Searches
Mazes
Vacation Diary
Vacation Daily Reflection Journal
BONUS! Vacation Planning Printables – 20 pages to help you plan your next vacation with ease.
Family Bucket List Planner
Itinerary planner
Reservation tracker
Rewards accounts tracker
Packing list
Master Camping List
Emergency Car Kit Packing List
Vacation Menu Planner
Grocery List
Vacation Expense Tracker
Vacation Daily Reflection Journal
---
---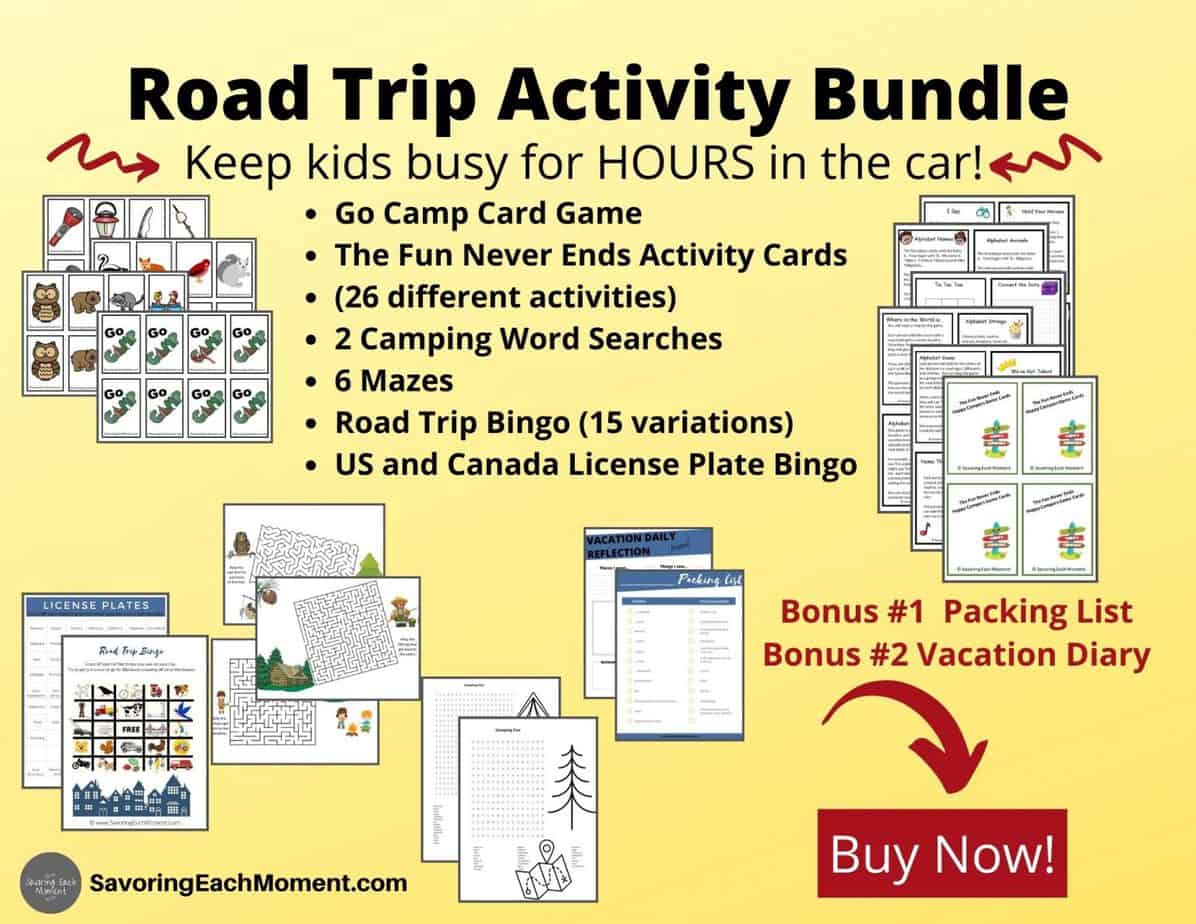 ---
❣ Sign up to get our weekly email filled with encouragement, ideas, and support for moms raising kids who love Jesus! ❣