Random acts of kindness for school can be a really fun way to make a positive difference every single day. If you enjoy making people smile and seeing them have a happier day, then this can be a fun mission for you at school. Kids who are looking out for others, being kind, helpful, and thoughtful, usually end up being the kids that everyone else wants to be friends with.
When you are thinking about ways to be kind to others at school, you may want to do this in a sneaky or secret way without anyone knowing that you are the one doing the kind deeds. If this is what you'd like to do, it would probably be a good idea to talk to your teacher or principal first, so they know what you are planning.

This post contains some affiliate links for your convenience which means I may receive a tiny commission if you purchase through these links. Thank you for extending the support of Savoring Each Moment for Christian Moms! Please see my full disclosure policy. 
Random acts of kindness at school don't have to be a secret though. If you really want to make an impact, let your example be seen by others, not to have them think you are better than anyone else, but by your example, you can encourage them to look for ways to be kind as well.
Let your light so shine before men, that they may see your good works, and glorify your Father which is in heaven (Matt. 5:16)
The Bible says to let your lights shine so you can be an example to others. Then, when they see you being kind, it will help them to understand that God is kind as well.
RELATED: Kindness Cards to Share
Related: 100 Acts of Kindness for Kids
15 Random Acts of Kindness for School
Read through the list and think about what you can do today or tomorrow. Simply reading these ideas will help you come up with more ideas of ways you can show kindness to others.
Remember, random acts of kindness for school are things you do just to be kind. They aren't things you do to try to get something in return.
Leave a thank you note on your teacher's desk.
Take a treat to your teachers just to let them know you appreciate them.
Hold the door open for someone.
Smile at someone who looks sad.
Sit with someone who is sitting alone.
Talk to the new student and invite them to join you at recess.
Do an extra job for your teacher like picking up trash, straightening the books on the shelves, or putting supplies away. Make sure you have permission.
Say thank you to the cafeteria workers.
Leave a note of appreciation for the janitor.
Tell the principal you appreciate what they do to keep you safe.
Let the person behind you go ahead of you in the lunch line.
Clean up a mess you didn't make.
Help a classmate study for a test.
Encourage someone at recess with a kind word.
Pray for a classmate or teacher who is having a hard time.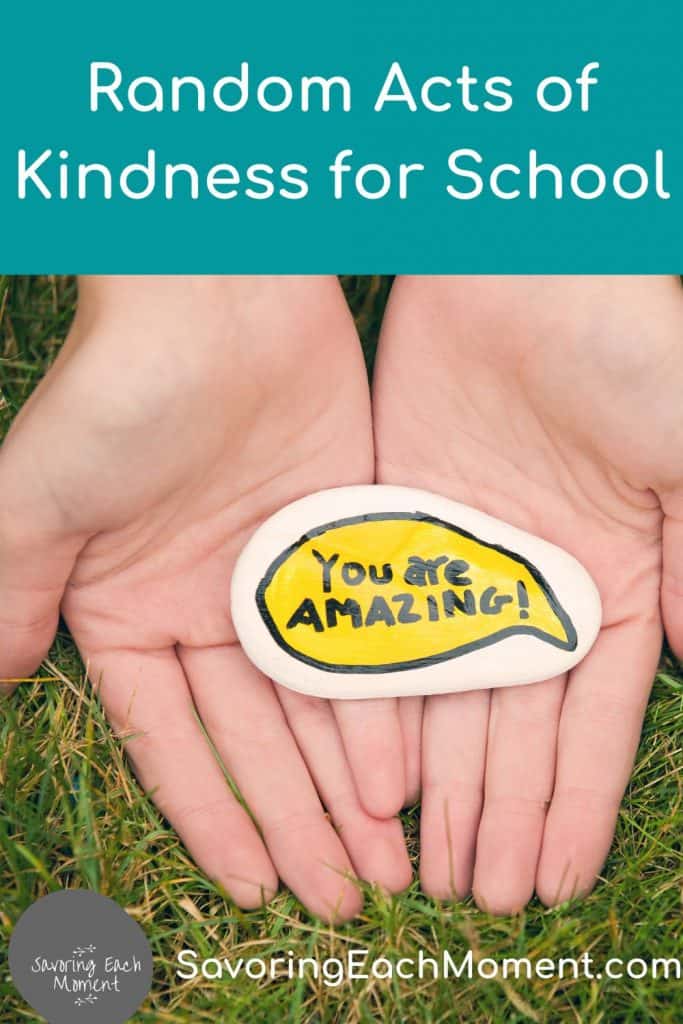 Possible Results of Random Acts of Kindness for School
Once you've figured out ways to do random acts of kindness at school, tell a friend about it and invite them to join you in the fun of showing kindness to others. You just might start a kindness focus where everyone is looking for ways to be kind to others. Now that would be an awesome place to go to school!
If you want some more ideas of ways that you can show kindness outside of school, here are 25 Random Acts of Kindness for Kids During the Holidays, and some more ideas here in 27 Simple Christmas Acts of Kindness for Families. You will also find a great list of Easy Community Service Projects for Kids and then another list of ideas here: Community Service for Kids – Easy Ideas to Start Today.
You may also like these Biblical parenting links…
---
❣ Sign up to get our weekly email filled with encouragement, ideas, and support for moms raising kids who love Jesus! ❣