Bible coloring pages for kids are an easy way to introduce and engage your child with Bible stories. There is a wealth of information and links online but that would send you chasing after many rabbit trails to try to find Bible coloring pages for kids. We have compiled a huge list of sites that have free and paid Bible story coloring pages to help you find what you are looking for.
This post contains some affiliate links for your convenience which means I may receive a tiny commission if you purchase through these links. Thank you for extending the support of Savoring Each Moment for Christian Moms! Please see my full disclosure policy. 
Bible Coloring Pages for Kids
Using Bible coloring pages for kids can expand your child's learning with eye-hand coordination, learning more about the Bible story, and also learning skills like coloring in the lines. Bible coloring pages for kids can be used in your classroom, during morning work, in your quiet bag for church, family worship time, homeschool, and so much more.
If you have busy kids, you know it can take time to stay ahead of them with activities and coloring pages. Sure, you can buy some cheap coloring books at your local discount store, but you want something a bit better quality for your child and perhaps you're looking for some specific Christian coloring pages for your kids.
Free Printable Bible Coloring Pages for Kids
Many of these free printable Bible coloring pages for kids are samples or smaller sets of a larger, paid product. Some may ask for your email address to send the free coloring pages to you, and some may be immediate downloads. Since there are lots of links to Christian coloring pages for kids in this post, you may want to Pin it for later or email yourself the link so you can find this list again.
Bible coloring pages for kids can provide an opportunity for quiet time while your child is working independently, or you can color together. Children learn from the adults around them and when they see an adult coloring with them, they will pick up on staying within the lines of the picture, which colors to use for different parts of the picture, shading, and any number of other techniques. Providing Christian coloring pages for kids is one more way to immerse your child in Bible truths.
Here's a ton of kid's printable Bible coloring pages to print! Because they are digital files, you can print them right away!
Christian coloring pages for kids can also be used as a calming technique to help children slow down as they are getting ready to go to bed. Children can color quietly while you read aloud to them or during family worship time. You can also take a bunch of printable Bible coloring pages or Bible coloring books for kids along with you in the car, to church, to meetings or appointments to provide your child with something quiet to do while they wait or listen.
There are so many ways to use Bible coloring pages for kids and the sky is the limit for how you can incorporate them into your homeschool, morning devotional time, or any number of other occasions.
RELATED: Awesome Prayer Journals for Kids
RELATED: Bible Escape Room Games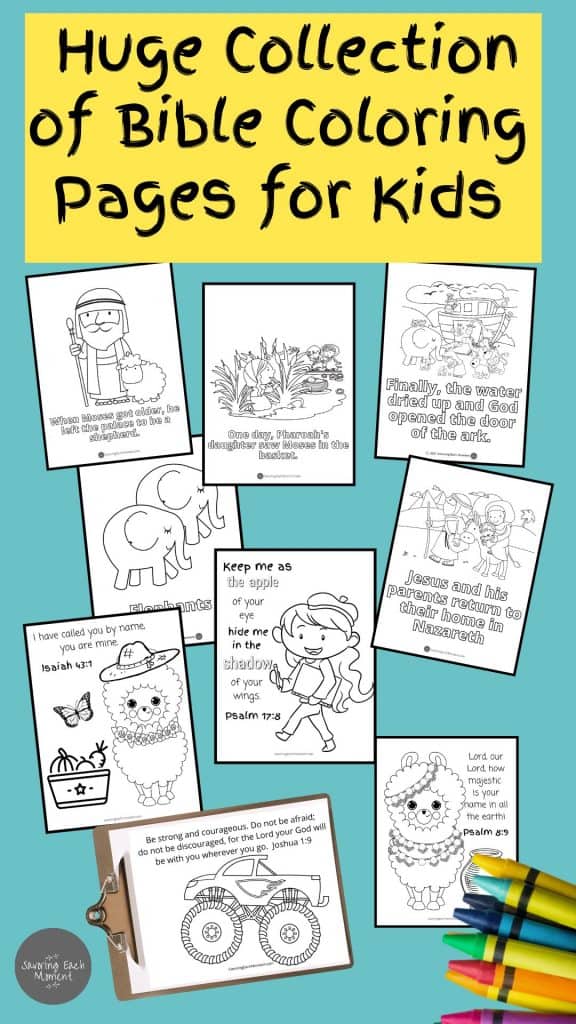 Premium Bible Coloring Pages for Kids
The following premium or paid Bible coloring pages for kids will provide hours of additional fun and engagement for your child (and you) as you color the Bible stories, Bible verses, and encouraging pictures to help your child know they are loved by God.
If you get a specific Bible story coloring book or set of coloring pages, this can help your child dive into the Bible story as they color the characters and read the story that goes with it. If your child is interested in a particular Bible character or you are studying a specific person in the Bible, getting a coloring book or coloring pages to complement that learning will help your child connect the story with real people and settings.
I hope this list of Bible coloring pages for kids will provide lots of fun for your kids. Take advantage of every moment your child wants to do something with you and color with them or talk to them about what they are doing. Maybe you can find your own coloring book and you can color together while you talk about life. These days may seem long, but the years fly by!
You may also like these Biblical parenting links…
---
❣ Sign up to get our weekly email filled with encouragement, ideas, and support for moms raising kids who love Jesus! ❣