You may be a cat lover, cat mom, or totally glad you don't have a cat. If you fit in any of these categories, there are specific lessons from cats that just might help you be a better mom no matter your loyalty or affinity to the feline family. These life lessons I learned from my cat will hopefully help you take a few minutes to smile and slow down.
From my earliest childhood days, we had a cat in our family.  I remember squatting down next to the cat while he lapped water from his dish and trying to figure out how in the world he could drink water with his tongue!  I love to watch cats and try to figure out what they are thinking and why they act the way they do.  I'm not claiming that all I need to know I learned from my cat, but there are definitely lessons from cats that apply to a mom's life.

This post contains some affiliate links for your convenience which means I may receive a small commission if you purchase through these links. Thank you for extending the support of Savoring Each Moment for Christian Moms! Please see my full disclosure policy. 
10 Simple Things I Learned from My Cat
If you've ever compared your life as a mom with that of a cat, you may not have seen many similarities. Cats tend to be pictured as taking endless cat naps in the sun and not earning their keep while moms seem to never be done with everything they need to do, short on sleep, and running ragged a fair bit of the time.
First Lesson From Cats – Look Your Best
Oh, it's so easy to stay in your jammies in the morning and maybe even into the afternoon, but preparing for the day, getting dressed, doing your hair and makeup will help you feel better and be more successful at getting things done throughout the day.
If you've been struggling with getting things done at home during the day, getting dressed to shoes is one of the most important things you can do in your day to help you be productive, have a clean house, and get things done. Take the time to look your best. Your family loves to see you looking your best and you can be successful when you start the day on the right foot.
Second Lesson from Cats – Play Every Day
Find something that captures your attention and interest and spend time refreshing your mind with creativity.  Play with your kids.  Take them to the park, play a game, laugh, and read a funny story. 
Laughter is good for the soul and playing, whether physically or mentally, is an excellent way to recharge your brain and help you have a positive outlook on life. Take time to do something that is relaxing or rejuvenating for you as well. When your mind and soul are well content and happy, you will be able to enjoy the moments in life that you might otherwise miss when you are not rested and content.
Third Lesson form Cats – Enjoy Nature
Take time every day to enjoy nature.  Watch the birds, rabbits, squirrels, or anything else that moves outside the window.  My cats are indoor cats who feel like they are very powerful and fierce.  They spend hours watching the birds at the bird feeder and occasionally even chatter at the deer and rabbits in the backyard. 
Spending time enjoying nature every day helps to reset your brain from the electronic world we live in and helps you feel more rested and relaxed.  Hang up a bird feeder by your window, and plant a flower box or patio pot with flowers or veggies.  Get outside and enjoy the fresh air and sunshine.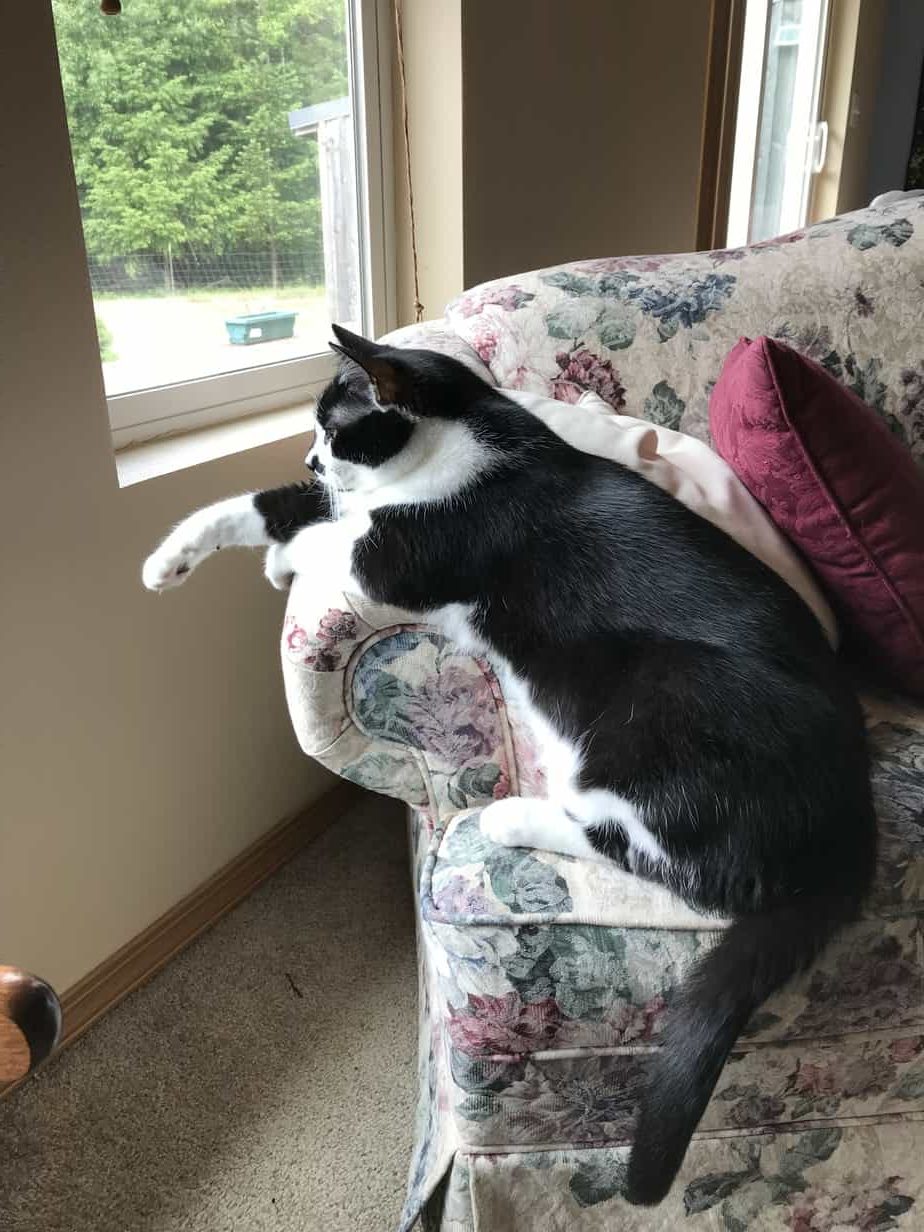 Whether you spend time inside looking out your window, or outside in the sunshine, find ways to pause and enjoy the creation around you. As you spend time with your family outside, you will have the opportunity to explore and expand your knowledge and curiosity. As you slow down and enjoy the fresh air with a walk, gardening, or playing tennis, your body and mind will be relaxed and this, in turn, will help you sleep better and feel better.
Fourth Lesson from Cats – Love Your People
Take every opportunity to show your love to those around you.  Sit close to them, hold hands, hug, and just spend time being near your family.  Life can get so busy that if you aren't intentional, you may find that opportunities to touch and love your family can slip by without you realizing it.  Your children grow up very quickly and your spouse may be busy, so be intentional about loving your people every day!
Make sure you intentionally plan time every single day to love your people. Learn the ways your kids or spouse respond to love by learning their love language. This may be spending time, physical touch, giving and receiving gifts, or something else. Take time to study your people so you will know how to show your love to them every day.
RELATED: Simple Self Care Strategies for Busy Moms
Fifth Lesson from Cats – Talk To Your People
Put your phone down, close Facebook and Instagram, turn off the TV, and talk to your people.  Instead of texting, make a phone call or stop by and visit your friends and family and take time each day to talk to the ones who are important to you. 
Face-to-face conversation with your spouse and children is critical for building strong relationships.  Take time to look into their eyes and really listen to what they are saying.  Take time to hear their heart and see their emotions.
Just like a chatty cat, one lesson I've learned from my cat is that the more you have a conversation, the more you will learn about the other person and what they are thinking. While this is a lesson I've learned from my cat, I still don't always know what she's saying!
RELATED: 32 Fun Conversations Starters for Families
Sixth Lesson from Cats – Stand Up To The Things That Scare You
As a mom, there will undoubtedly be times when you will be scared. Scared about being a mom, afraid about something for your child, fearful that you won't measure up or be good enough.
But just like this lesson from the cat, fluff out your tail and arch your back. You can do this! As a mom, there are going to be lots of things in life that are scary. You have a choice to run and hide or stand up and face your fears.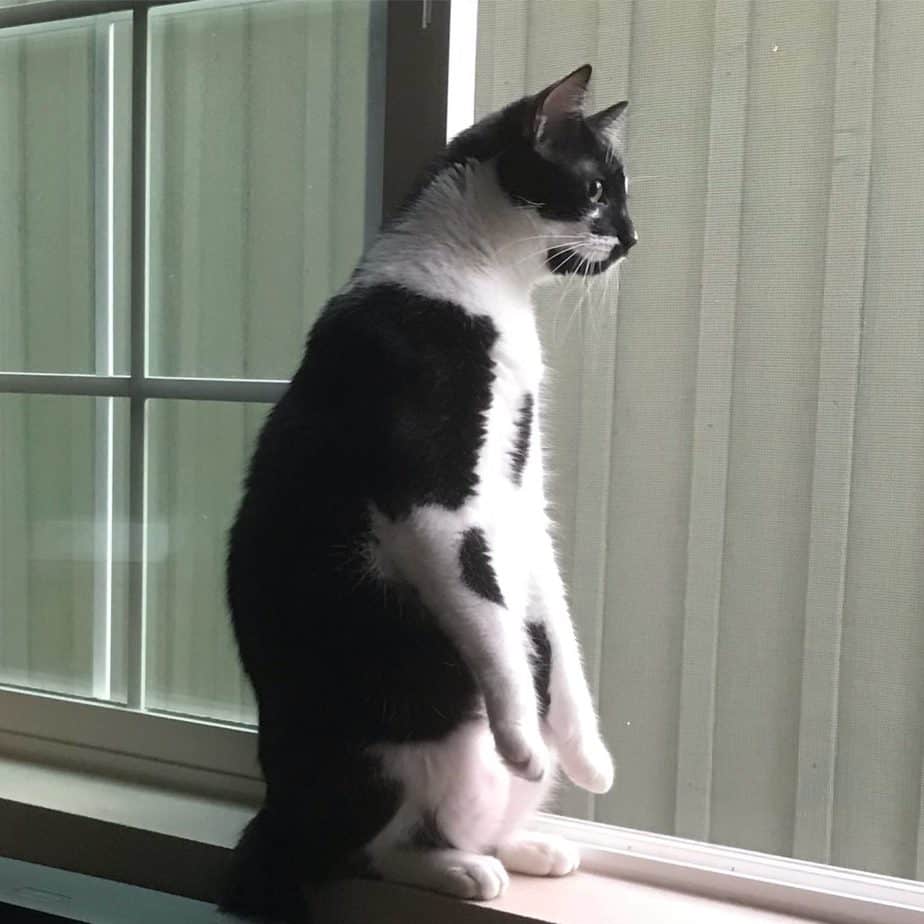 The more you face your fears and move forward, the easier it gets to be strong.  Surround yourself with people who support you and will help you to be strong.
RELATED: Be Strong and Courageous!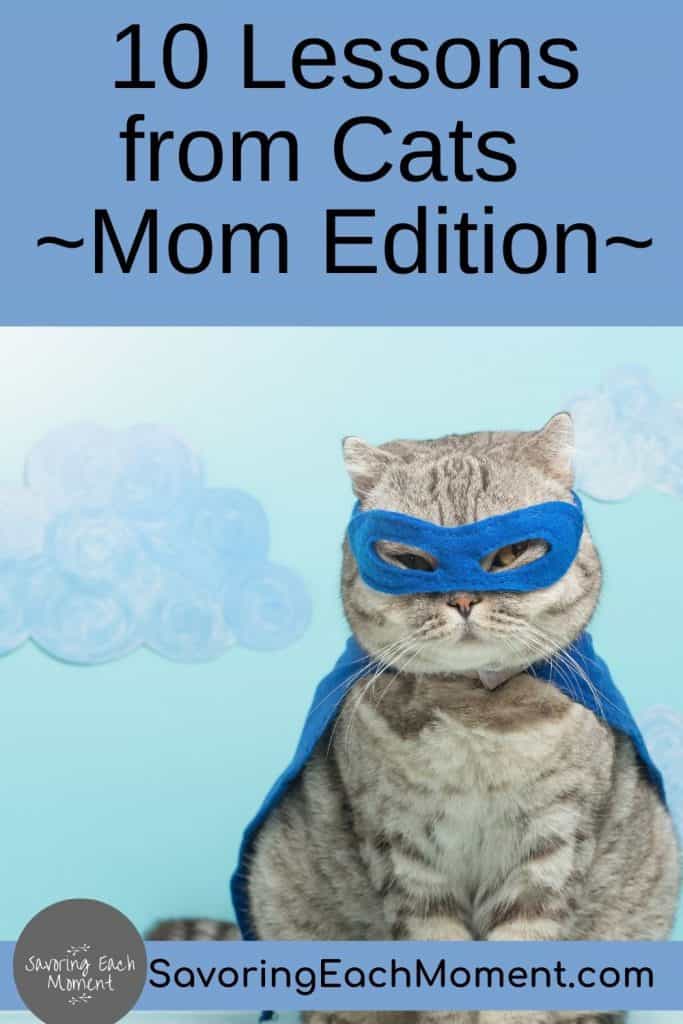 Seventh Lesson to Learn From the Cat – Take a Nap
Rest when you're tired – especially in the sunshine. A mother's job never ends and some days you just really need a nap! Take care of yourself and get the rest that you need so you can give your best to your family.
Some days my cat finds a quiet corner in the closet or under the bed and other days he sleeps on the kitchen chair in the midst of the hubbub. Either way, do what you need to so you can take care of yourself. If momma's not happy – nobody's happy and that's not a fun place to be in.
Make sure you are going to bed at night and getting enough rest at night as well so you can set a happy tone in your home.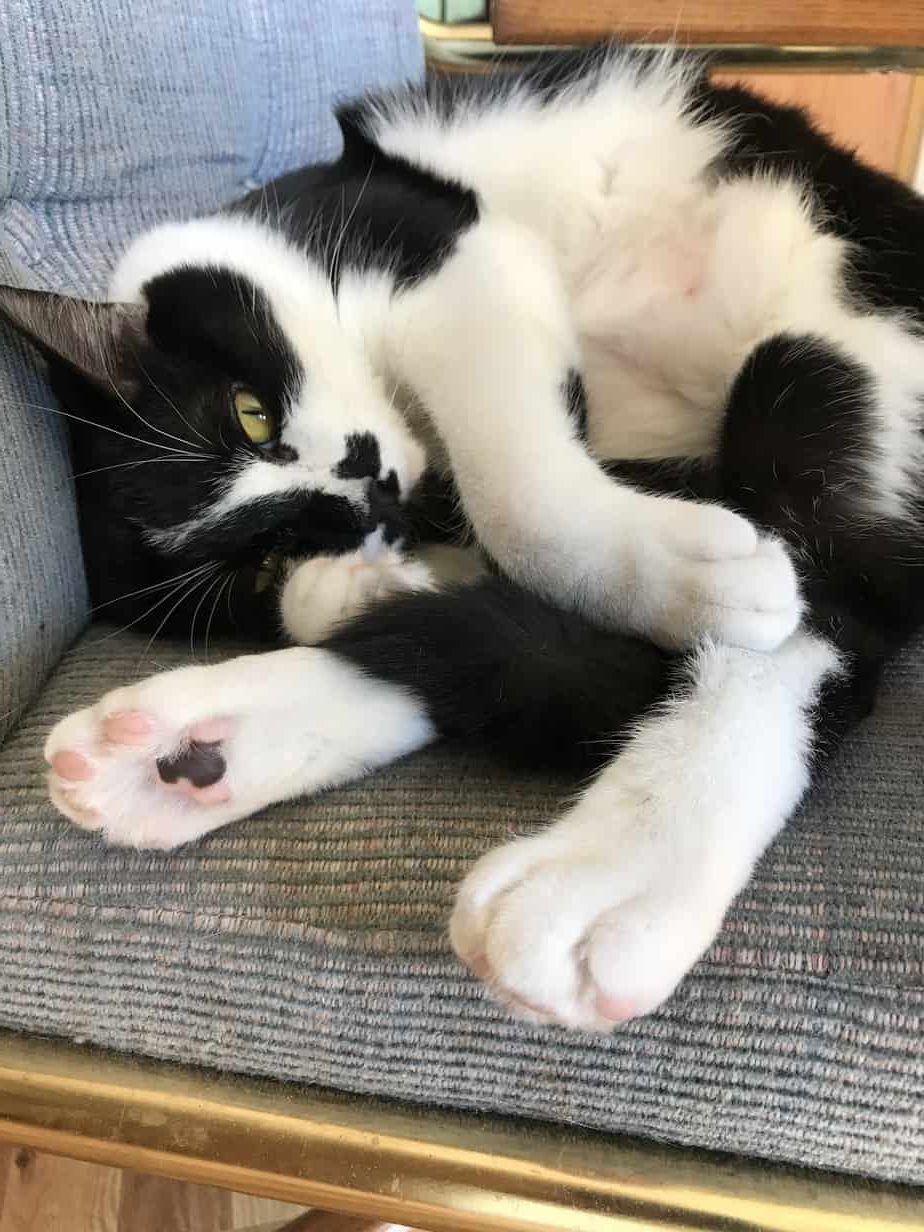 Eight Lesson from Cats – Eat When You're Hungry
Eat when you're hungry and stop when you're full.  Life is always going to be busy so take time to plan out your menu and grocery shopping so that you will have the nutritional foods that will help you have optimal health. 
If you don't plan ahead, you may find yourself with a crew of starving people and end up eating something that isn't as healthy just because it's quick to run through the fast-food drive-through, pull some package out of the cupboard, or freezer. After you eat, relax and enjoy some time together.
Ninth Lesson from Cats for Moms ~ Find a Good Box
I'm not suggesting that you actually get in a box or stay in your box, but do what you can to make your home and your space comfortable and inviting. The funny thing about cats is that as soon as you put a box on the floor, they are determined to get into it. This is one of the lessons from cats that I've seen in every single cat I've known!
Create that type of space in your home – a place where your kids and your husband love to be. Make it a place that is more fun and more comfortable than anywhere else. And yes, sometimes it's fun to play in a box as well!
Tenth Lesson from Cats ~ Purr and Express Your Happiness and Joy
Obviously, we don't purr like a cat, but when a cat purrs, they often gently close their eyes and give a hint of a smile. This is a sign of contentment. In life, you don't always get to choose what happens to you but you can choose how you will respond. Choosing to be happy and contented with life, looking for the things to be intentionally thankful for will help you have a happier life.
Rather than being stuck in situations, you will be able to shift your thinking to look for the good. Shifting your thinking and taking time to be grateful can totally change your attitude about your situation and help you to see the good things in life rather than the challenges.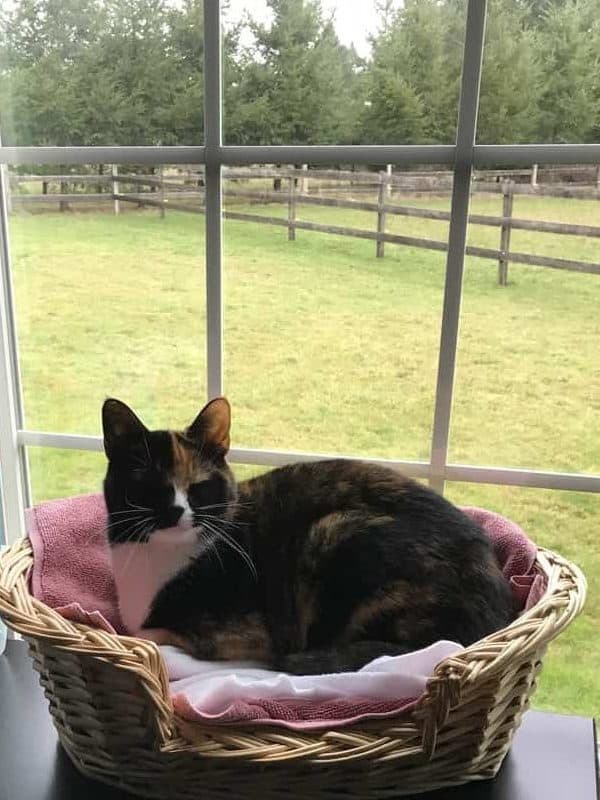 RELATED: Self-Care: A Practical Guide for Busy Christian Moms
There are so many things we can learn from our pets that can help us to live happier, more productive, and contented lives.  Maybe all you need to know isn't from your cat, but there are life lessons from cats that can help put your life in perspective and enjoy each day. The lessons from cats can apply to your life today. I hope you enjoyed the things I learned from my cat. I'd love to hear about your cat. What have you learned from your cat?
You may also like these Biblical parenting links…
---
❣ Sign up to get our weekly email filled with encouragement, ideas, and support for moms raising kids who love Jesus! ❣
You may also like these Biblical parenting links…
---
❣ Sign up to get our weekly email filled with encouragement, ideas, and support for moms raising kids who love Jesus! ❣