Prayer can be a bit hard to understand for young children.  When you talk to a person, you can see them, hear them, and often touch them as well.  But when we pray to God, we can't very easily do any of those things. Using some creative prayer activities for kids, you can help your child learn to pray, enjoy talking to God, and build a life-long habit of prayer.
These prayer activities for kids can be simple or complex, depending on how you want to use them and expand on them. For young children, simple is better so they don't get tired or bored. As children grow, their capacity for understanding prayer and expanding on their prayers also grows.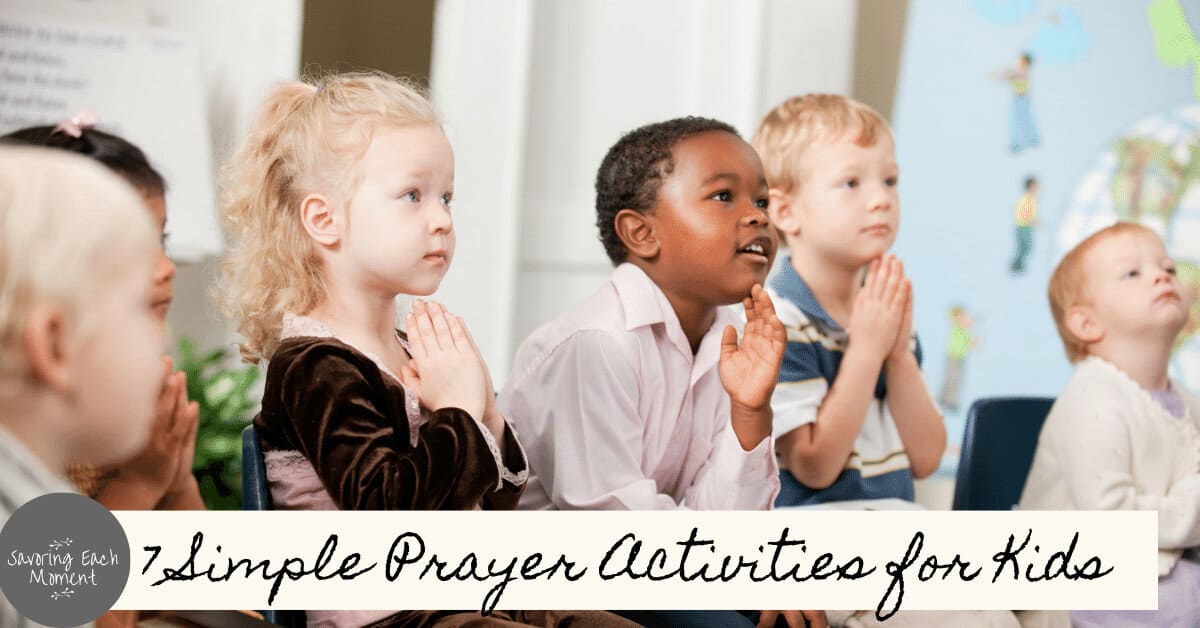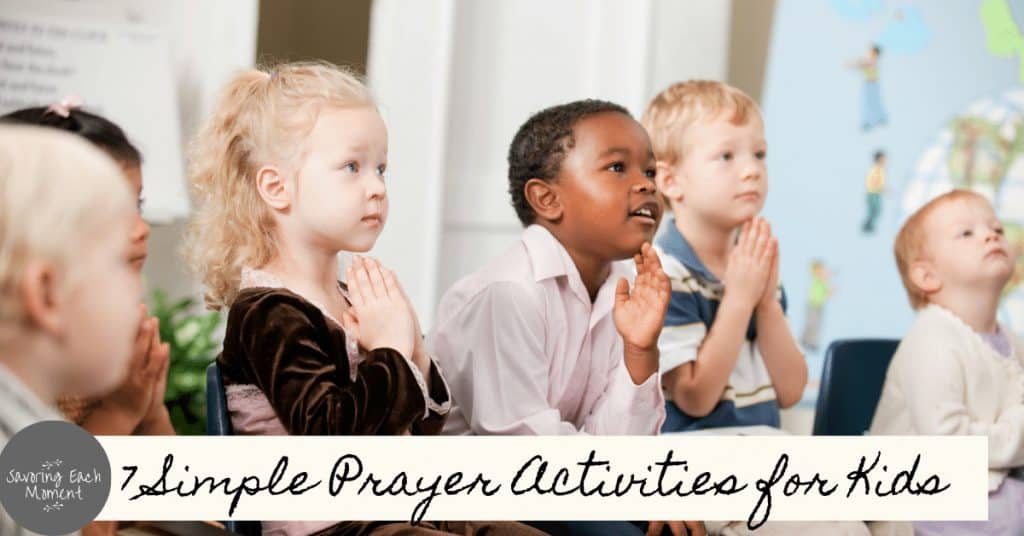 This post contains some affiliate links for your convenience which means I may receive a small commission if you purchase through these links. Thank you for extending the support of Savoring Each Moment for Christian Moms! Please see my full disclosure policy. 
Prayer Activities for Kids
If you're looking for prayer activities for kids, these ideas can help you find some new ways to encourage your child to engage with prayer. Creative prayer activities can help your child enjoy the process of praying, understand it a bit more, and help them to make it a life-long habit.
Be sure to save this post or pin it so you can find it again.
Memorized Prayers
A simple prayer activity for kids is to memorize a prayer such as The Lord's Prayer. Use pictures to symbolize the different sections or verses of the prayer so they can connect the visual with the words.
Explain the different parts of the prayer and the meaning of each part so your child will understand. If you are working on the Lord's Prayer, read the story in a children's Bible to help your child understand the context of the prayer. Rather than being a rote prayer you say in a group, this was a special prayer that Jesus gave to his disciples when He taught them how to pray.
As a child, my family had a memorized prayer in my dad's native language. We said this together and my dad would often remind us of the meaning since we didn't speak the language as children. This became a tradition that our family has carried on for many years.
Praying together can bring tradition and prayer together all at the same time.
Related: The Lord's Prayer Wheel – Prayer Activity for Kids
Prayer Journal
Creating a prayer journal can be a great prayer activity for kids. While your children are very young, you might want to do this as a family and write down your praises and requests together. But as your children get a bit older and begin writing on their own, having their own prayer journal can really encourage them to enjoy praying and sharing their thanksgivings and needs with God.
Children love to replicate what they see adults doing. If you have a prayer journal, let your kids see you using it and talk to them about it. Do your prayer journaling time together and make it a family activity that you are all working on writing in your prayer journals each day together.
Get some special markers or pens that are only used for your prayer journaling time and encourage your child to be creative in their prayer journal.
Related: Walking with Jesus – Prayer Journal for Kids
5 Finger Prayer
If you've never heard of the 5 Finger Prayer, you may want to read a little history about it as well as snag a printable worksheet for teaching and using the 5 finger prayer with your children. Each finger represents a different group of people or needs to pray about and helps your child visualize praying through these needs and people.
This creative prayer activity can visually encourage your child to pray for others and remember the needs that other people have before praying for their own needs.
Get the 5 finger prayer printable here.
Prayer Walk
Another fun prayer activity for kids is going on a prayer walk. A prayer walk can include lots of different things but often it will entail walking around a neighborhood, a school, or your church and praying for the different people or activities that are going on in those locations.
You could also go on a nature walk or hike and praise God for the blessings you see around you. For example, you are walking along a trail and see a squirrel. "Thank you God for creating such a fun animal for us to enjoy." As you walk along, each person can think of something they are grateful for and just say their thanks out loud.
Related: Prayer envelopes for kids
Prayer Coloring Sheets or Prayer Coloring Pages
Another fun prayer activity for kids is to find some prayer coloring sheets or prayer coloring pages.  Most children enjoy coloring and love having something new to color.  You can add prayer coloring pages to your quiet activities for your kids during church, activities in the car,  during your morning devotional time when your kids wake up earlier than expected, or during family worship time.
Related: Pumpkin Prayer Activity and Printable
Related: 52 Scripture Coloring Pages
Prayer Rocks
There are numerous stories in the Bible where people used rocks as remembrances of God's provision and protection. Rocks can be a tangible reminder for children to remember to pray or remember a blessing.
Most children (and adults) enjoy creative ways of expression. Find some rocks with smooth surfaces and then let your imagination run. Paint the rocks, use different colored permanent markers to write Bible promises about prayer, or your blessings. You and your children can draw pictures on the rocks and then paint them with a clear sealer. Use them as a gift of encouragement for someone else, or place them on your pillow in the morning when you make your bed so you remember to pray at night before you go to bed.
Another neat prayer activity for kids with prayer rocks is to find a prayer partner. Make two rocks "I'll pray for you" and keep one and give one away. When you see the rock, it will remind you to pray for your prayer partner and they will be reminded to pray for your child when they see their rock as well.
Another way to use prayer rocks is to write your fears or people you are praying for on rocks and then place them in a basket. Pray over the needs in the basket often.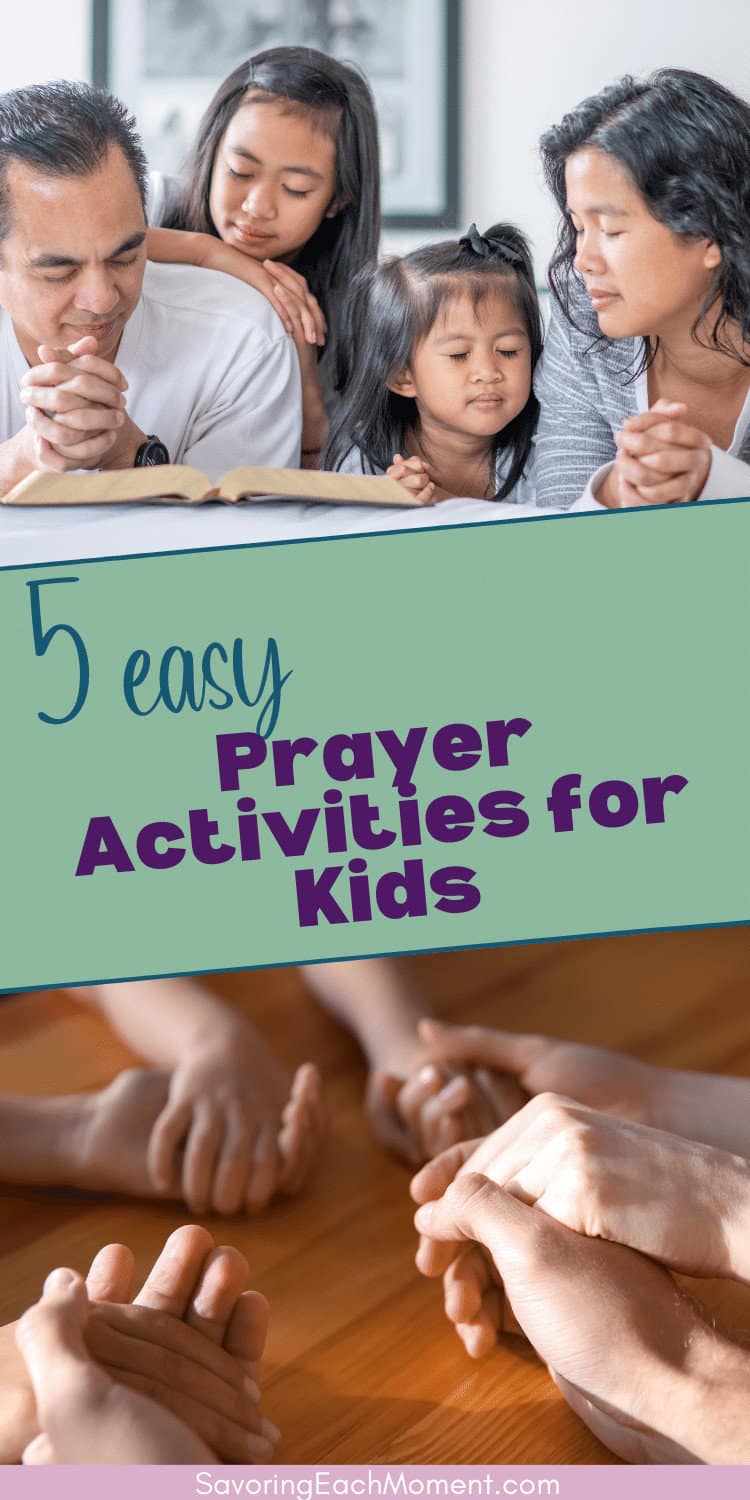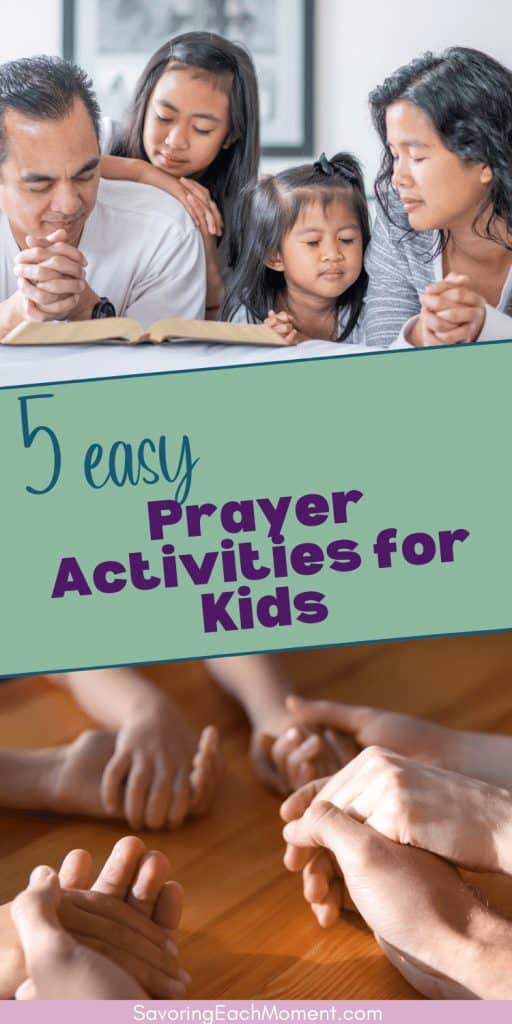 Count your Blessings – Gratitude Journals
A fun and creative prayer activity for kids is to create a blessing jar or blessing chain. There has been a lot of research on the benefit of counting your blessings. Teaching children from a young age to focus on the blessings they have will help them to live a satisfied and content life rather than focusing on what they don't have.
There are many ways to record your blessings such as writing your blessings on slips of paper and adding them to a jar or basket. Then at the end of the week or month or year, pull them all out and read them and remember the blessings God has given you.
You can also write your blessings on strips of paper and make a paper chain that decorates your window or wall. Again, review these blessings often to remind you and your children how blessed you are.
Blessing journals or gratitude journals can be a fun way to document the blessings for you and your children individually or as a family.
When the Children of Israel crossed the Red Sea on dry ground, God told Moses to tell the people to build an altar of remembrance so they would remember to tell their children and their children's' children the miracles and blessings of God.
Writing down your blessings and the things you are thankful for not only helps to change your mindset to a positive one, but it also reminds you that God has been with you in the past and will be in the future.
More ideas to help you teach your kids to pray.
More creative prayer activities for kids.
You may also like these Biblical parenting links…
---
❣ Sign up to get our weekly email filled with encouragement, ideas, and support for moms raising kids who love Jesus! ❣