A daily Bible reading plan can help you with a daily focus on spending time with God's Word each day. You are looking for a systematic way to read the Bible more and these monthly Bible reading plans can help you focus on specific aspects of God's faithfulness for an entire month.
These monthly Bible reading plans are really a study on a word, or themes such as faithfulness, or trust. Focusing on a specific theme for an entire month will help you to understand these concepts of God's love better.
Whether you are new to studying the Bible or you've been reading the Bible your entire life, using a Bible reading plan focusing on scripture themes will help you understand God's Word better. Use the monthly Bible reading plans with a new prayer journal to write the scriptures each day along with your prayers, or simply record your reflections from the Bible verses you are reading each day.

This post contains some affiliate links for your convenience which means I may receive a tiny commission if you purchase through these links. Thank you for extending the support of Savoring Each Moment for Christian Moms! Please see my full disclosure policy. 
Printable Bible Reading Plans
Using a printable Bible reading plan can make your daily Bible study much easier. You can print the page with the focused scriptures for the month and then check them off as you've read them. Tuck the monthly page into your Bible or prayer journal and you are ready to begin reading.
If reading the Bible each day is new and perhaps overwhelming to know where to begin, a printable Bible reading plan can help you focus on a specific topic for the entire month and give you some direction as you choose where to read each day.
Spending time reading Bible verses about a specific theme can really help you retain what you are reading. I've found that the more time I spend reading and thinking about a specific verse, the more it stays in my memory.
Printable Bible reading plans can be as simple as a page with monthly themed verses and others may come with additional Bible study tools such as scripture coloring pages, prayer journal pages, Bible study prompts, and more. The best part is that you can print them at home whenever you need a new one.
RELATED: Bible Reading Plans for Kids
Bible Reading Plans for Beginners
These printable Bible reading plans are perfect for beginners as they focus on a specific theme each month. Read the daily scripture, write it down, and pray that God will help you understand what He wants you to learn from the scripture. Each monthly focus will help you understand a different aspect of God and His love for you as you read the daily scriptures.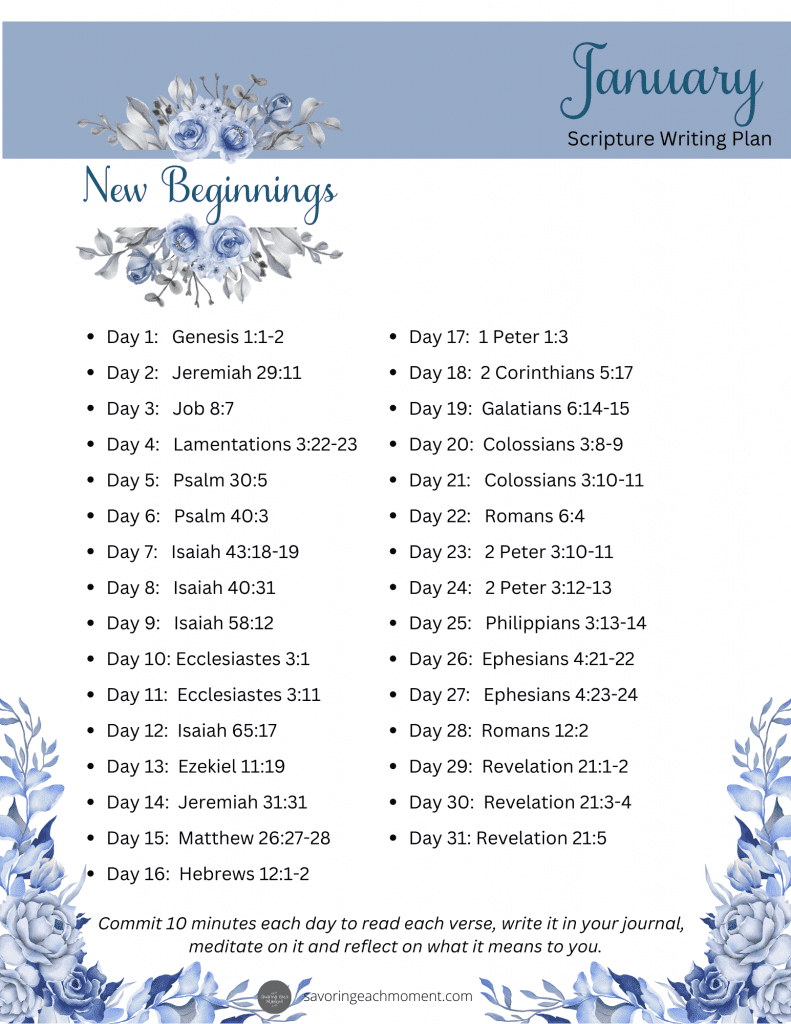 Printable Bible Reading Plan for Beginners
If you haven't used a Bible reading plan before, this printable Bible reading plan is perfect for beginners. The daily verse is listed to guide you through a monthly Bible topical (about a specific topic) study as you explore what the Bible has to say about different things.
Spending time in God's Word shouldn't feel like trying to get somewhere without a map. God wants to spend time with you each day, and this is an easy way to get started (or continue) reading God's messages for you each day. Each month contains a 30-day Bible reading plan (February has 28 and some months have 31) to help you stay on track as you read your Bible.
RELATED: Where to Start Reading the Bible
Daily Bible Reading Plan 2023
These daily Bible reading plan pdf pages are free! Just click the picture above to receive a link each month, or print them all at once.
Not only will you receive the monthly reading list, but you'll also receive the additional scripture coloring pages, scripture art, prayer journal page, and scripture cards to write your favorite verses on.
Each month has a different theme that is color-coordinated to make your devotional time pretty and functional. Use these daily Bible reading plans 2023 monthly guides to help you focus on God each day this year.
1-Year Bible Reading Plan
If you like to plan ahead to be prepared for the year, you may want to take your Bible reading plan a step further including some additional resources. Our 1-Year Bible Reading Plan comes in pdf format and includes the monthly scripture list, with additional resources such as scripture coloring pages, scripture cards, prayer journal pages, and more.
As you color the scripture pages, you will have time to really meditate on the verse and its meaning. Using the prayer journal pages can help you put your thoughts and prayers on paper as you record your prayers. Looking back over past prayer journals can be very encouraging as you look back and see how God has directed your life.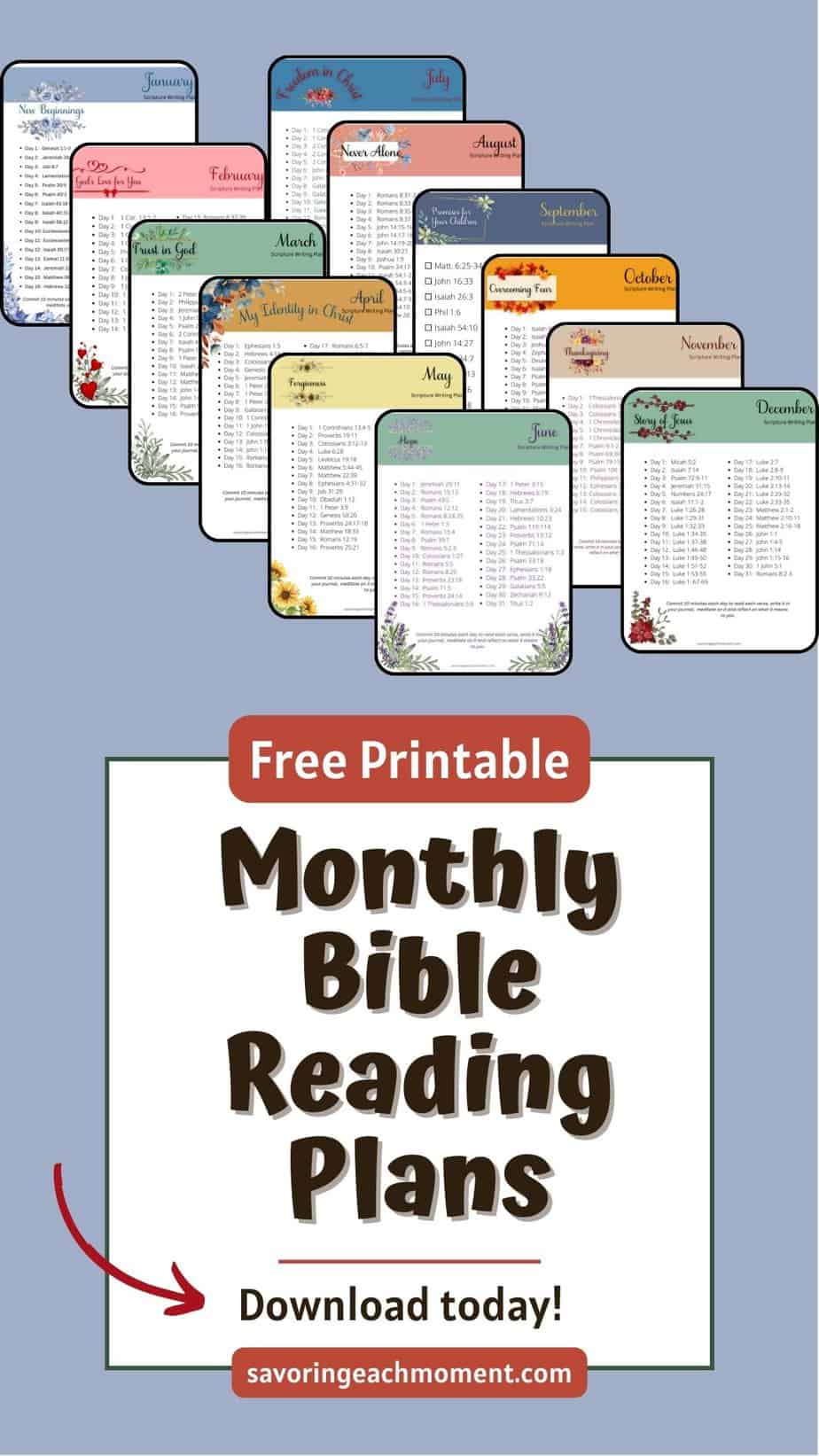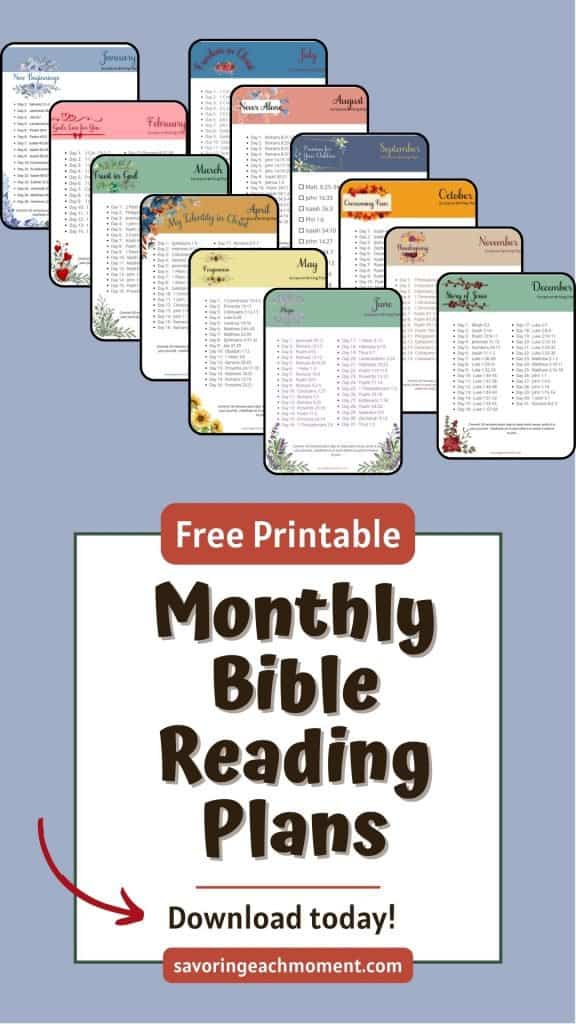 Daily Bible Reading Plan 2023 Printable
Use this Printable Bible reading plan for 2023 and spend time each day this year learning more about God, claiming His promises, reading His Word, and building a daily habit of time spent with Jesus.
This Bible Reading Plan 2023 printable is simple to download and print each month for the entire year. You can get your free copy here!
Additional Free Printable Bible Reading Plans for 2023
No matter when you begin your daily Bible reading plan during the year, you can jump right in and start with one of the months above or choose one of these additional resources.
You may also like these posts…
---
❣ Sign up to get our weekly email filled with encouragement, ideas, and support for moms raising kids who love Jesus! ❣