There are many Bible stories about trusting God in both the Old and New Testaments. Trust is something we often struggle with because we want to control, plan, and figure things out on our own. But more often than not, we are not able to control the things of life and either live with worry and anxiety or learn to depend on and trust on God.
Reading Bible stories about trusting God can be a real encouragement when you are struggling with letting go of your worries and trusting God. There are so many Bible stories of people who learned to trust God in very significant situations and as a result, they were able to deal with the difficult situations and find joy in the outcome.

This post contains some affiliate links for your convenience which means I may receive a tiny commission if you purchase through these links. Thank you for extending the support of Savoring Each Moment for Christian Moms! Please see my full disclosure policy. 
Bible Stories About Trusting God
Bible stories about trusting God in difficult times are scattered throughout the Bible. Every generation from the Garden of Eden had events and situations where people had to choose to trust God in difficult times. For example, when Noah was faced with an impending flood, he trusted God for 120 years as he built something that had never been built before for an event that had never happened in the history of the world.
Here are seven other Bible stories about trusting God in difficult times.
Abraham
Joseph
Moses
Joshua
Job
Paul and Silas
Peter and John
If you need a lesson in trust, Abraham has a lot of examples. Not only did God call him to leave his home and move to a land that God would show him, but He trusted God when He told him to take his prayed-for and promised son to sacrifice. Years later, Abraham negotiated with God to save the city of Sodom and Gomorrah on behalf of the righteous people there, because he trusted God to be faithful. Read more in Genesis chapters 12-25.
Joseph is such a beautiful example of continual trust in God through difficult times. He was sold in slavery, yet he stood fast to what was right. He was thrown in jail unjustly, and yet he was faithful and "the Lord was with Joseph and gave him success in whatever he did." Genesis 39:23 (NIV) He ended up saving a nation because He trusted God's word and was willing to be used of God through seven years of plenty and seven years of famine. Read more in Genesis chapters 30-50.
The entire life of Moses is an example of trusting God in difficult times. When he was first born, his mother trusted God to take care of him as she put him in a basket in the river to protect him. Later, when he was in the desert taking care of sheep, God spoke to him in a burning bush and gave him specific instructions to go talk to Pharoah. Throughout the 10 plagues of Egypt, Moses trusted that God would be true to His word and deliver the people from bondage.
Throughout the 40 years in the wilderness, Moses had to trust God for food, water, protection at night, shade in the daytime, deliverance from their enemies, and direction to get to the Promised Land. This one life, is filled with examples of trusting God as well as a few times when Moses didn't trust. Ready about Moses in the book of Exodus.
RELATED: How to Let Go and Let God Lead in Your Life
One of my favorite Bible stories about trusting God is the story of Joshua. Joshua is relatable because God had to remind him so many times to "be strong and courageous" which leads me to believe that Joshua struggled with courage and probably trust as well. Caleb and Joshua spied out the land of Canaan and came back with a report that was filled with trust in God while the other spies doubted and were afraid.
Through God's strength, Joshua was able to lead the Children of Israel into the Promised Land, defeat the enemies, conquer battles, and stay true to God. Read more about Joshua in Exodus, Numbers, Deuteronomy, and the book of Joshua.
RELATED: 3 Lessons of Courage from Joshua
Job's story is one of the most difficult stories to imagine trusting God through. Job lost nearly everything he had and yet he said "though he slay me, yet will I hope in him." Job 13:15 (NIV) Job didn't understand the bigger picture of what was going on, but he chose to continue trusting God through pain, loss, discouragement, friends who were discouraging and losing all of his children. Read more in the book of Job.
In the New Testament, we find Paul & Silas. They have been beaten and thrown into prison and yet, "about midnight Paul and Silas were praying and singing hymns to God, and the other prisoners were listening to them." Acts 16:25. Instead of grumbling and complaining, they are singing and praying.
Their trust in God was evident through so many different situations and additional times in prison, beatings, abuse, and ultimately death. Yet, they trusted in God through difficult times and continued to follow His leading in their lives. Read more about Paul and Silas in Acts.
RELATED: How to Trust God's Plan
Peter and John are two more examples of Bible stories about trusting God. Similar to Paul and Silas, Peter and John also spent their lives telling others about Jesus. As a result, they were persecuted, thrown in prison, and beaten. This beautiful picture shows how much their trust in God was evident to others. "When they saw the courage of Peter and John and realized that they were unschooled, ordinary men, they were astonished and they took note that these men had been with Jesus." Acts 4:13 (NIV)
Bible scholars and researchers believe that Peter died by crucifixion while John lived out his days in exile on the Island of Patmos. Both of these men were faithful to God and trusted God to the very end of their lives and spent their lives telling others about Jesus and His love.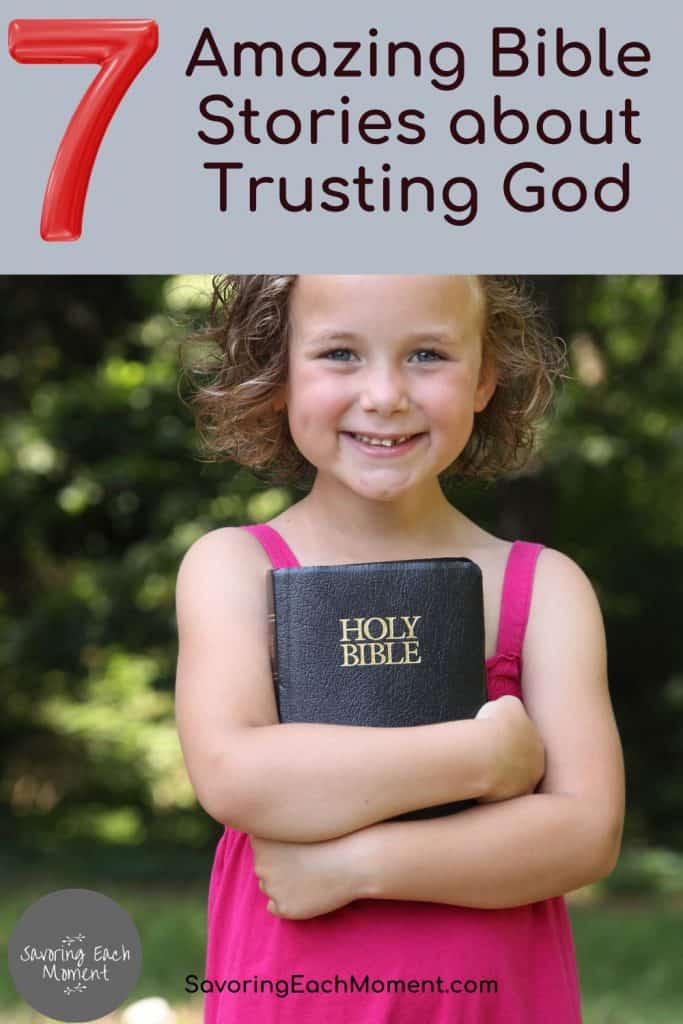 What Does the Bible Say About Trusting God?
The Bible is full of reminders to trust in God and as you spend time reading the Bible, you will find what the Bible says about trusting God is still true today.
Trust in the Lord with all your heart and lean not on your own understanding; in all your ways submit to him, and he will make your paths straight.

Proverbs 3:5-6 (NIV)
Trusting in God takes practice, commitment, and patience. You will be tempted to give up and worry about things and try to fix things on your own. But spending time reading about the faith and trust of others and how God has taken care of them can be a great encouragement.
Some trust in chariots and some in horses, but we trust in the name of the Lord our God.

Psalm 20:7 (NIV)
No matter what your situation is today, you can trust God for the outcome. He knows the end from the beginning and He will take care of you and provide for your needs.
For I know the plans I have for you," declares the Lord, "plans to prosper you and not to harm you, plans to give you hope and a future.

Jeremiah 29:11 (NIV)
You may also like these posts…
---
❣ Sign up to get our weekly email filled with encouragement, ideas, and support for moms raising kids who love Jesus! ❣