The Bible has a lot to say about the role of a teacher. Sometimes those teachers are fathers, mothers, or someone outside the family, but God has placed a high responsibility on the shoulders of those who teach others. These Bible verses for teachers can provide direction and also encouragement in the work of teaching others.
The expectations placed on those who are instructing others come with a high honor but also a big responsibility to teach others accurately and include teaching about God. So much of teaching comes from living a life consistent with what you believe and not just what you say.

This post contains some affiliate links for your convenience which means I may receive a tiny commission if you purchase through these links. Thank you for extending the support of Savoring Each Moment for Christian Moms! Please see my full disclosure policy. 
Bible Verses for Teachers
In my first year as a teacher, I applied for a job in the spring but another person was chosen to fill the position. All summer, I spent time with my own children and enjoyed the time but wondered what I was going to do for work in the fall. I had been going to summer school for several years to complete my certification and was now ready to start teaching. The day before the school year started, I got a phone call asking me if I could start the next day! Needless to say, I needed a whole lot of encouraging Bible verses for teachers as I undertook the job of teaching my students with one day's notice.
Being a teacher is often a difficult job. The rewards can be tremendous, but the work of teaching can be a thankless job for sure. Teachers often feel unsupported, stretched, exhausted, and discouraged as they work with kiddos who need discipline, are behind in school, or have behaviors that are less desirable. Christian teachers have an incredible job teaching about God along with the usual educational subjects like math and language arts.
These Bible verses for teachers can be an encouragement to keep doing the good work God has called you to do. Write them down and spend some time reading them in the context of your daily devotional time.
Titus 2: 7-8 In everything set them an example by doing what is good. In your teaching show integrity, seriousness and soundness of speech that cannot be condemned, so that those who oppose you may be ashamed because they have nothing bad to say about us.
Proverbs 9:9 Instruct the wise and they will be wiser still; teach the righteous and they will add to their learning.
Deuteronomy 32:2 Let my teaching fall like rain and my words descend like dew, like showers on new grass, like abundant rain on tender plants.
Proverbs 22:6 Start children off on the way they should go, and even when they are old they will not turn from it.
Philippians 4:13 I can do all this through him who gives me strength.
Deuteronomy 4:9 Only be careful, and watch yourselves closely so that you do not forget the things your eyes have seen or let them fade from your heart as long as you live. Teach them to your children and to their children after them.
Psalm 32:8 I will instruct you and teach you in the way you should go; I will counsel you with my loving eye on you.
Matthew 28:19-20 Therefore go and make disciples of all nations, baptizing them in the name of the Father and of the Son and of the Holy Spirit, and teaching them to obey everything I have commanded you. And surely I am with you always, to the very end of the age.
Job 12:7-8 But ask the animals, and they will teach you, or the birds in the sky, and they will tell you; or speak to the earth, and it will teach you, or let the fish in the sea inform you.
Psalm 25:5 Guide me in your truth and teach me, for you are God my Savior, and my hope is in you all day long.
Psalm 32:11 Come, my children, listen to me; I will teach you the fear of the Lord.
James 1:5
Psalm 86:11 Teach me your way, Lord, that I may rely on your faithfulness; give me an undivided heart, that I may fear your name.
Psalm 119:33 Teach me, Lord, the way of your decrees, that I may follow it to the end.
Proverbs 4:13 Hold on to instruction, do not let it go; guard it well, for it is your life.
Psalm 143:10 Teach me to do your will, for you are my God; may your good Spirit lead me on level ground.
Exodus 18:20 Teach them his decrees and instructions, and show them the way they are to live and how they are to behave.
Job 36:22 God is exalted in his power. Who is a teacher like him?
Proverbs 11:25 A generous person will prosper; whoever refreshes others will be refreshed.
Isaiah 54:17 no weapon forged against you will prevail, and you will refute every tongue that accuses you. This is the heritage of the servants of the Lord, and this is their vindication from me," declares the Lord.
James 1:5 If any of you lacks wisdom, you should ask God, who gives generously to all without finding fault, and it will be given to you.
Deuteronomy 11:18-19 Fix these words of mine in your hearts and minds; tie them as symbols on your hands and bind them on your foreheads. Teach them to your children, talking about them when you sit at home and when you walk along the road, when you lie down and when you get up.
Ephesians 4:11-13 So Christ himself gave the apostles, the prophets, the evangelists, the pastors and teachers, to equip his people for works of service, so that the body of Christ may be built up until we all reach unity in the faith and in the knowledge of the Son of God and become mature, attaining to the whole measure of the fullness of Christ.
Ephesians 3:16-19 I pray that out of his glorious riches he may strengthen you with power through his Spirit in your inner being, so that Christ may dwell in your hearts through faith. And I pray that you, being rooted and established in love, may have power, together with all the Lord's holy people, to grasp how wide and long and high and deep is the love of Christ, and to know this love that surpasses knowledge—that you may be filled to the measure of all the fullness of God.
Colossians 3:16-17 Let the message of Christ dwell among you richly as you teach and admonish one another with all wisdom through psalms, hymns, and songs from the Spirit, singing to God with gratitude in your hearts. And whatever you do, whether in word or deed, do it all in the name of the Lord Jesus, giving thanks to God the Father through him.
Galatians 6:6 Nevertheless, the one who receives instruction in the word should share all good things with their instructor.
Romans 15:4 For everything that was written in the past was written to teach us, so that through the endurance taught in the Scriptures and the encouragement they provide we might have hope.
Matthew 11:28 Come to me, all you who are weary and burdened, and I will give you rest.
1 Corinthians 15:58 Therefore, my dear brothers and sisters, stand firm. Let nothing move you. Always give yourselves fully to the work of the Lord, because you know that your labor in the Lord in not in vain.
RELATED: Bible Verses about Math
Using Bible Verses for Teachers
The best way to use Bible verses for teachers is to start reading these verses in context. Do this to understand the bigger picture of what God is saying. You might be surprised how much a Bible story is similar to a situation you are going through right now.
If you are a teacher, you know that at different times in your life, you face different situations. Sometimes you need more patience, more wisdom, or simply when to keep your mouth closed. Other times, you need strength for difficult times, encouragement, or promises that remind you that God is with you. Write these Bible verses for teachers down in your prayer journal, on index cards that you can carry with you, or on a sticky note that you can place somewhere to remind you that God will instruct you and support you.
If you are not a teacher but want to support a teacher in your life, these Bible verses for teachers can be very encouraging. Write them in a card of thanks or support, send an encouraging text with a supporting Bible verse, or pray for wisdom for your teachers as they teach your children.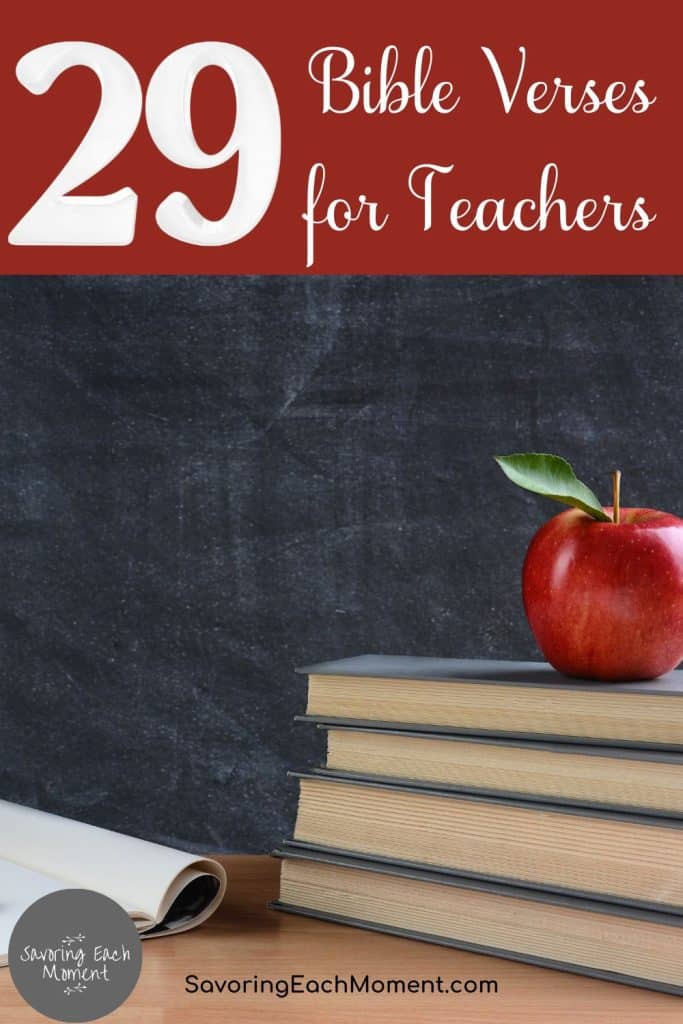 Encouraging Bible Verses for Teachers
The Bible is filled with encouragement for people who are struggling in specific situations. When you read verses that speak to you, apply them to yourself or your own situation. Ask God to lead you to encouragement in the Bible to give you strength as you serve as a teacher. Remember, God uses all of us to teach others. You don't have to have the title and paycheck to be a teacher. You can be a mom at home with your kids, a teacher of little ones at church, a mentor to younger moms, or any other number of ways that you can teach and influence others.
My favorite encouraging Bible verse for teachers is Joshua 1:9. "Have I not commanded you? Be strong and courageous. Do not be afraid; do not be discouraged, for the Lord your God will be with you wherever you go." God is with you today and He will strengthen and support you.
You may also like these posts…
---
❣ Sign up to get our weekly email filled with encouragement, ideas, and support for moms raising kids who love Jesus! ❣