It's one thing to read your Bible and contemplate what God is saying to you through His word, but it's another thing to actually hide God's word in your heart! Starting with some short memory verses, you can begin to fill your mind with promises and encouragement from the Bible.
Which short memory verses should you start with? Which Bible verses will impact your heart and mind? This list of 52 short memory verses takes the guesswork out of that planning.
If you are looking for easy Bible verses to memorize, you have come to the right place! Whether you are new at memorizing or you've been at it for a while, it's not too late to begin (or continue) memorizing scripture!

This post contains some affiliate links for your convenience which means I may receive a tiny commission if you purchase through these links. Thank you for extending the support of Savoring Each Moment for Christian Moms! Please see my full disclosure policy. 
Short Memory Verses
Here's a list of short memory verses to get you started. If you read through the list, it's quite possible that you already know some of these already!
Luke 2:52 And Jesus grew in wisdom and stature, and in favor with God and man.
Luke 6:31 Do to others as you would have them do to you.
Matthew 21:22 If you believe, you will receive whatever you ask for in prayer.
Colossians 3:20 Children, obey your parents in everything, for this pleases the Lord.
Romans 6:23 For the wages of sin is death, but the gift of God is eternal life in Christ Jesus our Lord.
Proverbs 3:5-6 Trust in the LORD with all your heart and lean not on your own understanding; in all your ways submit to him, and he will make your paths straight.
Deuteronomy 6:5 You shall love the LORD your God with all your heart and with all your soul and with all your might.
Psalm 139:14 I praise you God, for I am fearfully and wonderfully made.
Isaiah 43:5 Do not be afraid for I am with you.
Mark 10:13-14 Let the little children come to me, and do not hinder them, for the kingdom of God belongs to such as these.
Matthew 28:20 I am with you always.
Genesis 1:1 In the beginning God created the heavens and the earth.
Philippians 4:4 Rejoice in the Lord always and again I say rejoice.
Psalms 56:3 When I am afraid I will trust in You.
Joshua 1:9 Have I not commanded you? Be strong and courageous. Do not be afraid; do not be discouraged, for the Lord your God will be with you wherever you go."
Romans 8:28 And we know that in all things God works for the good of those who love him, who have been called according to his purpose.
Ephesians 4:32 Be kind and compassionate to one another, forgiving each other, just as in Christ God forgave you.
Ephesians 6:1 Children, obey your parents in the Lord, for this is right.
Psalm 34:7 The angel of the Lord encamps around those who fear him, and he delivers them.
Psalm 107:1 Give thanks to the Lord, for He is good; His love endures forever.
John 3:16 For God so loved the world that He gave His one and only Son, that whoever believes in Him should not perish but have eternal life.
Philippians 4:13 I can do all things through him who gives me strength.
John 14:6 Jesus answered, "I am the way and the truth and the life. No one comes to the Father except through me.'"
Matthew 11:28 Come unto me, all ye that labor and are heavy laden, and I will give you rest.
Mark 13:31 Heaven and earth will pass away, but My words will never pass away.
John 14:1-3 Let not your heart be troubled: ye believe in God, believe also in me. In my Father's house are many mansions: if it were not so, I would have told you. I go to prepare a place for you. And if I go and prepare a place for you, I will come again, and receive you unto myself; that where I am, there ye may be also.
Jeremiah 29:13 You will seek me and find me when you seek me with all your heart.
Psalm 51:10 Create in me a pure heart, O God, and renew a steadfast spirit within me.
Psalm 17:8 Keep me as the apple of your eye; hide me in the shadow of your wings.
Psalm 9:10 Those who know your name trust in you, for you, Lord have never forsaken those who seek you.
Psalm 4:8 In peace I will lie down and sleep, for you alone, Lord, make me dwell in safety.
Isaiah 1:18 "Come now, let us settle the matter," says the Lord. "Though your sins are like scarlet, they shall be as white as snow; though they are red as crimson, they shall be like wool."
Psalm 103:11-12 For as high as the heavens are above the earth, so great is his love for those who fear him; as far as the east is from the west, so far has he removed our transgressions from us.
Psalm 141:3 Set a guard over my mouth, Lord; keep watch over the door of my lips.
Psalm 150:6 Let everything that has breath praise the Lord.
Proverbs 10:12 Hatred stirs up conflict but love covers all wrongs.
Proverbs 15:1 A gentle answer turns away wrath, but a harsh word stirs up anger.
Isaiah 9:6 For to us a child is born, to us a son is given, and the government will be on his shoulders. And he will be called Wonderful Counselor, Mighty God, Everlasting Father, Prince of Peace.
RELATED: 52 Bible Verses for Kids to Memorize
Simple Ways to Memorize Scripture
Each person learns in a different way and that's okay! Some people learn more easily by hearing something rather than reading. If you don't know your best way of learning, try several different ways and see how it makes a difference. Most people do best with a combination of learning. There is no right or wrong way to learn short memory verses.
Read short memory verses. You may prefer to read out loud if you are primarily an auditory learner.
Write the easy Bible verses to memorize in your journal or on an index card.
Listen to the short memory verse. Record yourself reading it out loud and play that back or get an online app to listen to the Bible.
Anytime you start reading the Bible and working on easy Bible verses to memorize, pray that God will help your memory to grow as you hide His word in your heart and mind.
RELATED: Scripture Talk: Making Bible Memory Fun Through Hand Motions
RELATED: Books of the Bible for Kids – Fun Ways to Navigate the Scriptures
Easy Bible Verses to Memorize
When you start memorizing, there are a few things to know. Your brain is like a muscle and grows with use. No matter your age, it is the perfect time to memorize scripture!
There has been a lot of research on how the brain works and the more we use it, the more we are able to learn.
This list of easy Bible verses to memorize includes verses to provide encouragement, reduce fear and anxiety, and also give assurance that God has a plan for your life.
Carefully choosing short Bible verses to memorize can build confidence as you memorize and will help you to learn promises that will help you combat fear and guide your choices.
Start with the short memory verses and work your way up to the longer Bible verses to memorize. Choose one new verse each week and start building your repertoire of Bible verses in your memory to recite whenever you are fearful, lonely, or feeling unloved.
As you learn these short memory verses, you can encourage your children to learn each of these verses as well. Read the context or story behind and surrounding the verses so you understand them in their fullness. This is the perfect springboard for your family worship time every day.
RELATED: Simple Family Worship Ideas with Kids
---
---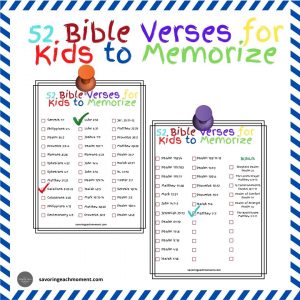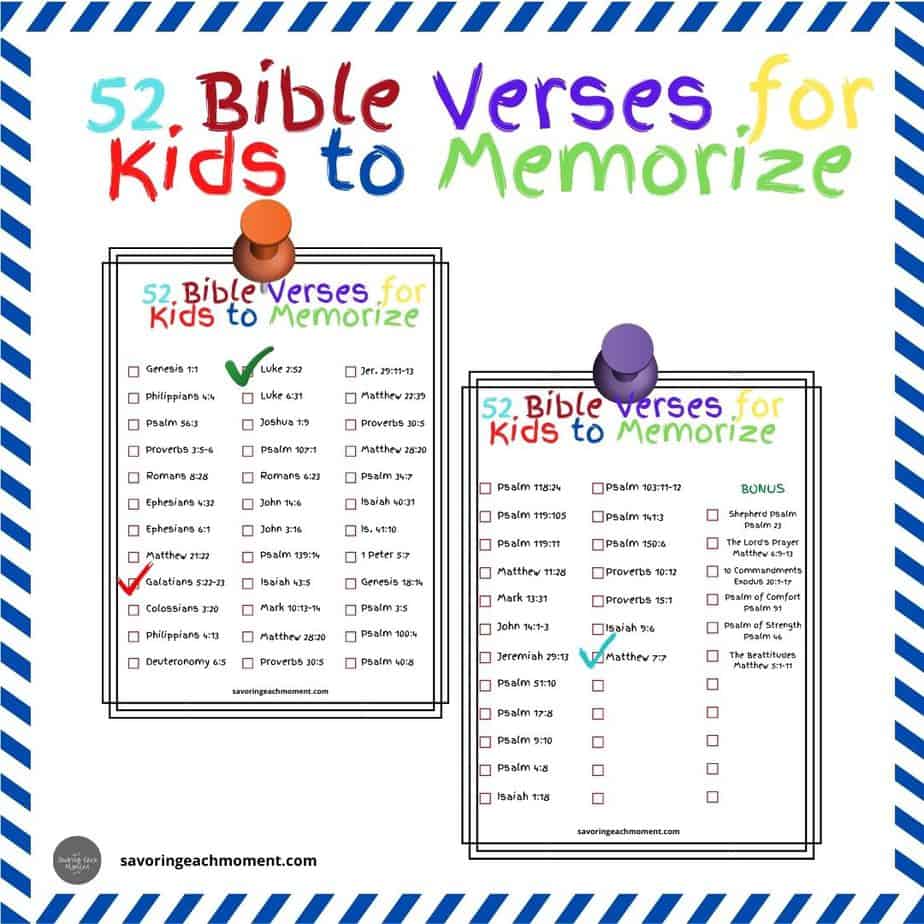 Get this awesome printable list of Bible verses for your kids to start memorizing today! 📌
---
Longer Bible Verses to Memorize
Once you have learned these verses, move on to longer Bible memory verses. Remember, the more you use your memory muscle, the more it will grow and the easier it will become.
Here are some longer Bible memory verses that you should learn.
Psalm 23 – The Shepherd Psalm
Matthew 6:9-13 – The Lord's Prayer
Exodus 20:1-17 – The Ten Commandments
Psalm 91 – Psalm of protection and comfort
Psalm 46 – Psalm of strength and God's protection
When learning longer memory verses, simply start with one verse and then add the next one and the next. It is no different than learning short Bible verses. You are simply learning lots of short ones in order. You will find that with a little practice, these longer Bible verses to memorize will sink in easily as well.
---
If you are looking for more kid's memory verses, you may enjoy this list of Bible verses to help you not to worry.
Start memorizing today! Pray that God will bless your efforts and help you understand more about Him. Make this a family challenge and see who can learn the most short Bible verses.
Add your own easy Bible verses to memorize to the list and see how many scriptures you can hide in your heart.
You may also like these posts…
---
❣ Sign up to get our weekly email filled with encouragement, ideas, and support for moms raising kids who love Jesus! ❣
---