You may be wondering how to connect with God. What does it mean to have a connection with God? And how do you build a strong connection with God? Connecting with God might seem a bit difficult from the start because we can't see God in a literal way like we see another person.
But, just like when you begin a friendship with another person, it usually begins by spending time together and getting acquainted with each other. You learn about the things they like to do, the things they dislike, the struggles they deal with, and the people they care about.

Connecting with God
Connecting with God can sometimes feel like something that other people know how to do, but you don't have a clue how to make it work. These simple steps for connecting with God are not complicated or difficult. Start where you're at and expand as your connection with God grows. He loves you more than anything and simply wants to spend time with you.
Bible study
Connecting with God is very similar to the way you become friends with another person. You can't have a literal conversation over a cup of tea, but reading the Bible helps you learn about God's character and the things He desires for His people, and the things that make Him sad.
The Bible is filled with stories of the people that God loves and the experiences He has had with them. As you learn more about Him and the ones He loves, you will have a better understanding of His love and patience with you. You may want to start with a Bible reading plan to get you started in your Bible study. Taking a small bite-sized bit of scripture, reading it, thinking about the verses, and praying about it can help you begin a habit of daily Bible reading
RELATED: Where to Start Reading the Bible
Prayer
Spending time in prayer is the opportunity for you to put what you've learned about God through the Bible into action. Thank Him for the specific things He is doing in your life right now, today! Not just "thank you for the blessings" but thank You for a specific way You see Him in your life.
Your prayers don't need to be flowery or eloquent. You don't talk to your friends in memorized poetry or song lyrics. You talk to them in normal conversation. Praying is the same thing. It may feel strange to say "Hey, God! How's it going?" but He created us and knows our thoughts, so He's okay with our communication.
It can be easy to use prayer as an opportunity to list all the things we need God to do for us, but we need to come to God with our gratitude, asking for guidance, thanking Him for what He's done for us, and then our requests – according to His will.
Through Nature
Getting outside and taking in the world God has created can help you as you are connecting with God. I have seen the Aurora Borealis (Northern Lights) a few times and the stunning majesty and beauty of this light show always make me think about how enormous God is and yet He cares for little old me!
Go for a hike and listen to a waterfall. Look up at the stars in the sky at night and just ponder the enormity of God's power. As you watch the animals and birds and how they know how to build nests, feed their young, and take care of themselves, you will see God's handiwork all around you.
Through Service
Acts of service can help you as you are connecting with God. When you think about the example Jesus set for us by helping those who were sick, who were lonely, and those who needed help, it provides another avenue for connecting with God. Each of the people in need around us is also children of God. When we serve others, we are serving God.
RELATED: Family Service Activities
The King will reply, 'Truly I tell you, whatever you did for one of the least of these brothers and sisters of mine, you did for me.'

41 "Then he will say to those on his left, 'Depart from me, you who are cursed, into the eternal fire prepared for the devil and his angels. 42 For I was hungry and you gave me nothing to eat, I was thirsty and you gave me nothing to drink, 43 I was a stranger and you did not invite me in, I needed clothes and you did not clothe me, I was sick and in prison and you did not look after me.'

44 "They also will answer, 'Lord, when did we see you hungry or thirsty or a stranger or needing clothes or sick or in prison, and did not help you?'

45 "He will reply, 'Truly I tell you, whatever you did not do for one of the least of these, you did not do for me.'

Matthew 25:40-45 NIV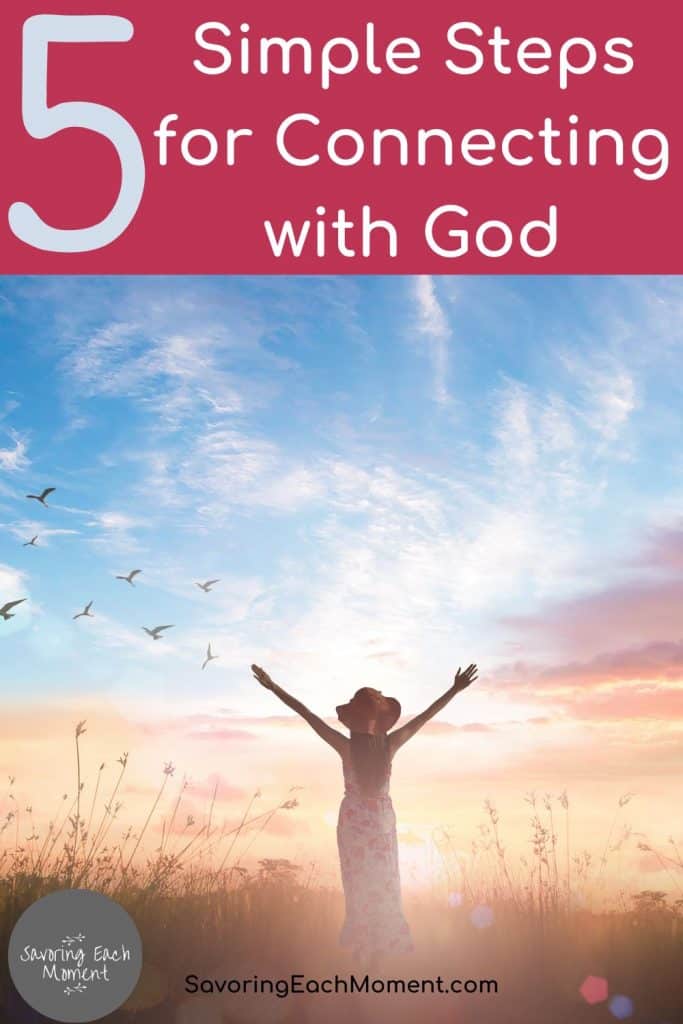 Through Fellowship
Fellowship with God's people (the church) is a wonderful way to continue connecting with God. If you don't have a church family, ask your friends where they go. Find a church that follows the Bible and keeps the commandments. Being part of a church congregation and Bible study group will help you learn more as you study and learn from the Bible.
Being part of a group of people who can discuss, question, answer, and research together will help you build your Bible study learning. Jesus encouraged the disciples to meet together, break bread together (eat), and pray so that could encourage one another.
Are all the people in church perfect? Absolutely not! There will be people who are unkind, who are dishonest, who might hurt others, but God is also in the midst of the fellowship of believers and He wants us to learn to work together and love each other.
As you work on connecting with God, take time to read your Bible, pray, give your time in service, spend time in nature, and join a church fellowship. Ask God to guide you on this journey knowing that He loves to hear from you!
You may also like these posts…
---
❣ Sign up to get our weekly email filled with encouragement, ideas, and support for moms raising kids who love Jesus! ❣