If you have a child who is struggling with math, or perhaps you were that child who struggled with math concepts, you've probably heard or voiced yourself, "when will I ever use this in life?" You may be surprised by the amount of Bible verses about math in the Bible!
The Bible has examples of addition, subtraction, multiplication, division, fractions, story problems, and even some algebra! When reading the Bible, you can see that God is a god of order and predictability. Math is one way that shows that attribute. But God is also a god of surprises and He loves to change things up to bless us.


This post contains some affiliate links for your convenience which means I may receive a small commission if you purchase through these links. Thank you for extending the support of Savoring Each Moment for Christian Moms! Please see my full disclosure policy. 
Bible Verses about Math
So what does the Bible say about Math? The first set of Bible verses about math are some addition verses. You may be wondering about hidden math in the Bible, but you will soon see that there are lots of examples of math in the Bible. Once you start looking at these Bible verses about math, you will probably notice many more as you are reading your Bible. The following Bible verses about math are taken from the New International Version of the Bible.
RELATED: 100 Indescribable Devotions About God and Science
Math Bible Verses about Addition
A simple search on a Bible site for the word "addition" will pull up several pages of Bible verses about addition. Adding numbers together is nothing new. It was clearly something that was referred to and utilized during the Bible time and not a new invention of the modern era and education curriculum.
Leviticus 9:17 ~ He also brought the grain offering, took a handful of it and burned it on the altar in addition to the morning's burnt offering. (NIV)
Numbers 35:6 ~ "Six of the towns you give the Levites will be cities of refuge, to which a person who has killed someone may flee. In addition, give them forty-two other towns.
Deuteronomy 5:22 ~ These are the commandments the Lord proclaimed in a loud voice to your whole assembly there on the mountain from out of the fire, the cloud and the deep darkness; and he added nothing more. Then he wrote them on two stone tablets and gave them to me.
2 Kings 20:6 ~ I will add fifteen years to your life. And I will deliver you and this city from the hand of the king of Assyria. I will defend this city for my sake and for the sake of my servant David.'"
Proverbs 9:9 ~ Instruct the wise and they will be wiser still; teach the righteous and they will add to their learning.
Ecclesiastes 3:14 ~ I know that everything God does will endure forever; nothing can be added to it and nothing taken from it. God does it so that people will fear him.
Acts 2:41 ~ Those who accepted his message were baptized, and about three thousand were added to their number that day.
2 Peter 4:1-6 ~ For this very reason, make every effort to add to your faith goodness; and to goodness, knowledge; 6 and to knowledge, self-control; and to self-control, perseverance; and to perseverance, godliness;
Jeremiah 30:19 ~ From them will come songs of thanksgiving and the sound of rejoicing. I will add to their numbers, and they will not be decreased; I will bring them honor, and they will not be disdained.
Proverbs 10:27 ~ The fear of the Lord adds length to life, but the years of the wicked are cut short.
RELATED: Bibleopoly Game for the Whole Family
Math Bible Verses about Subtraction
When you think of subtraction, you often think of reducing the number of something or making something smaller. But subtraction can also refer to taking something away. When something is taken away, it is subtracted from something else. Subtraction is often seen as a negative where something is taken away, but in several of these Bible verses about subtraction, the taking away part is actually a huge blessing.
Deuteronomy 4:2 ~ Do not add to what I command you and do not subtract from it, but keep the commands of the Lord your God that I give you.
Numbers 36:3 ~ Now suppose they marry men from other Israelite tribes; then their inheritance will be taken from our ancestral inheritance and added to that of the tribe they marry into. And so part of the inheritance allotted to us will be taken away.
Genesis 31:31 ~ Jacob answered Laban, "I was afraid, because I thought you would take your daughters away from me by force.
2 Samuel 12:13 ~ Then David said to Nathan, "I have sinned against the Lord." Nathan replied, "The Lord has taken away your sin. You are not going to die.
Psalm 119:39 ~ Take away the disgrace I dread, for your laws are good.
Proverbs 25:20 ~ Like one who takes away a garment on a cold day, or like vinegar poured on a wound, is one who sings songs to a heavy heart.
Zephaniah 3:15 ~ The Lord has taken away your punishment, he has turned back your enemy. The Lord, the King of Israel, is with you; never again will you fear any harm.
Luke 1:25 ~ "The Lord has done this for me," she said. "In these days he has shown his favor and taken away my disgrace among the people."
John 16:22 ~ So with you: Now is your time of grief, but I will see you again and you will rejoice, and no one will take away your joy.
1 John 3:5 ~ But you know that he appeared so that he might take away our sins. And in him is no sin.
Math Bible Verses about Multiplication
Here are 10 math Bible verses about multiplication.  Sometimes the word multiplication is used and in other places, it is inferred by the word "times".  The best example of multiplication in the Bible is when God multiplies something.
Genesis 9:7 ~ As for you, be fruitful and increase in number; multiply on the earth and increase upon it."
Genesis 43:34 ~ When portions were served to them from Joseph's table, Benjamin's portion was five times as much as anyone else's. So they feasted and drank freely with him.
Deuteronomy 1:11 ~ May the Lord, the God of your ancestors, increase you a thousand times and bless you as he has promised!
Leviticus 25:8 ~ "'Count off seven sabbath years—seven times seven years—so that the seven sabbath years amount to a period of forty-nine years.
2 Samuel 24:3 ~ But Joab replied to the king, "May the Lord your God multiply the troops a hundred times over, and may the eyes of my lord the king see it.
Proverbs 10:19 ~ Sin is not ended by multiplying words, but the prudent hold their tongues.
Job 9:17 ~ He would crush me with a storm and multiply my wounds for no reason.
Nahum 3:15 ~ There the fire will consume you; the sword will cut you down— they will devour you like a swarm of locusts. Multiply like grasshoppers, multiply like locusts!
Mark 4:8 ~ Still other seed fell on good soil. It came up, grew, and produced a crop, some multiplying thirty, some sixty, some a hundred times."
Math Bible Verses about Division
Often when you think of division in the Bible, you might think of situations where there was separation or situations that divided people against each other. But there are also Bible verses about mathematical division as well.
Joshua 18:5 ~ You are to divide the land into seven parts. Judah is to remain in its territory in the south and the tribes of Joseph in their territory in the north.
Genesis 14:15 ~ During the night Abram divided his men to attack them and he routed them, pursuing them as far as Hobah, north of Damascus.
Genesis 32:7 ~ In great fear and distress Jacob divided the people who were with him into two groups, and the flocks and herds and camels as well.
Exodus 14:16 ~ Raise your staff and stretch out your hand over the sea to divide the water so that the Israelites can go through the sea on dry ground.
Numbers 31:27 ~ Divide the spoils equally between the soldiers who took part in the battle and the rest of the community.
2 Kings 2:8 ~ Elijah took his cloak, rolled it up and struck the water with it. The water divided to the right and to the left, and the two of them crossed over on dry ground.
Matthew 12:25 ~ Jesus knew their thoughts and said to them, "Every kingdom divided against itself will be ruined, and every city or household divided against itself will not stand.
Luke 12:13 ~ Someone in the crowd said to him, "Teacher, tell my brother to divide the inheritance with me."
John 7:43 ~ Thus the people were divided because of Jesus.
Luke 12:52 ~ From now on there will be five in one family divided against each other, three against two and two against three.
Bible Verses about Math Fractions
Did you know that there are even Bible verses with math fractions in them? Depending on the version of the Bible you use, you may find more that talk about fractions
Leviticus 27:15 ~ If the one who dedicates their house wishes to redeem it, they must add a fifth to its value, and the house will again become theirs.
Leviticus 5:16 ~ They must make restitution for what they have failed to do in regard to the holy things, pay an additional penalty of a fifth of its value and give it all to the priest. The priest will make atonement for them with the ram as a guilt offering, and they will be forgiven.
Bible Verses about Math Word Problems
Math word problems or story problems are everywhere in our daily lives. But story problems are also in the Bible. Here are some Bible verses about math word problems. If your child is struggling with word problems, these Bible verses with math word problems might be a fun way to help your child see that they have been around since the beginning of time.
Judges 12:14 ~ He had forty sons and thirty grandsons, who rode on seventy donkeys. He led Israel eight years.
Question – how many descendants did Abdon have?
1 Kings 5:15 ~ Solomon had seventy thousand carriers and eighty thousand stonecutters in the hills, as well as thirty-three hundred foremen who supervised the project and directed the workers.
Question – how many workers did Solomon have working on the temple?
Daniel 9:24 ~ "Seventy 'sevens' are decreed for your people and your holy city to finish transgression, to put an end to sin, to atone for wickedness, to bring in everlasting righteousness, to seal up vision and prophecy and to anoint the Most Holy Place.
Question – How many weeks were decreed? How many days?
Luke 10:1 ~ After this the Lord appointed seventy-two others and sent them two by two ahead of him to every town and place where he was about to go.
Question – How many groups did he send out?
Acts 23:23 ~ Then he called two of his centurions and ordered them, "Get ready a detachment of two hundred soldiers, seventy horsemen and two hundred spearmen to go to Caesarea at nine tonight.
Question – how many military men went with Paul to protect him?
Bible Verses about God's Math
Often you think of math as being very consistent, but when you think about God's math and the way He multiplies, divides, and adds to blessings, the rules of math change. God is the master at math and the following Bible verses about God's math show that He is not limited by one plus one, but rather, as the creator and inventor of math, He can make the rules and change the rules that we think are constant in math.
Luke 9:16 ~ Taking the five loaves and the two fish and looking up to heaven, he gave thanks and broke them. Then he gave them to the disciples to distribute to the people.
Question – There were 12 baskets of food left after Jesus fed 5000 people from 5 loaves and 2 fish. How did this happen?
Malachi 3:8-10 ~ "Will a mere mortal rob God? Yet you rob me. "But you ask, 'How are we robbing you?' "In tithes and offerings. You are under a curse—your whole nation—because you are robbing me. Bring the whole tithe into the storehouse, that there may be food in my house. Test me in this," says the Lord Almighty, "and see if I will not throw open the floodgates of heaven and pour out so much blessing that there will not be room enough to store it.
Question – 10% tithe = the floodgates of heaven opened and poured out – how is this possible?
Matthew 17:20 ~ He replied, "Because you have so little faith. Truly I tell you, if you have faith as small as a mustard seed, you can say to this mountain, 'Move from here to there,' and it will move. Nothing will be impossible for you."
Question – How big is a mustard seed's worth of faith?
2 Corinthians 9:8 ~ And God is able to bless you abundantly, so that in all things at all times, having all that you need, you will abound in every good work.
Question – How many blessings is God providing to you today?
Philippians 4:19 ~ And my God will meet all your needs according to the riches of his glory in Christ Jesus.
Question – How many of God's riches would it take to provide for your needs?
Ephesians 3:20 ~ Now to him who is able to do immeasurably more than all we ask or imagine, according to his power that is at work within us, to him be glory in the church and in Christ Jesus throughout all generations, for ever and ever! Amen.
Question – Is your request too small compared to God's answers?
Psalm 90:4 ~ A thousand years in your sight are like a day that has just gone by, or like a watch in the night.
Question – What would God's calendar look like where a thousand years are like a day?
2 Peter 3:8 ~ But do not forget this one thing, dear friends: With the Lord a day is like a thousand years, and a thousand years are like a day.
Related: 30 Verses to Help you Not to Worry
Related: How to Trust God's Plan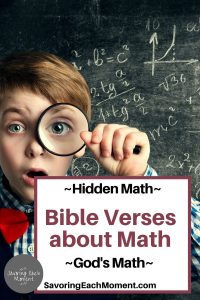 Calculating with God's Math
Next time your child says "when will I ever use math when I grow up" you can share some of these Bible verses about math and encourage them to find other hidden math in the Bible. The best part of your conversations with your kids is when you can share specific instances of God's math in your own life.
That's when math becomes fun! God's math is always better, bigger, more abundant, and more than any other type of hidden math in the Bible or a math book. Look for ways that God's math has impacted your life. Where have you seen him bless you abundantly? When has He provided more than you asked for? God's math isn't just contained in the Bible verses about math. It is also a current, daily occurrence when you really start to look.
Related: How to Pray for Your Child's Academic Success
You may also like these posts…
---
❣ Sign up to get our weekly email filled with encouragement, ideas, and support for moms raising kids who love Jesus! ❣
❣ Sign up to get our weekly email filled with encouragement, ideas, and support for moms raising kids who love Jesus! ❣