Printable Bible Worksheets for kids are a wonderful way to extend their learning for a child. When a child is learning about a specific story or event, the more they can practice what they've learned and connect the story with other things they already know. Bible worksheets for kids can also provide some focused learning time for younger kids that combines fine motor skills with story learning and familiarity with different Bible lessons and Bible verses. Learning to color is one skill but when you combine it with coloring a Bible story picture, you are providing additional learning opportunities for the child to explore the story and what color that elephant in the ark might have been.
Another bonus with Bible worksheets for kids is that you can recycle them. When children are preschool and early elementary age, they can do a maze, dot to dot, play Bible bingo, or a coloring page one day and then enjoy doing it again and again on another day. This makes Bible worksheets for kids a great resource to have on hand when you need a quick activity to keep your kids busy with Bible fun.


This post contains some affiliate links for your convenience which means I may receive a small commission if you purchase through these links. Thank you for extending the support of Savoring Each Moment for Christian Moms! Please see my full disclosure policy. 
How to Use Bible Worksheets for Kids
One of the best ways to utilize Bible worksheets for kids is to use them as you are reading or telling a specific Bible story. As your child is learning about the Bible story, they will have additional ways to interact and extend their learning. Bible worksheets can also help a child think and process the story while their hands are busy.
Many of these Bible story worksheets could be added to a Bible busy binder, Bible quiet book, or church busy book to work on while at church or during church meetings. Keep some on a clipboard with a box of colored pencils and a pencil in the seat pocket in the car (crayons melt if the car gets too hot), for waiting or traveling time in the car.
If you have mazes and word searches, you can slip those into sheet protectors and give your child a dry erase marker. They can "write" on the sheet protector and then wipe it off and do it again and again!
Bible Story Worksheets
If you are a parent, children's class teacher, a school teacher in a Christian school, or a homeschooling mom, you are likely on the constant hunt for Bible story worksheets to keep your kids engaged, quiet, busy, and learning. When children are younger, they need to have simplified stories so they can understand the story and its significance. Stories such as Noah's Ark and the Flood provide people and events that kids can understand.
Another Bible story that children relate to well and is prominent every year is the Nativity story or the story of Jesus' birth. When you are focusing on a specific story for a while, like we typically do during December, this is the perfect time to add additional worksheets and activities to go along with the Bible story.
Baby Moses is another story that children love to learn about. Through the story of Moses, children can learn about God's love and salvation for both Moses and the Israelites.
RELATED: Bible Coloring Pages for Kids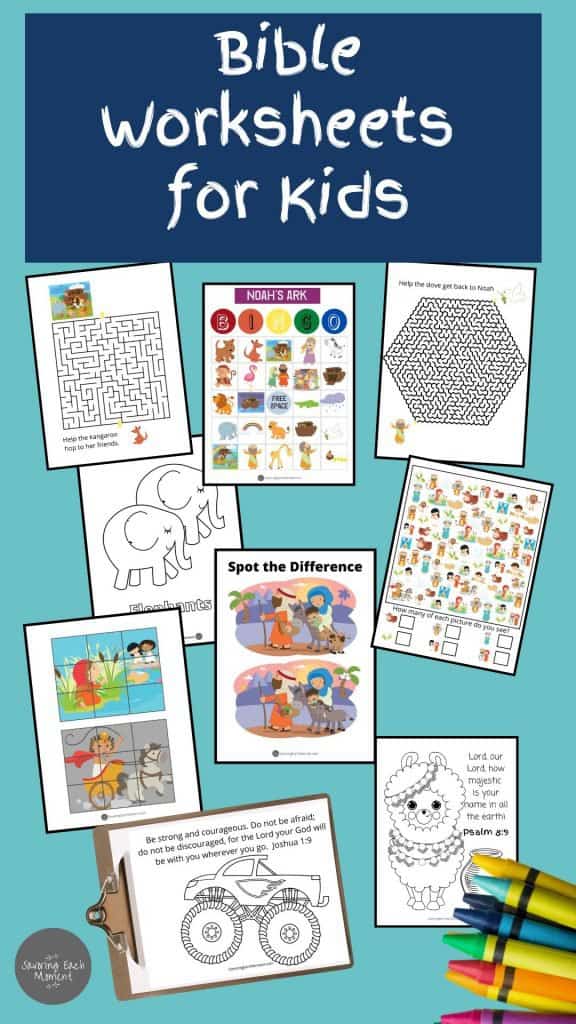 Printable Bible Worksheets Pdf
Printable Bible worksheets are perfect for helping children work on something quietly. If you are going to be waiting at an appointment, sitting in church, quiet time work in the morning or evening, or anytime in between, these activity sheets will come in super handy. It doesn't take much space in your purse or your child's quiet bag to add a pencil, some crayons, a clipboard, and some printed Bible activity sheets. Give them a few at a time to keep them busy. There are many Bible worksheets about a particular character or a specific scripture passage.
Check out this list of paid and free Bible study worksheets centered around God's word.
Print Your Bible Worksheets for Kids Now
The links above contain a wealth of Bible worksheets which can be a great way to extend a Bible story or scripture page and help your child interact with the Bible story a bit more. You can spend hours searching for a Bible worksheet here or there on Pinterest, but if you scroll back up a bit and click on the links in this post, you will find more Bible worksheets than you can use in a day! Get ready, set, print or order, and enjoy some quality time with your child.