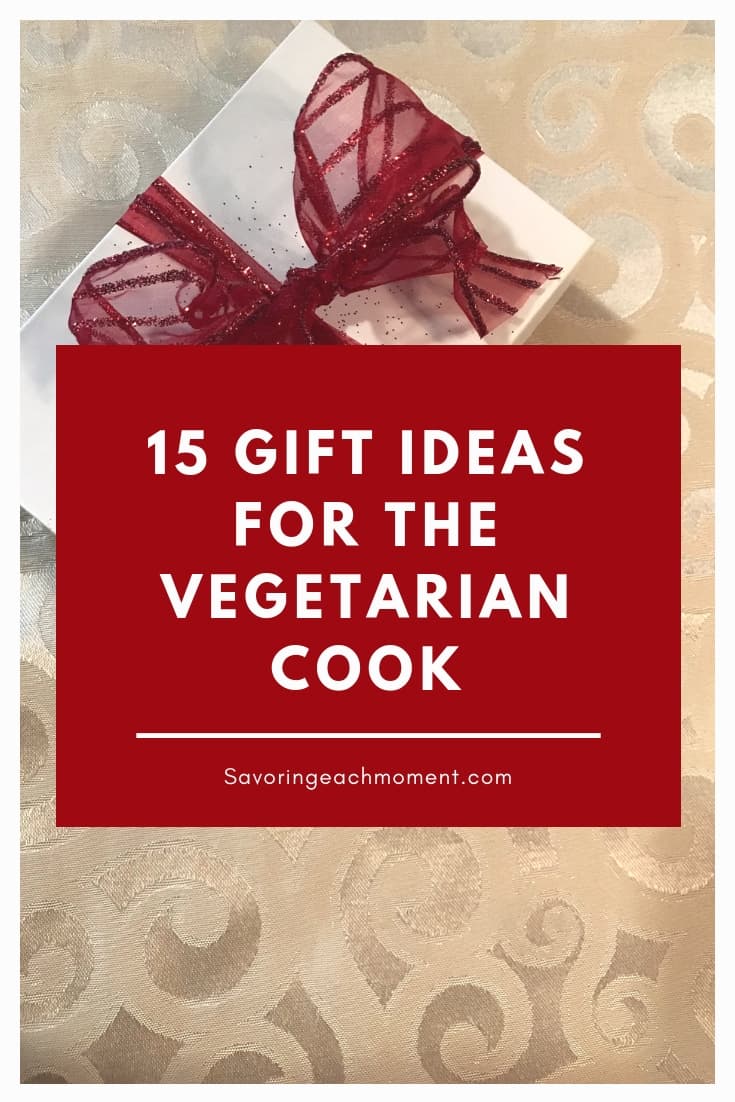 This post may contain affiliate links and we may earn compensation when you click on the links at no additional cost to you.
Do you have a friend, mom or sister who is vegetarian and you just don't know what to get for her?  Here is a list of ideas compiled from some of my favorite items in my vegetarian kitchen and a few from my own wish list.
Bosch Mixer
I'm going to be honest.  This is my all -time favorite – can't live without appliance in my kitchen.  I use my Bosch mixer at least 3-5 times per week. It has a special spot on the counter and lives on top rather than in a cupboard.  I LOVE my Bosch!  I know there are lots of mixers out there, but this one has outperformed other brands of mixers that my friends and relatives have owned.  Mine continues working without a hitch after 25 years!
The Bosch mixer is a snap for mixing up cooking dough, mashing creamy, light, fluffy potatoes, mixing and kneading bread, and everything in between.  The Bosch has a blender and food processor for slicing, shredding, and grating veggies or cheese.  There are additional attachments for grinding wheat and making applesauce.  If you want to be the favorite gift giver of all time, this is the gift for you!
Instant Pot
Instant Pot – You may have heard people talking about their Instant Pot and wondered why someone would need another rice cooker or crock pot.  Instant Pots are advertised everywhere and often go on deep sales on Black Friday and Cyber Monday.  From Costco to Amazon to Kohls and Target, these handy pressure cookers are amazing time savers in the kitchen.  Pinterest is flooded with recipes using Instant Pots and they are priceless in a busy vegetarian kitchen.  Cooking beans takes 20-40 minutes compared to 6-8 hours in a crock pot.  There are recipes for everything from lasagna to yogurt to dessert and when you're finished cooking up a delicious meal, you just have one pot to wash and no spillover mess on the stove.  I have had my Instant Pot for almost a year and it is my second favorite appliance in my kitchen right now.
So easy to use and saves so much time and clean up is a breeze since the pot didn't boil over on the stove or splatter all over while boiling.   Put your ingredients into the Instant Pot, choose the settings and walk away to do something else while your food is cooking.  Give the gift of saving time in the kitchen!
Instant Pot Vegetarian Cookbooks
Immersion Blender
This handy little tool makes short work of making delicious, smooth and creamy soups and gravies.  It is so much faster to blend up the cooked veggies in a soup than chop them all up before hand.
Victorinox Knives
These little knives are relatively inexpensive but very sharp.  I absolutely love these knives!  The serrated ones are great for slicing tomatoes or veggies and the straight ones work great for cutting apples or chopping potatoes or carrots. Every cooks needs a few of these knives.
A Good Bread knife
If you're looking at a great knife set as a gift for the vegetarian cook, the more knives in the set isn't always better.  A set of knives with 12 steak knives doesn't find provide much value in a vegetarian kitchen, but a good bread knife, paring knife, and serrated knife in a set are incredibly useful.

Can Opener
I've had a hand held can opener for years and the other day it broke!  Even if you're looking for a gift for a seasoned cook, some of those basic tools break and need to be replaced.  Personally, I really like the can openers that cut off the lid without leaving sharp edges.  These are so much safer when you're taking out the trash or recycling as well as when you are cooking.
New Beautiful Vegetarian Cook Books
Every cook needs new inspiration every so often.  Cook books provide specific ideas and recipes but they also spark imagination and creativity.  I personally love cook books with beautiful pictures so I can see what the end goal is.
Conversion Chart Magnet
Many years ago I received a fridge magnet that has a measurement conversion chart on it.  How many teaspoons equal a tablespoon and how many tablespoons equal a 1/4 cup.  I use this chart so often when I'm doubling a recipe.  This is truly another time saver!
New Kitchen Towels
Every cook (vegetarian or not) can always use new pretty hand towels.  Look for seasonal towels to fit the occasion or towels that correspond with the cook's interests or colors.  Or, just buy something new and bold and it might become their new favorite towel!
Silicone Baking Sheet Liners
These handy liners save so much time when you are baking.  They are super easy to wash with warm soapy water.  You can bake with these without the need to additional oil or spray.  Forget scrubbing and scratching away at the baked on oil and grease on the cookie sheets when you can simply wipe these clean.
Sprouter and Seeds
Recently, I pulled out my old (vintage) sprouter and started making fresh sprouts for salads and sandwiches.  Three days – start to finish!  So easy and delicious.  When you consider the cost of a box of sprouts at the grocery store and the short shelf-life, it is much more fun and delicious to grow your own sprouts at home!
Vitamix
This item has been on my wish list for a couple of years now.  I have borrowed a friend's Vitamix and been "sold" on it's fantastic ability to grind up nuts and other ingredients.  These blenders make wonderfully smooth smoothies as well as heating up things if you blend it longer than just a few seconds.  Use it for smoothies, nut butters, nuts, soups, etc.  So many uses for this amazing blender.  And yes, it's on my wish list this year – again!
Pretty Dishes
I love the bold bright colors of many of the new dishes including the Pioneer Woman dishes.  These dishes are so beautiful and would be a lovely addition to any kitchen.  Pretty things in the kitchen tell a lot about the cook and using pretty dishes and mixing bowls can make the whole process of cooking and eating happier.
Aprons
How fun would it be to spend some time in the kitchen wearing a pretty apron?  Perhaps you are looking for a mother/daughter set or perhaps individualized aprons for all your sisters and sisters in law for your Christmas party.  Aprons have been useful for many years but recently have become more popular in the "retro" style.  Why not add a fun apron to your shopping list as well?
That's all for now.  I hope this shopping guide has been helpful.  Please Pin this post for later so you can come back.  I'd love to hear about your favorite kitchen gift is in the comments below.