The word 'mother' means different things to different people. For some, a mother is one who births and gives life to another. While for others, a mother is one who nurtures, raises, teaches, and is a positive influence in the life of a child. More so, a mother's faith and character will always be a great influence in her journey of shaping minds and building lives.
So, what is a good mother? And what are some of the characteristics of a good mother in the Bible? In various books of the Bible, we get to meet mothers who didn't only birth a child but gave their all to nurture, shape, build, influence, and leave a worthy legacy behind for the next generation. These tributes to mothers in the Bible provide an example to learn from.

What Does the Bible Say About the Biblical Role of a Mother?
A mother is one who gives life to another. The first mother in the Bible was Eve, shortly after she and Adam left the Garden of Eden. She was called the mother of all living. As the first woman, she receives the first very first tribute to mothers in the Bible.
"Now the man named his wife Eve because she was the mother of all the living." Genesis 3:20 NASB
In other words, a mother is a life-giver whose role and influence are beyond just birthing a child. She gives physical, spiritual, and emotional life to her children and those in her circle of influence. She gives life and light to the next generation through her words, deeds, actions, and influence. A mother comforts and protects and is often the first person to love that child inside the mother's womb.
A mother is a carrier of purpose and a pointer to destiny. Mary, the mother of Jesus carried and gave birth to a son who died to save the whole world. She not only carried God's purpose within her fearlessly, but she also nurtured God's son till he became of age. Mary was chosen to be one of the most amazing mothers out of all the young women of her time.
"But the angel said to her, "Do not be afraid, Mary; you have found favor with God. You will conceive and give birth to a son, and you are to call him Jesus. He will be great and will be called the Son of the Most High. The Lord God will give him the throne of his father David, and he will reign over Jacob's descendants forever; his kingdom will never end." Luke 1:30-33 NLT
As mothers today, we are carriers of God's purposes and executors of his kingdom agenda on the earth. We have been given the greatest privilege of shaping the minds and destinies of the children God entrusts into our care. We nurture, lead, love, teach, care for and discipline them, even as we guide and pray them into their God-ordained destinies.
However, motherhood is not reserved for only women who have biological children. We see a variety of mothers in the Bible. We see a woman named Deborah who showed up as a mother to Israel. She was a judge and prophet who stepped into the role of a mother, pointing the children of Israel back to God. Under her leadership, wisdom, and guidance, the nation of Israel and its citizens enjoyed 40 years of peace. The biblical role of a mother entails service, sacrifice, nurture, guidance, teaching, leading, and pointing your children to God.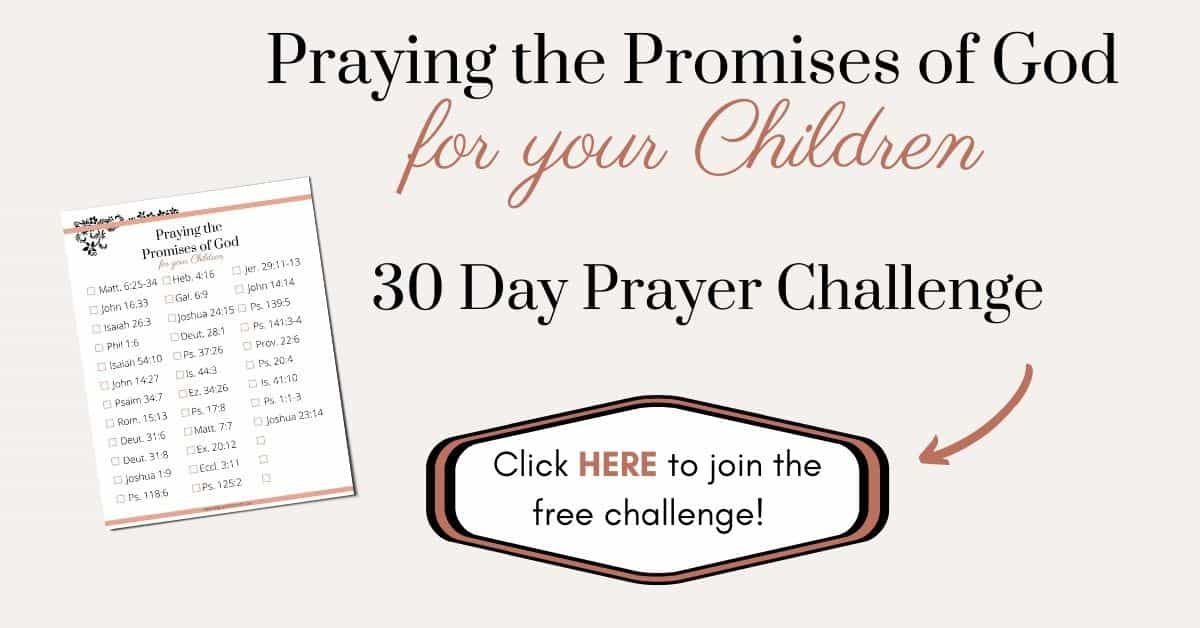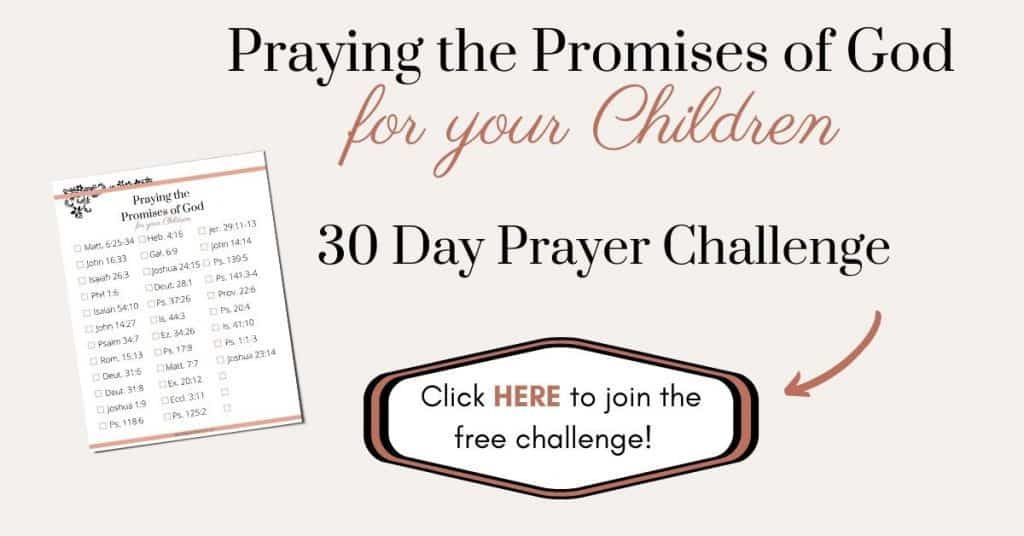 Bible Verses About Mothers in the Bible
Each of these verses are about different mothers in the Bible but they help to
"The entire family got up early the next morning and went to worship the LORD once more. Then they returned home to Ramah. When Elkanah slept with Hannah, the LORD remembered her plea, and in due time she gave birth to a son. She named him Samuel,for she said, "I asked the LORD for him." I Samuel 1: 19-20 NLT
"When the child was weaned, Hannah took him to the Tabernacle in Shiloh. They brought along a three-year-old bull for the sacrifice and a basket of flour and some wine. After sacrificing the bull, they brought the boy to Eli. "Sir, do you remember me?" Hannah asked. "I am the very woman who stood here several years ago praying to the LORD. I asked the LORD to give me this boy, and he has granted my request. Now I am giving him to the LORD, and he will belong to the LORD his whole life." And theyworshiped the LORD there.1 Samuel 1:24-28 NLT
"Now the man named his wife Eve because she was the mother of all the living." Genesis 3:20 NASB
"Don't be afraid, Mary," the angel told her, "for you have found favor with God! You will conceive and give birth to a son, and you will name him Jesus. He will be very great and will be called the Son of the Most High. The Lord God will give him the throne of his ancestor David. Luke 1:30-33 NIV
"A man from the family of Levi married a Levite woman. The woman became pregnant and had a son. She saw there was something special about him and hid him. She hid him for three months. When she couldn't hide him any longer she got a little basket-boat made of papyrus, waterproofed it with tar and pitch, and placed the child in it. Then she set it afloat in the reeds at the edge of the Nile." Exodus 2:1-3 MSG
But Ahaziah's sister Jehosheba, the daughter of King Jehoram, took Ahaziah's infant son, Joash, and stole him away from among the rest of the king's children, who were about to be killed. She put Joash and his nurse in a bedroom, and they hid him from Athaliah, so the child was not murdered. Joash remained hidden in the Temple of the Lord for six years while Athaliah ruled over the land." 2 Kings 11:2-3 NLT
"In those days a man named Manoah from the tribe of Dan lived in the town of Zorah. His wife was unable to become pregnant, and they had no children. The angel of the LORD appeared to Manoah's wife and said, "Even though you have been unable to have children, you will soon become pregnant and give birth to a son. So be careful; you must not drink wine or any other alcoholic drink nor eat any forbidden food.You will become pregnant and give birth to a son, and his hair must never be cut. For he will be dedicated to God as a Nazirite from birth. He will begin to rescue Israel from the Philistines."Judges 13:2-5 NLT
The LORD kept his word and did for Sarah exactly what he had promised. She became pregnant, and she gave birth to a son for Abraham in his old age. Gen 21: 1-2 NLT
And Sarah declared, "God has brought me laughter.All who hear about this will laugh with me. Who would have said to Abraham that Sarah would nurse a baby? Yet I have given Abraham a son in his old age!" Gen 21:6-7 NLT
Then God remembered Rachel; he listened to her and enabled her to conceive. She became pregnant and gave birth to a son and said, "God has taken away my disgrace." She named him Joseph, and said, "May the Lord add to me another son." Gen 30:22-24 NIV
"Do not be afraid, Zechariah; your prayer has been heard. Your wife Elizabeth will bear you a son, and you are to call him John. He will be a joy and delight to you, and many will rejoice because of his birth, for he will be great in the sight of the Lord." Luke 1:13-14 NIV
"Villagers in Israel would not fight; they held back until I, Deborah, arose until I arose, a mother in Israel." Judges 5:7 NIV
"I am reminded of your sincere faith, a faith that dwelt first in your grandmother Lois and your mother Eunice and now, I am sure, dwells in you as well." I Timothy 5:7 ESV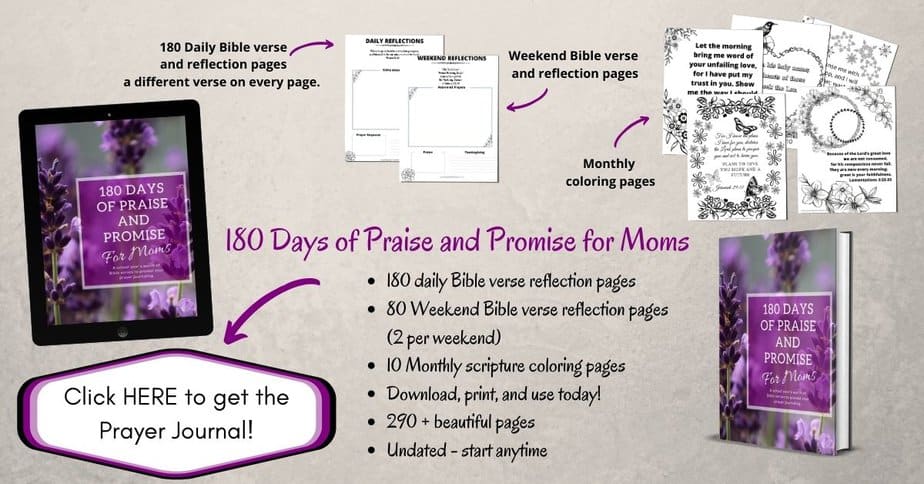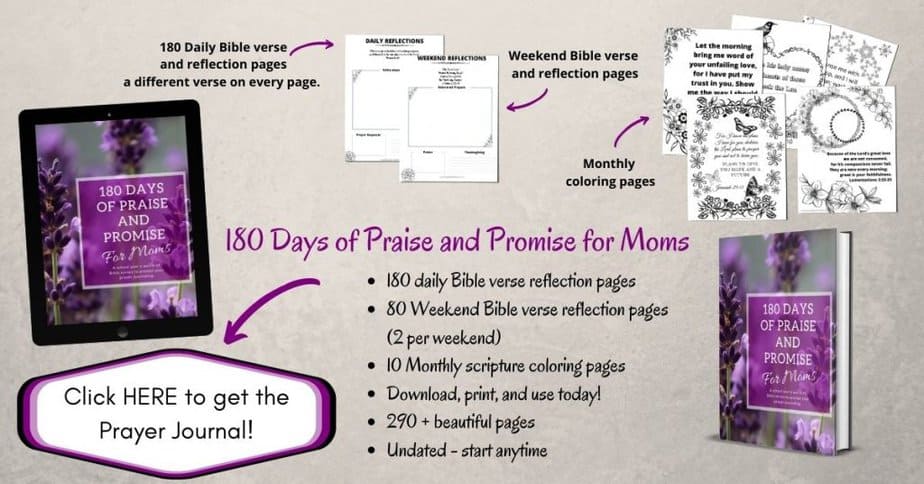 Specific Characteristics of a Good Mother in the Bible
The Bible opens us up to the lives of godly mothers like Hannah who prayed earnestly, Naomi who spoke words of wisdom to her daughter-in-law, and Deborah who arose to build her people and nation. Some of these faithful mothers showed courage, faith, and strength as they trusted in God's promises for their lives and that of their children. Their lives bore testimony to the fruit of the spirit as these Christian moms set aside their own way and chose to follow God.
So, what are some of the characteristics of good mothers in the Bible?
A deep reverence for God.
"Charm is deceitful, and beauty is vain, but a woman who fears the LORD is to be praised." Proverbs 31:30 ESV
A caring heart.
"She looks well to the ways of her household and does not eat the bread of idleness." Proverbs 31:27 ESV
"Instead, be kind to each other, tenderhearted, forgiving one another, just as God through Christ has forgiven you." Ephesians 4:32 NLT
A gentle and quiet spirit.
"But let your adorning be the hidden person of the heart with the imperishable beauty of a gentle and quiet spirit, which in God's sight is very precious." 1 Peter 3:4 ESV
A praying heart.
"Arise, cry out in the night: in the beginning of the watches pour out thine heart like water before the face of the Lord: lift up thy hands toward him for the life of thy young children, that faint for hunger in the top of every street." Lamentations 2:19 KJV
A desire to build.
"The wisest of women builds her house, but folly with her own hands tears it down." Proverbs 14:1 ESV
A mouth that speaks wisdom.
"She opens her mouth with wisdom, and the teaching of kindness is on her tongue." Proverbs 31: 26 ESV
A life that honors God.
"You shall love the Lord your God with all your heart and with all your soul and with all your might." Deut 6:5 ESV
"And whatever you do, in word or deed, do everything in the name of the Lord Jesus, giving thanks to God the Father through him." Col 3:17 ESV
A life of service.
"Likewise, teach the older women to be reverent in the way they live, not to be slanderers or addicted to much wine, but to teach what is good. Then they can urge the younger women to love their husbands and children, to be self-controlled and pure, to be busy at home, to be kind, and to be subject to their husbands, so that no one will malign the word of God." Titus 2:3-5
A legacy of faith.
"That the next generation might know them, the children yet unborn, and arise and tell them to their children, so that they should set their hope in God and not forget the works of God, but keep his commandments; Psalm 78:6-7 ESV
A heart that seeks knowledge.
"The heart of him who has understanding seeks knowledge, but the mouths of fools feed on folly." Prov 15:14 ESV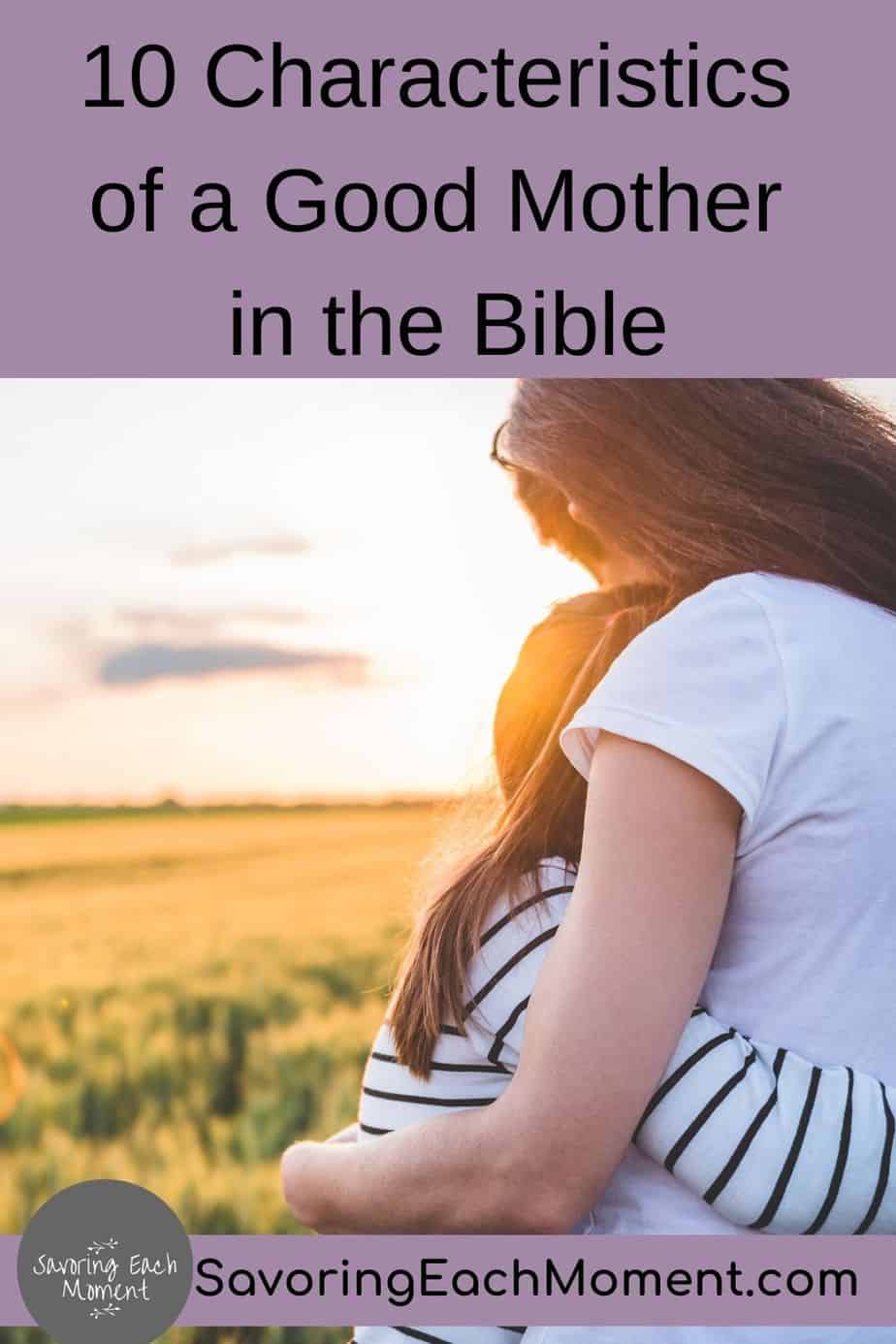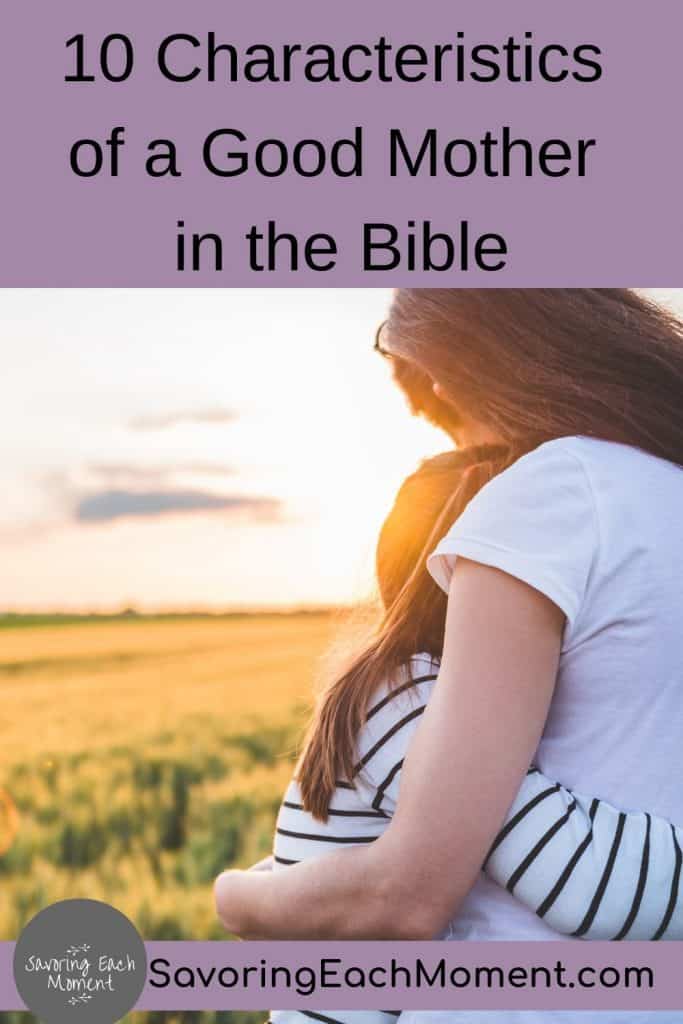 Examples of Godly Mothers in the Bible
The Bible shows us examples of mothers who served and honored God in their lifetime. Some of them played great roles, showed great faith, defied the laws of the land, and raised children who played defining roles in God's grand plan for humanity. Some of the biblical mothers were influential among the Hebrew people, and some of them may seem insignificant in their influence. During biblical times and now, the measure of a real mother isn't the number of children she has borne but rather the days of her life and how she has impacted others. Here are a few of the tributes to mothers in the Bible.
Jochebed – A Mother's Courage
Pharaoh gave a decree that every male child born must be killed. Jochebed, the mother of baby Moses, was that mother who was courageous enough to defy the king's order and gave her baby to be raised by pharaoh's daughter simply to keep him safe. By hiding Moses in plain sight in the Nile River, under the watchful eye of Miriam, Jochebed's daughter, her unconditional love for her baby pushed her to do something very unusual. The daughter of Pharaoh saw this Christian mother and her mother's love and dedication to her baby son.
As the mother of Moses, she saw something great about the destiny of her child and was willing to take a risk to protect his destiny and future. And just because she was determined to find a way to save her son, God blessed her plan. Her son, Moses was the leader who led God's children from 430 years of bondage in Egypt. He was also the vessel whom God used to perform one of the greatest miracles in the bible – the parting of the Red Sea.
Hannah – Keeping her Promise
Hannah, the mother of Samuel, was that woman who was mocked because she was a barren woman. You may have read about how she groaned and poured out her heart before God in prayer for a child. She went on to make a vow to God saying that, if God gives her a son, she will give him back to him for his entire lifetime.
God granted her request and gave her a son whom she named Samuel. Hannah fulfilled her promise to God as she returned several months later and spoke these words. "I asked the Lord to give me this boy, and he has granted my request. Now I am giving him to the Lord, and he will belong to the Lord his whole life." And they worshiped the Lord there." 1 Samuel 1:27-28 NLT
Sarah – Waiting on God Alone
Sarah was barren and had no hope of naturally conceiving and carrying a child, the fruit of the womb. She was old and past the age of child-bearing, yet God promised to give her a child. She had to learn to wait on God's promise even in her doubt and uncertainty. Imagine being childless at the age of 90 and God still says to her – you will have a son. It was a long wait but God's promise came to pass. Sarah said, "God has brought me laughter, and everyone who hears about this will laugh with me." And she added, "Who would have said to Abraham that Sarah would nurse children? Yet I have borne him a son in his old age." Genesis 21:6-7
Mary – A Yielded Vessel
Mary was a young virgin about to be married when an angel showed up and told her about God's plan for her life. The angel called her 'highly favored' declaring that she will conceive and give birth to the son of God.
She was afraid and asked how possible this was, being that she was a virgin. The angel Gabriel answered, "The Holy Spirit will come on you, and the power of the Most High will overshadow you. So the holy one to be born will be called the Son of God. Luke 1:35 NIV
Mary immediately yielded to God's plan and what he wanted to do throughout her life. She answered with these words. Then Mary said, "Behold the maidservant of the Lord! Let it be to me according to your word." And the angel departed from her. Luke 1:38 NKJV
This Hebrew woman became a special mother who had the privilege of carrying the son of her womb and raising Him as He was preparing to be the Savior of the world.  All of this happened because she was a yielded vessel in God's hands.
Eunice and Lois – The Influence of a Mother's Faith
Eunice and Lois are the mother and grandmother of Timothy, Apostle Paul's mentee. These two generations of mothers were mentioned in the New Testament for their sincere faith. Their faith in Christ was evident by the way they lived their everyday life so much that Apostle Paul called them out. Timothy's mother shared her godly character and her love for Christ Jesus with her son as he grew up. His mother's teaching and grandmother's influence helped him grow to follow God.
They were a great example of Christian mothers who were able to pass on their faith from one generation to the next. Motherhood is about influence and we can model Christ and our faith to our children's lives by how we live and through our actions.
RELATED: Praying Mothers in the Bible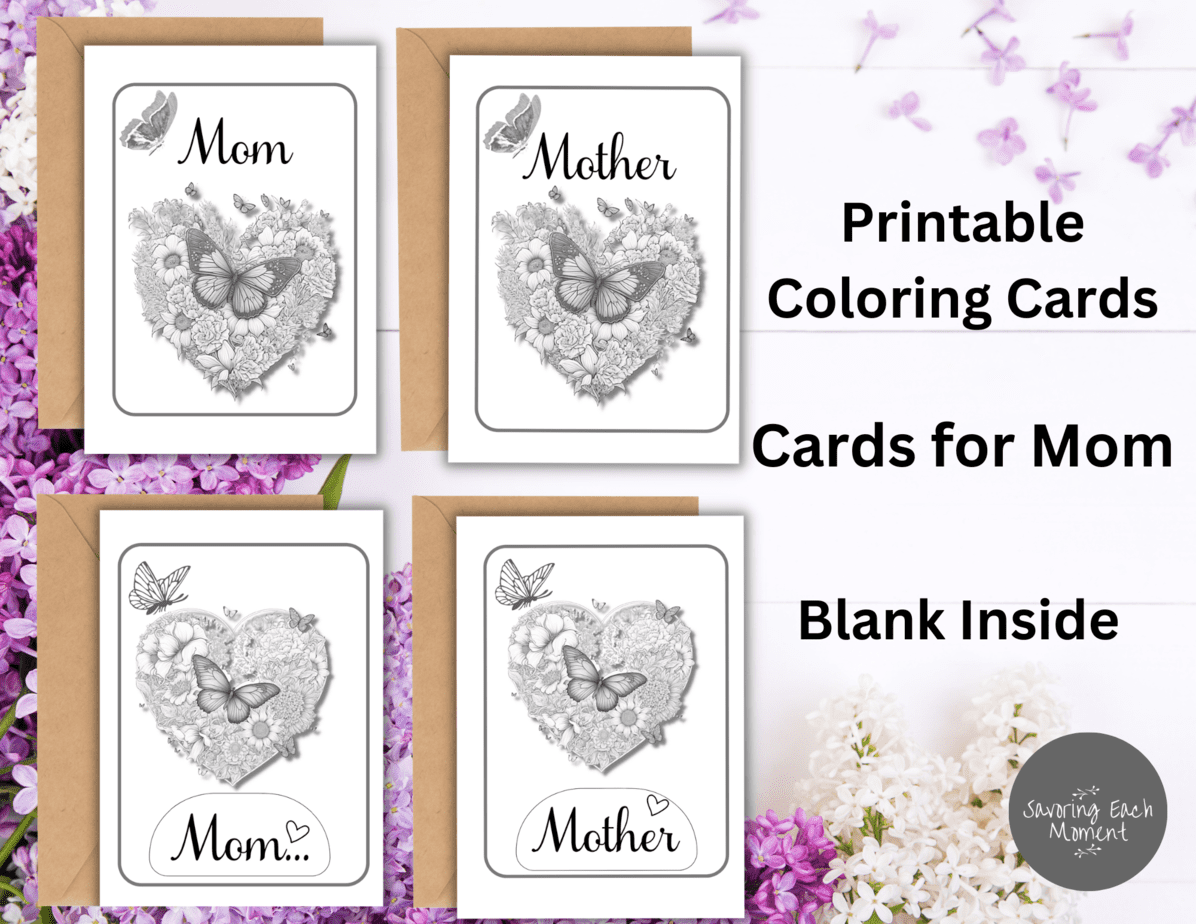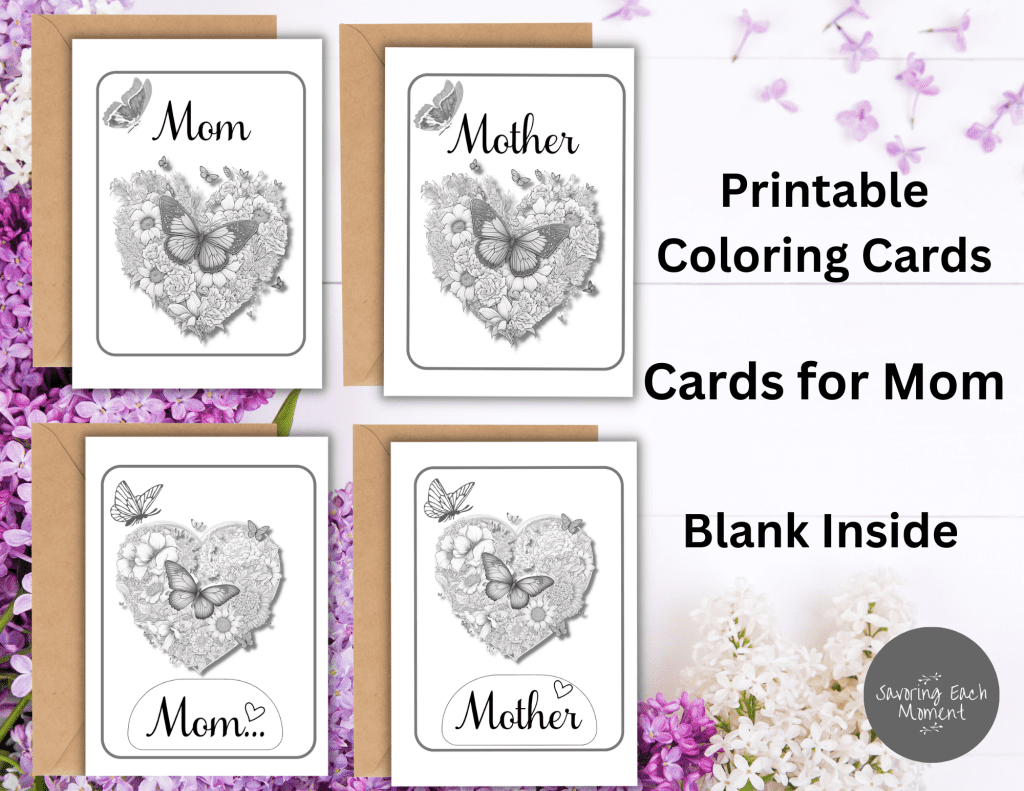 Practical Ways to Be a Godly Mother Today
Be intentional about building intimacy with God.
The Holy Spirit is a teacher, friend, guide, counselor, and helper. We need him more than ever in our motherhood journey. And if we want to know God more intimately, we need to intentionally spend time with him in worship, prayer, and through his word. The Holy Spirit is with us and He wants you to delve deeper into your union and communion with Him.
Teach your children the Word of God.
Start early and begin planting the seed of God's word in the heart of your young children. Share Bible stories and use the word of God to teach them life lessons. Build their faith and invest in Christian resources that will nourish their spirits. Just like Lois and Eunice, use your influence to teach your child to love Jesus.
Lead by example through your words and actions.
As mothers, when our children see us praying and studying the word, we are modeling a life of godliness to them. When they see how we talk to others and treat them, they will do likewise. This is a great responsibility to be consistent in your own home and outside the home. There is no greater joy than seeing your own children make the decision to follow God.
Find and join a community of godly women.
The power of a godly community of Christian mothers cannot be underestimated. Surround yourself with godly women who can hold your hands up in prayer and encourage you in your low moments.
Be that mother who prays.
Prayer is an integral part of our life and journey as mothers. You can pray for your child into his God-given destiny. When you spend time in prayer for your children, evil is warded off their paths, love is rooted in their hearts and their faith in God will always stand firm. The word of God urges us to pray without ceasing. As we commit to praying constantly for our children, victory is assured and the word of God will bear fruit in their lives.
As mothers today, we have the word of God to look to for wisdom and insight as we mother and raise our children. It is never about how perfect we are but how yielded we are to become godly mothers who will influence the next generation for good.
So, whenever you feel like giving up, remember Jochabed who showed courage in the midst of a difficult situation. Or Hannah who poured out her heart in prayer to God in a loud voice and received her answer. God wants us to be good mothers who will keep shining his light in a broken world. Which of these characteristics of a good mother do you need to draw into your life today?
RELATED: 5 Simple Tips To Help You Become A Better Mother
Ufuoma Fijabi writes on her blog www.oneinspiredmum.com where she shares God-inspired articles that focus on motherhood, faith, hope, and spirituality. Her passion is to inspire, encourage, support, and build up faith in the heart of moms in their motherhood journey. She is wife to an amazing man and mom to two children. She currently lives in Lagos, Nigeria with her family.
You may also like these posts…
---
❣ Sign up to get our weekly email filled with encouragement, ideas, and support for moms raising kids who love Jesus! ❣