Vera's Orange Knots ~ A Symbol of Friendship and Generosity
This post may contain affiliate links.  Please read my disclosure policy.
I sat at the table looking through my recipe cards trying to plan out the week's menu.  Stuck to the back of another card, I found a recipe card scrawled with "Vera's Orange Knots."  I needed to bake these so I could remind my family of the story that goes with them.
Many years ago, one evening, my Dad announced that he had a secret plan.
Of course we wanted to know what the secret plan was.
He reminded us that our elderly neighbor, Vera, had lots of leaves in her yard that needed to be raked.  She couldn't do it herself.
So it was decided that we would go rake leaves after dark with a flashlight!  Vera always went to bed early so we figured we could be quiet enough that she wouldn't hear us.  We loved a surprise.
After supper we got our rakes and flashlights.  The sun was down but it was still a little bit light.  We walked down the road to Vera's house.  Dad went ahead to make sure it was all dark and quiet.  It was.
We started raking the leaves that were the farthest away from the house, just in case Vera wasn't asleep yet.  Pretty soon, it was too dark to see anymore so we each took turns holding the flashlight for the others to rake.
When the last pile was picked up and dumped behind the shed, we took our rakes and trudged back home.
The next morning, the phone rang before breakfast.  It was Vera wondering if we knew who the mysterious leaf rakers were.  She was rather accusing.
My Dad told her how happy he was that someone had helped her out and managed to get off the phone without disclosing the secret.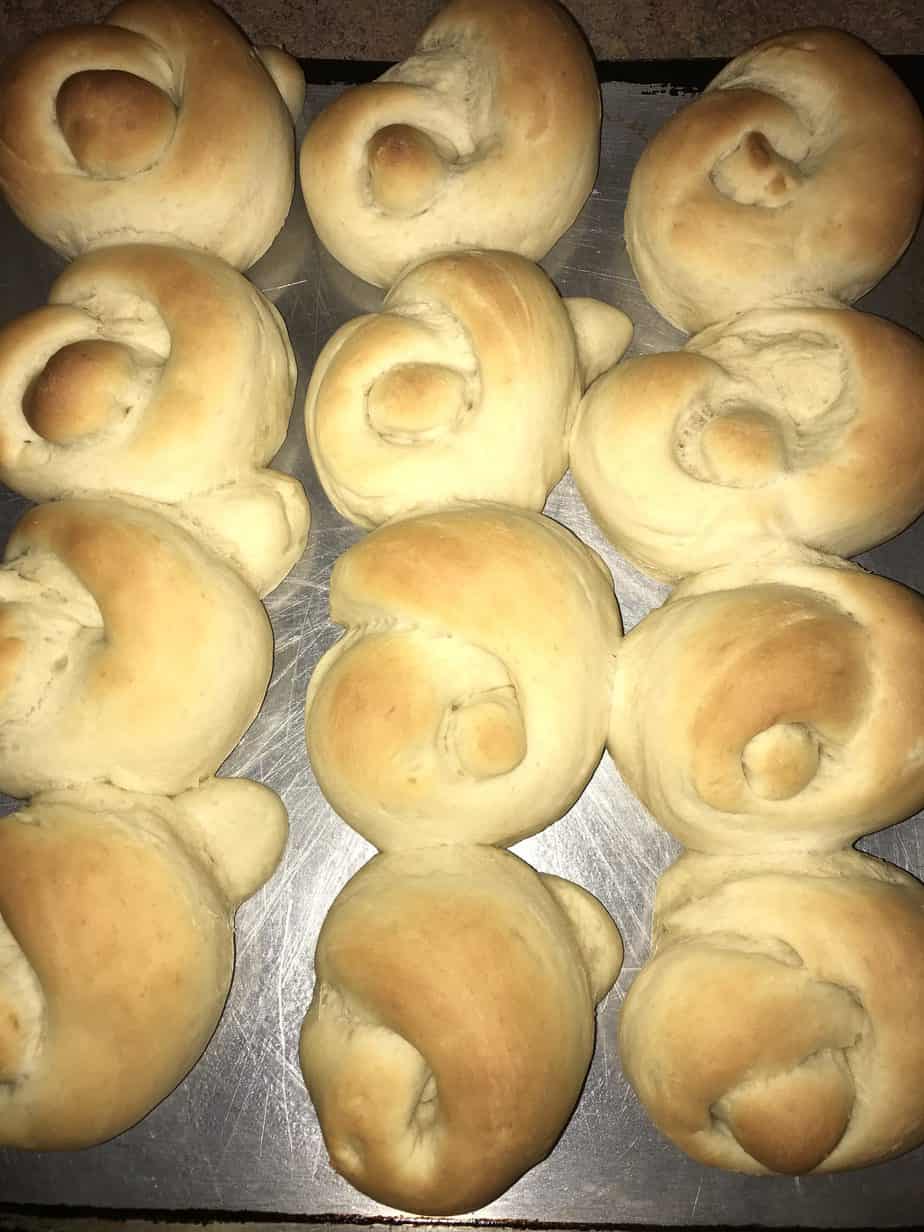 Later that day, the phone rang again.  It was Vera.  She had just made orange knots and had way too many and would someone please come and get some.  Vera was a fabulous cook!  Often she'd call and ask us to come get some 'leftovers' since she'd made too much.  We loved her leftovers because they weren't left over at all, but made especially for sharing!
My brothers happily rode their bikes to her house.  When they got to Vera's house, she was waiting by the front door with a huge plate of orange knots and a bowl of frosting.  She sent them on their way and mentioned that they should share with the leaf rakers if they found out who they were.
This happened nearly 20 years ago, but I still think about Vera.  She died several years ago, but when I remember her, I always think of the generous things she did for our family and others.  She was always baking something for someone else.  I remember the joy of giving back and try to teach my children to think of others.  As I make my own orange knots I think of those I will share with.
Vera's Orange Knots
Orange flavored bread knots with delicious orange frosting.

Ingredients
3

T

yeast

1

C

warm water

1

C

mashed potatoes

1

C

oil

1/2

C

sugar

4

C

flour
Combine and let rise. Then add:
1/2

C

sugar

1

tsp

salt

3

eggs, beaten

4

C

flour
Frosting:
1

T

orange juice

1

C

powedered sugar
Instructions
Mix well until it sticks together and forms a nice bread dough. You may need to add a little more flour depending on the moisture of the mashed potatoes. You don't want the dough to be too dry, but you need to be able to roll it out without it sticking to the rolling pin. Let dough rise again.

Divide dough into two parts. Roll out to about ½" thick. Cut into strips about 1 inch x 8 inches long. Take each strip and gently (they will stretch easily) tie in an overhand knot (the first part of tying your shoe).

Place on a greased cookie sheet and let rise again. When they are about doubled in size, bake at 400 degrees for 10 minutes. Watch closely so they don't burn.

Remove from pan to cooling rack. Once they are cooled, you can frost them.

Mix orange juice and powdered sugar until the right consistency for a spreadable frosting. You may need to add more sugar or juice depending on your likes. Drizzle over the knots.

These are best fresh the day you bake them. They also freeze very well – although it's best to freeze before you frost them.