If you have spent any time reading in the Gospels, you have probably read the story of the vine and branches. If you feel like you have to try to be good enough or earn God's love, please read on. This parable in John 15 is such a beautiful picture of the freedom of God's love.
In this post, we are going to focus on John 15:1-17. There are 11 times in this passage when Jesus tells his disciples to remain in Him. With so much repetition, there is something important for us to learn about God and ourselves and the relationship we have with Him.


This post contains some affiliate links for your convenience.  Please see my full disclosure policy. 
Remain Definition
Here is how the dictionary defines the word remain:
stay in the place that one has been occupying
or to continue to possess a particular quality or fulfill a particular role
Remain is a verb or action word. It isn't a destination or place you arrive but someplace that you actively make sure you stay. Similar words include go on, abide, endure, persist, and stay.
Remain and abide are both action words that describe a choice. They are not forced or passive, but intentional decisions.
In this Biblical parable, Jesus uses the story of the vine and branches as a word picture for his hearer to experience. They were very familiar with vineyards and knew that when the workers cut off the branches in pruning, the branches would die.
So, when Jesus introduces the concept of remaining or abiding in the vine or Him, his hearers could immediately identify with that word picture.
The meaning of John 15 can be broken down into 5 parts as we explore the meaning of abide in me.
5 Key Concepts from John 15
John 15 begins with Jesus explaining to His disciples that He is the true vine and His Father is the gardener. The disciples were familiar with this picture as there were vineyards in the surrounding countryside. In order for grapevines to bear grapes, they had to be pruned, trimmed and cared for.
Jesus used this picture to help the disciples picture the work that had to be done on a regular basis if the vineyard owner wanted to have any grapes at all. If the old, dead branches weren't pruned from the vines, they would produce less and less each year until they no longer produced anything at all.
Applying this to our own life, we must remain in the vine or remain with Jesus through the pruning process. The pruning process is something that takes place as we focus our attention on Jesus and His goodness and love.
If we run away from Jesus or get discouraged because of the pruning (trials or struggles), we fall away from the protection of the vine.
When a branch is pruned from the vine, it no longer grows and quickly dries up. Remaining is not a passive verb. It is an action word and sometimes, remaining can be difficult.
When difficult things happen, it can be easy to blame God or turn away, but by remaining in the difficult times, we are promised that God will remain with us.
"Remain in me, as I also remain in you." John 15:4
Part of remaining in the vine is to keep God's words in your heart and mind. Again, this remaining isn't passive but active. Because we live in a sinful world, God's words aren't naturally in our hearts. Our hearts are born to be sinful, but God has created us to long for Him.
That longing can only be fulfilled by filling our hearts and minds with His words. Spending time with God's word, meditating on it, journaling it, memorizing and using it daily in our lives is the way we remain in His Words.
When our hearts are so filled with God's words, the result will be that our actions, our thoughts, our words, and our relationships will be filled with God's love.
"If you remain in me and my words remain in you, ask whatever you wish, and it will be done for you." John 15:7
When we are remaining in God's word, the things we ask God for will be the things that He is ready and able to give us. This is not like a genie in a bottle, but rather, our thoughts and desires will be aligned with God's will and the things that we desire will be the things that God is ready to provide for us.
They will not be selfish requests that will help us reach selfish desires, but will be things that will be so lined up with God's will for us, that they will be prayers that are answered for our best.
"As the Father has loved me, so have I loved you. Now remain in my love." John 15:9
Jesus didn't ask his disciples to love him like God loved him, but rather to remain in His love. We learn to love by being loved and watching others love. So Jesus is reminding us to practice be being loved unconditionally by Him.
The beautiful part of this reality is that we are already inside God's love for us. We cannot DO anything to make Him love us more. The flip side of that is that we cannot DO anything that will make Him love us less either! So we are asked to remain in this place – surrounded by His love.
As we spend time focusing on the love of God for us, it will change the way we look at those around us. We are changed by the things we behold or observe.
The more we observe and notice God's love for us, the more capacity we have to love those in our family, co-workers, people at church, and everyone we come in contact with.
There is nothing I can DO to make God love me more.
There is nothing I can DO to make God love me less.
The last part of this lesson on remaining finally includes the doing. But even though it seems like it's finally something we can check off, it is still a matter of the heart rather than a checklist.
God's love isn't dependent upon our obedience, but our love for Him is shown and demonstrated by our obedience to His commandments.
If we are remaining in the vine and staying connected to God, keeping His words in our hearts and minds, identifying and experiencing His love, the natural result will be that we want to be obedient to His commandments.
So this becomes another remaining situation rather than a list of things we have to do to be good enough.
God will cause us to bear fruit after we have remained in Him and in His words and commands. He has not asked us to work hard to bear fruit, but rather to stay put and focused on Him and He will produce the fruit through us.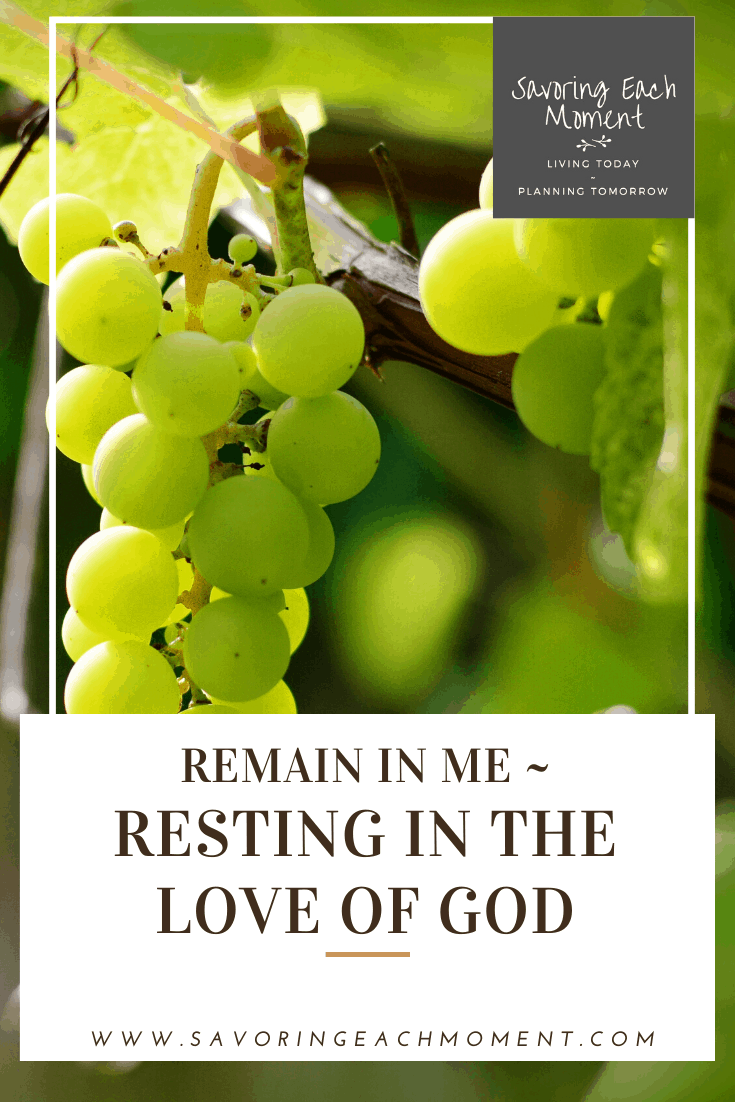 The fruit that results from remaining in Him is that we will love each other. As a parent, what would it look like if our children or our spouse knew that they couldn't do anything to make us love them more? Or less? What would it feel like if they knew our love was unconditional?
So many times, as parents, we act as if our children have to ear our approval. This quickly turns into feelings of never being good enough because our children always make mistakes.
We forget things we agreed to do, we act irresponsibly, and we do dumb things that are hurtful. Sometimes these are simple mistakes and sometimes they are very hurtful to those around us.
Perhaps this is how you felt as a child – you were never good enough. You could never live up to your parent's expectations. Those feelings of inadequacy likely still follow you to this day.
But this picture of Jesus in John 15 is very different. You have always been and always will be in Jesus' love. Remaining or staying put in Jesus' love is so different from catching, finding, chasing or earning Jesus' love.
I am the Vine, You are the Branches – Remain in Me!
Today, my friend, take these things to heart.  You are already in God's love!  You do not have to work to be good enough.  You do not have to earn His love.  You do not even have to accept His love.  His love is there always – no matter what you do.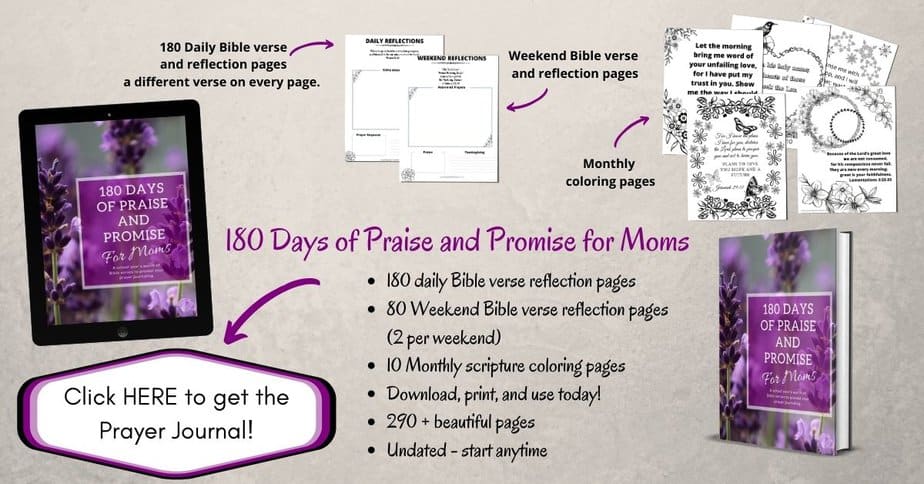 Rest in His love. Stay in His love. His love does not waver, it does not change and it does not end. What a relief! What a secure feeling to know that God will always love you the same!
Remain in me as I also remain in you. John 15:4
I have told you this so that my joy may be in you and your joy may be complete. John 15:11
If you are looking for more encouragement today, you may feel like you've bee praying for something for a long time. Praying for Rain like Elijah will bring you hope and encouragement.
If you are wondering how to pray for your children, Praying Circles Around Our Children will give you some direction as you daily pray for your kids.
31 Bible Promises to Pray for your Children provides a specific list of Bible promises that you can claim today for your children.
If you'd like to watch an inspiring sermon series about Abiding in Jesus, check out Pastor Randy Roberts from Loma Linda University Church
To join the email list and get more great ideas, please signup to get a weekly email filled with encouragement, ideas, and support.