Here are 7 Easy ways to keep the kids reading during the summer!
As the summer days stretch ahead for many families, the bucket list is often longer than the days of the summer.  I know my list always starts out a mile long and I usually get a few things accomplished that I really hoped to do, but the things that are most important are the things that we schedule and plan ahead for so that we can see them completed.
One thing is for sure, summer will come to an end and the kids need to keep up with their reading to keep their brains engaged and learning.  There are so many benefits from reading and the summer time is no different than the school year.  Those benefits are still real and sometimes you (and the kids) just need some quiet time in the midst of all the fun of no school.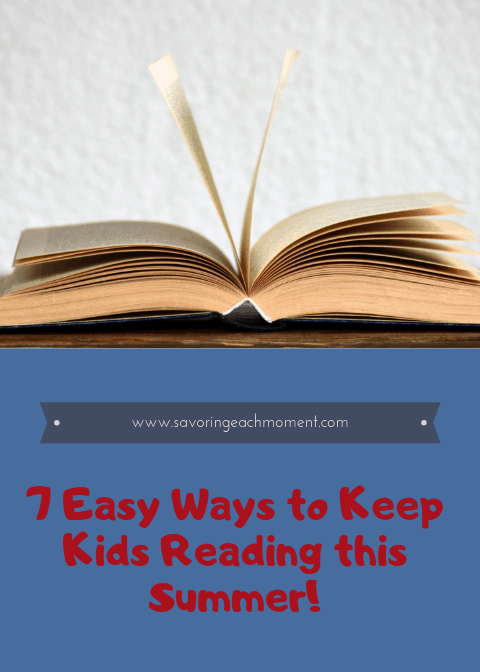 This post contains some affiliate links for your convenience (which means if you make a purchase after clicking a link I may earn a small commission but it won't cost you a penny more)! 
~ One ~
Join a library reading club. Many libraries across the US have a summer reading program designed to keep kids engaged and reading.  They are usually free and they usually include reading programs for all different ages.  They may offer prizes of freebies, tickets, ice cream, pool passes and t-shirts.  They often have check in times when kids can bring their reading log in to collect their prizes.  Check out your local public library for specific details in your town.  If you live close to several towns, you may also be able to participate in multiple branches or locations as well.  We found that different libraries had different freebies and prizes!
~ Two ~
Make reading a family tradition during your vacations and road trips. Reading aloud will encourage your kids to engage with the story while listening to you read with animation and feeling.  Road trips are a fantastic time to read aloud as it engages the kids in the story while they are looking out the window rather than being attached to batteries or a power cord.
~ Three ~
Schedule time each day specifically for reading. Just like doing chores, reading can be a regular part of the day.  You might consider limiting electronic use until after a certain amount of reading time has been logged each day.
~ Four ~
Set a family reading goal and plan a special activity to celebrate the accomplishment of the goal. For example, everyone in the family reads so many pages or so many books.  Keep a tally of the books read and work together to reach the goal.  You could even make each page worth one mile and "log" your miles on a trip across the country on a map.
~ Five ~
Make a game out of reading.  Create a reading bingo game board to keep track of the types of books they are reading.
~ Six ~
Be a reading example.  Let your kids see you spending time reading. Modeling any good habit takes time and practice and our kids see what we are spending our time doing.  If we ask them to read while we are playing games on our phones or checking social media accounts, they are watching to see what we decide is important by our actions.
~ Seven ~
Look for reading programs in local restaurants, book stores, and schools. Search online for summer reading programs for kids and you will find a lot of links to different programs that are free.
~ Bonus ~
Read aloud to your children at bedtime.  Bedtime in the summer can be difficult because of the long days or sunshine.  But spending a few minutes each night reading aloud to your children creates a safe place, makes them feel valued and important, and gives you a few more minutes to squeeze in a good story!
Most of all, make reading a daily part of your life and your children will follow your example.  Give them time and opportunity to explore the book shelves at the library.  Check out books.  Talk about the books you are reading and ask your kids questions about the books they are reading.
What's your favorite way to keep kids reading?  I'd love to hear about it in the comments below.
Thanks for stopping by!  Happy reading  🙂
Karen
Additional reading you might enjoy!
https://savoringeachmoment.com/road-trips-with-kids-unplugged-part-1-meal-planning/
https://savoringeachmoment.com/road-tripping-with-kids-unplugged-part-2/
https://savoringeachmoment.com/road-trips-with-kids-unplugged-part-3-books/