And while you are here…..
Are you looking for a way to jumpstart your health? Are you tired of being too busy, eating unhealthily, and feeling stressed?
Do you want to live a more balanced life so that your lifestyle reflects your values and goals and not just a full calendar?
If any of these things sound like you, then you definitely need to get Self-Care: A Practical Guide for Christian Women to help you on your healthy journey to a more balanced life!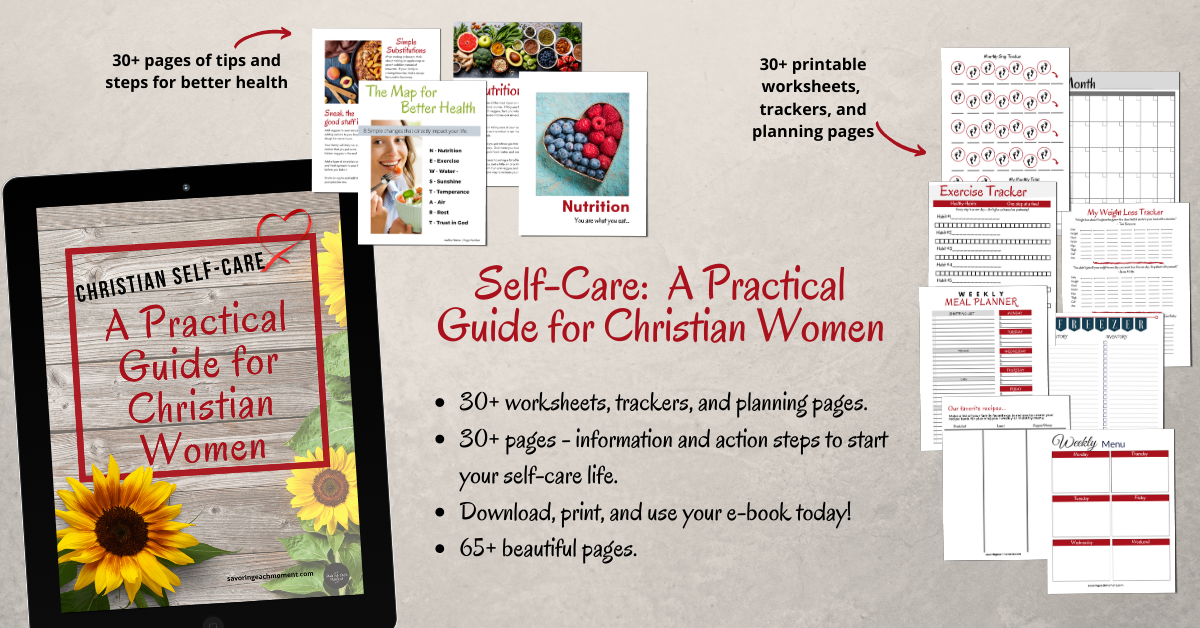 Get this beautiful ebook today and start your journey to living a self-care life. This printable book will teach you the 8 simple principles to living a full life that you don't have to take a vacation from. It is packed with practical and actionable steps to create a well-balanced emotional, spiritual, mental, and physical life.
The trackers, worksheets, and planner pages will help you keep track of important things along your journey to optimal health. The worksheets and planner pages will provide you with questions, action steps, and suggestions for reducing the stress and overwhelm in your busy life.
Start your journey to better health today!
30 + Beautiful pages of practical tips, actionable steps, and details for how to create balance in your life to be able to live the life you've dreamed of!
8 Simple principles to help you develop a healthy lifestyle that includes your physical, mental, spiritual, and emotional well-being.
30+ pages of trackers, worksheets, and planner pages to help you on your journey to create a self-care life. Nutrition worksheets, health trackers, routine templates, grocery lists, menu planners, and much, much more!